George Bellows was one of the greatest American realist painters, who earned his fame thanks to his raw and powerful representations of boxing matches and lifestyle in New York City. In fact, the topics of his paintings are quite diverse - he was depicting his entire environment, including cityscapes, war scenes, and portraits. Bellows also made a brilliant series of illustrations and lithographs addressing social, political, and cultural issues of the American world. Bellows' works are offering to the viewer a closer look into the dynamic and revolutionary decades of the early twentieth century.
Bellows captured many social, political, and cultural issues of the American world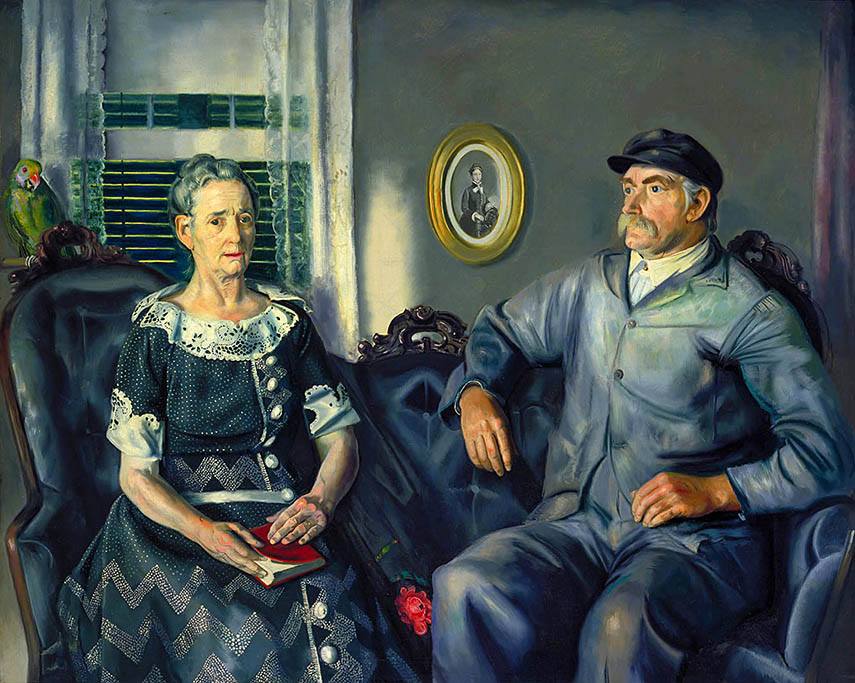 The Ashcan School
Bellows was born and raised in Columbus, Ohio and attended Ohio State University. He was exceptionally good at sports and due to his athletic talents, he was considering the career of a professional sportsman. However, he was equally good at visual arts and his majestic illustrations for the student yearbook highly esteemed by his professors made Bellows' choose painting as his life path. In 1904, Bellows left college and moved to New York to study with the realist painter Robert Henri. Under Henri's influence, Bellows became a member of the Ashcan School. The artists belonging to this school were documenting the daily life routine, but in an idyllic way, through rose-colored glasses. Bellows was the most creative in the Ashcan School when it comes to his choice of subjects and painting techniques. Bellows' natural born talent for drawing was truly outstanding – the artist never traveled abroad to see the European masterpieces, but he used to spend a lot of time at The Metropolitan Museum of Art, where he was diligently learning various tips and tricks when it comes to various art genres and styles. Bellows was also dedicated to lithography and popularized this medium in the United States. He even installed a lithography press in his studio in 1916, and made more than a hundred images in the early 1920s, using this press. Bellows was also an art teacher and he was working at the Art Institute of Chicago before he moved permanently to Woodstock, New York. He was only 42 when he suddenly died, because of a ruptured appendix accident.
The Ashcan school works are documenting life routine in an idyllic way, through rose-colored glasses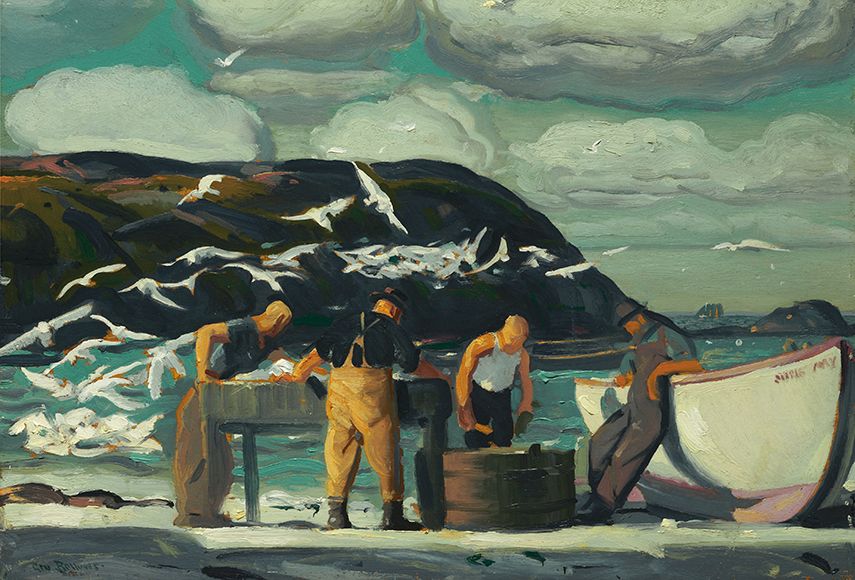 Depicting Urban New York
Bellows became known to the wider public in 1908 when the Ashcan school organized its first exhibition of urban New York studies. Bellows' paintings were considered crudely executed but at the same time brave and honest, which brought him a lot of success at international juried shows. Bellows' urban scenes are dedicated to working-class people of new York and their daily hardships. A lot of the scenes he represented were including docks, ships, sailors and fishermen. However,  the artist's series of paintings featuring amateur boxing matches is his most significant work, according to the art critiques. These pieces are typical for their dark, threatening atmosphere and brightly lit human figures, muscular and fleshy, inducing a fierce sense of motion, fear and suspense.
Bellows' series of pieces featuring amateur boxing matches is his most significant work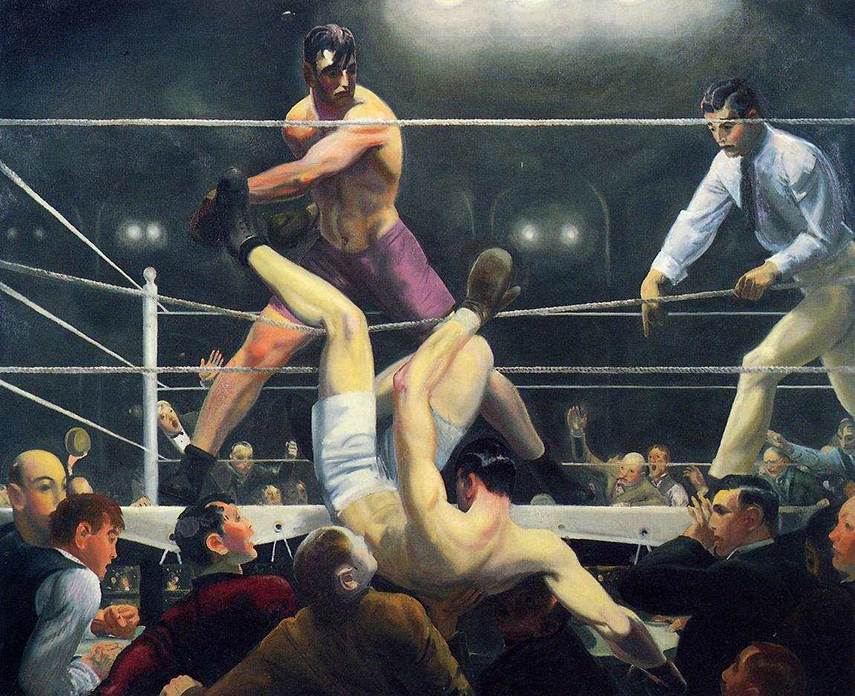 Political Themes in Art
Bellows was socially conscious throughout his life and at some point became a part of the group of activists called the Lyrical Left. These activists were supporting anarchism and extreme individual rights. Because of his radical belief in the idea of the absolute artistic freedom, Bellows had occasional issues with the authorities. When it comes to his political statements, Bellows' is also famous for his series of lithographs featuring the war atrocities committed by Germany during its invasion and occupation of the surrounding countries. For example, one of his lithographs represents a German soldier torturing a Belgian teen and severing his hands. Bellows had been harshly criticized for depicting such cruel war scenes, and some of the artist and art critiques belonging to Bellows' generation argued that he should not paint such hideous acts because he had not witnessed the events himself.
Even though George Bellows is considered a realist painter, his experimental approach is closer to modernism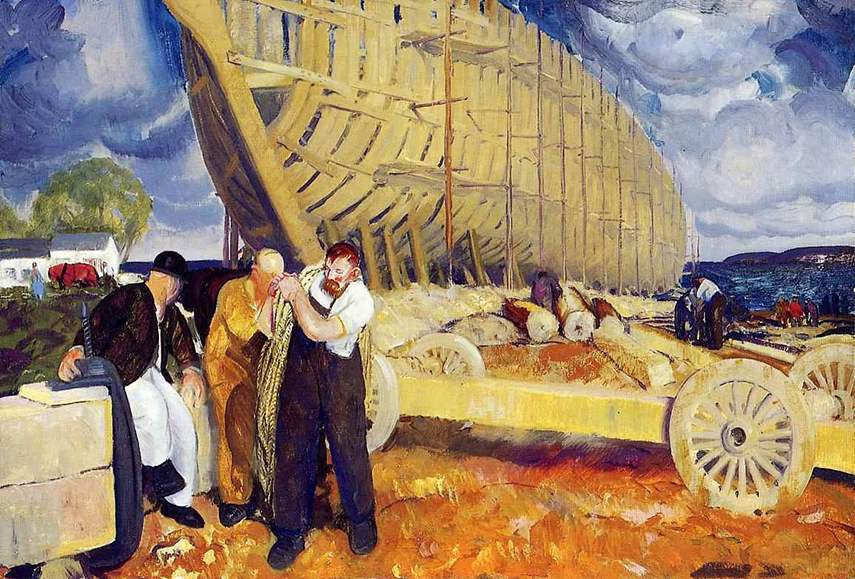 Experimental Realism
The first to acknowledge Bellows' role in American art was the Metropolitan Museum in New York, which organized a large, thorough retrospective of Bellows' work in 1925. Around the same time, The Whitney Museum of American Art published a biography of Bellows written by George William Eggers and this biography became the part of American Artists Series edition. Although Bellows work is considered realism, the wide array of his subjects and his experimental approach to color, brushwork, and his loose, innovative composition made him, in a certain way, even closer to modernism. The same goes for Bellows' unconventional and radical support of the freedom of expression and right to exhibit their works without any review and uncensored.
George Bellows lived and worked in New York City.
Featured image:George Bellows - Self-Portrait, 1921 - image via metmuseum.org
All images used for illustrative purpose only.