George Bodocan, Bodo, works on resolving the mysteries of being. He makes art that postulates two types of perception. There are material objects which we see with our seeing eyes and mind, and there are subliminal atoms that are hidden on a deeper level of existence. He makes sensory appealing art, made to please both visual and auditory receptors. George emphasizes the importance of human interaction and in his street art performances, he likes to work with the audience, to surprise them, to include them in the artistic process. When communicating we share individual understandings of symbols. Bodo likes to draw on walls, restaurant windows, sofas, clothes and even human bodies.
Bodo likes to draw on walls, restaurant windows, sofas, clothes and even human bodies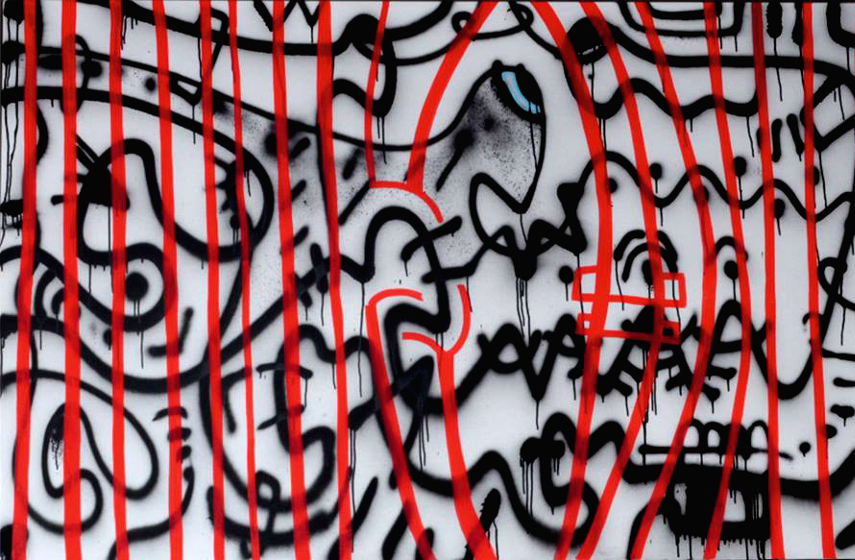 Loving what We See and Hear
This Romanian artist lives in Paris and uses various techniques, from installation to graphics, video art, and performance to gather it all together. He went to School of Fine Arts in Alba Lulia, and then continued his education at the Faculty of Decorative Arts and Design in Bucharest. In 2012, he did a night performance called Illusion is the first of all pleasures with architect and designer Kristina Peteu. At the performance, the audience could experience the real connection with the artist where they were encouraged to communicate and to make the interaction as lively as possible. Bodo made this exhibition driven by the idea that contemporary art can be a bit alienating and that sometimes viewers cannot translate the message they receive. Underneath the surface, there are universal archetypes that have been present in human history since ancient era.
Bodo made this exhibition to connect with the audience
Interwining Physical and Sublime
The artistic communication spreads on many levels, and Bodo often sings, paints, draws, and talks with his audience. Most of his drawings intertwine and cross lines and frames in the same way as his message crosses the metaphorical borders of meaning. In 2013, he did a recapitulation of two-year residency at Jour et Nuit Culture Paris. He quite often goes through therapeutic journeys with his art. After a longer period of work, he sinks into quiet and dark hibernation, and then awakes with the sun and creates again. He follows the old archetypical beliefs of an eternal soul that lives and dies in the physical form. The cultural context is derived from many different civilizations and customs because Bodo uses his work as an affirmation of human living behind outside world.
Bodocan paradoxically puts a wall in order to connect what is separated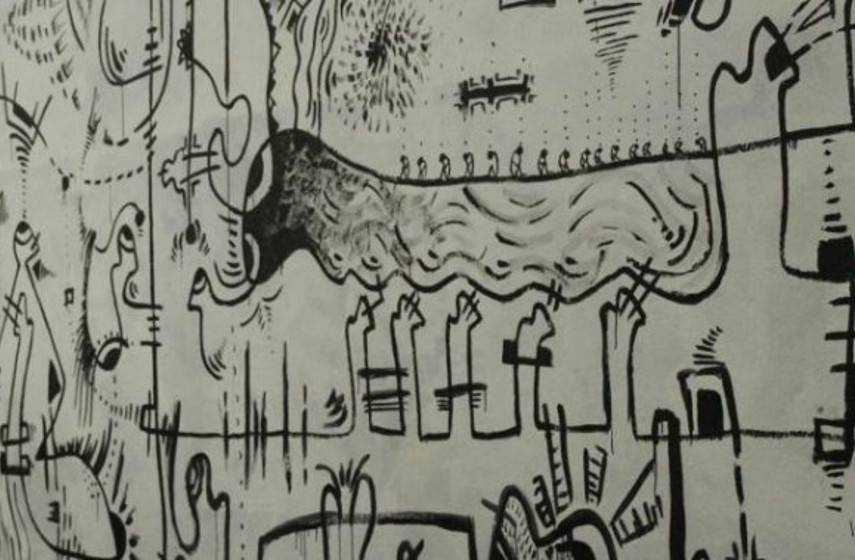 Finding Joy in Recognition
George Bodocan never fails to express his gratitude and genuine happiness that he is an artist. In the name of art, he questions every single aspect of his life and finds great joy when he discovers recognition someone had experienced while looking at his work. The understanding is not fixed in the language, it's the universal symbols and geometrical shapes that tell the story. Bodocan lives in accordance with nature and finds inspiration in the perfect teleological construction of our world. He, then, tries to imitate the complexity of small parts that fit together and gives his work a holistic foundation. For his street art series called The Wall he connected the opposing sides of belonging and alienation we all feel in this world and unseparated them with a wall.
George Bodocan lives and works in Paris.
To get in touch with the artist, feel free to send an email to george.bodocan(at)gmail.com
All images © George Bodocan via www.platonicforms.com