Georgia O'Keeffe, also known as the mother of American modernism, played an extremely important role in the development of American contemporary art and its relationship with European movements of the early twentieth century. O'Keeffe has produced a large body of work over seven decades. She was always putting a lot of efforts into combining her talent with her superior skills in order to capture the emotions and power of objects she was painting. Her main goal was to abstract the natural world so that it becomes even more appealing visually. Even though O'Keeffe didn't follow any artistic movements, an eminent photographer Alfred Stieglitz recognized her as the first female American modernist painter and her paintings of flowers and desolate landscapes have become a part of the American artistic treasure.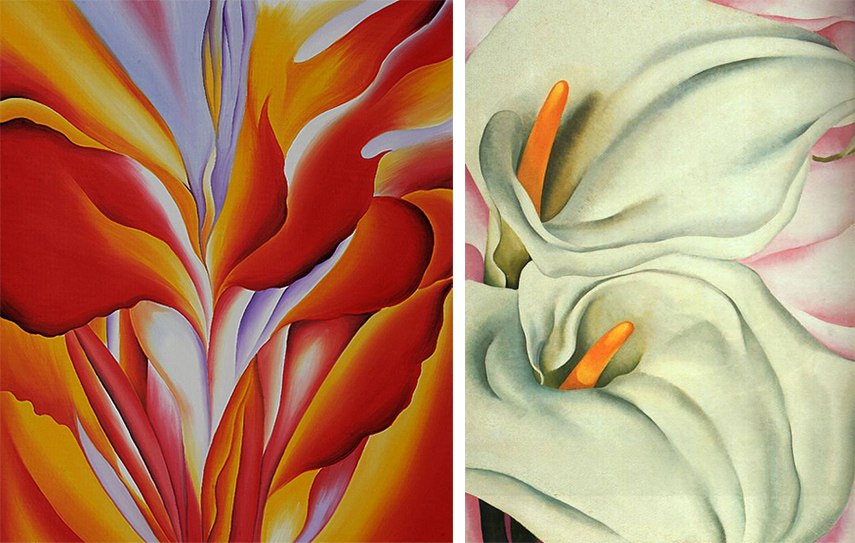 Early Life and Education
Georgia O'Keeffe was born in Wisconsin in 1887. She came from a very large family – she was the second of seven children. Because of her early display of visual talents, O'Keeffe was encouraged to study art – her mother was very enthusiastic about her inborn talent. The artist had the opportunity to take watercolor lessons with one of the local artists in Wisconsin, called Sara Mann. O'Keeffe was very fortunate because she came from a family who cared about female education, which wasn't so common around the end of 19th century. She initially attended the School of the Art Institute of Chicago and later on, in 1907, she moved to New York City where she continued her education. In NYC, she took classes at the Art Students League, while her mentor was William Merritt Chase. Already in her school days, O'Keeffe stood apart from other children for her great skills. She won an important cash prize for one of her still lifes and thanks to this prize she was able to attend a summer school in Lake George. During her years spent in NYC, O'Keeffe was often attending exhibitions at Gallery 291, whose owner was a photographer Alfred Stieglitz, who later became her partner and husband. Thanks to various shows held at Gallery 291, O'Keeffe could see the works of eminent European artists, for instance, Auguste Rodin and Henri Matisse. In 1908, O'Keeffe has abandoned her own artistic exploration for four years because she got a job as a commercial artist. However, in 1912 she decided to focus again on her personal projects. She took some drawing classes to refresh her knowledge and her teacher at the time, called Alon Bement, was a great influence. His style was based on the work of Arthur Wesley Dow. In 1915, while she was working as a lecturer at Columbia College in South Carolina, O'Keeffe started to do something entirely new – she wanted to learn more about Dow's theory of self-exploration by the means of art. Inspired by this theory, O'Keefe started focusing on natural forms, like flowers, clouds, and waves and made her first series of charcoal drawings which simplify and abstract organic shapes into expressive lines. Eventually, she has shown these drawings to Alfred Stieglitz in1916. The photographer was quite impressed and he was already convinced that O'Keeffe future career will be bright and successful.
O'Keeffe was very fortunate because she came from a family who cared about female education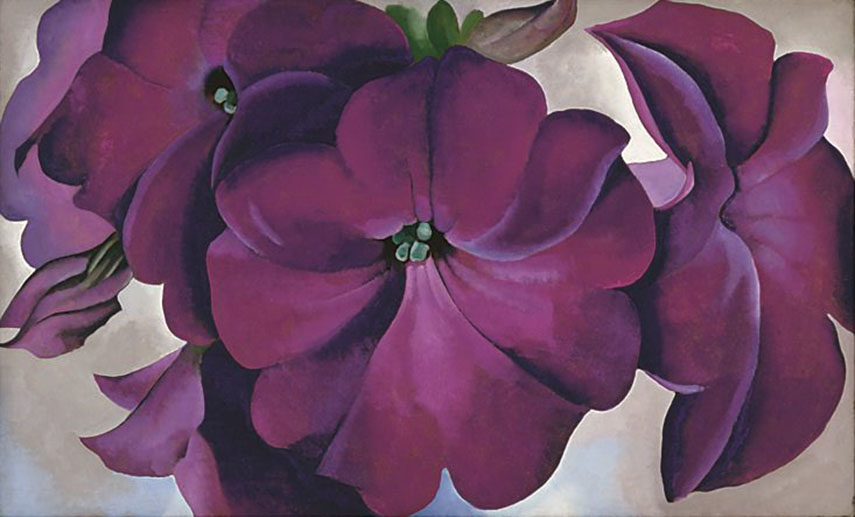 Life in New York
After Stieglitz has recognized O'Keeffe potential, he started a correspondence with her. He has even exhibited some of her charcoals at his gallery without letting O'Keeffe know about that. He just sent her photographs of her exhibited drawings afterward and this marked the beginning of their collaboration. Even though O'Keeffe has continued to work in South Caroline for a while, she eventually decided to return to New York in 1917. The same year, Stieglitz has organized her first solo exhibition at Gallery 291. Around the same time, O'Keeffe and Stieglitz got engaged in the love affair that lasted for many years. In 1918, Stieglitz began to financially support O'Keeffe, so that they could live together and work in New York. O'Keeffe has left her teaching position and became focused on making her own, unique art. After Stieglitz has divorced his first wife, he married the artist in 1924. The 1920s were exciting and busy years for O'Keeffe because she met many artists from Stieglitz's circle, such as Arthur Dove, John Marin, and Paul Strand. She appreciated very much the close-up photography of Strand, which has influenced her own artistic point of view. During the 20s, O'Keeffe's was painting mostly close-ups of natural forms using watercolors and oil paint. Besides flowers, she was also depicting architectural structures. Around 1925, O'Keeffe was already an established artist and her pieces were getting sold at considerable prices.
In 1918, Stieglitz began to financially support O'Keeffe, so that they could live together and work in New York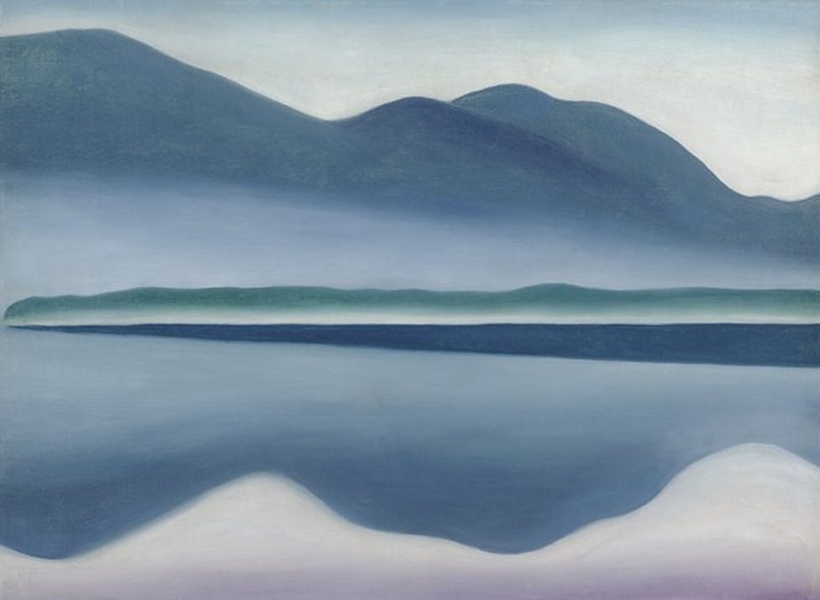 Fascination with New Mexico
It is known that a lot of O'Keeffe's pieces not related to flowers represent barren, desert landscapes of New Mexico. The artist's fascination with the landscape of southwestern United States started in 1929. That year, O'Keeffe has visited the ranch of eminent arts patron, Mabel Dodge Luhan, located in Taos in New Mexico. The artist has instantly fallen in love with the amazing local landscape, consisting of harsh, barren land. For the next twenty years, the artist kept coming back to New Mexico to paint. Her pieces dedicated to these landscapes perfectly captured the mesmerizing beauty of the desert, its wide open skies, as well as specific objects such as southern architectural structures and animal bones and skulls. The eventually ended up buying two houses in New Mexico, because she didn't want to be just someone's guests – she wanted to truly belong to this environment. In the 1930s and 1940s, O'Keeffe grew even more popular and recognized, after two important retrospectives featuring her work were organized. The first retrospective was held in 1943 at the Art Institute of Chicago, while the second one was in 1946 at the Museum of Modern Art in New York. This show in MOMA was a great success because it was the first retrospective of work by a woman organized by the eminent museum. In 1949, O'Keeffe has decided to move permanently to New Mexico, since her partner Stieglitz has died and she was feeling heartbroken. In the 1950s, she was traveling a lot and she has created a series of paintings representing various architectural forms. Even though her fame was waning in the 1950s and 1960s, another retrospective of her work was held by the famous Whitney Museum in 1970. Around the same time, O'Keeffe started having problems with her eyesight and it getting hard for her to create art, but she persisted in her passion. She continued using watercolors and pencils until she had completely lost her central vision when she was 84. In it quite interesting that her last drawings resemble her early charcoal works. O'Keeffe has died in 1986 in Santa Fe when she was 98 years old.
The artist's fascination with the landscape of southwestern United States started in 1929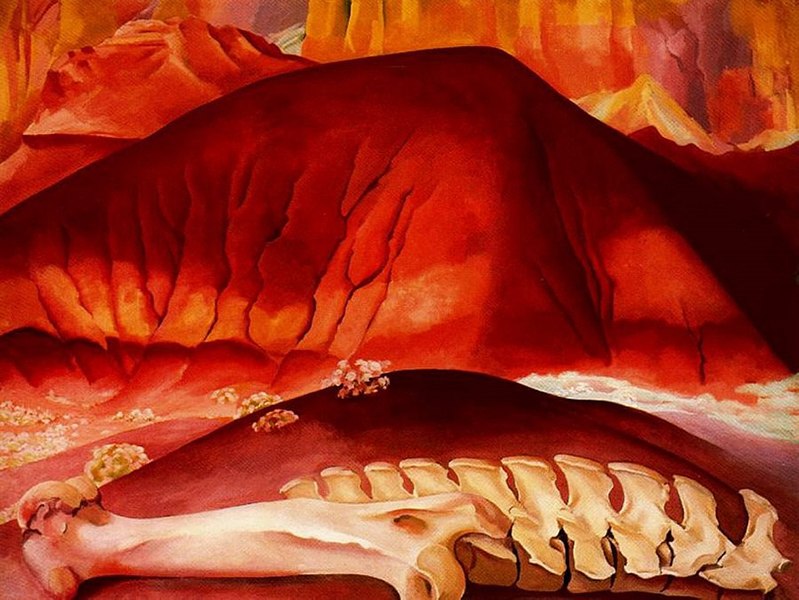 Main Topics in O'Keeffe's Art
Even though O'Keeffe's style is quite original, she incorporated the techniques she has learned from other artists into her work. Most notably, she was influenced by Paul Strand's tight cropping used in photographs. O'Keeffe was one of the first artists who started using this close-up approach which was mainly reserved for photography. It is also quite interesting and innovative that her work is very detailed yet clearly abstract. O'Keeffe wasn't keen on following any artistic movement, but what it common throughout her oeuvre is her tendency to abstract motifs from nature. She always worked in series, combining unique abstraction with realism in order to produce pieces which celebrate the beauty of simple natural forms. From the 1940s until the 1960s, O'Keeffe's pieces were clearly not belonging to the mainstream movements in arts. Her works were decisively representative, while the other artists of the same generation were exploring mostly non-representative realms. When it comes to the main motifs of her work, these are certainly flowers, animal bones, and various landscapes. Most of her landscapes are representing scenes from New Mexico, but a couple of them are also dedicated to lakes, such as Lake George where she used to go to attend summer school classes. It is also clear from her works that she was fascinated with animal skulls. She was painting various skulls isolated on the canvas, outside of their usual environment. O'Keeffe was using mainly the cow's skull and red, white, and blue background behind them, to underline the correlation between the American landscape and the national identity.
When it comes to the main motifs of 0'Keeffe's work, these are flowers, animal bones, and landscapes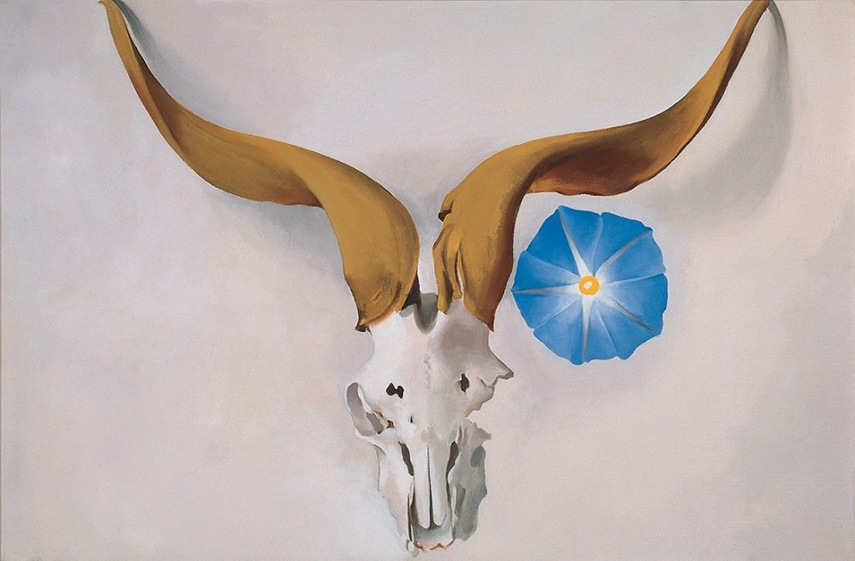 Lack of Hidden Symbolism in Flower Painting
No matter the variety of her works, O'Keeffe is still best known for her flower paintings. They are the topic that has marked her entire oeuvre . O'Keeffe's paintings magnify the delicate form of flower and focus on its shape and color. Her depiction of floral motifs has often received interpretations that the artist has firmly disagreed with. She had a constant struggle with the feminist art critics, who considered her paintings as metaphors or symbols for female genitalia. O'Keeffe has claimed many times that there is no hidden symbolism in her work and that she is simply interested in the very essence of flowers. In fact, the anatomy of many species that she depicted, like petunia, is very complex and certainly doesn't resemble female anatomy. Based on this, the Tate Modern's director of exhibitions claimed that one of the reasons he wanted to organize the retrospective of O'Keeffe work is to show to the audience that there are multiple readings of her work and that things aren't that simple and straightforward. Many of the white male artists across the 20th century have the privilege of being read on multiple levels, while others – be they women or artists from other parts of the world – tend to be reduced to one conservative reading, he said.
The artist had a constant struggle with the feminist artists, who viewed her paintings as a sign or symbols for female genitalia and her ideas as tools of latent feminism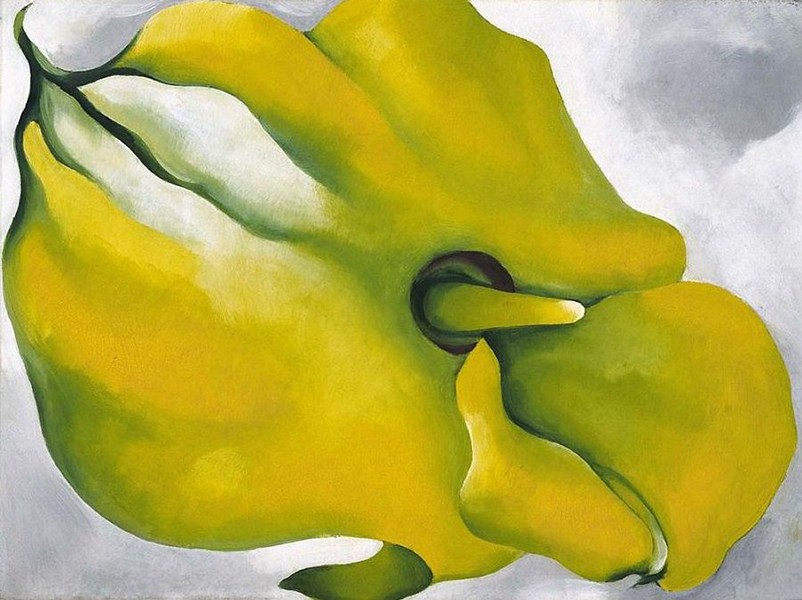 Georgia O'Keeffe's Legacy
Georgia O'Keeffe has spent nearly 70 years in making a powerful art which speeded up the development of modernism in America. She was also very active socially, as an important member of the popular Stieglitz Circle. It is interesting that she was a pioneering female artist who had a strong influence on the feminist movement, even though she disliked their interpretation of her work. O'Keeffe was an incredibly prolific creator – she has made more than 2000 works and she was active even around the end of her life, while she was suffering from macular degeneration. O'Keeffee has won a number of important prizes and medals for her work - in 1962, she was elected as the fiftieth member of the American Academy of Arts and Letters, while in 1966, she became a fellow of the American Academy of Arts and Sciences. Finally, in 1985, she was awarded the prestigious National Medal of Arts. The Georgia O'Keeffe museum that was raised in Santa Fe is actually the first artspace in the United States dedicated solely to a woman. This institution continuously sponsors fellowships for scholars and artists and at the same time, it represents a sanctuary of O'Keeffe's splendid pieces.
Georgia O'Keeffe has spent nearly 70 years in making art that speeded up the development of modernism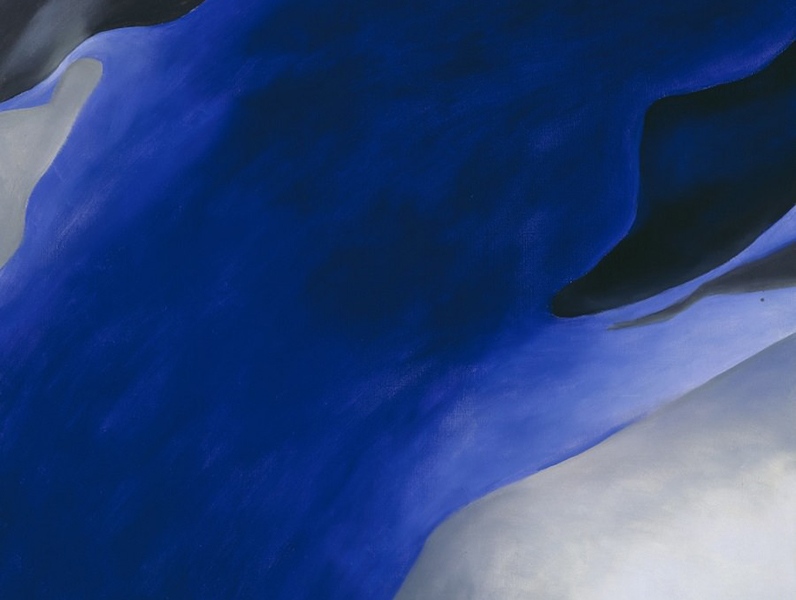 Colors and Shapes Instead of Words
I found I could say things with color and shapes that I couldn't say any other way - things I had no words for, said O'Keeffe about her life philosophy and her art. Even though the artist is still best known for her particular style featured in her works sold at the highest price, her body of work is in fact very varied and rich and it requires a lot of exploration. However, no matter the particular topics in her pieces, O'Keeffe was always true to her own vision and imagination. She has built a beautiful world of paintings that lingers between the poetry of abstraction and the straightforwardness of representation. Nowadays, she is still considered one of the most innovative artists of the twentieth century.
Georgia O'Keeffe lived and worked between New York and New Mexico.
Featured image: Georgia O'Keeffe's Portrait, 1918 - Photo Credits Alfred Stieglitz
All other images via georgiaokeeffe.net