Some people are simply destined to echo throughout time, making an impact on the world decades after they left it. When it comes to the homosexual struggles, rarely a name stands out as much is the case with Gerda Wegener. This Danish artist is one of the most prominent figures of the lesbian rights movements as she fought for her rights to be married to Lili Elbe, one of the first-ever documented recipients of sex reassignment surgery. On top of that, Wegener was also extremely talented and ruled the fashion scene of the 1920s and 1930s with her brilliant illustrations and paintings. Naturally, her inner struggles and desires strongly reflected on her art, so many of Gerda's pieces are very erotic in character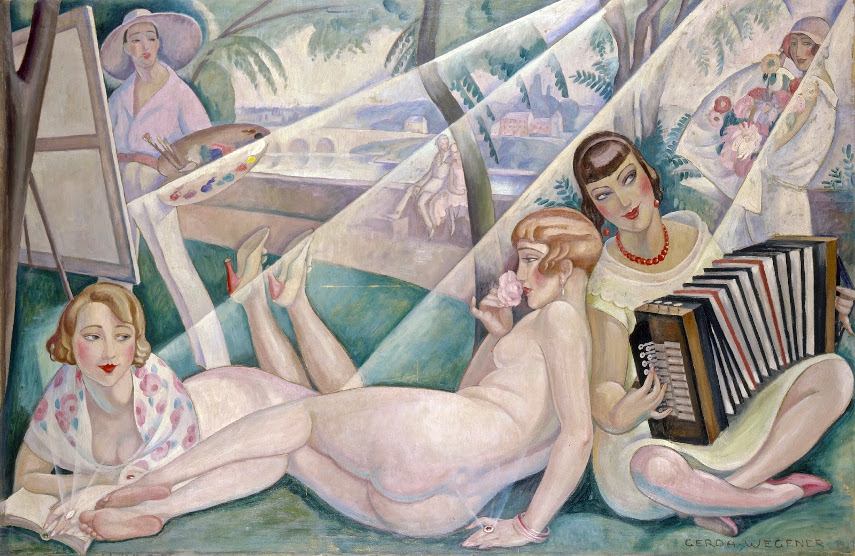 An Artistic Escape
With an original name of Gerda Marie Fredrikke Gottlieb, this artist was born on the 15th of MAarch in the year of 1886, somewhere in the modest province of Hammelev, Denmark. Although she became a part of a family located in a very rural setting, Wegener actually spent the majority of her childhood in a much larger town of Hobro - this was, in fact, a positive thing for young Gerda as she felt isolated and confined in a small town where she was nothing more than the daughter of a clergyman with a similar fate smiling upon her as well. Her early artistic urges also had a part to play in her desires to break free from the constraints of her tiny home village. As she decided to finally become completely self-dependent, Wegener left her family home when she was seventeen years of age and enrolled at the Royal Danish Academy of Fine Arts in Copenhagen, decisively planning to pursue a career of a professional artist. It was at this distinguished university that Gerda met and subsequently fell in love with a fellow artist Einar Wegener who would later be much better known by the name of Lili Elbe. Gottlieb and Wegener soon married after they've met each other - Gerda was in her 19th year of life whilst Wegener was 22. And as the pair married, Gerda's artistic career was just about to be launched into stardom despite no one believing in her creative abilities that were perceived more as a teenager's defiance than a true calling. In 1904, Gerda Wegener's artwork was displayed in the Charlottenborg Art Gallery in Copenhagen without much success, but a few years later, she won a sketching contest in the Danish newspaper Politiken. Even though she did not originally aspire to become a part of that particular branch of art, the Politiken recognition propelled Gerda into the fashion magazine industry where she became a leading illustrator of women's high fashion in the Art Deco style of the time.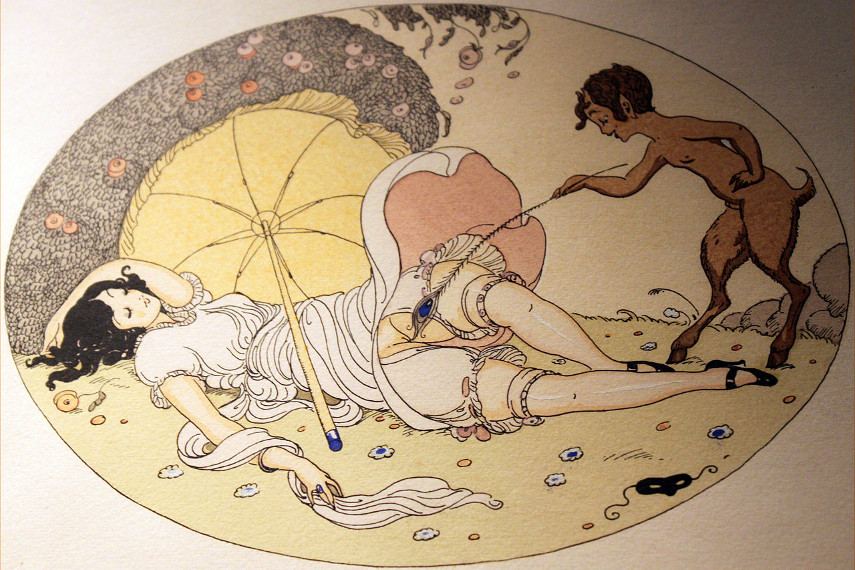 Gerda and Elbe
As she became a promising and swiftly growing name of the fashion industry, Wegener's earliest works consisted mostly of paintings featuring beautiful women dressed in chic clothing, with full lips, almond-shaped brown eyes and stylishly short bobs. However, what shocked the public the most was a surprising fact that the person behind the depictions of beautiful women was actually her husband! Einar posed as her fashion model while donning women's clothing and it was through these experiences that Gerda's husband came to realize his true gender identity, ultimately deciding he will start living his everyday life as a woman. It was after these events he altered his name and started calling himself Lili Elbe - he also took it a step further from that and permanently transitioned his body from male to female. This was one of the first sex-reassignment surgeries performed in the 1930s. But we're going a bit off topic - after the audience figured out Wegener's models were actually her husband, the gender scandal was simply too much for the town Copenhagen. After Gerda accepted her husband's life-altering decision, the pair left Denmark and settled in a more open-minded city of Paris, living a lesbian lifestyle. The duo arrived in France during the year of 1912. With her new lesbian lifestyle, Wegener's art became much more daring and provocative in nature. It also put her on the map of the fashion industry as her works suddenly found their way into popular magazines like Vogue and La Vie Parisienne, as well as the elite Journal des Dames et des Modes which was reserved for the likes of artists and intellectuals. It was at this time that Wegener started painting nude women in arousing sexual poses. Occasionally described as lesbian erotica, these painting had a strong Art Deco style and her illustrations were published in underground avant-guard art books, as well as displayed in highly controversial exhibitions which oftentimes caused public outcry and even riots due to their sexual and lesbian themes that were simply rubbing the majority of people the wrong way. However, Wegener thrived amidst the boiling controversy surrounding her and Lili - she enjoyed notorious popularity, thrown wild parties at the expensive art salons of Paris and continued to provoke the masses with her bold creative repertoire.
Wegener brought many new concepts to the world of art - including one of the earliest examples of gay pride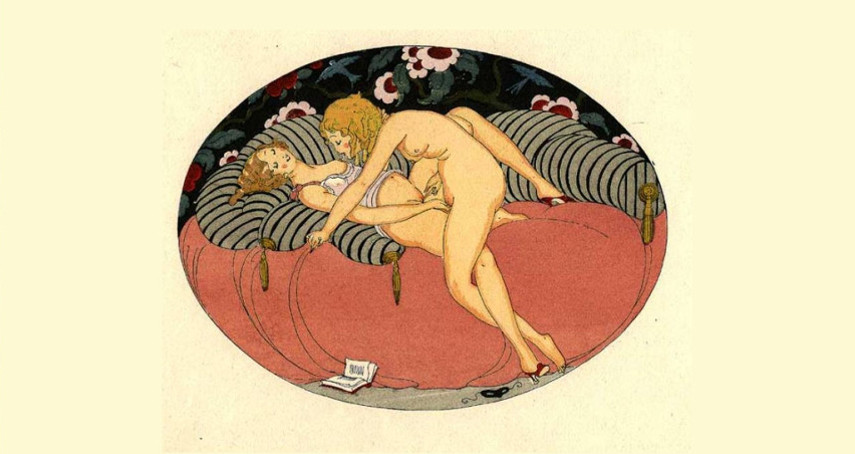 The Death of Her Artistic Comments
Unfortunately, all the basking in controversy and nonstop partying had a certain price attached to it. As the Wegener-Elbe couple were becoming increasingly popular and provocative, their story eventually managed to reach the borders of Denmark. When the news of a lesbian married couple reached the ears of Christian X, the King of Denmark, the ruler actually declared their marriage null as he was able to do so due to the fact the two married in Denmark and only lived in France. Subsequently, the couple parted ways amicably in 1930 after they agreed the legal battles and troubles with the law were simply too much to handle. A year later, Wegener married Major Fernando Porta, an Italian diplomat who lived in Morocco, where Gerda naturally joined him after the two got hitched. Reportedly, Wegener regularly sent flowers to her former spouse and was never able to truly reconcile with the fact the two were no longer a couple - the flowers were also a form of support as Lili was trying to recover from the final sex reassignment that ultimately led to her untimely death in 1931. For reasons unknown, Wegener's second marriage was ultimately short-lived and the couple divorced in the year of 1936. Afterward, the artist returned to Denmark where nothing was waiting for her except depression and financial restrictions. Once a crucial avant-guard artist was now selling Christmas cards for pennies as she was desperately trying to make the ends meet. And all the while, her art was suffering in every single way as even her old famous pieces were deemed to have fallen out of fashion. Weeks after a semi-successful exhibition dedicated to her lifetime achievements, Gerda Wegener died alone and depressed in the year of 1940.
From her most provocative to cutest paintings, all the best French galleries of the 1920s was lining up to present Gerda's work - however, this all changed during the 1930s
From Books to Film - Wegener Forever
The story of Wegener and Elbe is truly a remarkable and timeless one as the tales of forbidden true love never go out of fashion. Their love was honored both on page and film - Man Into Woman, the story of Lili Elbe by Niels Hoyer, a friend of both her and Wegener, was published in 1933 and later republished in the mid-1950s as the homosexual struggles were on the rise; in 2000, author David Ebershoff fictionalized Elbe's story in the novel The Danish Girl, which was ultimately adapted into a 2015 film, starring Eddie Redmayne as Lili and Alicia Vikander as Gerda. All this comes to show that the life of Wegener is so very crucial for the struggles still active to this day and her work brought some radical and bold changes to the art scene that never truly accepted Gerda's vision. All in all, Wegener is undoubtedly one of the most important figures in both the artistic and human rights sense.
Featured Image: Gerda Wegener - Artist's Portrait - Image via wearenotamuse.co.uk
All images used for illustrative purposes only