The happiest of endings can have such sad beginnings. Growing up in Nazi Germany, witnessing the horrors of war, and being oppressed by the Communist regime in East Germany – the early life of Gerhard Richter was everything but happy and carefree. However, faced with tough choices, he made some bold decisions and overcame the difficulties, growing up to become one of the most significant artists in the contemporary world.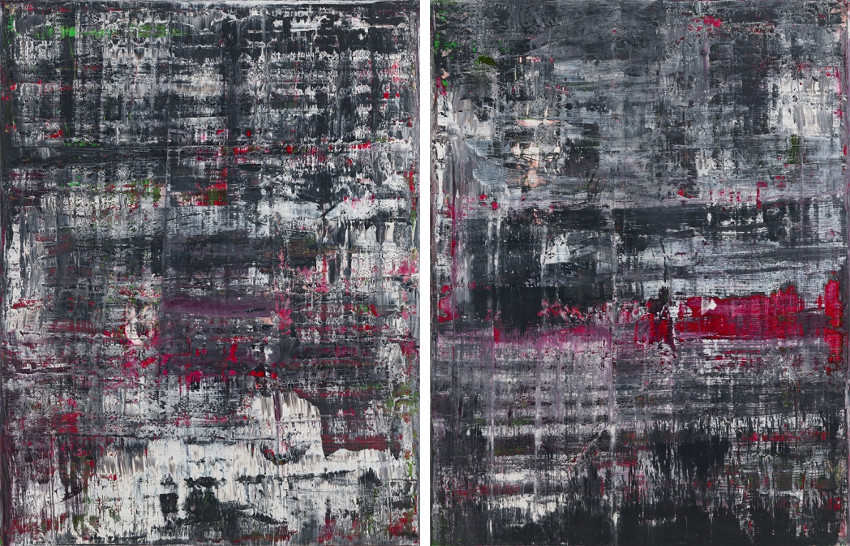 Between War and Oppression - a Biography of an Artist
Gerhard Richter was born on February 9, 1932, and was the first child of Horst and Hildegard Richter, who also had a daughter, Gisela, born in 1936. Horst and his son never had a close relationship, while Hildegard was a bookseller, a talented pianist, and very passionate about literature - a true source of inspiration for Gerhard. In 1935, Horst was offered a teaching position at a school in Reichenau (which is now in Poland, but at the time was a part of Saxony), and the entire family moved to a town much smaller and far less stimulating than Dresden. However, as the WWII broke out, it turned out to be also a much safer place to live than the bigger city that took a massive bombardment. The strain between a father and his son was further increased as first was conscripted into the German army, sent to the eastern front, before ending up captured by the allies on the western front and spending the last days of the war as a POW. When he eventually returned home, he was disgraced, and Gerhard shared much of the fate that was pointed at his father. Even though the family relocated from Reichenau to the even smaller Waltersdorf during the war, and managed to escape the gruesome destruction of Dresden, their experience of war was nonetheless intense. The ending of the conflict coincided with Gerhard's transition from childhood to adolescence, and the Germany he was born into seized to exist due to war and the following Soviet occupation.
While difficult in many ways, Richter was able to find some joy in the years following the end of WWII. He (everyone else) gained access to books that were prohibited under Nazi regime, and his mother's influence and love for literature really showed up, as she encouraged him to read Schiller, Goethe, Nietzsche, and many others. It was around this time, at 15, that Richter began to develop an interest for art, having an early epiphany during an eight-week summer camp organized by the Russian-controlled State, where he spent a lot of time drawing. He still remembers some of the pieces made at the time, like the watercolor drawing he produced whilst living in the village of Waltersdorf. Being unable to speak the dialect, he was jealous of all the dancing people, and out of anger and bitterness came one his first artworks. In 1947, parallel to his studies of stenography accounting and Russian at college in Zittau, Richter began attending evening classes in painting. One year later, he moved to Zittau, and on completing studies, still did not assume that he'd end up as a painter. His first job was to produce banners for the government of German Democratic Republic, but during his time there, he never actually painted any of the banners and was rather charged with cleaning the old ones and preparing them for his colleagues. In 1950, he became an assistant set painter for the municipal theater in Zittau. Young Richter enjoyed his time at the theater but was promptly dismissed when he refused to do wall painting work on the theater's staircases. Without a job, in 1951 he returned to his home city of Dresden, ready to begin his formal studies to be a painter.
The WWII and the following Soviet occupation played a big role in the career of Gerhard Richter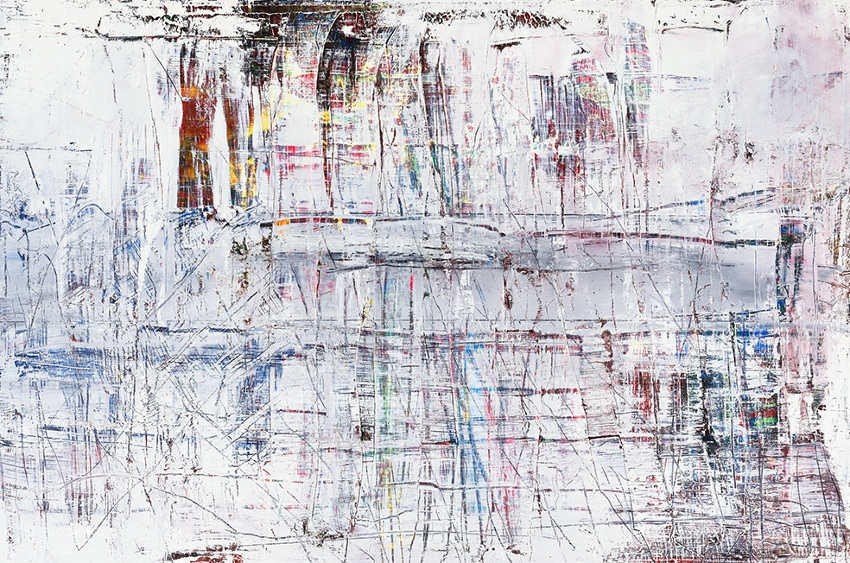 Studies
Upon his return to Dresden, Richter found it to be a very different city than the one he was born and spent the first three years of his life in. Most of the city was destroyed, but some buildings, or parts of buildings, were still intact, reminding of the city's past beauty. The artist considered admittance to the Academy a great deal and was very excited to study there. In addition to the rigorous daily routine of artistic classes, the students also learned about Soviet politics and economy. Soon after enrolling at the Academy, Richter met Marianne Eufinger, known as Ema, a fashion and textiles student, who, in 1957, became his (first) wife. As much as it seemed traditional and conservative, the Academy was more liberal in comparison to the agenda of the authorities in East Germany. However, that was about to change, and the artist couldn't even borrow books on impressionism, as it was deemed decadent, and the studies of formalist art, with the exception of Picasso and Renato Guttuso, was not permitted. Despite all these obstacles and the growing pressure on personal liberties, Richter found his training in Dresden very influential. In 1956, having successfully completed his studies at the Academy, Richter was accepted into a program run by the Academy for talented and promising graduates, where he received a studio and a modest income for the next three years in exchange for teaching evening classes to the public. Things were looking promising, and yet he felt growing increasingly uncomfortable with the restrictions imposed on his work. There was no choice – get back into the line and compromise, or be punished. After seeing works by Lucio Fontana, Jean Fournier, and Jackson Pollock, Richter realized that his way of expression was different than theirs, and lacking in necessary freedom. So, in 1961, he carefully planned and executed his escape to West Germany with Ema.
The new chapter in the artist's career began out of necessity, but it was the right move. The only move, considering his artistic future. Munich was the original destination, but Richter settled in Düsseldorf, following advice from his friend Reinhard Graner, who already lived there. Despite having completed his studies in Dresden, the Staatliche Kunstakademie Düsseldorf was progressive, so Richter decided to apply. As a student, in addition to the latest trends and techniques he finally had an opportunity to study, he also received a stipend, which was a crucial source of income in those first years after defecting from East Germany. He started off in the class of Ferdinand Macketanz, painting intensely. Unhappy with most of these pieces, he destroyed most of them. It still was an important phase of his career, as he went through a lot of experimentation. After the first semester, he moved into the class of Karl Otto Götz, who was probably the most attractive professor at the Academy. There he met Konrad Fischer, Sigmar Polke, and Blinky Palermo, who all became friends and mutual influences. They were all very competitive, but also very supportive of one another, keen to improve their art and make a name for themselves, often exhibiting together. Along with keeping abreast of developments in Germany, they paid a close attention to overseas and the development of Pop Art, each enriching his own thinking and practice with different elements of this new, soon to be world-dominant artistic style. Richter's interest in current affairs, popular culture, media, and the growing consumer society began to manifest itself increasingly in his paintings, like in President Johnson consoles Mrs. Kennedy, a piece created after the infamous Kennedy assassination. The paintings made in this period were created with the use of photographic images, something that had previously been inconceivable to him and to academic painting, and it marked the pivotal breakthrough. Now he was interested in exploring the relationship between the photographic image and painting, producing some of his first works to use techniques of blurring in 1963, like the piece titled Alster. By the time he left the Academy in summer of 1964, Richter had finally accepted his destiny of becoming a painter, and his true career could begin.
His life and art were shaped by the bod decisions he had to make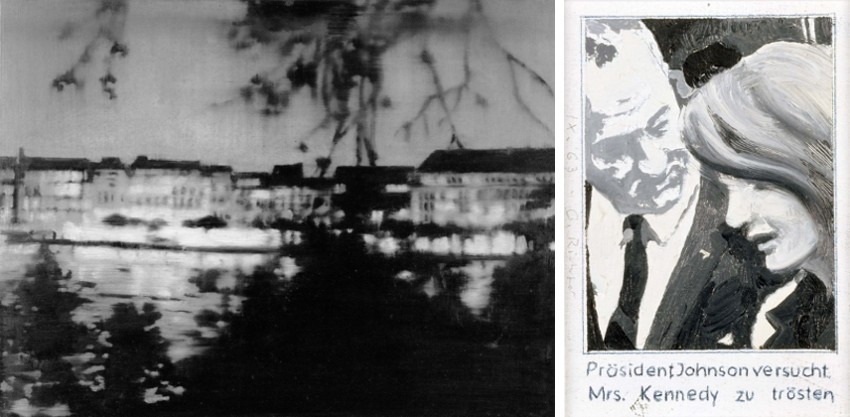 Getting Established and the World of Abstraction
Pioneering an approach to painting through exploring the relationship between photography and painting, Richter was responsible for the process that was fundamental for the entire discourse of the post-WWII painting. At this time, two things were vital for him – representation by commercial and dynamic galleries; and opportunities for exhibitions. In summer of 1964, Munich-based gallerist Heiner Friedrich invited Richter to feature in the two-person exhibition together with Peter Klasen. Alfred Schmela, a Düsseldorf-based gallerist gave Richter his first solo show in September 1964. At around the same time, René Block opened his gallery in Berlin with a group show featuring Richter's work. He once again exhibited with Polke in November 1964, at Galerie Parnass in Wuppertal. It was a flying start into the world of commercial art, and Richter was able to pick whatever subject he wanted. And while he truly enjoyed painting eclectic subjects, he was naturally drawn to certain topics more than other. They were small affinities that became apparent over the course of the coming years. Family portraits, military aircraft and groups of people were characteristic of the artist's work from this period. There was also a fascination with ideas of death and suffering, similarly to what Warhol did in his Disaster series. Pieces like Aunt Marianne, which was a family member who died as a direct result of the Third Reich, his maternal aunt who was institutionalized with mental health problems and left to die as part of the Nazi's eugenics program. During 1967, following the epiphany of Ema (Nude on a Staircase), works depicting women, nude and erotic images dominated his practice. In 1968, his focus shifted to aerial views of cities and towns. All things considered, the 60's were good for Richter – he exhibited a lot and made some close relationships, like that with René Block. He also exhibited his works internationally, as part of group shows in Switzerland, the USA, and Japan.
The 70's brought some difficulties. Even though his career and reputation were gaining momentum, it didn't seem that way to Richter. He became increasingly acquainted with Minimalism, Conceptualism, and Formalism, especially the work of Bruce Nauman and Sol LeWitt. Having first engaged geometric abstraction in 1966, through color charts, the artist returned to these in 1971, introducing the element of chance into the selection of colors, pursuing grids that would contain a higher number of colors than those produced in 1966. With the exception of 192 Colors, which was his re-departure point in many ways. The Grey monochromes were also in his focus in 1966, broadly referred to as Grey Paintings. The genesis of the applied technique lies in his interest in Art Informel, where he used the sweeping, swirling path of the brush marks that were clearly visible, opposed to soft blurring that was used in his photo-paintings. Further evolution of these Inpaintings led to the creation of pieces, specifically designed to explore the borders between abstraction and figuration, like Two Women at Table. Photo-Enlargement was another technique through Richter was removing expression, and it drew significant attention. All of these – Color Charts, Grey Painting, Inpaintings, and Photo-Enlargements represent Richter's efforts in exploring abstraction and attempts of dismantling the figurative painting. The possibilities of minimalism and abstraction were also in the center for American artists, such as Ellsworth Kelly, Barnett Newman, Ad Reinhardt, Cy Twombly and Willem de Kooning. In 1977, Richter found two main routes forward – the first was the satisfactory conclusion to the inward logic of the monochrome, where the paintings were finally allowed to project outwards again, into the world, rather than spiraling inwards into itself and into the artist's own mind. His second breakthrough was the development of a substantial number of colorful abstract works he described simply as Abstraktes Bild. However, in personal life, not everything was going according to plan. Blinky Palermo, Richter's close friend, died during a holiday in Maldives, and the artist's marriage with Ema became strained and was obviously coming to an end. In the spring of 1979, they became formally separated.
All of his painting could be categorized into several series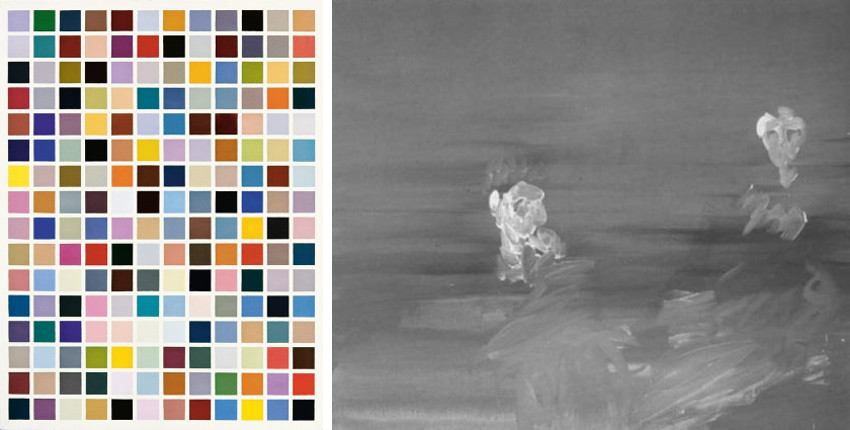 International Acclaim
Isa Genzken was the next person of interest for Richter. He had first been introduced to her in the early 70's while she was studying, and the two were reacquainted in the late 70's, just as his marriage with Ema was ending. They soon started living together in Düsseldorf and were married in 1982. The following year marked their move to Cologne, after having accepted a large studio space - an offer by his gallerist Rudolf Zwirner. With never-ending energy and enthusiasm, the artist continued to experiment in the field of abstraction, and the Abstract paintings dominated his practice until 1987. While fairly certain where he wanted to go with abstraction, the figurative work was problematic. Candles provided a quiet response between 1982 and 1983, becoming the primary subject. These paintings offered a fresh approach to Photo-Painting, but also served as a clear border between Richter and neo-expressionists. Landscapes were also a recurring motif in his work ever since his Corsica paintings, made in the late 60's. In 1983 and 1984, the artist was preoccupied with something more down to earth, and so he depicted picturing rural farmland and the Rhineland, exemplified by works such as Barn. One of his most popular pieces was produced in 1988 – Betty is a portrait of Richter's daughter from his first marriage when she was still a girl. Sitting close to the camera lens, wearing a red and white floral hooded cardigan, she faces away from the observer, seemingly into a gray void, one of her father's gray abstract canvases. Richter's fame was slowly raising, and by the end of 80's, he was among the most prominent painters in both Germany and the world. Constantly selling in the international markets, his artworks reached a point of achievement that was now clearly matched by his status and reputation. In 1993, his marriage with Isa Genzken was over. A year later, Richter met the artist Sabine Moritz, fell in love with her and settled down for good.
The 80's brought wide international acclaim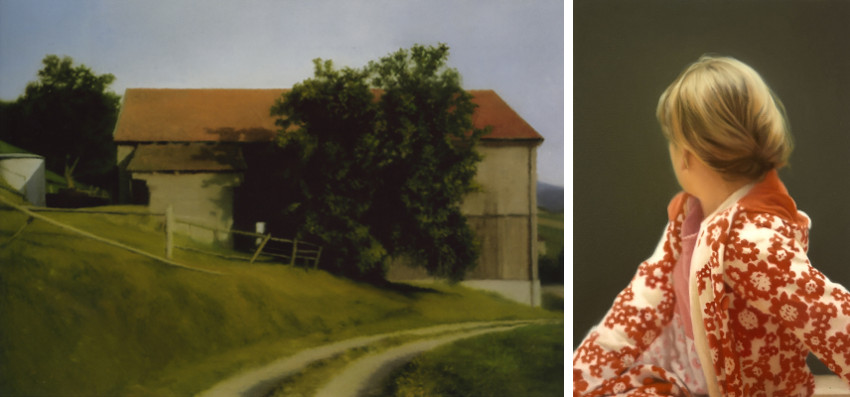 21st Century Richter
At the beginning of a new millennium, the artist was increasingly focused on his Abstract Paintings. In 2001, glass was brought to center stage, with works such as 4 Standing Panes that demonstrated an obvious interest in pushing wall-based works into the realm of the sculptural. The major retrospective Forty Years of Painting was held at MoMA in 2002, it featured 190 works, and it was curated by Robert Storr. Silicate, a series of paintings of substantial size inspired by an article in the Frankfurter Allgemeine Zeitung came in 2003. Richter's attention from serial work drifted shortly, in a form of a painting depicting the terrorist attacks on the World Trade Center in New York. Titled simply September, it shows how Richter's painting raises and encapsulates many of the complex geopolitical issues that the attacks provoked. Having been previously asked in 2002 to replace the window on the Cologne Cathedral that was destroyed during WWII, the artist completed the project after five years of careful work. It's his largest commission so far. Testing patterns and design concepts followed in 2008, accompanied by the series of colorful abstract pieces. One of the artist's most recent avenues for the exploration of abstraction and color takes the form of stripes, realized in 2011 through a piece titled Strip.
At the beginning of a new millennium, he was increasingly focused on his Abstract Paintings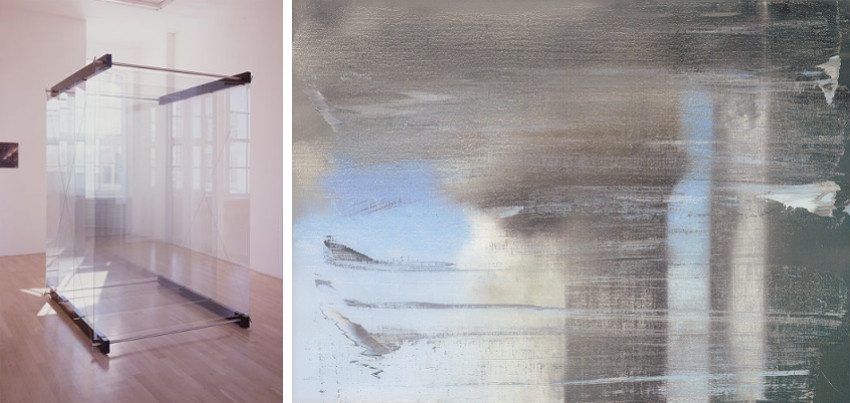 Related Artists and Influences
Since his college days, Richter had a special relationship with several artists, including Konrad Fischer, Sigmar Polke, and Blinky Palermo, with all of them being friends but also artistic influences. As mentioned above, the artist was also influenced by Jackson Pollock, Lucio Fontana, Robert Rauschenberg, and Andy Warhol, but also by the artistic movements of Pop Art, Fluxus, Abstract Expressionism, and even Dada. It's important to mention the work of Hubert Roestenburg, who left a significant impression on Richter. Through his work, the artist helped in shaping the ideas of Minimalism and Conceptual Art, and he also influenced Ellsworth Kelly and Christopher Wool.
Influenced by many, Richter was himself an influence to a number of artists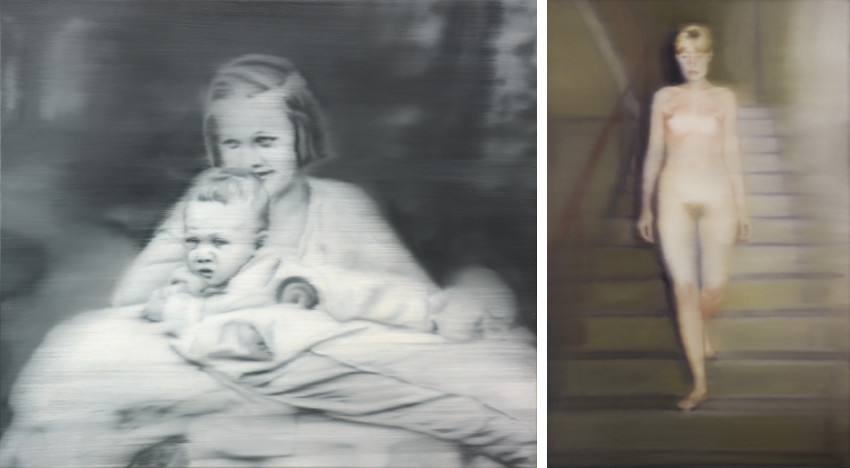 Most Notable Artworks
When an artist creates this many good works, it becomes really hard to point out the most significant ones. However, some do stand out, be it the name, political statement or something different. Mouth (Brigitte Bardot's Lips) (1963) was one of the first paintings to be completed from a photograph. Color Streaks (1968) is one the earliest gray paintings. 1024 Colors (1973) represents a systematic approach to the canvas. In 1976, the artist first named one of his pieces Abstract Painting. The most significant body of figurative work Richter produced in the 70's was 48 Portraits, which took the form of 48 black-and-white canvases depicting famous western men from the previous two centuries, including scientists, composers, philosophers, and writers. He presents close-ups of their faces only, against plain gray backgrounds. It was one of the rare figurations when the artist produced mostly abstract work. The most politically provocative body of work up to date was created in 1988. The cycle of fifteen paintings was titled October 18, 1977, and it depicts the day when the saga of the Red Army Faction (RAF) came to an end with the suicide in prison of two of Germany's most notorious terrorists, Andreas Baader and Gudrun Ensslin. The deaths were treated as a suicide despite the unusual circumstances. Made almost a decade after the original events, the series carried a powerful message, as the story was still a subject that divided opinion and touched a raw nerve among the German public. One of Richter's most significant cycles of Abstract Paintings, Cage, was created in 2006. There are six large-scale canvases, inspired the music of the American avant-garde composer John Cage.
Some of the pieces are known throughout the world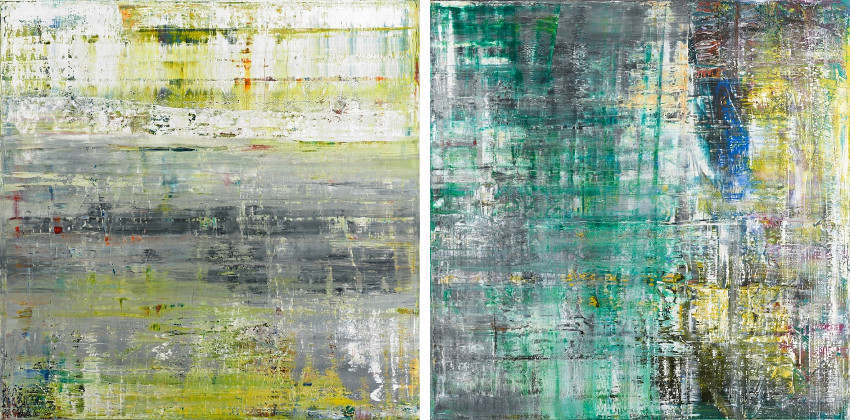 There Are No Shortcuts to Success
You must embrace everything that's happening around you. Difficult decisions must be made and some will even be life-threatening. Emotional challenges are important as they provide endless inspiration, but can also cause some problems. Friends, fellow artists, anyone you can learn from – the knowledge is indescribably significant. This summarizes the life path of Gerhard Richter, one of the most famous contemporary artists, who's been an inspiration for generations of artists.
He is represented by Gagosian, Me Collectors Room Berlin, Weng Contemporary and Galerie Fluegel-Roncak.
Gerhard Richter lives and works in Cologne.
Featured image: Gerhard Richter – portrait, photo credits Norbert Millauer/Getty Images
All other images courtesy of the artist