A noble cause, the famous couple and a prestigious magazine, it is a dream for any photographer. That kind of thoughts gave joy to Gerry Deiter, who was hired by the Life magazine to photograph John Lennon and Yoko Ono in their Bed-In for Peace at the Montreal's Queen Elizabeth Hotel in 1969. It was all like a dream, but a dream inspired by the cruel reality. At the time, Vietnamese War raged on, and someone had so say something about it. Who better than Lennon, who even wrote his Give Peace a Chance during one of those protests. Deiter was involved in fashion and commercial photography, but after the brief time spent at the set, something inside of him changed, and he simply wasn't the same man.
Give Peace a Chance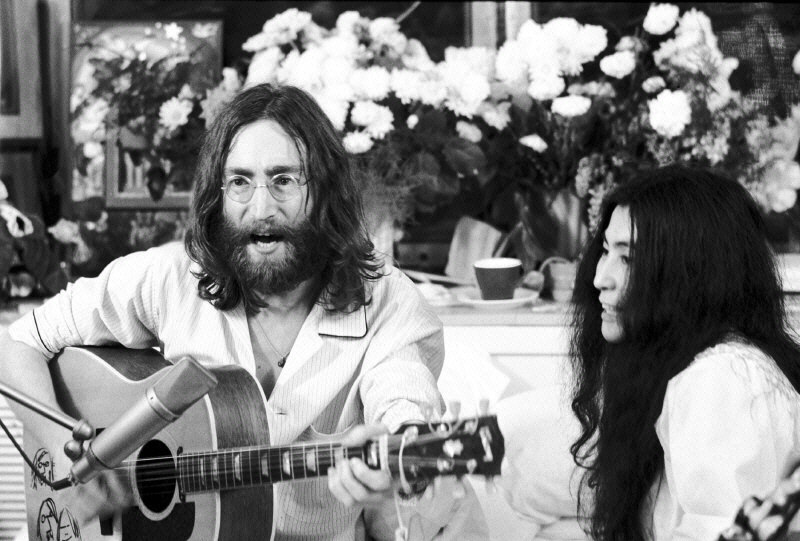 A Dream and the Cruel Reality
Like most of the dreams, this one had a sad ending, a sort of an awakening for the young artist. Despite being the only photographer there for the whole time, shooting the couple for straight eight days while they sang, composed, received visits from friends and talked to media, his work was still not printed. Simply put, bigger news popped out, as the death of Vietnamese leader Ho Chi Min bumped the story and made it to the press.
The Bed-In lasted from May 25 to June 1, culminating with the recording of the Give Peace a Chance. John told Gerry that they're going to sell the peace like other people sell soap, hoping to popularize nonviolent means of resolving conflicts, and ending the war, eventually. Sadly, the magnificent collection ended up in boxes, where it was hidden from the world for more than 30 years. It took another sort of violence for Deiter to once again try to spread the original mantra of the Bed-In. Lennon's message of love, compassion and peace were what the world needed to hear after the events of 9/11, and all the mourning, sadness, and anger that followed.
Lennon's message was about love, compassion and peace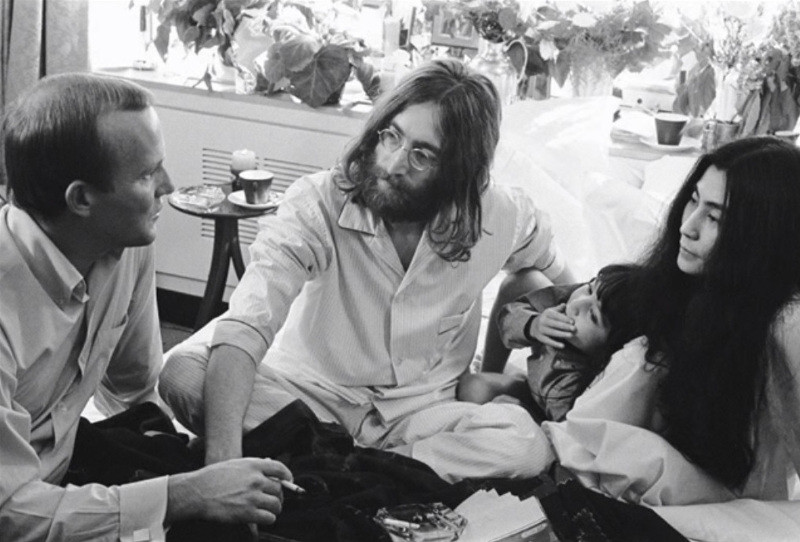 Discover Who You Really Are
Before working with Lennon, Deiter had regular spreads in Women's Wear Daily and even made it to the cover of the Harper's Bazaar. He also covered the New York jazz scene and the first two covers of Frank Zappa's albums were also done by him. After the Bed-In, everything changed for the artist. He came as one person, a commercial photograph, but after spending that short amount of time around Lennon and Ono, listening to their conversations, watching their reactions, learning who they really were, he also learned who he is.
He abandoned the previous type of work and turned to the themes like protesting against nuclear testing and environmental movement, becoming a crew member of Greenpeace in 1971. He continued his contribution to the online news site, Peace, Earth & Justice News, and was the founding editor of the Prince Rupert This Week, a newspaper.
Jazz, fashion, and Frank Zappa, then the peace protests and Greenpeace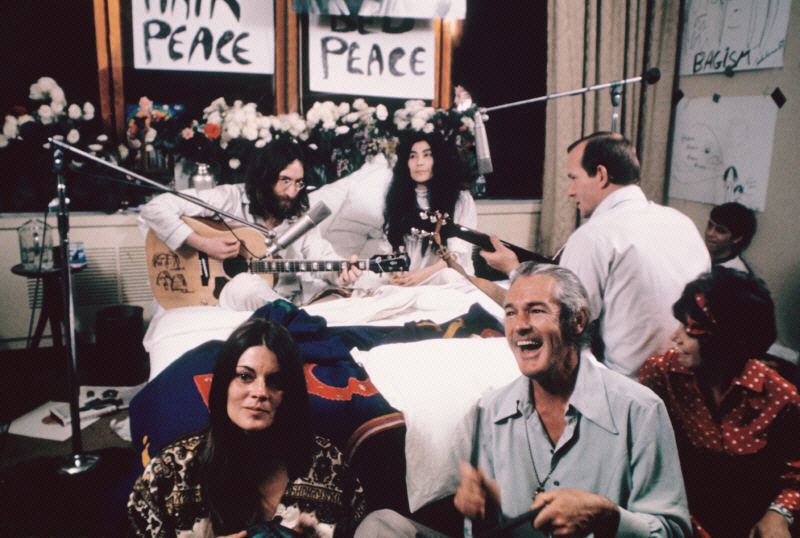 All of Deiter's Work Had a Higher Purpose
The recognition for his work came only after the pictures were published. "It's ironic as hell. I've been taking pictures since I was 12 years old. I finally get renown for one assignment I did for eight days 36 years ago", said Deiter to The Globe. It really didn't matter that much, the whole hype and the recognition. It was always about the message of peace. All of his work after the Bed-In had a higher purpose.
Gerry Deiter died in 2005, a day after he took part in the events marking the 25th anniversary of John Lennon's death. He couldn't forget the man who changed his life, just as anyone who's seen his photographs could never forget them.
He is represented by Stephen Bulger Gallery in Toronto, Canada.
Garry Deiter lived and worked in Montreal.
Featured image: Gerry Deiter - They couldn't believe they had gone a week without shoes! Give Feet a Chance caused uproarious laughter. Left to right, Judy Marcioni, Tom Smothers, John Lennon, Yoko Ono, and Rosemary and Timothy Leary, 1969 (detail)
All images, including featured – courtesy of Stephen Bulger Gallery.