Ghada Amer is an Egyptian painter, sculptor, and installation artist whose work addresses the issues of femininity, sexuality and gender roles. I believe that all women should like their bodies and use them as tools of seduction, Amer stated in relation to her work and its topics. Even though she's originally from a religious and traditional country, Amer uses the ideas and symbols of cultural identity and religious fundamentalism and turns them upside down in her daring paintings and sculptures. In addition to the main body of her work, Amer has produced a couple of interesting, conceptual exterior designs.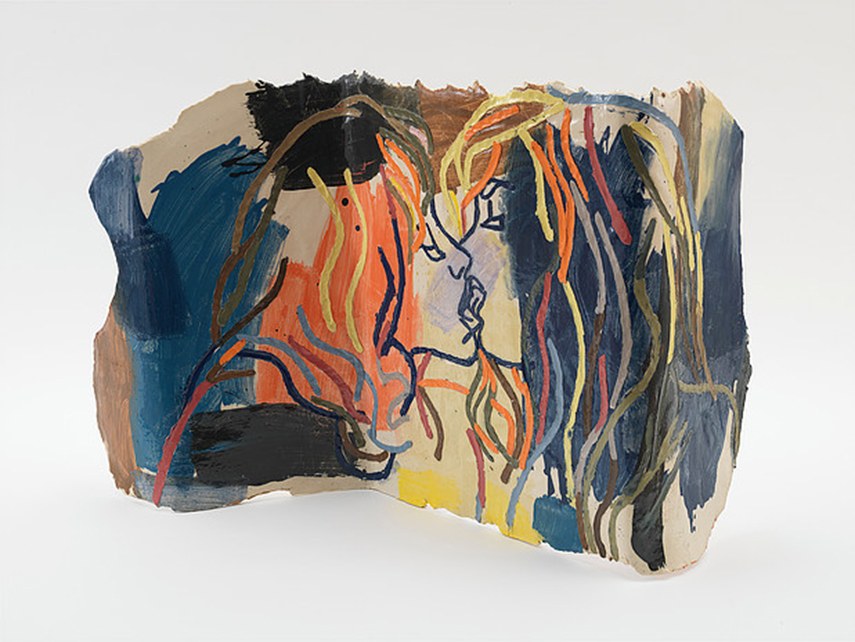 Moving from Egypt to France
Ghada Amer was born in Cairo, Egypt in the early 60s. While she was still a teenager, in the mid-70s, her parents, traditional Muslim Egyptians, decided to relocate to France. Young Ghada began her artistic training ten years later in Nice, France. As a student in the BFA and MFA programs of Villa Arson, Amer was excluded from painting classes, because they were reserved for male students only. However, she did 't give up, as she was a provocative and innovative young woman. She began to seek for new ways to break into the male-dominated Western painting world. Initially, she used sewing and embroidery that she has learned from her mother and grandmother to celebrate and assert the female presence in the art world.
Amer was excluded from painting classes, because they were reserved for male artists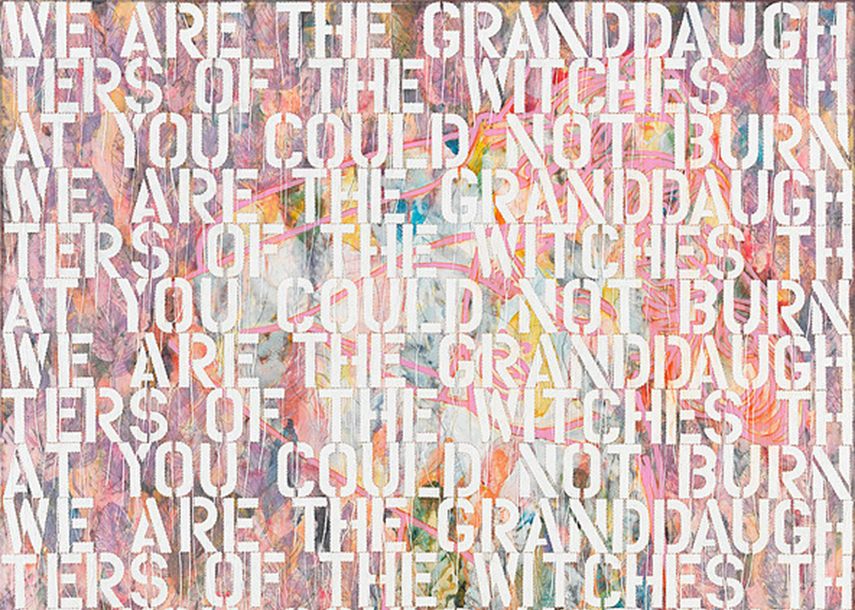 Amer's Paintings, Drawings and Prints
Amer is best known for her erotic embroideries. In her combinations of painting with needlework, she addresses provocative issues of sexuality, postcolonial identities as well as the Islamic culture of her motherland. Amer's work is strongly feminist because it subverts the masculine genre of painting. She rejects the usual roles of female sexuality by making it liberated, even pornographic at times. It is important to note that Amer's relocations from east to west is clearly reflected in her pieces. She moved from Egypt to France, and now she lives in the United States. This is visible not only through the topics, but also through the style of her paintings which are influenced by the western artistic language of appropriation, abstraction, and expressionism. She also uses so-called politically incorrect images in her work. Amer's depiction of naked women in sexual afterglow is openly pornographic and based on the ideas of female exploitation and objectification. In a way, Amer celebrates the female sexual desire and female right to enjoy their own eroticism. Along the same lines, the artist claims that pornography is the starting point of the image, then it becomes something else. She converts the regular pornography into a sensual world of female desires and fantasies. However, eroticism is just a part of Amer's artistic topics - after the events of the infamous September 11, her work began to explore the issues of Islamic terrorism. Her Language of Terror from 2005 is a wallpaper decorated with gold crowns and elaborate pattern into which she wrote many variations of the word terrorism.
Amer is interested in provocative issues of sexuality, postcolonial identities as well as the Islamic culture of her motherland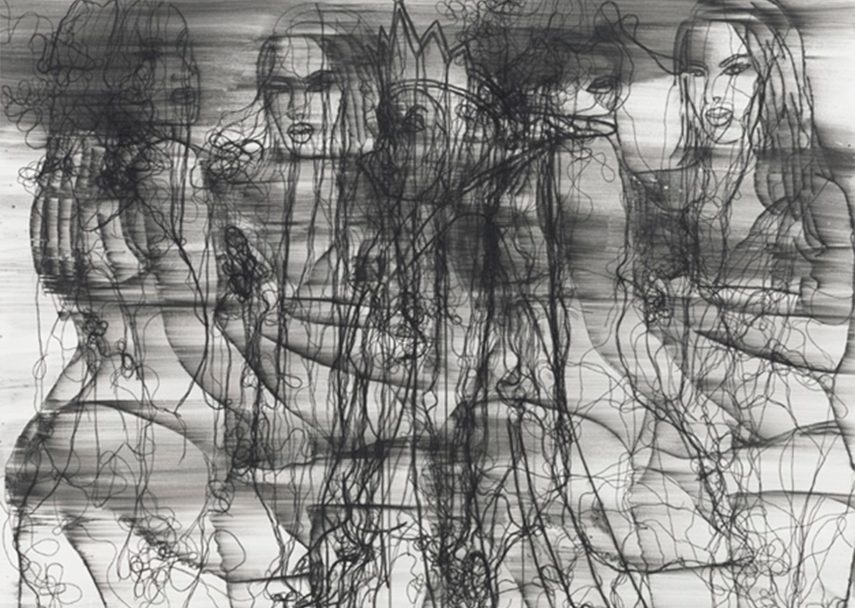 Public Garden Projects and Exhibitions
Even though Amer is best known for her canvas-based works, Amer also made a number of prints, drawings, sculptures, and installations. In 2001, she created a unique project called Encyclopedia of Pleasure, a sculptural installation consisting of many boxes with inscribed words about female beauty and appeal. She has also created several public works – such as Love Park in Santa Fe and Today 70% of the Poor in the World are Women in Barcelona. Another famous garden project of Amer is called Love Grave and it was installed in the Indianapolis Museum of Art in 2003. Love Grave was made by digging the words into the ground and by leaving small hills of dug-up earth around the letters. The idea behind this work is that there is a strong connection between Eros and Thanatos, between plenitude and emptiness, love and death, since they are the parts of the same human life cycles. Amer's interesting and prolific work has been widely recognized and presented in numberless international solo and group exhibitions. She won the major art prize at the 1999 Venice Biennial, awarded by the UNESCO. In 2003, her pieces were included in the collection of the Museum of African Art in Queens and in 2008, an important retrospective of her work was shown in the Brooklyn Museum. Later on, in 2014 and 2015, her work became the part of the in the traveling exhibition called The Divine Comedy: Heaven, Purgatory and Hell Revisited by Contemporary African Artists.
Love Grave was made by digging the letters of the word into the ground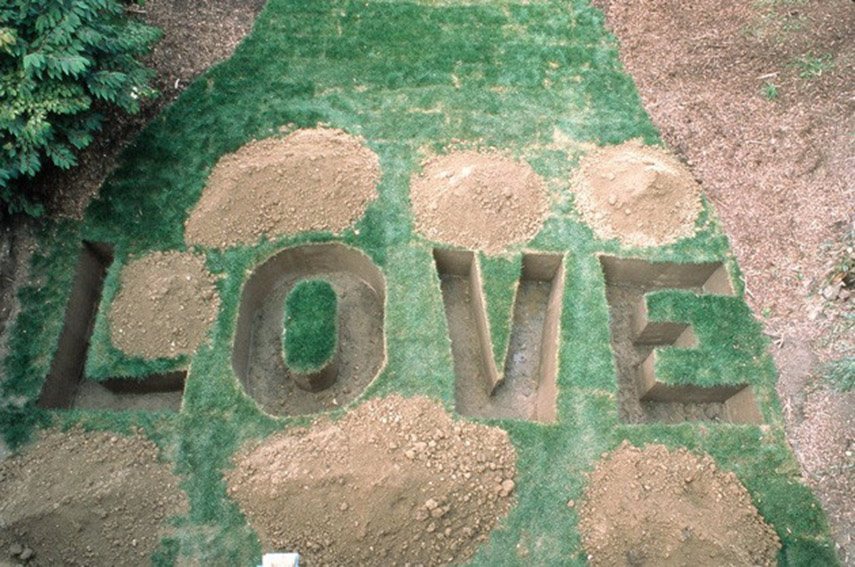 Exploring the Narratives of Longing
Ghada Amer is one of the world's most prolific artists originally from Africa, who continuously explores the issues of the uneasy world we're living in. The narratives she tells in her paintings, drawings and sculptures are universal stories of longing, seen through the sensitive (and sensual) female heart. Her career spans more than two decays and successfully addresses the subject of women and stereotypes associated with female roles within the American-Muslim identity, such as the submission of women to the domestic life, the celebration of female pleasure, and the puzzling nature of passion, war, and violence.
Ghada Amer lives and works in New York City.
Featured image: Ghada Amer's portrait - image via artistproject.metmuseum.org
All other images courtesy of the artist.