Art for all. A simple yet surpsrisingly compelling credo that truly underpins the work of the famous Gthilbert & George artistic duo. Formed from Gilbert Proesch (born on the 17th of September in 1943, San Martin de Tor, Italy) and George Passmore (born on the 8 January in 1942, Plymouth, United Kingdom), this long lasting and successful collaboration creates within and around the fields of Conceptual, Performance and Process art. Being active since the mid-1960s, Gilbert and George first attracted the public's attention for their interesting performances. Since then, the two expanded their practice to a variety of media, including books, film, painting, postcards, photomontages etc. All they make is underlined by a strong Pop sensibility and the appropriation of mass media images. Interestingly, although working in a variety of media, Gilbert and George refer to all their work as sculptures.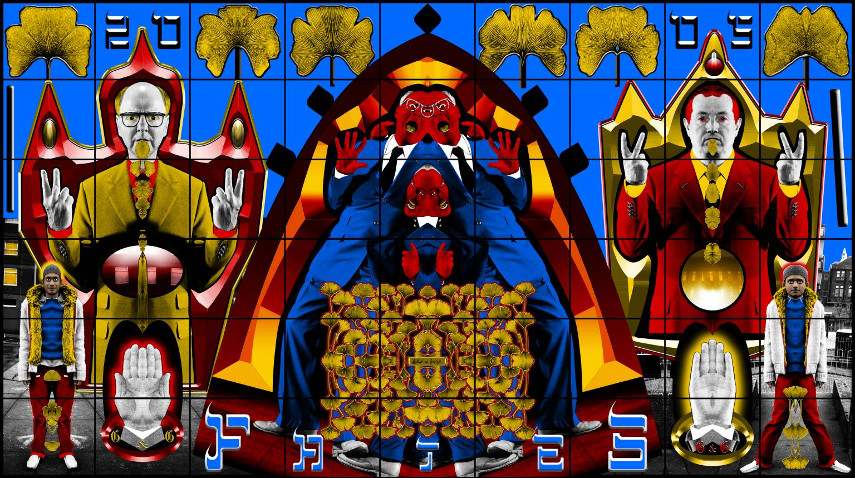 Forming the Duo
Gilbert Proesch and George Passmore first met on the 25th of September of 1967 while they were both studying at the prestigious Saint Martin's School of Art in London. Although the two clicked almost instantly on all levels, they would later joke that the main reason why they came together was because George was the only person who could understand Gilbert's rather poor English[1]. In 1968, they moved in together, finding a new residence in the Fournier Street, Spitalfields, East London. Interestingly, they still live in that 18th-century house to this day, although it has been restored to its original decor as the duo gained more and more fame. East London was a big part of their work from the start and Gilbert & George see this part of England's capital as a unique microcosm. According to George, nothing happens in the world that doesn't happen in the East End of London. Ever since they decided that alternative art was something they would both be interested in, Gilbert and George's approach to creating was always anti-elitist. Adopting the slogan of Art for All, the duo desired to aim their creativity at wider masses, not restraining their work with the formal boundaries of art circles. As was said earlier, the two refer to all of their creations as sculptures. Even their drawings were called Charcoal on Paper Sculptures. During the year of 1970, Gilbert and George first performed their famous Singing Sculpture piece at Nigel Greenwood Gallery[2]. For this performance, they covered their heads and hands in multi-coloured metalised powders, stood on a table and sang along to a recording of Flanagan and Allen's song titled Underneath the Arches. The masked performers would also dance to the music, sometimes for a day at a time. Since then, these masks have been regarded as this duo's characteristic creative uniforms.
Since the time the two met in the mid-1960s, Gilbert and George duo had a regular tendency of being rather provocative as artists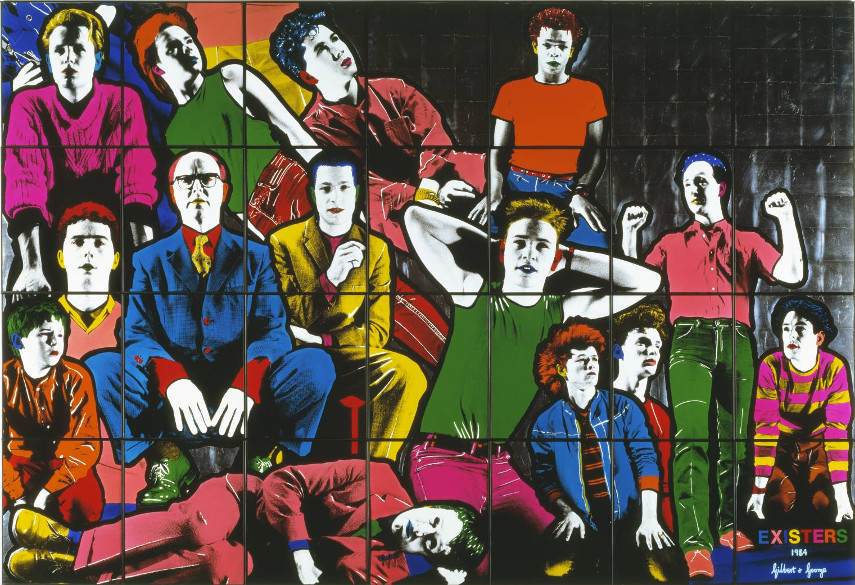 The Pictures and Later Career
Since The Singing Sculpture performance, the pair would often call itself living sculptures. They would insist that their art is a pivotal part of their lives, a concept that never really changed as they were maturing. Soon after the success of their first performance, Gilbert and George started what may very well be their best-known practice - large scale photo works, known simply as The Pictures. The early style of such pieces was black and white, but as The Pictures were becoming more frequent, the creative pair added hand-painted red and yellow touches. They would also utilize black grids on these artworks, emphasizing that the entire compositions are rather complex and well planned. The Pictures' addressed a wide variety of subject matter including religion and patriotism. Often called visual love letters from us to the viewer by the authors, such images would also often feature their authors within them. Jack Freak Pictures is, to date, the largest series of this kind created by Gilbert & George. Many of The Pictures was controversial, namely the series from 1986 that was seemingly glamorizing the underground subculture of the East End, presenting the audiences with depictions of skinheads and some racial remarks. Other works contained nudity, depictions of sexual acts and bodily fluids, so notoriety was never an issue for this duo[3]. Now, sixty years after they started to make art, Gilbert and George are regarded as living legends. They were the subject of the BBC documentary Imagine, presented by Alan Yentob in 2007. The pair won many awards in their time, such as Regione Lazio Award in 1981, the Turner Prize in 1986 and Lorenzo il Magnifico Award in 2007. In the year of 2005, Gilbert and George were chosen to represent the United Kingdom at the Venice Biennale. It should also be noted that they claim that they married in 2008[4].
Over the course of the last sixty years, Gilbert and George have created artworks by combining various fields, including the likes of Performance, Conceptual and Process art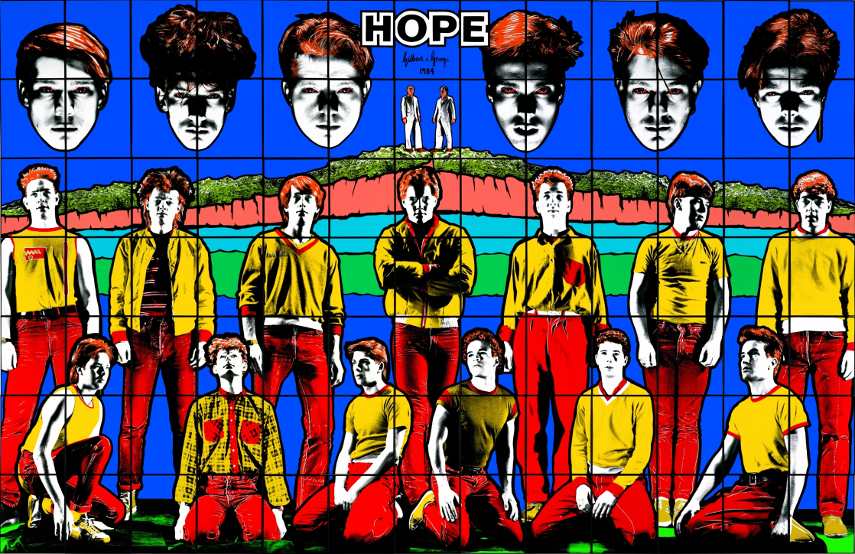 The Fuel of Gilbert and George Art
Over the course of the last sixty years, this creative duo explored a wide breadth of subjects pertaining to race, sexuality, religion and mortality, investigating all the regular themes all of us struggle with to some degree. Insisting that their lives and their art are inseparable from each other, Gilbert and George create art that is both whimsical and obscene, provocative and comical, inspiring and offensive. Such uncombinable blends of emotions naturally come from a very complex artistic aim, best explained by the two artists themselves: Our subject matter is the world. It is pain. Pain. Just to hear the world turning is pain, isn't it? Totally, every day, every second. Our inspiration is all those people alive today on the planet, the desert, the jungle, the cities. We are interested in the human person, the complexity of life.
These artists are represented by White Cube Bermondsey London and White Cube Mason's Yard London.
Gilbert Proesch and George Passmore live and work in London, The United Kingdom.
References:
Rosenblum, R., Introducing Gilbert & George, Thames & Hudson; Prima edizione, 2004
Debbaut, J., Bracewell, M., Livingstone, M., Borthwick, B., Gilbert & George, Tate, 2007
Dutt, R., Gilbert and George: Obsessions and Compulsions (Obessions & Compulsions), Philip Wilson Publishers, 2004
Jonquet, F., Gilbert Proesch and George Passmore, Phaidon Press, 2005
Featured image: Gilbert and George - Photo of the artists - Image via theguardian.com
All images used for illustrative purposes only.