Gilbert1 is an emerging French artist from Paris, born in 1980. His works can be found in abandoned buildings, on the streets of French cities, and in various galleries. Having started as a graffiti artist, Gilbert1 now works in a variety of media. His body of work includes paintings, prints, drawings, murals, videos and installations. His installations are often made of reclaimed material and located in the abandoned areas. The artist has also been interested in calligraphy and typography for a long time. His likes spontaneous work where he can use found objects and implement them in existing architecture.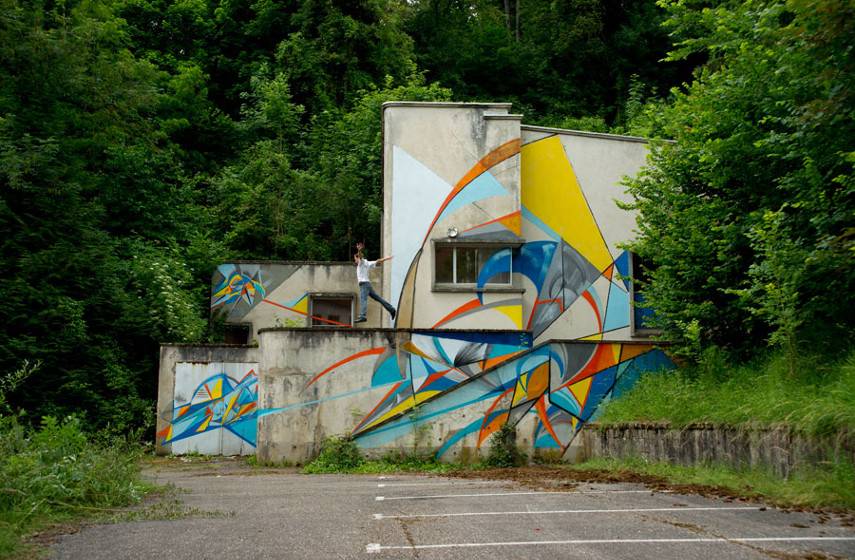 Home Projects
His works feature unstructured and abstract figures, which serve as a metaphor for a decadent society. The new series contain monochromatic drawings and paintings on canvas and found wood. His projects include To Build A Home, 2013, Broken Project 2012, Inside 2011, and Home Sweet Home, 2010. To Build A Home is his solo project which consists of the series of videos documenting his installation at an abandoned building from the 60′s, designed by the architect André Lurçat on the edge of the forest in France. When he is not painting murals in quiet and abandoned places, such as military barracks, or working on his new studio series, the artist is busy with exhibitions.
Gilbert1's paintings feature unstructured and abstract figures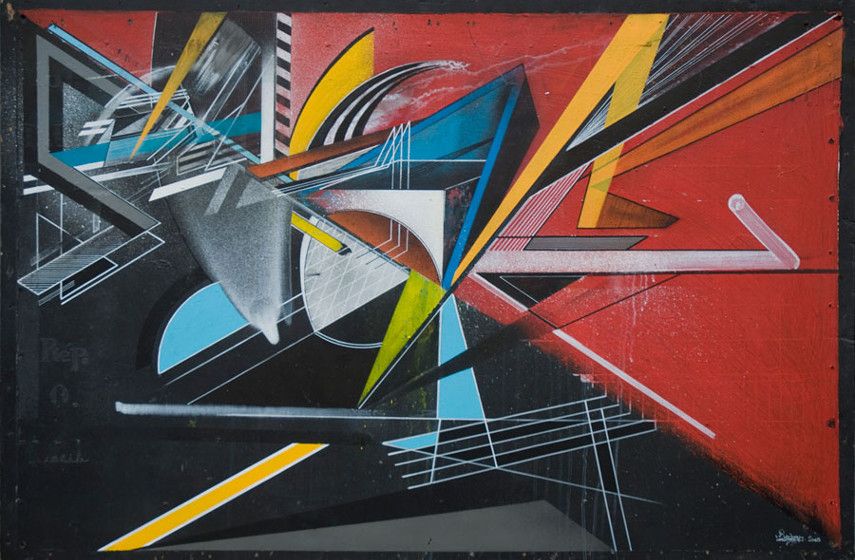 European and Exhibitions Around the Globe
In 2013, he participated in Graffuturism Exhibition at Openspace Gallery in Paris, and Geometry of Chance at Mirus Gallery in San Francisco, United States, along with Morten Andersen, Felipe Goncalves, Francesco Lo Castro, Grant Miller, Christine Morla, Robert Moya, LX One, Mark Schoening and many more artists. His works were also exhibited in Graffuturism 5 Year Anniversary Exhibition at 886 Geary Gallery in San Francisco, in 2015, and the group show (DE)CONSTRUCTION at Helene Bailly Gallery in Paris in 2014. In 2013 Gilbert1 exhibited his paintings, assemblages and sculptures at Stroke Art Fair in Berlin with Helene Bailly Gallery.
Bringing the new idea to an existing architecture, the artist refreshes the city walls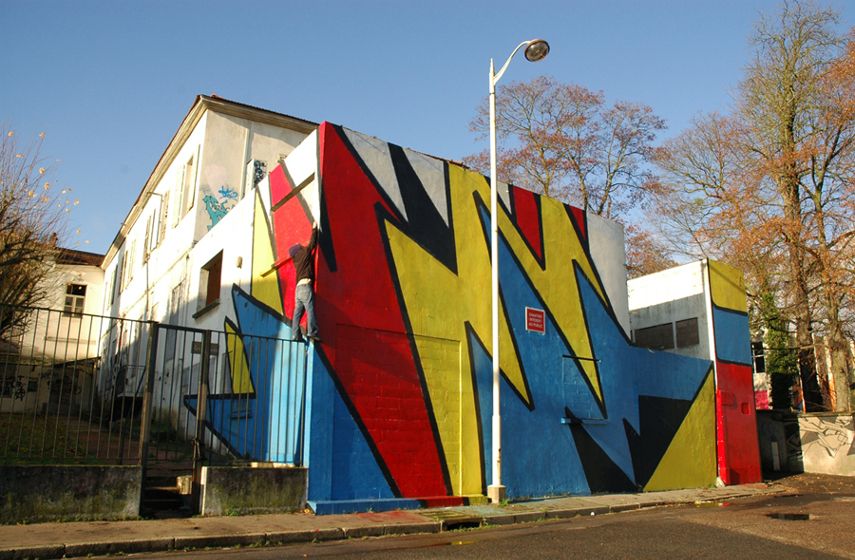 Keeping the Memory of the Past
In 2014, in his hometown Nancy, he presented many new paintings and some interesting installations. For the Home Two Project in Charleville-Mézières, he made a huge artwork in an old house. In a room of the old house, he assembled a large piece, using old tapestries and wood from the backyard. Keeping the old and adding the new, he successfully managed to keep the memory of the past alive and significant, as we often tend to replace what was old, but not broken, with what is freshly produced. Gilbert1 manages to connect the old with the new, in the same manner as he unites his graffiti roots with contemporary assemblages and painting.
The artist is represented by Punto618 Art Gallery, GCA Gallery, and Artsuggest.com
Gilbert1 lives and works in Nancy, France.
Featured image: Gilbert1 - Falling to Pieces
All images courtesy of the artist