One of the most inspiring young Italian artist Giuseppe Lo Schiavo creates amazing works that blend modern computer graphic with photography. Using photography not only as a passive tool but also like the paintbrush of a painter with great possibilities, he creates his own universe expressing great creative potential. The talented artist considers himself as an inventor rather than a discoverer – he invents the new realities with photography in order to escape from a daily routine into the world where nothing is impossible.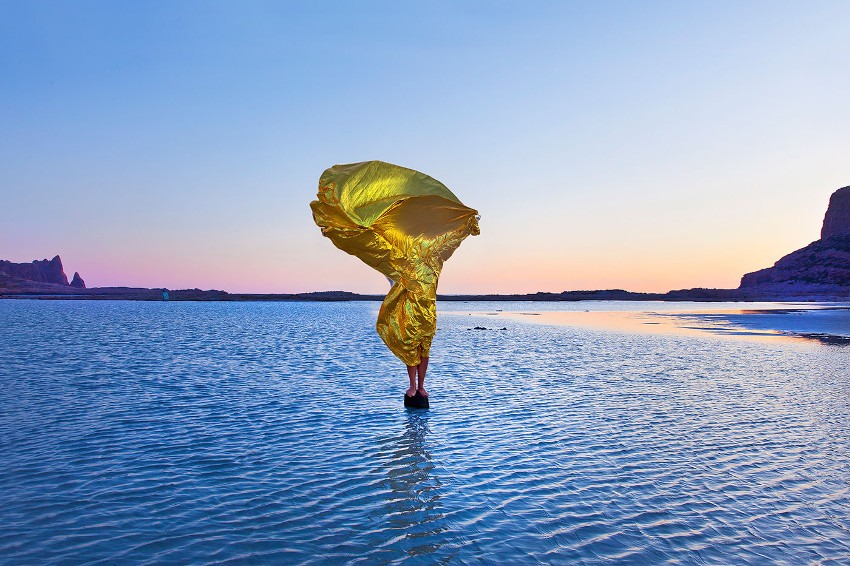 International Acclaim
Giuseppe Lo Schiavo came to prominence and received international acclaim in 2012 with Levitation, a series of photographs inspired by the work of a Belgian surrealist artist René Magritte and his series of paintings entitled Castle of the Pyrenees that challenges observers' preconditioned perceptions of reality. In Levitation, the landmark icons such as the Parthenon, the Colosseum, the Eiffel Tower, the Taj Mahal or the statue of Cristo Redentor (Christ the Redeemer) in Rio de Janeiro appear on floating rocks illustrate "a universe made of the thoughts."
Wind Sculptures series explores the relationship between humanity and nature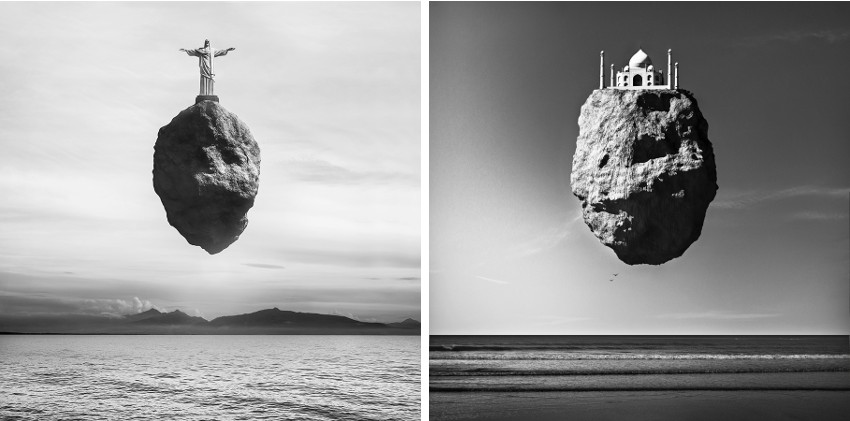 References to the Art World and Recent Work
Amongst Magritte, there are many other references to the art world in Lo Schiavo's photographs. His collection of photographic portraits entitled Ad Vivum was inspired by the greatest Flemish painters of the 15th century, while Art Currency series explores the indissoluble, ambivalent alliance between art and money in Pop Art manner. He also admires contemporary artists such as Marina Abramović, Bill Viola, Mustafa Sabbagh, and directors like Terrence Malick, Kim Ki-duk or Paolo Sorrentino. In February 2015, Lo Schiavo presented a fascinating new project entitled Wind Sculptures which explored the relationship between humanity and nature through the use of an emergency NASA blanket, and the wind. The entire project was taken throughout Europe, including in Italy, Greece, France, Switzerland, Portugal, Iceland, and the UK.
Wind Sculptures series explores the relationship between humanity and nature

Combination of Photography and Technology
Born in 1985, Giuseppe Lo Schiavo obtained his degree in Architecture from the Sapienza University of Rome and he is specialized in Architectural 3D Visualization. Since 2012, when he decided to devote himself to art, Lo Schiavo has combined a photography and technology to expand the boundaries and create extraordinary artworks. His work has been featured in numerous international magazine and it has been included in exhibitions in London, UK, New York, NY, Munich, Germany, Istanbul, Turkey, as well as in Rome, Turin, and Cosenza in Italy.
The artist is represented by Burning Giraffe Art Gallery.
Giuseppe Lo Schiavo lives and works in London, UK.
Featured image: Giuseppe Lo Schiavo - portrait
All images courtesy of the artist