Giuseppe Penone is a famous Italian sculptor, conceptual artist, and a member of the Arte Povera movement. Over more than 4 decades, Giuseppe Penone's work has been challenging industrialized society's understanding of our environment. Rather than seeing them as different or opposed, Penone claims that the realms of culture, nature and art are strongly and inseparately connected. His sculptures, installations and drawings have always been distinguished by his specific choice of unconventional materials and use of unique processes that are the crucial part of his work.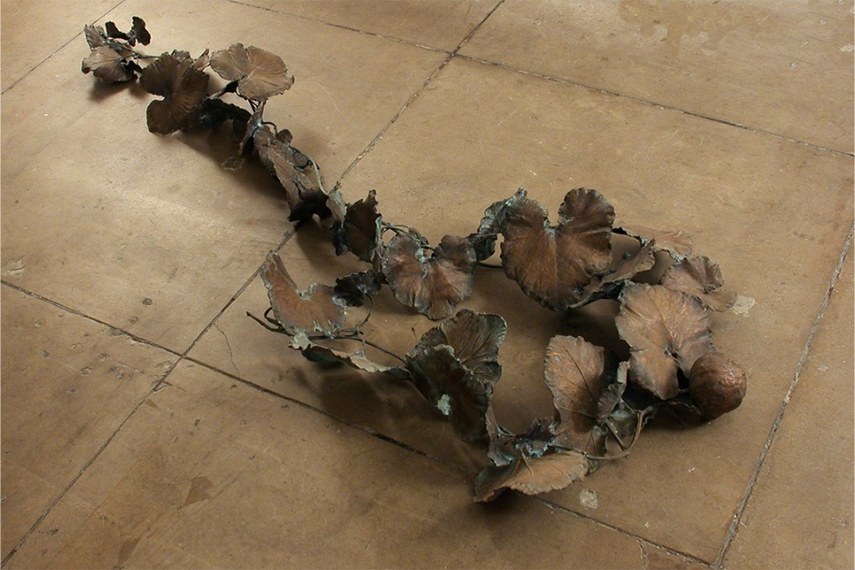 Embracing Different Sculptural Processes
Giuseppe Penone was born in the late 40s in Garessio, Italy where he graduated from the Accademia di Belle Arte in Turin. Inspired by the radical politics of the late 1960's and frustrated by the limitations of art taught by the academics, he decided to embrace different, modern sculptural practices. Even though he's concerned about the traditional characteristics of sculptures, such as volume, matter and space, unlike regular sculptors, Penone explores the boundary that exists between the physical self and the natural environment. Each of his works reaches completion through the assimilation of its material to the natural elements.  He's interested in exploring every possible visual, tactile and olfactory quality of a certain material, in order to bring out its most enticing property.
Artist explores the boundary that exists between the physical self and the natural environment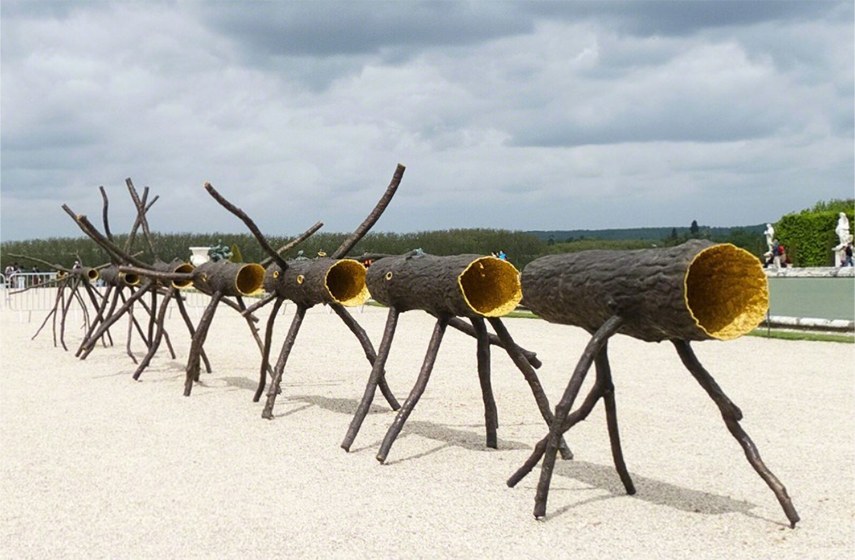 Sculptor Interested in Arte Povera
Like other artists of Arte Povera, Giuseppe Penone demonstrates an unusual sensitivity regarding natural materials. Penone's work, as  a whole, is a meaningful homage to the intrinsic connection between the earth, regarded as a universal material and our home, and us, human beings. Penone also emphasizes that the history of our planet is inscribed in the memory of organic and inorganic entities, including the history of the human life and presence. His sculptures are also an expression of his inner landscape - a reflection of the country where he lived as a young man and where his artistic sensibility has developed. He explains that the forest was his playing field, which later became his lab and workshop. His work also shows the metamorphosis of natural materials, which is guided by the passage of time as well as human interventions.
Natural approach matters a lot to Penone and he demonstrates a sensitivity regarding certain materials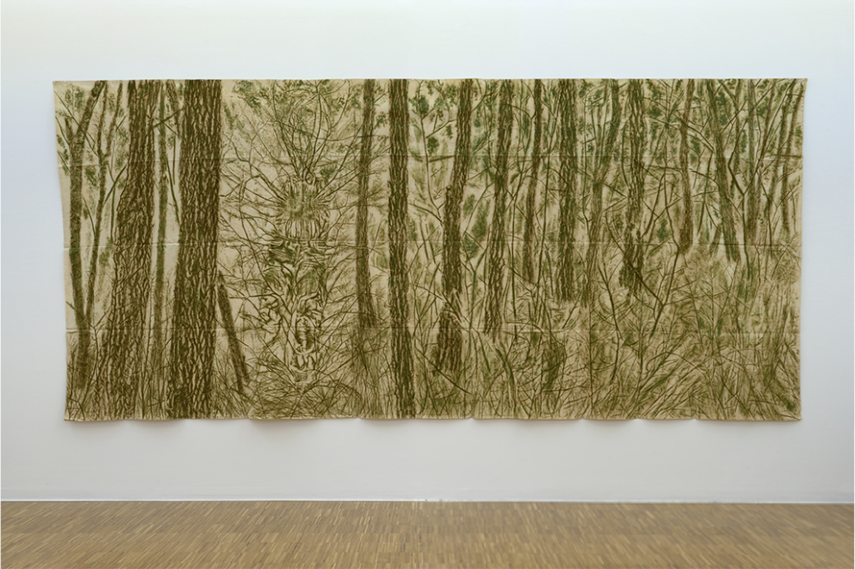 Tree Artworks
Penone began his artistic career in 1968 when he was just 21.  However, it wasn't until the 70s that he gained attention for his work. His famous performance from the 1970s, called To reverse one's eyes, was the true beginning of his signature style and working with trees. In this performance, Penone was wearing mirrored contact lenses, which blinded him. He had to find his way forward using his feet and hands, which emphasized the human body's connection with its environment. Generally speaking, in the early 1970s, Penone used his body as the main subject or tool - for example, he was projecting images from the surface of his skin to wall surfaces. Vessels, fingerprints and body images were the main motifs in his work throughout this decade. In the 1980s, he started using agricultural tools made of metal, terracotta and wood, which eventually lead to Penone's dedication to sculptures representing trees. He began to craft tree sculptures out of various materials, revealing the structures behind bark and skin, branches and limbs. He has created a lot of his famous pieces in the mid-80s, such as Verde del Bosco or Ripetere il Bosco. In 2001, he received the Rolf Schock Prize  and in 2007, he participated in the famous Venice Biennale. Nowadays, his work is included in the collections of the most eminent galleries and museums, such as Tate Gallery in London, the Centre Georges Pompidou in Paris, MAXXI in Rome, the Stedelijk Museum in Amsterdam as well as MOMA in New York.
Penone crafts tree sculptures out of various materials, revealing the hidden structures behind tree branches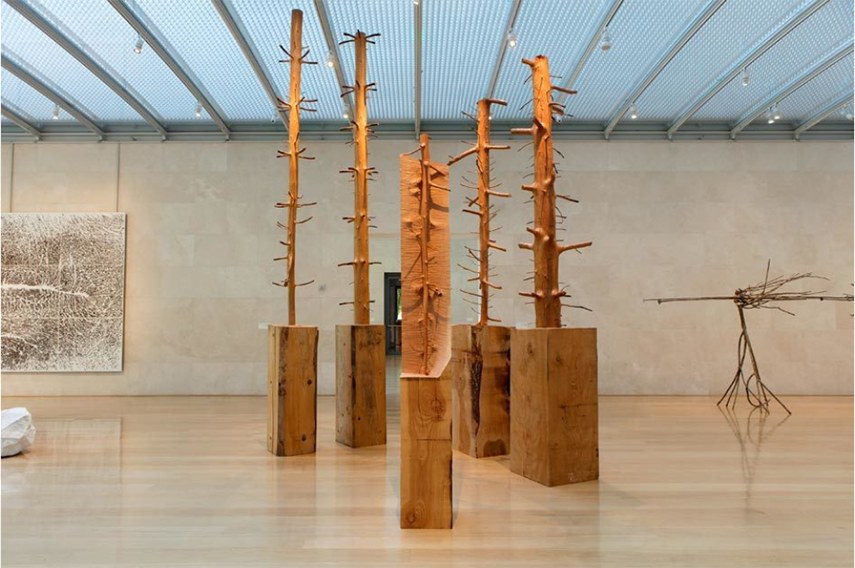 Sign of Panta Rei Philosophy
Penone's work seem to endorse the famous Heraclitus' phrase panta rei, meaning everything flows. His pieces are strongly related to the nature of rivers, forests, even human breath, which are all representing the essence of movement, transformation, life and death. Through his unique sculptural pieces made of natural materials, Penone reveals the incessant movement, found at the very center of the natural cycles within all living creatures including us, human beings. His art is reestablishing the connection between nature, culture and human mind.
He is represented by Kunzt Gallery, GAGOSIAN Beverly Hills, GAGOSIAN Britannia Street London, GAGOSIAN Madison Ave, GAGOSIAN Park & 75, GAGOSIAN West 21th Street and GAGOSIAN 24th Street.
Giuseppe Penone lives and works between Turin, Italy and Paris, France.
Featured image: Giuseppe Penone's portrait - Photo credits © Elisabetta Cipriani
All other images via artsy.net