Using the art historical and popular culture references, Glenn Brown creates a distinctive visual language that goes beyond known pictorial conventions. Through appropriation and investigation, the artist breathes new life and contemporary look into old and outdated forms. Merging the various epochs such as Renaissance, Impressionism or Surrealism, his works gradually develop and although start from reproductions of other artists, they become compelling independent entities. This British artist transforms borrowed images by changing its color, position, and size, creating abstract and grotesque, still fascinating figures that seem to be painted with impasto technique, but the effect is actually accomplished with the application of thin, spiral brushstrokes which create a completely flat surface[1].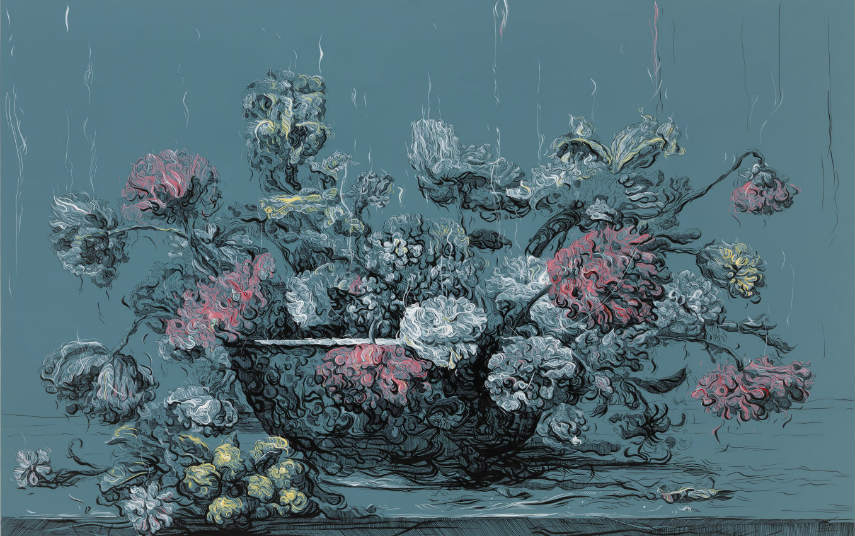 Reviving the History of Art
Brown was born in 1966 in Northumberland, England. He gained his education at Norwich School of Art, Bath College of Higher Education and Goldsmith's College at the University of London. Starting from the appropriation – borrowing the pieces of living or historical artists, he transforms their appearance, adjusting color and forms and creating a totally new body of work. Exploit the reproductions usually found on the internet, he changes the image using the Photoshop, making different distortions, stretching, turning and changing the color of both objects and the surface. "I am rather like a Dr. Frankenstein, constructing paintings out of the residue or dead parts of other artist's work. I hope to create a sense of strangeness by bringing together examples of the way the best historic and modern-day artists have depicted their personal sense of the world. I see their worlds from multiple or schizophrenic perspectives, through all their eyes. Their sources of inspiration suggest things I would never normally see – rocks floating in far-off galaxies, for example, or a bowl of flowers in an 18th-century room, or a child in a fancy-dress costume. It's those fictions that I take as subject matter. The scenes may have been relatively normal to Rembrandt or Fragonard but because of the passage of time and the difference in culture, to me they are fantastical." When he finds convenient composition, he approaches to applying of paint in a very specific way, making the illusion of thick and heavy layers with the thin brushes and elongated twisted strokes, achieving the opposite effect of flat, digitally processed surface[2]. Making the sky become red, the trees blue or sea purple, Brown provokes the viewer's perception, creating everything to be the opposite of the expectations, but instead of being unreal, his images actually emphasize reality describing something that exists, but has not seen yet. Still, his newer body of work, he is more concentrated on drawing with no color at all and some black and white paintings[3]. One more characteristic of his work are titles that also use references, but this time to music albums, films, science fiction literature or sometimes dedication to a person. They are supposed to complement the artwork instead of being pure description or explanation. "That's it – the titles are often trying to be embarrassingly direct, and vulgar in their directness. I don't think that the painting is less direct, but I don't want the paintings to be illustrative."
Brown appropriates the pieces of living or historical artists, transforms it and creates a totally new body of work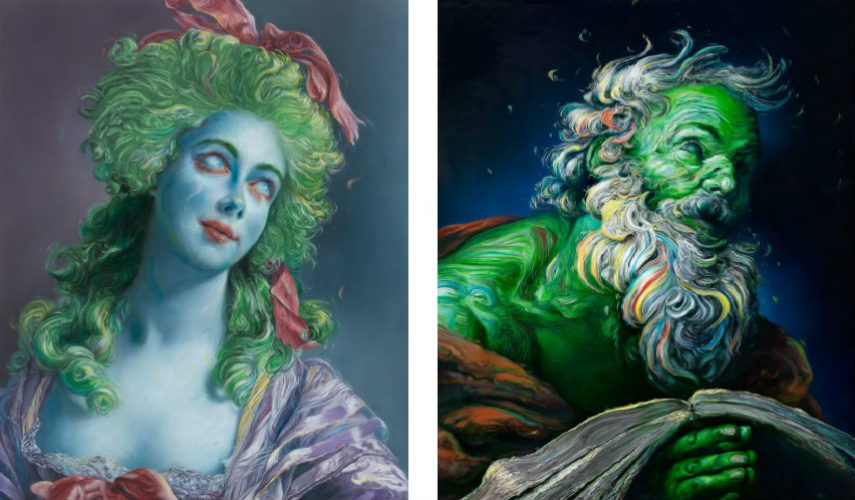 Paintings, Sculptures, Prints, and Drawings
Ranging from science-fiction landscapes on his early works, over abstractions and still lives to figurative pieces appropriated from existing ones, Brown's paintings have a common morbid atmosphere, emphasized by unusual appearances of unnatural skin colors that suggest the smell and decay of the figure bodies. The artist strives to create the dream world images with the mutated creatures from our subconscious that come to life when we sleep. These amorphous beings are ironically decorated with different attributes, as flowers growing out of their body or halos above their heads.
In a total contrast to his painted artworks, sculptures make a minor but considerable part of his oeuvre, having all the technical features that paintings deny. Emphasizing the dimensionality of oil brushstrokes, they are made of several layers of paint applied over acrylic and fiberglass structures or found bronze sculptures. "I see the sculptural brush marks as challenging the logic of paint in that they appear to defy gravity by actually staying upright. For me, they exist within a surreal world that is based on getting paint to do something it shouldn't do, and to sit in a three-dimensional world that it shouldn't be in."
During 2008, inspired by artists Urs Graf, Rembrandt, and Lucian Freud, Brown made series of prints, Layered Etchings (Portraits), digitally manipulating borrowed book reproductions so to stretch them to normal size, then overlapping selected scans that created one image for which were made several etching plates. Using up to fifteen different images for one portrait, intertwined lines and contours blurred the individual characteristics of his subjects. Discussing the idea of destruction and violence in the process of appropriation, John-Paul Stonard wrote a text that followed his etchings collected in publication Glenn Brown: Etchings (Portraits) from 2009.
Since 2013, Brown decided to devote his attention to still unexplored medium – drawing. Using the Indian ink, acrylic and oil paints on paper and panel and the same characteristic approach, he again started from the art historical references that he combines and distorts with the aim of creating complex line-based works.
Brown's sculptures are made of several layers of paint applied over acrylic and fiberglass structures or found bronze sculptures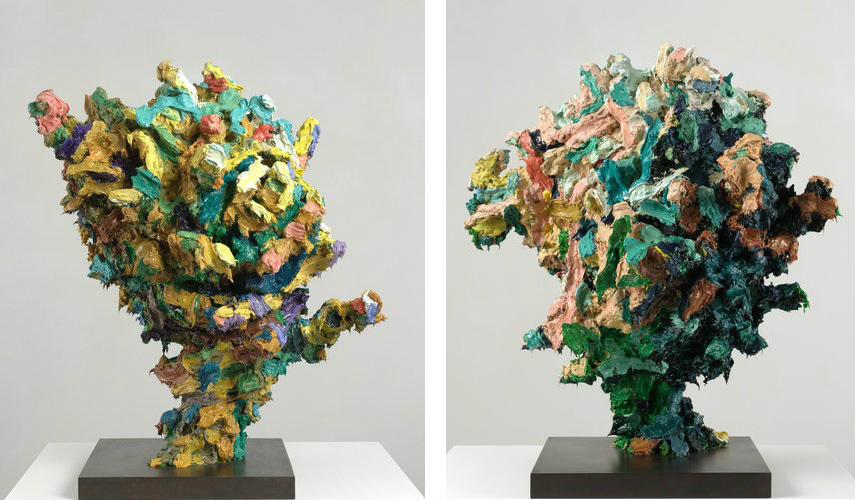 What is Appropriation Art?
Although he claims that the references to these artists are not direct quotations, but remakes and combinations of several paintings, the artists whose work is appropriated do not always agree. In 2000, he was nominated for the Turner Prize, but the Times newspaper accused him of plagiarism, considering his references to a work by Anthony Roberts, which resulted in the legal case and their final settlement out of the court. The Turner Prize went to the other artist, photographer Wolfgang Tillmans. Appropriation is a widely adopted and employed approach and operative term in the history of contemporary art and many prominent artists based their visual language on the use of that, such as Andy Warhol, Jeff Koons, and Roy Lichtenstein. As the artist himself stated, there is no possibility that one man is completely original, considering the fact that all artists borrow from the past, looking up to their role models. Contradicting the idea of an avant-garde that propagated the return to the pure, childish level of communication with the aim of expressing the inner-self and raw emotion, Brown claims that artist could only mimic the child's creation, essentially revealing his meaningful approach through the sophisticated use of color.
His references to other artists are not direct quotations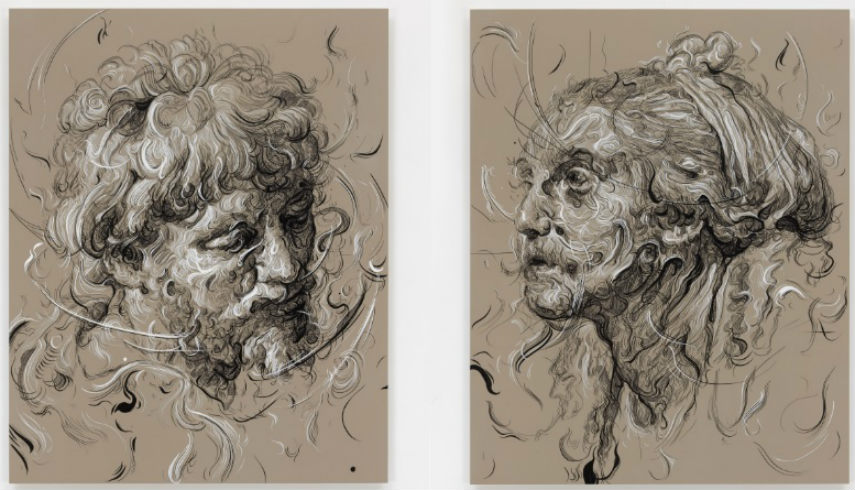 Glenn Brown or How Old Becomes New
Influenced by French Post-Structuralist philosophy, Brown thinks that rich knowledge when observing a work of art can prevent the viewer from understanding and feeling the emotional content. His specific technique liberates from classical linear form and static state, transforming artwork into an evolving entity. He takes over iconic works and through opposites, humor, destruction, and the tendency over decomposition of the human form, the artist takes apart found images presenting them in a new way. Perceived as the ultimate Mannerist painter, Glenn Brown often confuses his audience with exaggerated and grotesque forms created through his play with known visual language from Renaissance to the 20th century. His impressive technical virtuosity is reflected in the use of the traditional technique of oil that seems completely different, achieving the illusion of thick layers of paint on the flat surface[4]. Brown's distinctive dialogue with art history expresses highly personal commentary on painting. Brown's work has been shown in numerous solo exhibitions including Domaine de Kerguéhennec, Centre d'Art Contemporain, France (2000), Serpentine Gallery, London (2004), Kunsthistorisches Museum, Vienna (2008), Tate Liverpool, England (2009), which travelled to the Fondazione Sandretto Re Rebaudengo, Turin and Ludwig Múzeum, Budapest, Frans Hals Museum, Haarlem, The Netherlands (2013), Rennie Collection, Vancouver (2013), Fondation Vincent Van Gogh Arles (2016), Des Moines Art Center, Cincinnati (2016), and upcoming shows at the Rembrandt House, Amsterdam (2017). He has also been exhibited in number of group shows including The Saatchi Gallery (1995, 2014), Centre Georges Pompidou (2002, 2013), Venice Bienalle, Italian Pavillion, (2003), Gwangju Bienalle, Korea (2010), Kunsthalle, Vienna (2011), Galerie Rudolfinium, Prague (2012), Museo Guggenheim, Bilbao, Spain (2013) and Centre George Pompidou Malaga (2015), among the others.
The artist is represented by Gagosian Gallery in New York, London and Beverly Hills and Me Collectors Room in Berlin.
Glenn Brown lives and works in London and Suffolk, England.
Featured image: Glenn Brown - Artist's portrait (detail) - Photo by Will Corry
All images copyright of the artist