Gloria Petyarre makes nature inspired paintings using delicate brush strokes and elements of her Aboriginal culture. She has been living in her home of Utopia, an Aboriginal homeland that is located in the north of Australia. Traditional to her culture, Gloria Petyarre started painting Dreamtimes inspired by nature around her, especially plants, trees, flowers and medicinal vegetation. Dreamtime is a sacred Aboriginal word that means knowledge and understanding of the world's events and occurrences. With Dreamtime, all the knowledge begins, and in this moment, all the laws of nature are being exposed. One must respect the sacredness of Dreamtime in order to become fully capable of survival.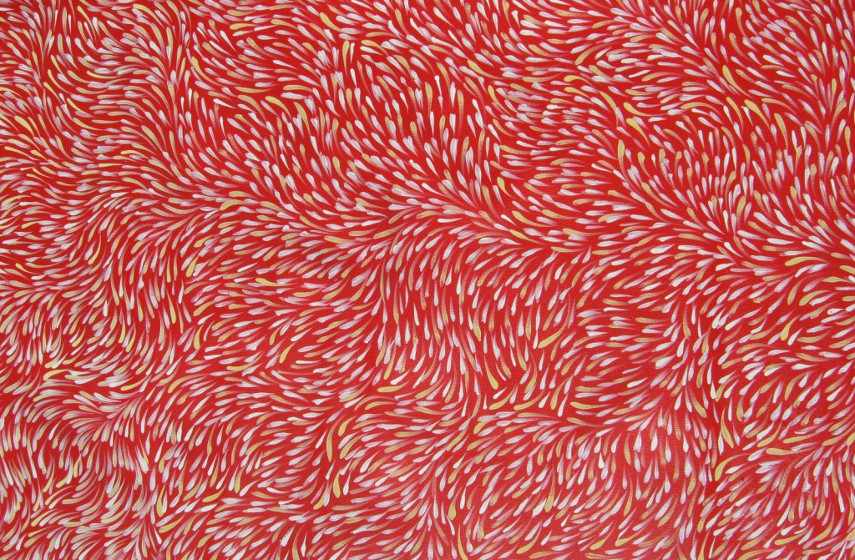 Dreamtime as an Inspiration
When Gloria Petyarre first painted her Dreamtime of Kurrajong tree, which is used for making a medicinal paste that has been part of the Utopian tradition for many years, she did it without a presumption that it will mark her artistic career. She became involved in a community artistic project in the 70's and started painting silk batiks. She used traditional motifs and patterns and painted silk became her primary focus. Petyarre became a founder of a Women Society for Silk Batik painting. Dreamtime of emu, lizards, and other spirit animals were one of her first paintings of Aboriginal iconography. Not much later she switched to acrylic painting canvases and in 1991 held her first solo exhibition in Australia and the United States. In 1999, Gloria Petyarre won a prestigious Wynne Prize for Landscape award for the painting of Bush Medicine Dreamtime from her hometown. An abstract, green and golden, soft and lively leaves were spread across the large canvas.
Bush Medicine Dreamtime won her a prestigious Wynne Prize for Landscape award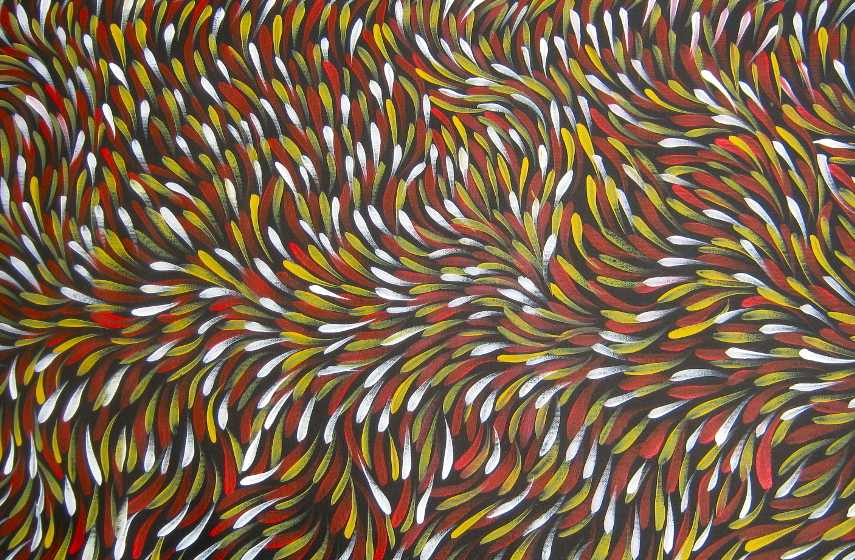 Bush Leaves Paintings
Her motive was to express her soul in a creative way in order to visually represent what is holy to her and her culture. A certain freedom can be detected in her abstraction as if she stopped the time, and painted the stillness of the leaves that swing in the wind. Stillness yet liveliness are characteristic for all of her work. Her palette is bold and vivid, but very carefully harmonized with the original representation in nature. Living in a town without governance, and being far away from the rest of the world influenced her theme, but not her success. As the artistic movement among others continued to grow, so did the world's interest for Petyarre paintings. Painting bush leaves were her signature move, but her connection to nature and spirits that drive it lead her to many other successful pieces. As a part of her heritage, the artist always found inspiration in her beliefs.
The artist's motive is to visually represent what is holy to her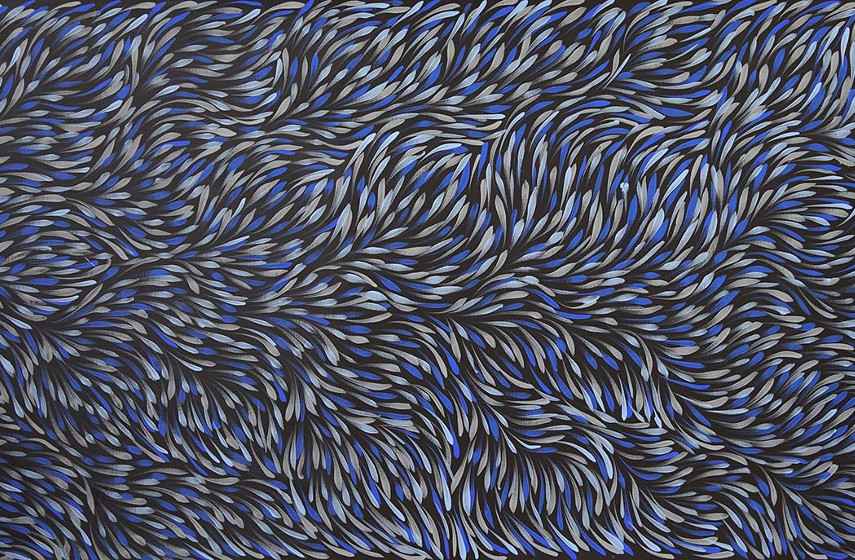 Thorny Mountain Devil Lizard in Galleries and Museums
Many of her works are Dreamtime paintings. Thorny Mountain Devil Lizard Dreaming portrays a lizard's movement that, with its vigorous tail, leaves swirl marks in the sand. Her knowledge of natural forces is wonderfully exposed in her connection with the living beings. Gloria Petyarre comes from the family of artist and for years, she has been painting with her sisters. Her works are part of the collections in National Gallery of Australia in Canberra, British Museum in London and many other galleries and museums around the world. Her works are a preservation of historical facts and myths that shape and keep alive the magic of indigenous living. Mountain Devil Lizard is a token of a living force, a master of survival and it is a frequent symbol in Utopian body paint arts. Petyarre keeps all these elements alive in her art.
Mountain Devil Lizard is a token of a living force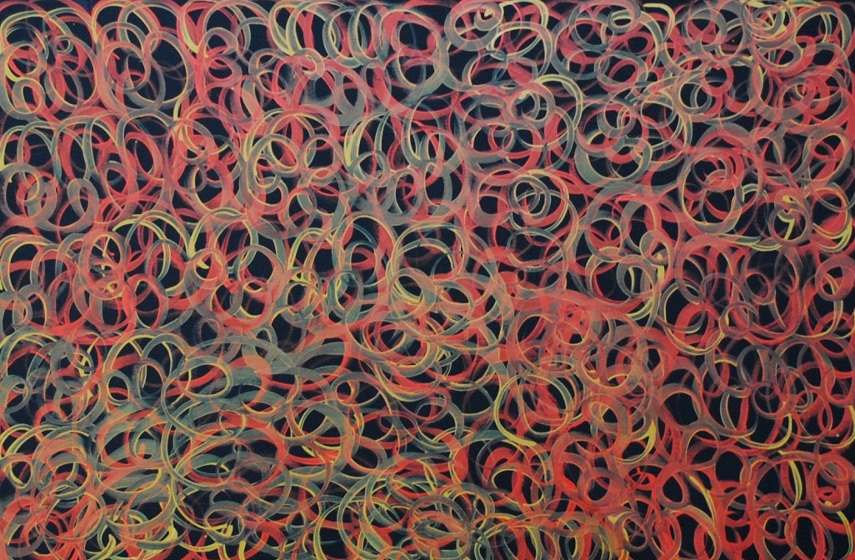 Celebration of Nature, Life and Wisdom
With her paintings, she celebrates animals and plants and honors their symbolic power of life. What she does is storytelling. Guided by the strong sense of narrative flow, Petyarre paints Dreamtimes that can be read and interpreted as a guidebook through her life and the essence of indigenous people of her town. Getting to know spirits and forces was crucial for survival, but for Gloria Petyarre survival was not fighting for life and defending from the danger. Survival means living in harmony. The only thing one needs to survive and get through is the tendency to walk through life with eyes not wide enough open and miss out the beauty of existence. Her wonderful and colorful abstractions bring out the virtue of living in accordance with natural laws.
Gloria Petyarre lives and works in Utopia, Austraila.
All images used for illustrative purpose only © Gloria Petyarre
Featured image: Gloria Petyarre - Bush Medicine Leaves, photo credits Japingka