Go Suga is an Australia-based Japanese artist whose work blend cultures, play with the sense of mystique and reflect his own perspective on love, life and art. Drawing inspiration from history, politics, culture, religion, chaos, social, animals and nature he creates a truly inimitable and captivating artworks. His cheerful pieces with the vibrant use of colour, shape and movement express emotions, aesthetics, symbolism and personal preferences giving us a glimpse into the inner world of the artist.
Jigoku Fire Triptych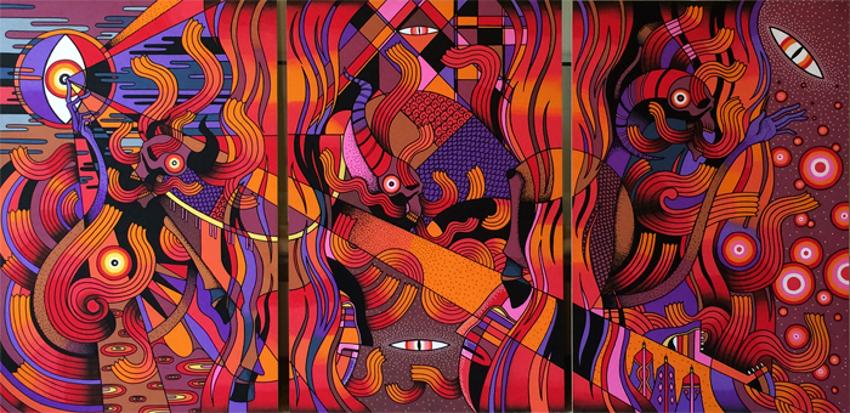 Go Suga was born in Hiroshima and moved to the Gold Coast in Queensland almost 30 years ago. In Australia he completed his diploma of graphic design which has expanded his knowledge of arts beyond drawing and illustration. Although he started with just two color - black and white, while searching for his own personal style and visual language, he began to experiment with colour and fell in love.
Artworks by Go Suga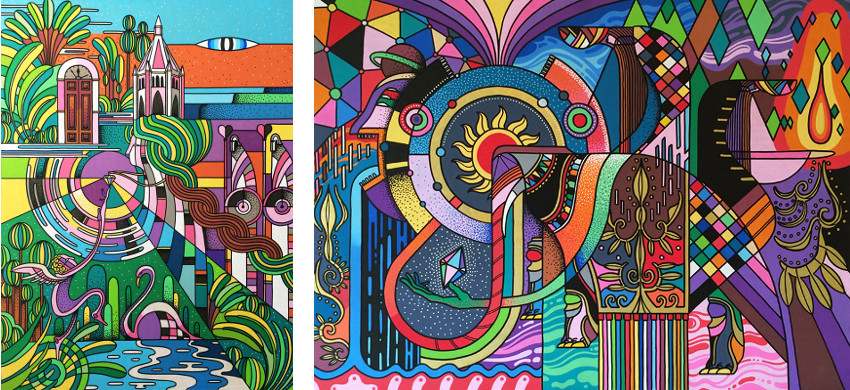 In 2015 Go Suga has been selected as a winner of the Gold Coast Cultural Precinct Stage 1 Fence Design Competition. Inspired by the future Cultural Precinct and the city's active lifestyle, Suga designed Gold Coast Happy Days as a single panel which will be repeated as a construction fence around parts of the 16.9 hectare site at Evandale Lake, behind Surfers Paradise. The fencing featuring Go Suga's artwork will remain around the site for around 18 months.
Gold Coast Happy Days

He is represented by 19 Karen Contemporary Artspace. In August 2015, his work was included in international group exhibition Pain-Ting, organized by 19 Karen Contemporary Artspace and hosted by Open Walls Gallery in Berlin.
Go Suga lives and works in Gold Coast, Queensland, Australia.
All images courtesy © the artist