The art practice of Gola Hundun can be described as a spiritually and philosophically inclined strategy aimed to introduce possibilities of interspecies communication. His adornment of flora and fauna led him to construct peculiar narratives which are inseparable from his social and political beliefs. Allegorical and organic images that Hundun produces in medias spanning from drawing, painting, murals, installation and video, perfectly reflect his utopian longings and aspirations. The fact that he decided to live as a vegetarian since the age of 16 provide an additional layer to understanding his work and suggest artist's need to articulate both one's own and collective position in relation to nature.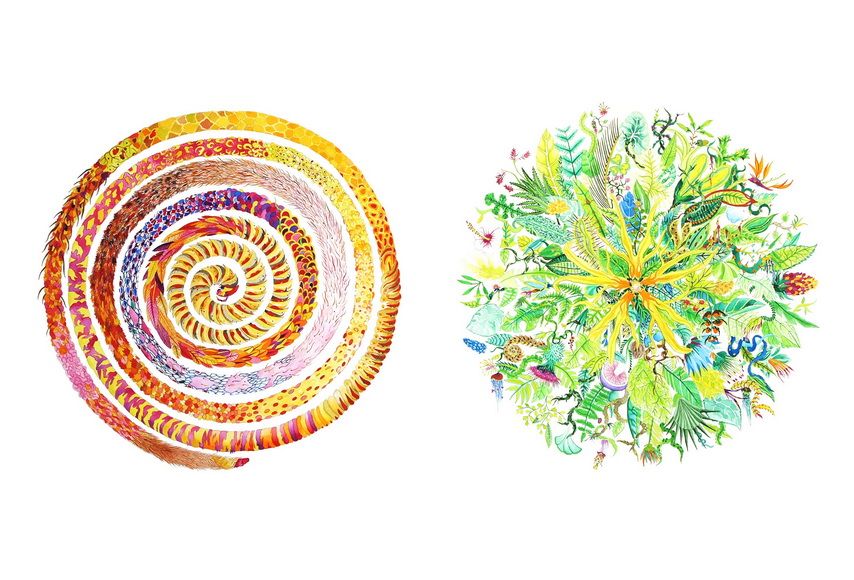 From Street Art to Fine Arts and Back
Gola Hundun was born in 1982, in Italy. His artistic journey started with street art at the age of 12, much before he even started attending the high school of arts in Ravenna. Continuation of Hundun's studies happened at Academy of Fine Arts in Bologna where he received the Master's degree. 2004 was marked by his transition to Barcelona and the decision to get distance himself from fine arts and get back to graffiti. Traveling and accomplishing works around Europe broadened his horizons, especially a residency in Quebec was significant for the further development of his burgeoning international carrier. Soon, Hundun had an opportunity to show his work on distinct locations from Brazil to Japan.[1]
Organic materials are essential in the work of Gola Hundun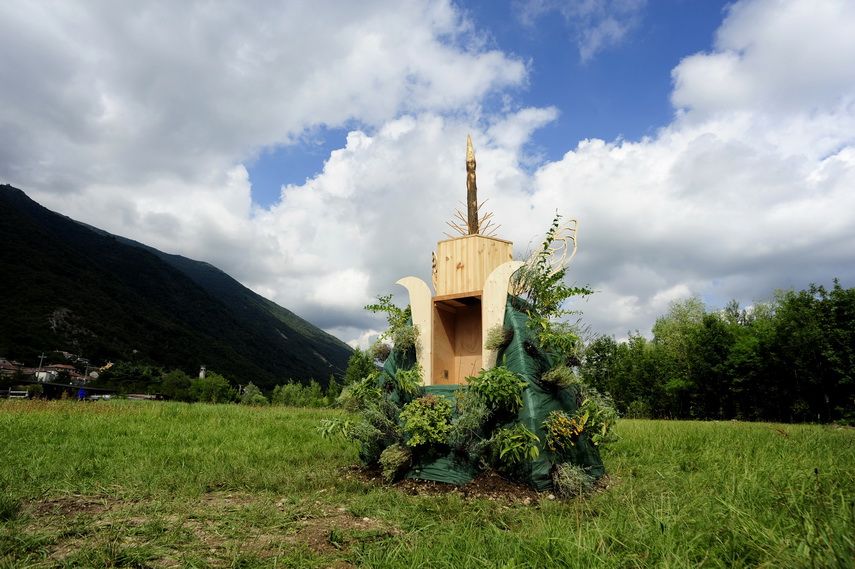 The Power of Nature in The Works of Gola Hundun
When it comes to defining Hundun's work, it is not just the matter of media he is working with, more importantly, it is the materials he uses to build the artwork. By incorporating fiber, living plants or theirs dried parts, and even electronic music, Hudun creates specific habitats for micro/macro communities, which very often can function as different kind of urban animal shelters - bird nests, beehives, bat houses, etc. Vegetarianism movement and ethics, hybrid art and Transgenic movement, sacred or psychedelic art, shamanism and, in the broad sense of the word, spirituality are overwhelming his fancy and represent the very sum of symbols, motives, and influences which represent the core of his approach.[2]
Depictions of nature are both conceptual and colorful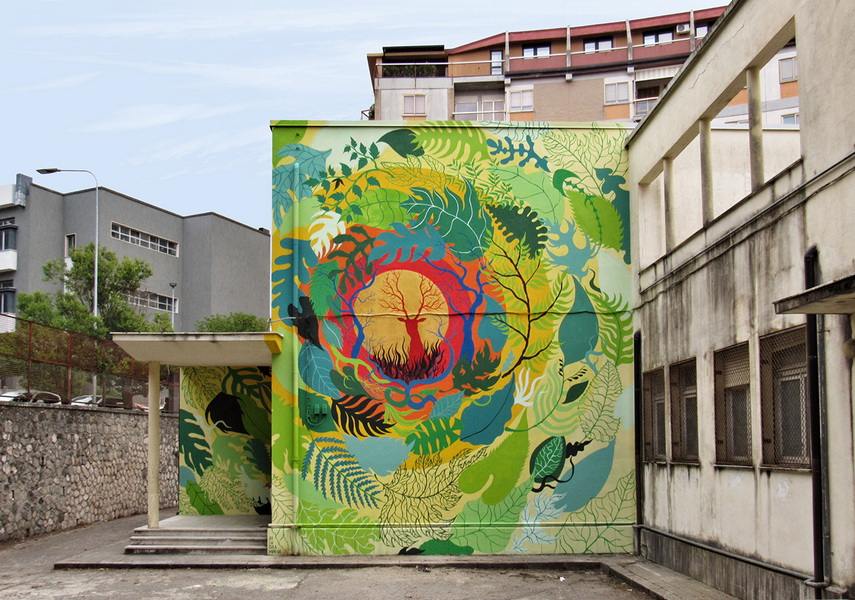 Green Awareness and Peaceful Coexistence
The works of Gola Hundun are not reflecting a just mere fascination with nature, yet they can be perceived as a certain form of socially active practice. According to Hundun, public space should be re-thought in the spirit of coexistence and ecological awareness. Therefore, it is no wonder that from the artist's standpoints to the execution of his ideas, every segment shows the importance of community building in the sense of the unbreakable bond between nature and man. Hundun's ongoing activity of a burgeoning artist is evident not only in large numbers of solo and group exhibitions, but the immediacy and call on participation in the context of the concrete action as well.
Gola Hundun lives and works in Barcelona.
References:
Levy.R, (2015), Wild Life Spirit a new mural by Gola Hundun in Imola, Italy, Street Art News, [Novembre 19, 2016]
(2016), Gola Hundun Creates a Tree of Life for Land-Shape Festival in Denmark, Brooklyn Street Art, [Novembre 19, 2016]
Featured image: Gola Hundun in front of his work, photo by Diana Larrea
All images courtesy of the artist