Goldie is the pseudonym for Clifford Joseph Price, a multitalented British artist, musician, DJ and actor. He started out his career as a breakdancer, graffiti artist and gold teeth customizer but really made his biggest impact as a music artist working mainly within the jungle and drum and bass genres. He has helped to promote these styles globally. Goldie gained an acting role as a dodgy gangster in the English soap opera EastEnders and was also a participant in a several of celebrity reality TV shows including Big Brother 2. He also starred in Michael Apted's James Bond film The World Is Not Enough (1999) as a dodgy gangster called "Bull".
Athleticizm Series by Goldie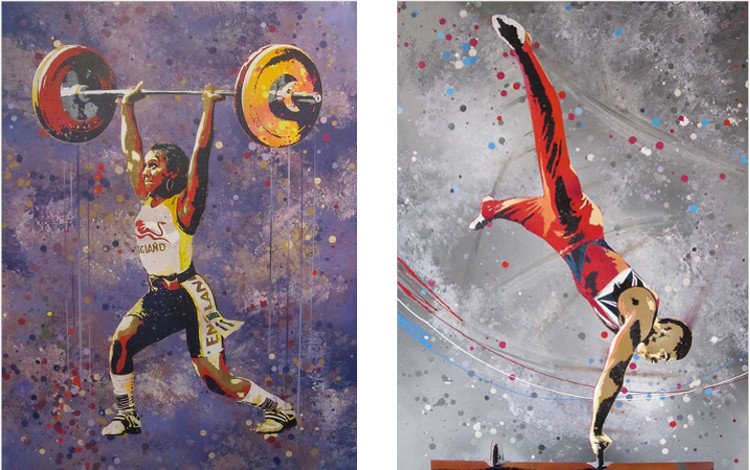 Early Years
Graffiti
The English artist was born in 1965, in Walsall, a town in the West Midlands of England in 1965 to a Jamaican father and an English mother. His father soon left the family for the US. Clifford grew up in foster care, living with a series of families. When hip hop took off in Britain in the beginning of the '80s, Goldie began breakdancing seriously for local crews in his hometown. Additionally he took up graffiti art. He and a British artist and founding member of the band Massive Attack, Robert "3D" Del Naja, often painted walls together in Wolverhampton. Goldie moved to New York due to graffiti projects and also began selling grills – a type of jewelry worn over the teeth – in New York and Miami, where he lived with his father for a brief period. He moved back to the UK in 1988.
The Kids Are All Riot Series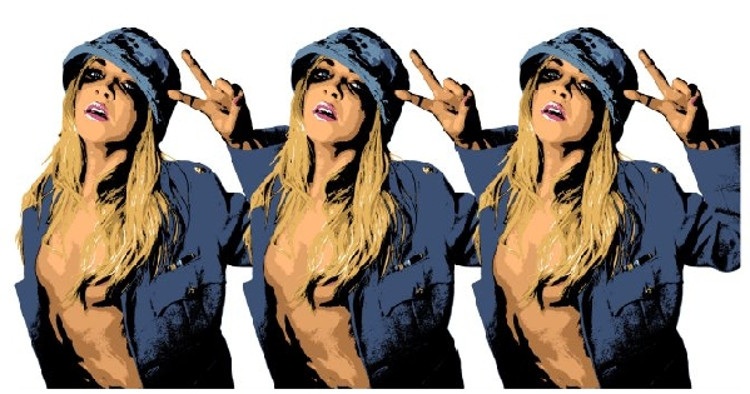 Music Career by Goldie
Terminator
Three years after he came back from the United States, the artist was introduced to the rave scene by his girlfriend at that time and drum and bass DJ Valerie Olukemi A Olusanya, commonly known by her stage name Kemistry. In 1992 he collaborated with Icelanders Thorhallur Skulason and Sigurbjorn Thorgrimsson on his first track as Ajax Project while he was doing some design and A&R work for 4 Hero's Reinforced label. His releases Killa Muffin b/w Krisp Biscuit and the Dark Rider EP (featuring the classic Menace) were put out under an early moniker Rufige Cru on Reinforced. His track Terminator, released in 1992, was a hit in the jungle scene and is noted for pioneering the use of time stretching.
Metalheadz
Timeless and Other Albums
Goldie quickly became one of D'n'B's most famous figures, establishing – along with Kemistry & Storm – the infamous drum and bass record label & club night Metalheadz in 1994. The label Metalheadz celebrated its 100th release in 2012. Goldies' debut album Timeless followed in 1995, and was hailed by critics as a masterpiece. The album fused the complex, chopped and layered breakbeats and deep basslines of jungle and drum and bass with expansive, symphonic strings and atmospherics, and soulful diva vocals, creating a crossover hit. His sophomore album Saturnz Return, released on 27 January 1998, reached as high as #15 on the UK Albums Chart but received mixed reviews upon release. The album featured appearances by David Bowie, Noel Gallagher and KRS-One. It was followed by Ring of Saturn (1999); MDZ05 (2005); Malice in Wonderland (2007); Sine Tempus - The Soundtrack (2008); and Memoirs of an Afterlife (2009). The Alchemist: The Best of Goldie 1992–2012, covering the span of Price's career, was released in 2013. It brought together Goldie's best tracks from the two decades long career and put the spotlight on his own productions, plus remixes for other artists.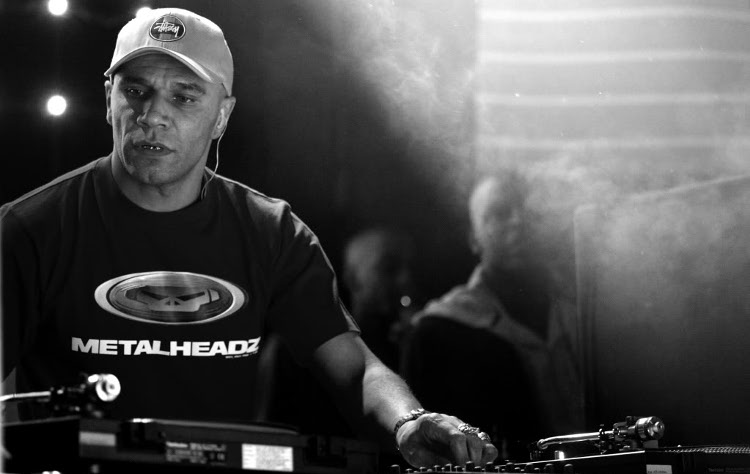 Acting Career and TV shows
Aside from his music career, Goldie has also ventured into acting. He has appeared in a 2000 crime comedy film Snatch written and directed by Guy Ritchie, as well as in several other movies including Everybody Loves Sunshine (1999). He has played Valentin Zukovsky's (Robbie Coltrane) gold-toothed bodyguard in the James Bond film The World Is Not Enough (1999). He was also a participant in a number of celebrity reality television shows, including Celebrity Big Brother 2, Strictly Come Dancing and Come Dine with Me.
Love over Gold and LosTribes
Exhibitions by Goldie
In 2007 Goldie made a great comeback to the art world with the show Love over Gold, held at the Leonard Street Gallery. In 2008 he teamed up with international DJ and artist Pete Tong to design a unique work of art for Tong's new Wonderland club night at Eden nightclub in San Antonio, Ibiza. 2009 saw Goldie bring us The Kids Are All Riot, a stunning installation of art in the duplex Maverick showroom space. In November 2013 he presented one of his latest series of work titled LosTribes at Mead Carney in London. The show featured 20 stunning originals created on wood in custom made frames with sculpture The show featured 20 stunning originals created on wood in custom made frames with sculpture each telling a different story of tragedy and beauty of the "Lost Tribes".
LosTribes Series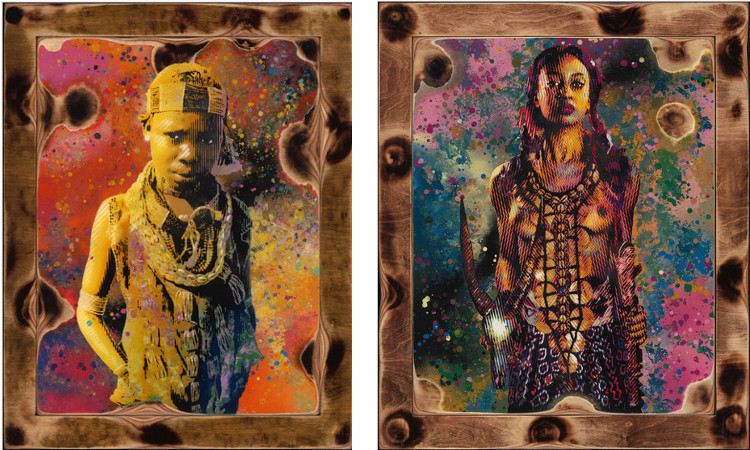 Personal Life
In the beginning of '90s, Price was in a relationship with drum and bass artist Kemistry who died in a road accident in 1999. The song Kemistry by Goldie on his album Timeless, is dedicated to Kemistry. The song was released originally in 1992, as Goldie was in a relationship with the British DJ. Has previously dated Björk, Naomi Campbell and was married to model Sonjia Ashby from 2002 to 2005 when they divorced. In 2010 he married Mika Wassenaar, a Canadian.
He is represented by Azart Gallery in New York.
Goldie lives with his wife Mika in Hertfordshire, UK.
Images copyright © artist