Goons is an anonymous American street artist, born in Denver. He is known for his colorful, eccentric characters which can be seen all over the city of Chicago. His name comes from his grandmother's term for people who are a little weird, just like the characters he paints on walls.
Paintings by Goons
Goons insist that he was born without artistic talent and that he was the worst in his drawing class at school. However, since his family moved a lot during his childhood, Goons was homeschooled and liked to spend time drawing. The artist attended college in Chicago, but didn't like the rigid structure of the education system. Instead, he turned to street art and its lack of rules. As he wanted to meet new people and had plenty of time, creating street art together with other graffiti writers and artists was an excellent way to make new friends. He cites Ufo from the 907 crew, Earsnot of the IRAK crew, Chubs and Chue as his influences. Also, he draws inspiration from the books for children from the 50's.
Street Art by Goons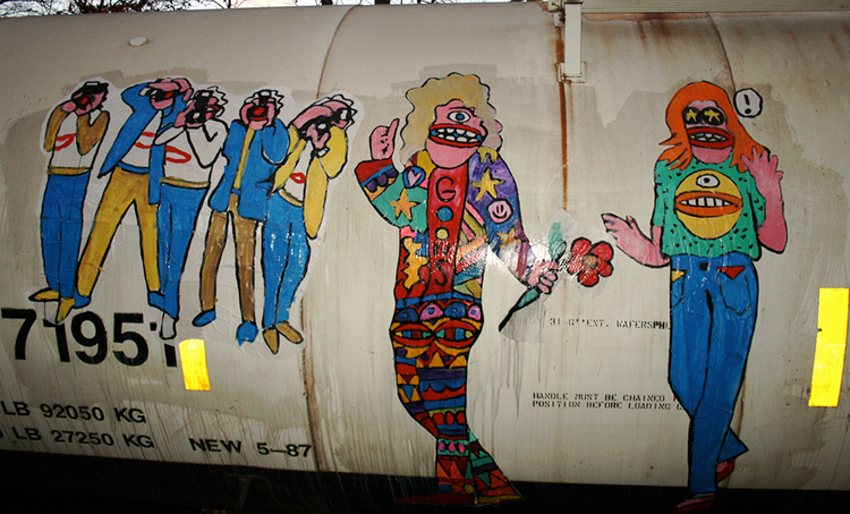 His characters are a bit grotesque, with characteristic big, luscious lips. He describes his style as messy and belonging on the street, and likes to paint his family, friends and celebrities. Over the years, he started shifting the place where he creates his art from outdoors to indoors. He also began experimenting with art projects, clothing lines and album covers for musicians. He collaborated with Orbit, which resulted in his video Clean it Up becoming a viral sensation on Youtube, with over million views.
Goons has exhibited his work in numerous solo and group shows throughout the United States.
Street Art by Goons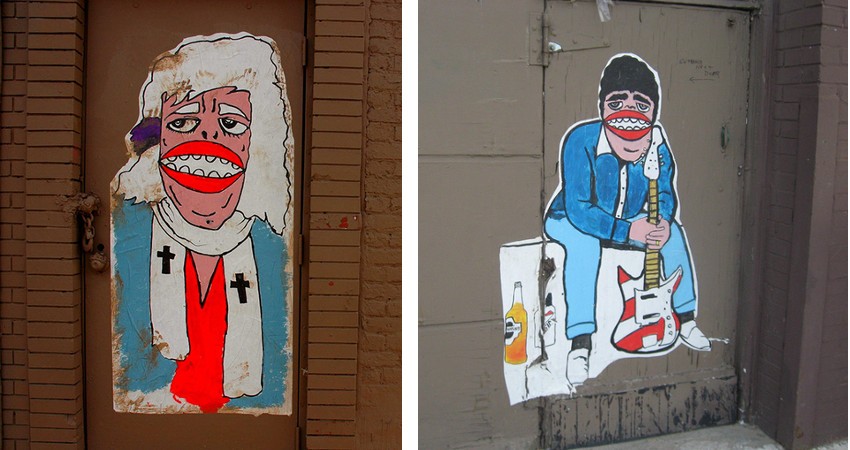 He is represented by Vertical Gallery in Chicago, Illinois.
Goons works and lives in Vermont.
All images copyright © the artist