Gottfried Helnwein is an Austrian-Irish contemporary visual artist primarily known for his photorealistic paintings full of sinister imagery and disturbing content with a varied level of subtlety. As his work is highly concerned with the subject matter of human condition, the entirety of Gottfried's artistic output is underlined by the topics of psychological[1] and sociological anxiety, historical issues and political topics. Many of his works, especially the early examples, feature children covered in blood or in mortal danger - these sort of pieces brought this artist both fame and notoriety almost overnight. It should also be noted that Gottfried Helnwein is a sculptor and a photographer as well - these alternative types of creative processes result in similar pieces to his paintings as the overall visual style transcends to photos whilst the disturbing content is applied to sculptures. He also works on large-scale performance art pieces he calls Aktions which have been known to include tanks, ammunition and bandaged children.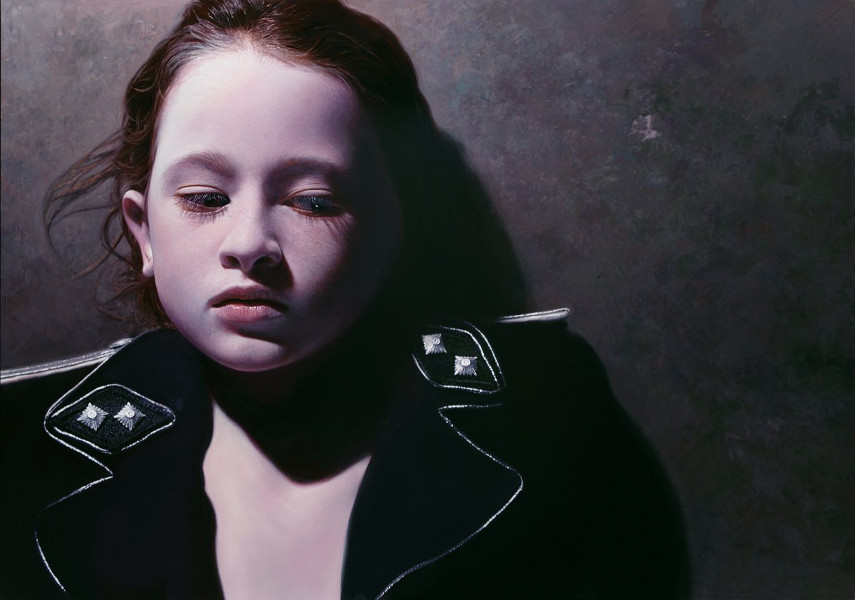 Early Performance Acts and Activity
Gottfried Helnwein was born in Vienna during the year of 1948, shortly after World War II ended and whilst its consequences were more than obvious in Austria. His father Joseph Helnwein spent most of his life working at the Austrian Post and Telegraphy administration (Österreichische Post- und Telegraphenverwaltung) and his mother Margarethe was a housewife who took care of the children and their home. Young Gottfried grew up in aa environment of a strict Roman Catholic upbringing, a circumstance that will prove to play a big role in his future work. As a student, Helnwein organized plays and art exhibitions at the Catholic Marian Society (Marianische Kongregation) of the Jesuit University Church in Vienna where he attended classes. In the year of 1965, he enrolled at the Higher Federal Institution for Graphic Education and Experimentation in his nation's capital. Developing both his skill and approach to art making practices, Gottfried Helnwein started his first performances for small audiences during this time. Most of these acts were quite brutal as they oftentimes featured the young artist cutting his face and hands with razor blades only to have them personally patched up with bandages.
Even in the earliest portions of his career, Gottfried Helnwein never attempted to distance himself from taboo and controversial issues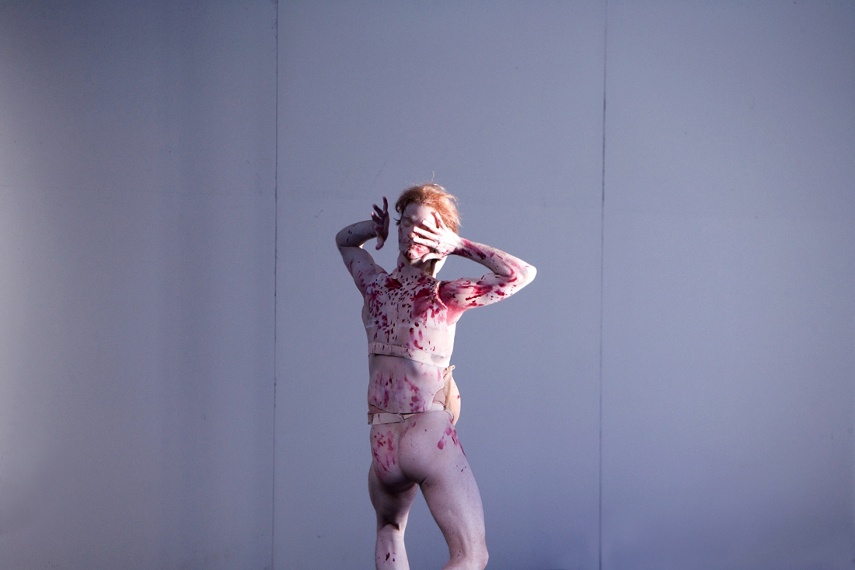 Gottfried Helnwein and the Viennese Tradition
Between the years of 1969 and 1973, Helnwein studied at the University of Visual Art in Vienna and was awarded the Master-class prize by the institution. He also received the Kardinal-König prize and the Theodor-Körner prize during this time. He continued to frequently shock the audience with his pieces that remained rather shocking as the artist was growing up and developing. Many experts and art pundits started to claim that Helnwein is a part of a tradition going back to the 18th century - they also stated that he had common creative ground with the works of Arnulf Rainer and Hermann Nitsch, two other Viennese authors. Both of them (or maybe we should say all three of them) had a tendency to display their own bodies in the frame of reference of injury, pain and death. Another common connection concerning Gottfried's art was linking it with the work of Egon Schiele due to the shared fascination with the body language and the expressive gestures.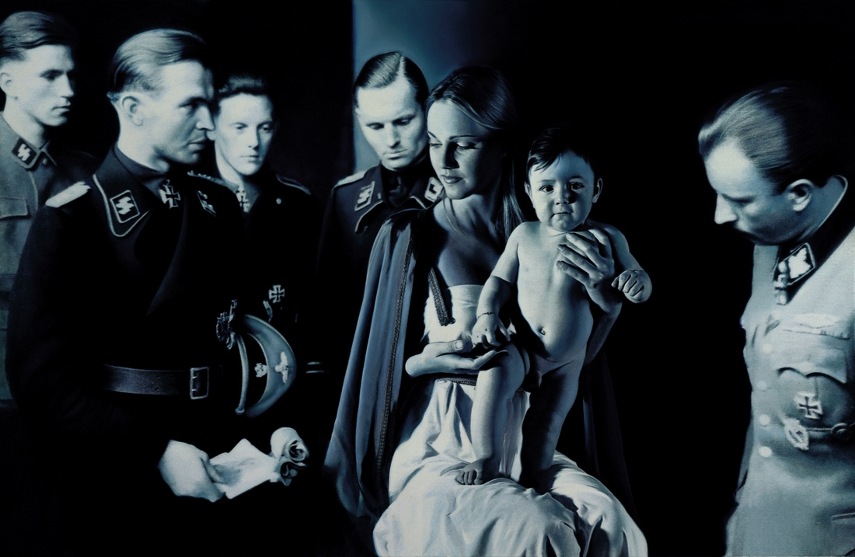 Later Career and Professional Milestones
Helnwein was offered a chair by the University of Applied Sciences in Hamburg in 1982. However, he declined the role after a few of his demands were not met. In the year of 1983, Helnwein met Andy Warhol in his factory in New York City. This will prove to have a big influence on the Austrian artist despite the fact he was already quite well established as an author. Although Helnwein's work is rooted in the legacy of German expressionism, he was now absorbed by the elements of American pop art culture. After the meet, Warhol posed for a series of photo sessions for Gottfried. A few years later, another faculty offer found its way to Helnwein's doorstep - he was recommended by Rudolf Hausner as his successor for the roles of a professor of the master-class for painting at the University of Visual Art in Vienna. Gottfried declined the job offer and left Vienna, relocating himself to Germany. He also acquired a medieval fortress close to Cologne and the Rhine river during this time of his life - even more interesting than the fact he had a castle in his possession is that this will not be the last medieval keep the artist will buy. Helnwein established a studio in Tribeca New York in 1989, after which he started to spend his time between the United States and Germany.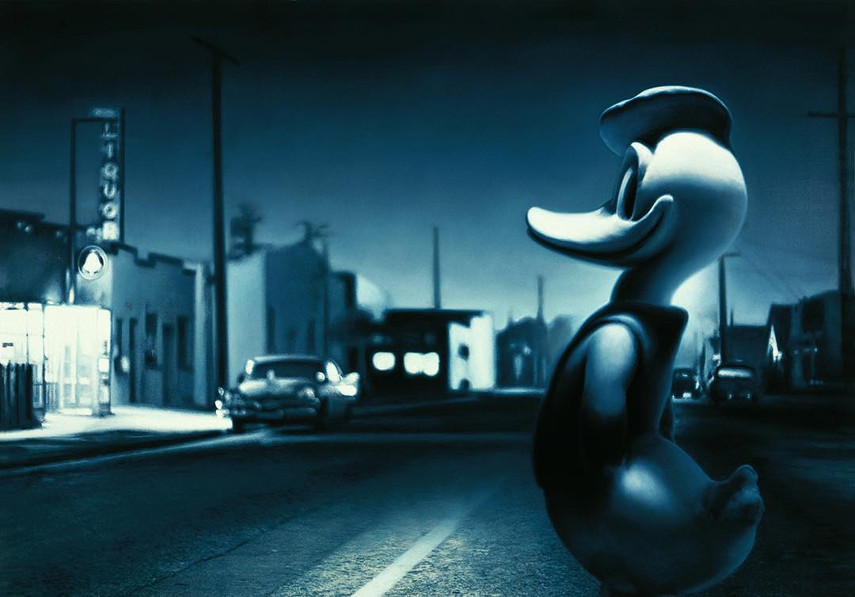 The Brutal Magic of Gottfried Helnwein
For the majority of his mature career, Helnwein's work consisted mainly of hyper-realistic watercolors, depicting wounded individuals, deformed figures and bandaged characters. Presenting children is a huge part of his art[2] - in fact, one can argue that small kids are the most important aspect of this man's work. The children are presented as embodiments of the innocent, defenseless individuals completely at the mercy of brute force[3] - it should be noted that images of injured and abused children can get quite terrifying due to the technical ability of the painter. Gottfried produced countless photographs as well over the years, very similar to his watercolors both in style and topics. He never stopped performing in public spaces as the famous Aktions remained a regular aspect of Helnwein's portfolio. Just as the case is with this paintings, the bandaged child became the most important figure next to the artist himself in all performance acts. Of course, Helnwein maintained his own position as a victim and martyr within his art, a feature present in his work since the early student days. Interestingly, another strong element in his works are comics - Gottfried has sensed the conceptual superiority of cartoon life over real life ever since he was a child and often relies on cartoonish depictions.
The art and tools of Gottfried Helnwein can be sometimes hard to stomach, but the types of topics this author deals with require him to have an uncompromising approach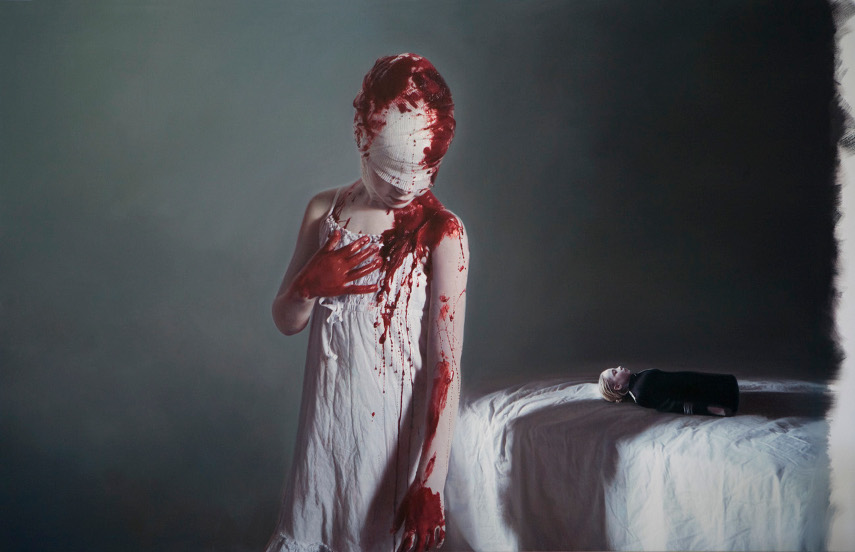 Events of the 21st Century
In the year of 1997, Helnwein moved to Dublin, Ireland. About one year later, he bought Castle Gurteen de la Poer in County Waterford. Interestingly, on the 3rd of December in 2005, his friend Marilyn Manson and Dita Von Teese were married in a private, non-denominational ceremony at this castle. Of course, the keep-provider was declared as the best man and the entire wedding was officiated by the surrealist film director Alejandro Jodorowsky. In 2002, he established a studio in downtown Los Angeles that provided him with an alternative to his Big Apple studio. Since then, he has been living and working between Dublin and Los Angeles. Gottfried has four children with his wife Renate Helnwein: Cyril, Mercedes, Ali Elvis and Wolfgang Amadeus. All of them are now artists in their own right. In 2013 the Albertina Museum in Vienna organized a retrospective of Helnwein's work[4]. The show was seen by 250.000 visitors and was the most successful exhibition of a contemporary artist in the history of the Albertina.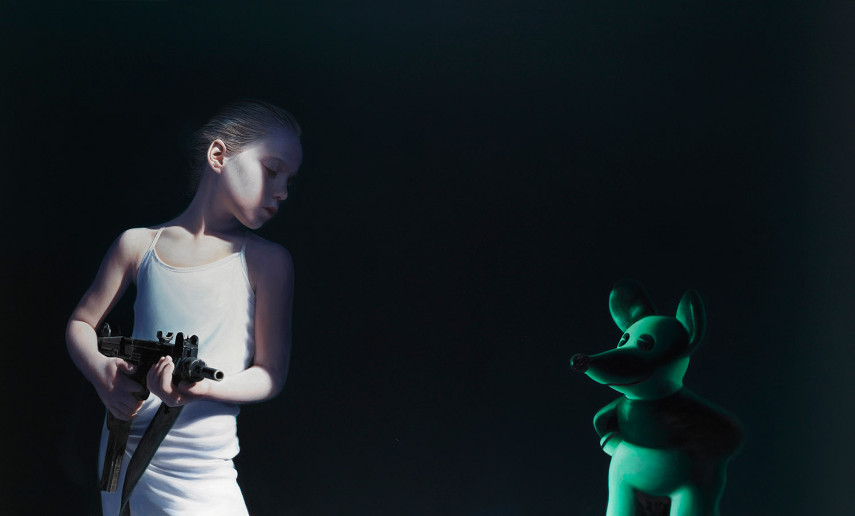 The Core of Gottfried Helnwein's Art
It's hard to determine what makes Gottfried Helnwein more impressive as an artist, his creative versatility or his hyperrealistic skill regardless of the medium. On one hand, he has been known to work as a painter, draftsman, photographer, muralist, sculptor, installation and performance artist that relies on a wide variety of techniques and media in order to get the message across to the viewer. On the other hand, his disturbing content is presented via such a visual perfection that it is capable of drawing some unique reactions that will truly chill your blood as a viewer. If it was up to us to decide what the key aspect of this artist's work is, we'd go with the latter. The way Gottfried Helnwein is able to stun the audience is virtually unparalleled as everyone looking at his work will find themselves stuck between the visual perfection and stunning content with a wide emotional range that does not stray away from taboo and controversial issues. And in our opinion, this is what separates the best from all the rest in the world of art.
Jean Faucheur lives and works in Dublin, Ireland, and Los Angeles, the United States.
References:
Daniels, D. L., Proyen, M. V., Helnwein, G., Gottfried Helnwein: Inferno of the Innocents, Crocker Art Museum; First edition, 2011
Frank, P., Helnwein, R., Helnwein, G., Gottfried Helnwein: I Was a Child, Friedman Benda/Barry Friedman Ltd, 2011
Helnwein, G., The Child - Works By Gottfried Helnwein, Kitchen93; Bilingual edition, 2007
Helnwein, G., Schröder, K. A., Lahner, E., Gottfried Helnwein, The Fine Arts Museum of San Francisco; Limited edition, 2004
Featured image: Gottfried Helnwein - Photo of the artist in front of his work - Image via stevebenisty.com
All images used for illustrative purposes only.