Transforming the artist's ordinary tools into and extraordinary work of art, Govinda Sah Azad creates powerful depictions of clouds that represent symbols of spiritual power and terrible consequences of the climate changes. Having the psychological review, the clouds are the metaphor of infinite and never achieved human desires, but also, the represents of nature which is more powerful than any religion. Emphasizing the oxygen as the most needed thing he determined the nature as the only thing he believes in. Seeing the clouds as universality, Azad calls them emotions of the sky.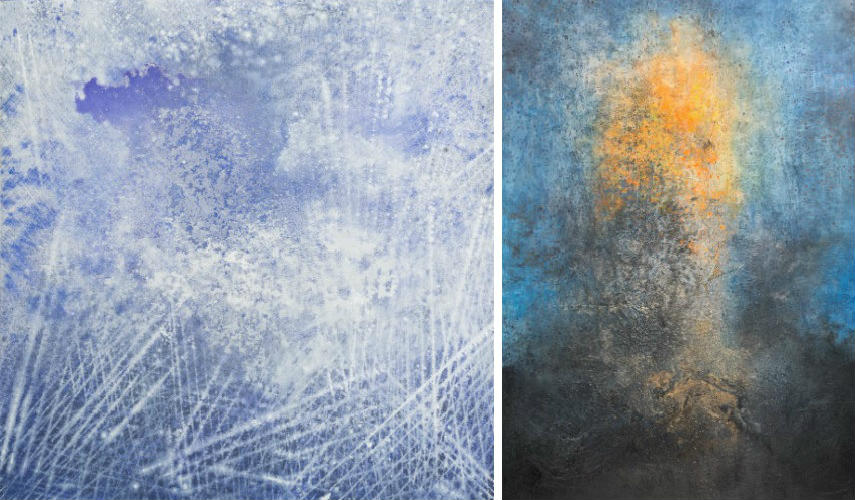 Azad – the Free Spirit
Azad was born in Nepal and from his early childhood, he was interested in drawing and sculpture. Unfortunately, his parents couldn't accept his artistic desires and he head to leave his home at the age of 16. Living in a poverty as one of six children, he has even suffered beatings from his parents who wanted to distract him from drawing. Still, he was so persistent that they named him "Azad" which means his free spirit. The acquaintance with established Nepalese artist KG Ranjit who inspired him to enter the art school at the Tribhuvan University, changed his life. His first choice were landscapes and he was spending hours painting outdoors.
His first choice were landscapes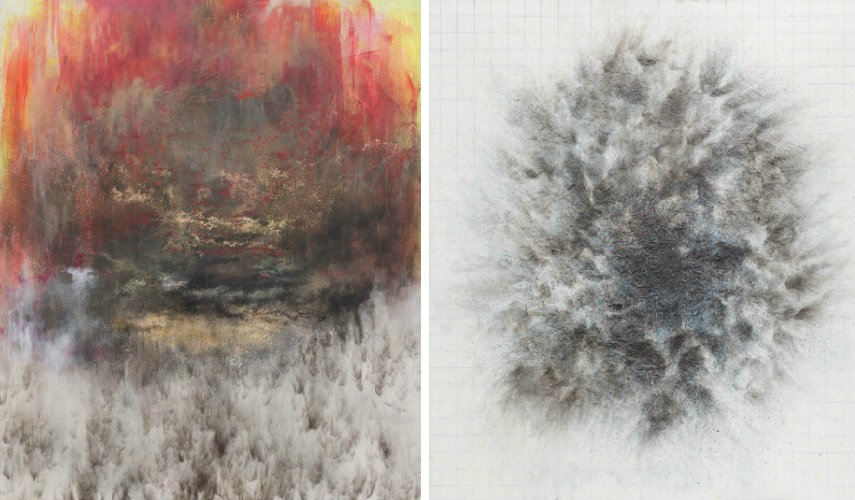 The Craving for Experimental Work
During his summer vacations, Azad traveled Nepal by bicycle, painting in front of the crowds, organizing exhibitions of local artists and teaching art at schools, with the aim to spread artistic ideas to the people who lives in rural areas. After the graduation, he finished his MA in Dhaka, Bangladesh and then decided to try his luck in London. Unsatisfied and limited with the traditional approach which excepted only still life, portraiture and landscape painted as realistically as possible, Azad's expression craved for experimental work. England helped him to expand the horizons, and move in a new direction, using new techniques as pasting newspaper snippets or cutting holes in canvases.
Azad's expression craved for experimental techniques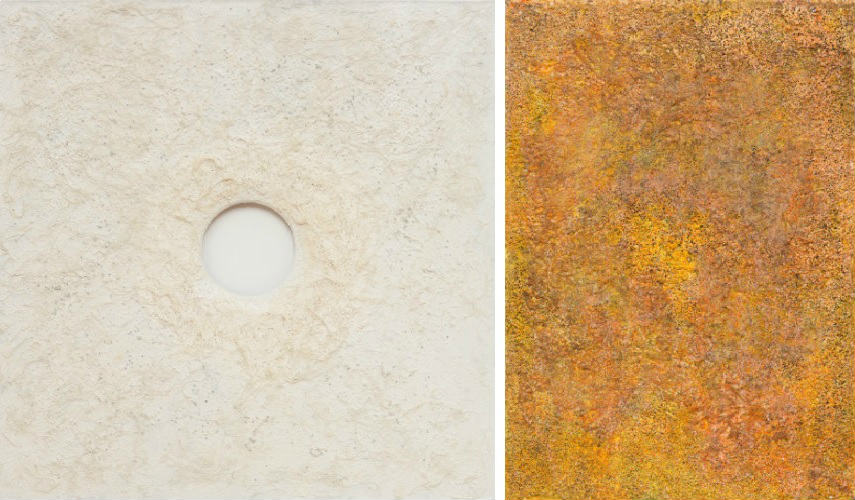 The Clouds are Emotions of the Nature
Azad's powerful imagination has been focused on Hindu deities, temples and sacred landscapes before the clouds took the primary importance as the symbol of heaven. Aiming to show the connection between nature and spirituality, his clouds provoke people to ask what they can do to support the nature. Azad's work has been exhibited in numerous solo and group shows, in Nepal and internationally. He participated in many workshops under the sponsorship of the UN and Bangladesh Embassy in Nepal.
Featured image: Govinda Sah Azad, image copyrights Jonathan Greet, 2014
All images courtesy of October Gallery