One of the leading British artists of the 20th century, Graham Sutherland was widely known for his prints and paintings. Despite some other names coming to mind before him when talking about the art history, such as David Hockney, Francis Bacon, or Lucian Freud, there was a time when Sutherland ruled undisputed. From mid-1930's, when he established his identity as a modern painter, to the 1950s, when his influence began to wane, there was a widespread consensus amongst fellow artists and critics that Sutherland was the most exciting and compelling voice in contemporary British painting.[1] He was even commissioned to paint a portrait of Winston Churchill, in what turned out to be one of the most famous cases of the subject disliking the artwork, which eventually led to its destruction.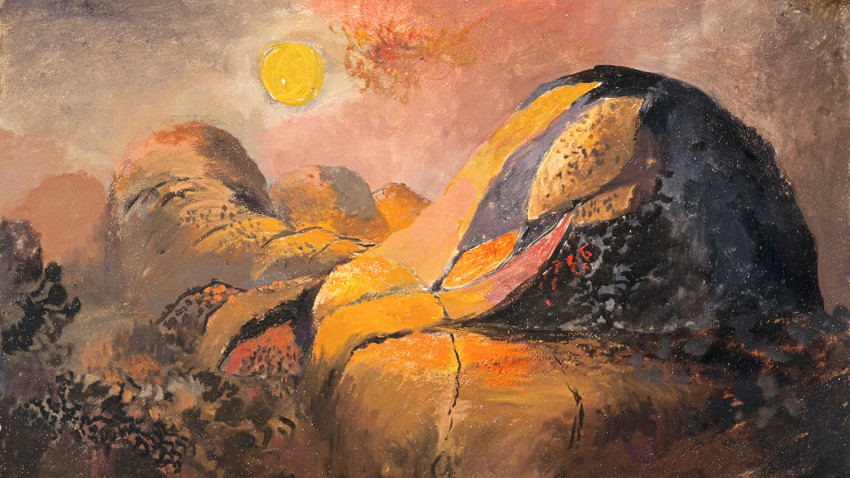 The Art of Graham Sutherland
Sutherland's artistic career included several significant changes in direction. After specializing in engraving and etching, he began achieving fame as a printmaker. His early pastoral prints display the influence of the English Romantic Samuel Palmer, whereby prefiguring Sutherland's later involvement within the Neo-Romantic movement in Britain. However, the famous 1929 Wall Street Crash bankrupted many of his collectors, thus forcing Sutherland to turn to other sources of income. He worked as an illustrator until he visited Pembrokeshire, becoming completely captivated by it, and subsequently, turning to painting as a primary medium for his expression. The artist continued to draw inspiration from Pembrokeshire countryside and its enthralling anthropomorphic natural forms for the rest of his life.[2] When working on landscapes, Sutherland's working method included seizing on a detail such as a dead tree, boulder, thorn bush, everything that according to the artist, required a separate existence. He would sketch this on the spot, and later a studio painting would evolve. Sutherland wasn't the first to do so – many landscape artists before him had done pretty much the same, but his studio hand moved considerable further from what his outdoor eye had seen. Neo-romantic at the core, his work inspired others such as Paul Nash, John Craxton, and John Piper. Over time, Sutherland began to reveal himself as a vivid colorist with an original sense of harmonies. He somewhat banished the dark and heavy tones which he had used earlier, though preserving the sharp black and white oppositions and using acid pinks and mauves, orange and light blue, emerald, chrome yellow, and scarlet.
Graham Sutherland would draw in his sketchbook at site, and would later work in studio, moving away from what his outdoor eye had seen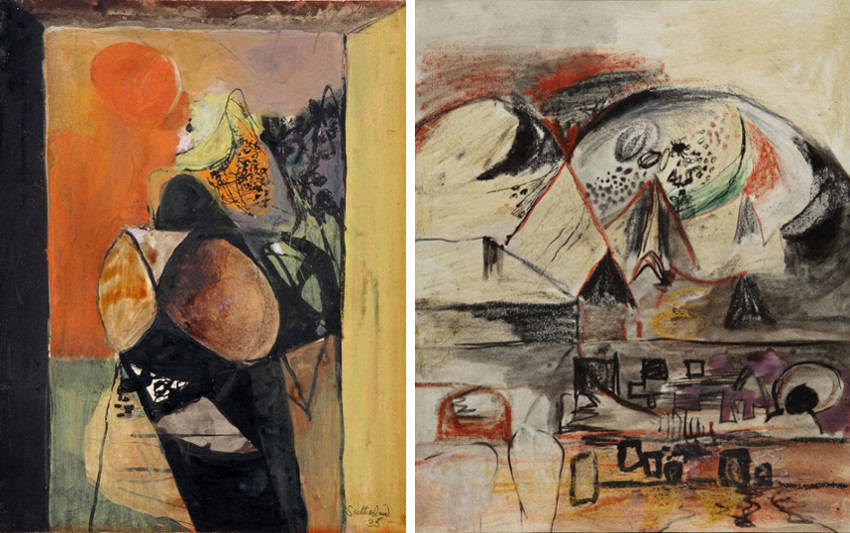 Graham Sutherland and the Infamous Portrait of Winston Churchill
The British artist wasn't known just for his landscapes – he was also a famous portraitist. As such, and because he was at the peak of his fame in 1954, Sutherland was commissioned to paint a full-length portrait of Winston Churchill. It was intended to be unveiled during Churchill's 80th birthday ceremony at Westminster Hall. The painter made numerous charcoal sketches of the Prime minister at a handful of sittings from August 1954, with a strong focus on his subject's face and hands, before making oil studies. Another source were the photographs taken by Elsbeth Juda. There were some problems, however. Churchill had suffered a stroke, which was concealed from the public, and was recovering from it. Sutherland made a decision to deliver not some visual blandishment, but the truth – and it was completely different from the idealist photograph that was beautifully taken by Yousuf Karsh in the dark days of the war.
The final result was just that – a bold statement of truth. It was a very unhappy painting of an old and grumpy Churchill that no longer seemed leavened by the humor and verbal creativity of the Churchill of legend. The painting was black and rough, as if burnt, as if Churchill were emerging from the ruins of Europe, from a world not saved but shattered. While the man himself still has a stoic authority, there was also sadness and a sense of defeat. Both Churchill and his wife Clementine resented the portrait, and wanted it not to be revealed during the ceremony. Because the entire project was financed by donations from members of the House of Commons and House of Lords, Churchill was somehow convinced to allow the continuation of the presentation. Reactions were divided – some were amazed by the strength of its likeness, others condemned it as a disgrace.[3] The painting, instead of hanging in the Houses of Parliament after Churchill's death, it was given to him as a gift and ended up in Chartwell. It was reportedly destroyed by his wife, Clementine, within a year of its arrival.
Churchill hated the portrait!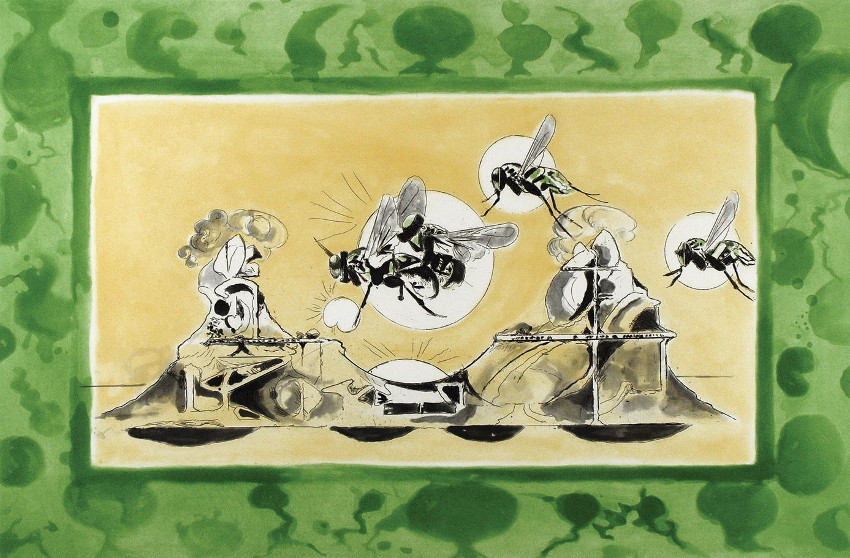 Personal Life
Born in Streatham in London, Sutherland attended Homefield Preparatory School in Sutton and continued his education at Epsom College, Surrey. After a year of engineering apprenticeship at the Midland Railway works in Derby, he finally convinced his father that a career in engineering was not his true calling – art was. He entered prestigious Goldsmiths' School of Art in 1921, where he specialized in engraving and etching. During the WWII, he was an official war artist, adding the awareness for violence to his passionate sense of landscape, creating memorable, yet disturbing paintings. After the War, he was hugely inspired by the French Riviera and would spend several months every year into the 1960s. It took the magic of Pembrokeshire to once again make his work fully in the UK. Although he had converted to Catholicism in 1926, and from 1950 until his death was deeply involved in religion, he actually never stopped creating works based on natural forms and nature. Sometimes he was able to combine nature with religious symbolism.
Graham Sutherland lived and worked in Pembrokeshire.
References:
Hammer M., Graham Sutherland: Landscapes, War Scenes, Portraits 1927-1950, Scala Publishers (2006)
Thuillier R., Graham Sutherland: Life, Work and Ideas, Lutterworth Press (2015)
Jones J., Graham Sutherland, Winston Churchill (1954), The Guardian [February 15, 2017]
Featured image: Graham Sutherland posing with the portrait of Winston Churchill - image via newstatesman.com