Great chronicler and one of the most incisive commentators of the contemporary society and culture, Grayson Perry combines his subversive art with autobiographical references from his childhood and family to transvestite alter ego Claire, making distorted commentary on class, taste, consumerism, and art versus craft. Although works in various mediums, he is best known as a ceramicist who, besides traditional methods to create his pots, uses unusual techniques like embossing and photographic transfers, creating complex, animated surfaces. His sarcastic and psychologically composite narratives are in a total opposite to the conventional forms of the objects he makes, which is actually the most challenging incongruity of Perry's work. Carrying the strong messages, his pots bring hidden comments on societal injustices and hypocrisies, questioning different historical and present-day themes. As a member of a Young British Artists generation, Perry's approach has always differed from the theoretical strivings of his peers, focusing on more colorful and extravagant aesthetic that blurs the boundaries between high and popular culture.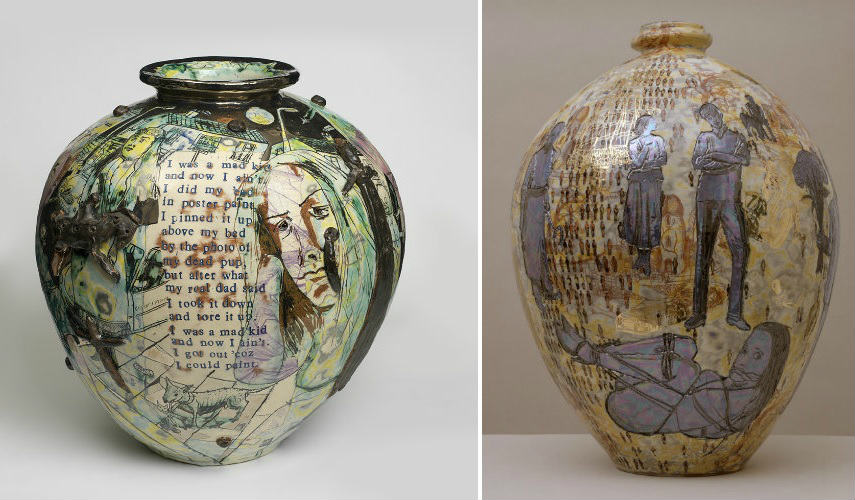 Early Life and How Childhood Influenced Art of Grayson Perry
Grayson Perry was born in 1960 in Chelmsford, England. When he was seven years old, his father left the family which made the great impact on his whole life. He lived with his mother, stepfather, sisters and two stepbrothers. He early showed an interest in drawing and making models of planes which would later become the theme of his artworks. Hard family situation and violence that he suffered from his stepfather, forced him to retreat to his own world that sometimes involved his teddy bear toy which he adopted as the surrogate father figure. Until the late 1970's when he was drawn into the Chelmsford punk scene, Perry was a conventional boy, interested in motorcycles and girls and even attended the school's Combined Cadet Corps with the aim of training as an army officer. Having the tendencies to wear women's clothes, during his teenage years he realized that he was a transvestite. Living with his father and stepmother, his unusual habit has not met with approval, and after he broke the promise that he would stop, they threw him out the home. Grayson Perry definitely decided not to go to the army, and following the advice of his teacher went to study art at Portsmouth Polytechnic where he received a BA in Fine Art in 1982. Perry's first piece of pottery has been exhibited two years before his graduation, at the New Contemporaries show at the Institute of Contemporary Arts. Becoming the part of the Neo Naturists group founded by Christine Binnie, Perry truly supported their strivings to revive the spirit of '60's manifested through nudity life and occasional performances focused on body paint. Quitting every contact with his mother since 1990, Grayson Perry lived in squats until he met milliner Stephen Jones and musician Boy George and started to share the home with them.
Having tendencies to wear women's clothes, during his teenage years Grayson Perry realized that he was a transvestite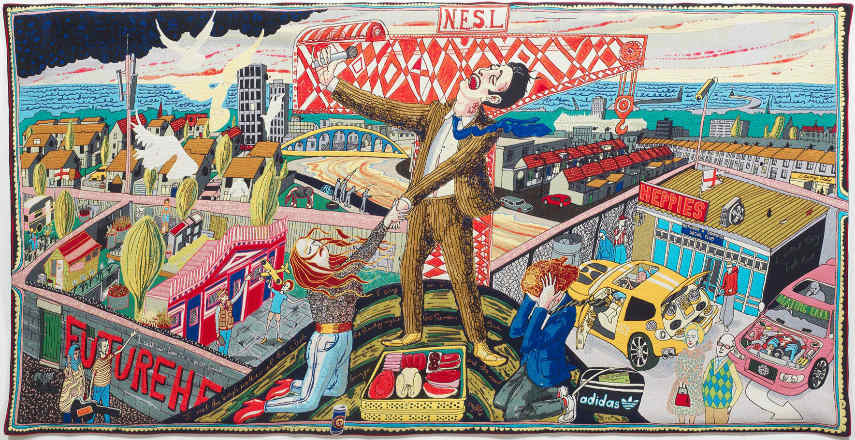 From Pottery to Female Alter Ego and Popular TV Shows
Considering several ceramic traditions, such as Greek pottery and folk art, Grayson Perry creates complex surfaces, employing various techniques of glazing, incision, embossing, and photographic transfers which made him different from the simple pottery craftsman. Even more important is the fact that his aim is not to achieve a purely decorative effect, but to give meaning and encourage to contemplation, transforming the utilitarian object into the carrier of the complex social message. "I like the whole iconography of pottery. It hasn't got any big pretensions to being great public works of art, and no matter how brash a statement I make, on a pot, it will always have a certain humility. For me the shape has to be classical invisible: then you've got a base that people can understand"[1]. Looking back on his childhood, Grayson Perry's work is a reflection of his upbringing, the violence, and anger of his stepfather and lack of the male model at home. His distorted understanding of the family roles is depicted in his piece Using my Family (1998). On the other hand, Perry's pots often contain sexually explicit imagery such as obscene sadomasochistic sex scenes or juxtapose most common decorative elements like flowers with weapons and war. Besides ceramics, he also works in printmaking, drawing, tapestries, sculptures, film, and performance.
Frequently appearing in public dressed in a women's clothes, Perry described his female alter ego as "a 19th century reforming matriarch, a middle-England protester for No More Art, an aero-model-maker, or an Eastern European Freedom Fighter, a fortysomething woman living in a Barratt home, the kind of woman who eats ready meals and can just about sew on a button."[2] Today, most of his dresses are made by his students at central Saint Martins, where he teaches a course in fashion. In 2015, along with FAT Architecture, Perry designed a holiday home in Wrabness, Essex, known as Julie's House. Its unconventional form, inspired by follies, eccentric homes, shrines, and fairy tales was named after the local fictional character Julie May Cope. His series of tapestries made during his filming of his documentary All in the Best Possible Taste was inspired by Hogarth's a Rake's Progress, a tale about the young man who dissipates his inherited fortune and dies in the madhouse. Perry's six tapestries follow the experiences of Tim Rakewell, included in his TV documentary show. Telling the story of class mobility, the artist strives to explain how social class in which we grow up influence our aesthetic taste. Mostly interested in politics of consumerism and the history of popular design, in this project, Perry processes the emotional investment people make in things they choose to live with.
Grayson Perry transforms the utilitarian object into the carrier of the complex social message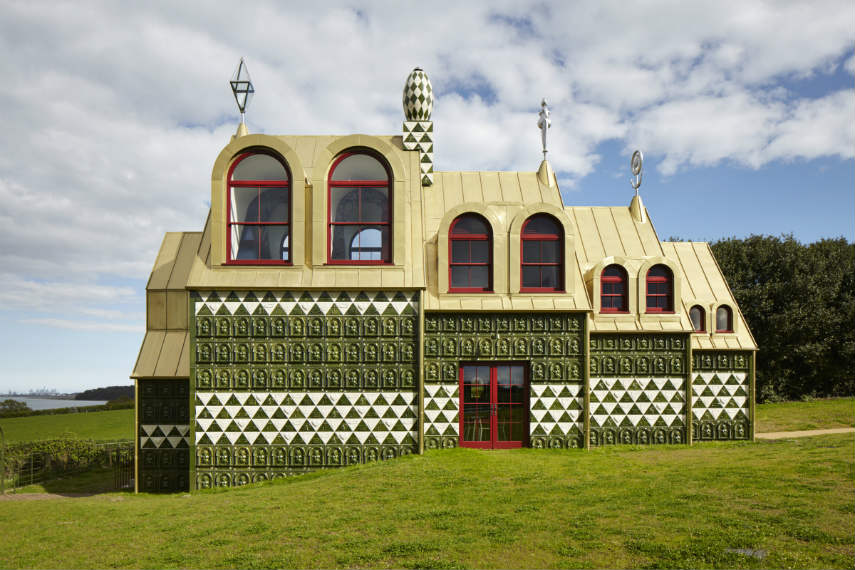 Exhibitions and Recognitions
Well known for major exhibitions such as the acclaimed Tomb of the Unknown Craftsman at the British Museum (2011 - 2012), in which he combined his own works with historical artefacts from the British Museum collection, Grayson Perry was the subject of an institutional tour in 2016 at Bonnefantenmuseum, Maastricht, and ARoS Aarhus Art Museum. The major retrospective Grayson Perry: My Pretty Little Art Career was on view at The Museum of Contemporary Art in Sydney. Other projects include the permanent building A House for Essex, a collaboration with FAT Architecture situated in the North Essex countryside. The Arts Council Collection and British Council-led UK and international tour of The Vanity of Small Differences, Perry's monumental suite of tapestries, was on display at the Pera Museum, Istanbul (2015). The making of these works was chronicled in his BAFTA-winning Channel 4 series In the Best Possible Taste. The artist has received a second BAFTA for a subsequent Channel 4 series broadcast in October 2014, Grayson Perry: Who Are You? which was accompanied by a solo presentation of works on the theme of portraiture and British identity at the National Portrait Gallery, London (2014 - 2015). Perry's previous exhibitions include solo presentations at Turner Contemporary, Margate (2015); the Musée d'Art Moderne Grand-Duc Jean, Luxembourg (2008); Andy Warhol Museum, Pittsburgh (2006); Barbican Art Gallery, London (2002) and Stedelijk Museum, Amsterdam (2002). Perry has curated the exhibitions Unpopular Culture, at the de la Warr Pavilion (2008) and The Charms of Lincolnshire, The Collection, Lincoln (2006). Winner of the 2003 Turner prize, Grayson Perry was elected a Royal Academician in 2012. The following year, he received a CBE in the Queen Victoria Birthday Honors List, and in 2015 was awarded the prestigious appointments of Trustee of the British Museum and Chancellor of the University of the Arts London[3]. In 2013 Perry delivered The Reith Lectures, BBC Radio 4's annual flagship talk series by leading international thinkers, to widespread acclaim.
The artist is represented by Me Collectors Room, Berlin.
Grayson Perry lives and works in London.
References:
Anonymous. Grayson Perry, Wikipedia [September 4, 2016]
Jones, W. Grayson Perry: Portrait of The Artist As a Young Girl, Vintage Books, 2007
Anonymous. Grayson Perry's Biography, Victoria Miro [September 4, 2016]

Featured image: Grayson Perry - Artist's portrait - Image via scenetv.co.uk