When a painter admits that the reason he loves painting in the first place is because it gives him an excuse to look very closely at things, we know that we have before us a highly unusual artist. An American painter Gregory Block is true blue when it comes to the way he experiences his art - it always comes second and the things that inspired him are the ones he really gets attached to. However, Block's near photo-realism and his masterful touch helped him gain the title of the most promising young artists in the representational art world.
Block is best known for his hyper-realistic landscapes and still life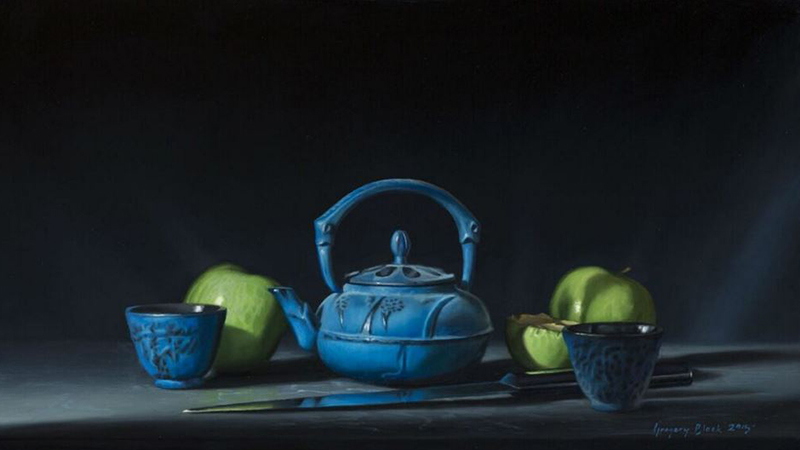 Biology and Art in Symbiosis
Gregory was born in in 1986 in Kansas City, the largest city in Missouri. As a young boy, he moved to Colorado with his family where he attended a Waldorf school. Right there, Block discovered his love for art and music. He was also fascinated by the natural world, so he continued to explore all of his passions equally. During his high school, Gregory made a significant progress in the fields of art and music. Later on, he chose the Colorado College to obtain his BA in biology with a minor in Studio Art. All the time he was dealing with the secrets that nature hides, Gregory knew deep down that his future path in life is the one of the artist. As science shares a lot of qualities with art, Block perceived his biology study as a life study, something that will help him later with the skill of observation in his artistic expression. One curiosity dating back then is that he was determined in his decision not to take any type of painting course or to adopt a mentor, as he wished to experiment on his own, learning and growing as a painter unhampered by someone's authority and advises. The only guidance he accepted was his own close study of the artists he admired - Rembrandt, Monet, Franz Kline, Conrad Marca-Relli, and Colorado painters Michael Lynch and Daniel Sprick. When Block was 26, he attended the Summer Session at New York Studio School, established in 1964 as an answer to the frustration of young artists by the frantic pace and fragmented courses of contemporary art education.
Block experiments with the alternative construction techniques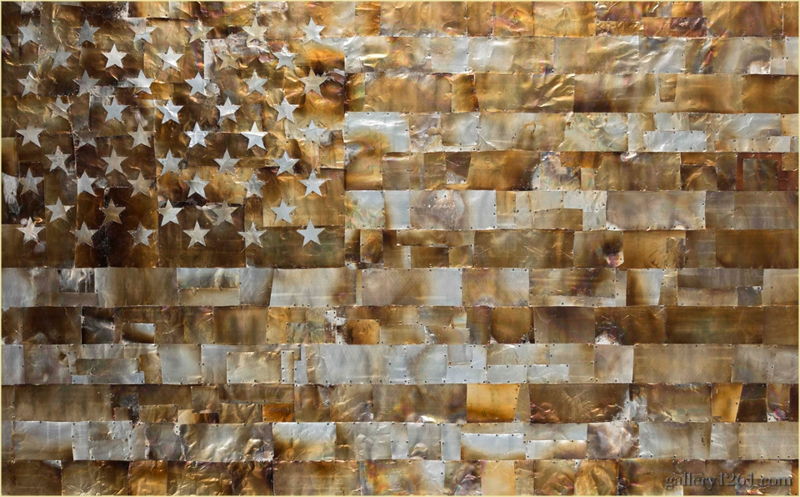 Artistic Recycling: The Art of Aluminium Cans
Gregory Block's favorite medium for his hyper-realistic landscapes and still life is definitely oil on canvas. Even though his work couldn't be further away from the abstract, Block does not deny himself an abstract way of reflexing: he thinks about the a realistic object's representative work from an abstract point of view, recently expanding his style into an abstract idiom, with his thick calligraphic lines reminiscent of ideogrammatic languages. Gregory is more than willing to experiment with the alternative construction techniques that help demonstrate this artist's versatility. Block uses an assortment of objects he finds interesting – like the aluminum cans for his large-scale maps. After cutting up and burning the can on the open flame, Gregory would arrange it into geographically-correct maps or flags.
Block's first solo exhibition held at Gallery 1261 was an immediate success and has been sold out, indicating a fruitful and prosperous artistic career for this young biologist and artist, who managed to bring out the best out of symbiosis between nature and art, creating his dynamic and engaging works.
This artist is represented by the Gallery 1261.
Gregory Block lives in Steamboat Springs, Colorado.
Profile image copyright © Tom Ross for Steamboat Today