Not much is known about the mysterious Gregos, an urban artist that has been, quite literally, masking the streets of Paris. This man developed a method in which he creates a sculpted replicate of his face - tongue out, pouting, with puffed cheeks or a ridiculous grin - that he later paints and glues on the walls of the French capital! Rarely do we have a chance to witness an artist that is equally humorous, original and fun like Gregos. The artist is responsible for over one thousand pieces that are hanging from street walls of the City of Light, not to mention many others that are placed all over the cities of Europe and The United States.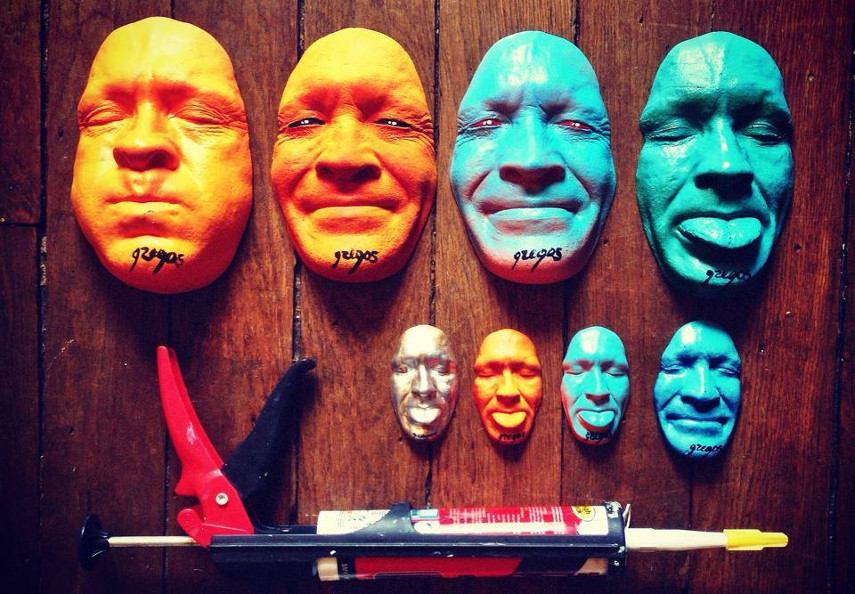 The Man Behind The Mask(s)
Gregos was born in Paris during the year of 1972. He grew up in the northern suburbs of the world's art capital, in the neighborhood known as Gonesse, Villiers le Bel. By his own admission, Gregos is completely self-taught when it comes to his art. His first steps into the world of street art were taken during the late 80s and early 90s. He was a part of a growing graffiti scene that was booming in Paris during these years. Gregos spent over a decade tagging, spraying and painting walls, exploring the boundaries and potentials of the medium. Although he has been relatively unique as a graffiti painter, he was never able to stand out from all other fellow artists that have been working the streets at the same time. In the year of 1997, with intentions of creating something more unique and personal, Gregos started experimenting with sculpting and molding techniques. His unique style of masks will not come to be for years, but by the time Gregos started to experiment with the sculpture medium, he already had an excellent basis for his future art. In 2003, Gregos left his hometown and set sails for Boston, Massachusetts. It was in this city that the artist was introduced to oil painting. This was a segment of Gregos's life that saw him get as close to the academic methods of creating art as he would ever be.
Before Gregos started creating his unique masks, he experimented with graffiti and academic art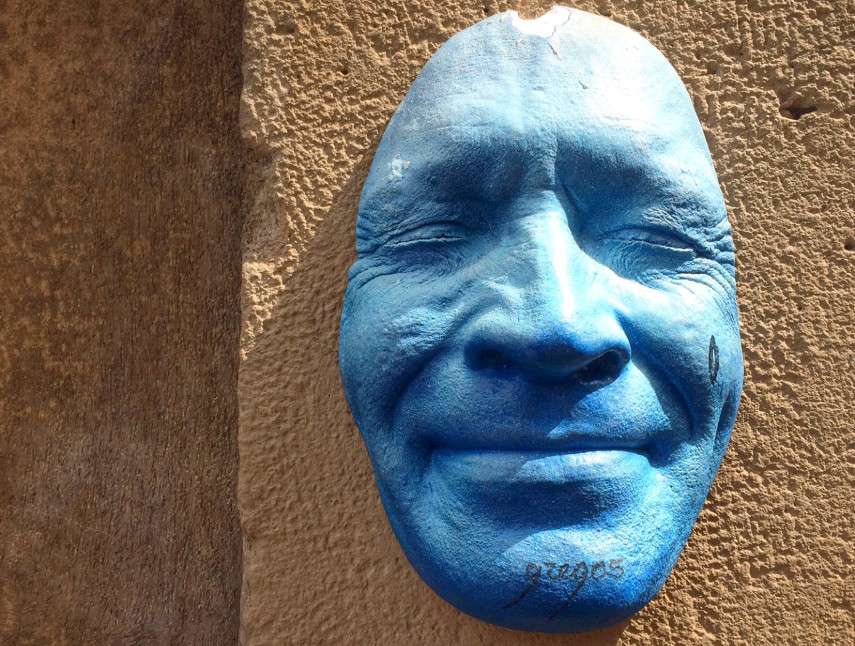 Masking The Streets Of Paris Instead Of Painting Graffiti
During the year of 2006, caused by nostalgia and a desire for a more free way to express himself, Gregos went back to the City of Lights. He made a full circle by returning to his own roots and his true love - street art, cutting ties with academic and traditional ways. In the Montmartre district where Gregos now stays, the artist participates in the ever present street art scene that has become a trademark of this neighborhood - probably down to the fact that an artist such as Gregos lives and works here. The return to his home countrycan be considered a highlight of Gregos's career - it was then and there that he reached the peak of his expressive tendencies. Armed with all the experiences and different techniques he acquired over the last twenty years, Gregos invented a 3D method in which he creates a sculpted replica of his own face, gives it a particular state of mood and then glues it on the walls of public spaces. Every facial expression and color used on these pieces represent something different from Gregos's past, present, and future - so they can surely be considered pieces of self-portraiture. He places them all over urban environments, wherever he is able to fit them. As was said before, Gregos created more then one thousand such delightful faces, scattered all over the streets of the French capital. However, as Gregos's fame started to grow over the years, the artist broadened his horizons by not limiting himself to just working in Paris - either by his choosing or commissions, Gregos's masks can be found in many other cities, such as Nice, Lille, Lyon, Marseille, London, Geneva, Berlin, Monaco, Los Angeles, Portland, Athens, Sao Paolo, Tokyo, Kyoto, etc.
Gregos places his amusing masks wherever they can fit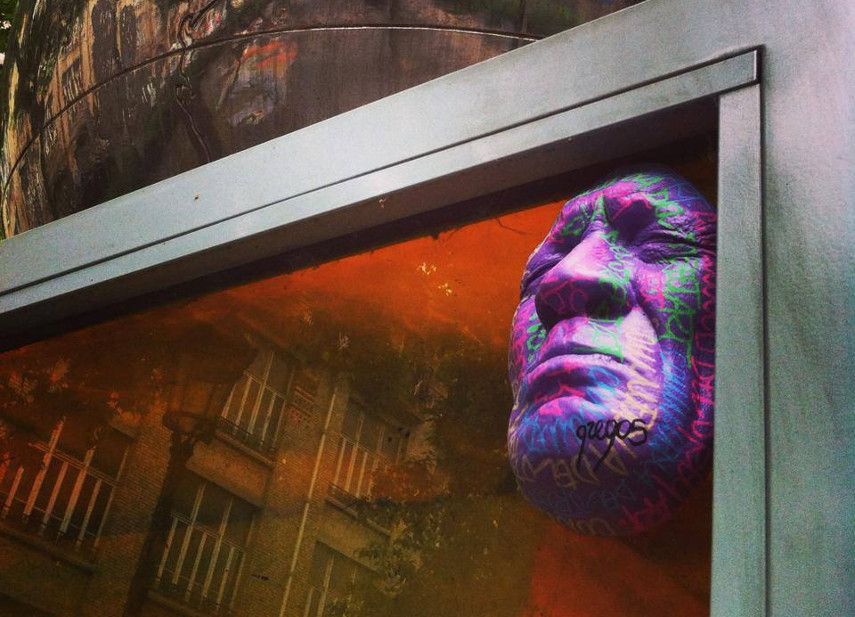 A Perfect Artistic Mix
It's a bit funny when you think about it, but Gregos's identity is yet to be revealed despite the fact there are literally thousands of molded representations of his face around the world. What makes Gregos so brilliant is his excellent blend of different styles and techniques, his cleverly thought out method that is instantly recognizable and a perfect sixth sense when it comes to choosing the location where masks should be placed. All of the above makes sure that the bystanders - or in this case, the audience - develops a special kind of bond with Gregos's masks. People enjoy looking at them, taking pictures alongside them, mimicking them and, shortly put, loving them. What more can an artist ask than that?
The artist is represented by Joël Knafo Art in Paris, France.
Gregos lives and works in Paris, France.
Featured Image: Gregos - Gregos piece in Paris - Photo Credits The Artist
All Images Photo Credits Gregos