Guerrilla Girls are the group of female artist that fights against sexism, racism, and discrimination in the art world. They were founded in 1985 by seven women, after an exhibition at the Museum of Modern Art in New York. At the exhibition, an international survey of painting and sculpture was being organized, and the total of 169 artists was featured. Only 13 of them were female. A group of female artists was protesting in front of the museum, and this is how the Guerrilla Girls were created. Since their beginning over 60 women took part in this group activism, some of them being in the group for 30 years and more.

Guerrilla Masks for the Perseverance of Integrity
They never show up without their masks, and they go by alias names such as Frida Kahlo and Käthe Kollwitz, named after a German artist, and Zubeida Agha, who took a name of Pakistani artist that passed away in 1997. They started with protests in front of museums who would not include female artists in their featured most influential and importat collections, or the galleries without female solo exhibitions. They worked on projects in New York and all over the USA. They fight for equal rights, against racism and sexism. It all started out with attempting to have more women artists in galleries and museums. After few years, they started arguing for representation of women in the movie industry, theater and music industry.
Guerrilla Girls redefine the F-word, F standing for Feminism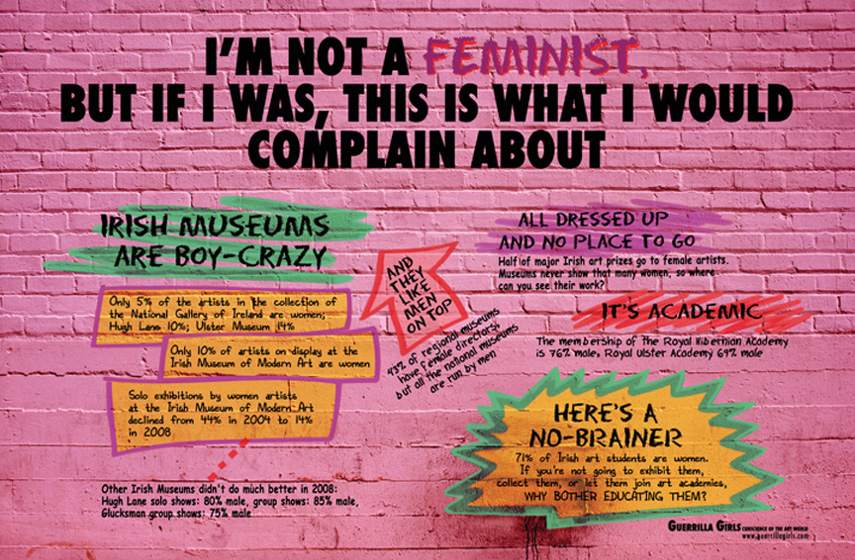 Posters and Activism in Form of Protests
Guerrilla Girls show their statement and express their goals by organizing protests, and by making posters, billboards, stickers and video installation. They encourage other female artists, and artists of color to join them, to cause a real change in art establishment and art business. Guerrilla Girls do not make passive political statements that fall into the oblivion after the initial hype is gone. They carefully plan their activism so they could change something and include more people in their art revolution. Some of their posters were reprinted in thousands of copies and got iconic status all over the world. In 1989, when they realized just 5% of the artist in Met Museum are female, but the 85% of nude acts are female, they made the legendary Do Women have to be Naked poster.
The group has been active since the 1985
International Recognition, Exhibitions and Increased Awarness
Their clever use of satire, substantiated political statements, and poster art helped make some changes, such as increased awareness of sexism, more female artists getting their own solo shows, more responsibility from art dealers and curators. They changed the international recognition of sexism and racism in art and had many exhibitions around the globe. Some of the original Girls revealed their identity, others stayed anonymous, saying that their focus is on their work, not their identity, Hiding under gorilla masks has one great advantage, no one can mock their activity saying that it's not good enough just because they are female. Thier bold and brave activism, and interesting visual art helped to get 10% more women artist to gallery showings by the year 2015.
Guerrilla Girls live and work in New York.
All images © Guerrilla Girls