Best known for his large-scale, site-specific murals, Guido van Helten is an Australian artist whose breathtaking monochromatic portraits adorn the walls around the world. Working in a photorealistic style, the highly talented artist creates delicate and elegant pieces that have an overall atmosphere of melancholy and a deeply sentimental quality. His work is often informed by photographic reference material that is culturally important to the area he is working in. The artist always pays special attention to details and tries to incorporate specific local elements into his pieces.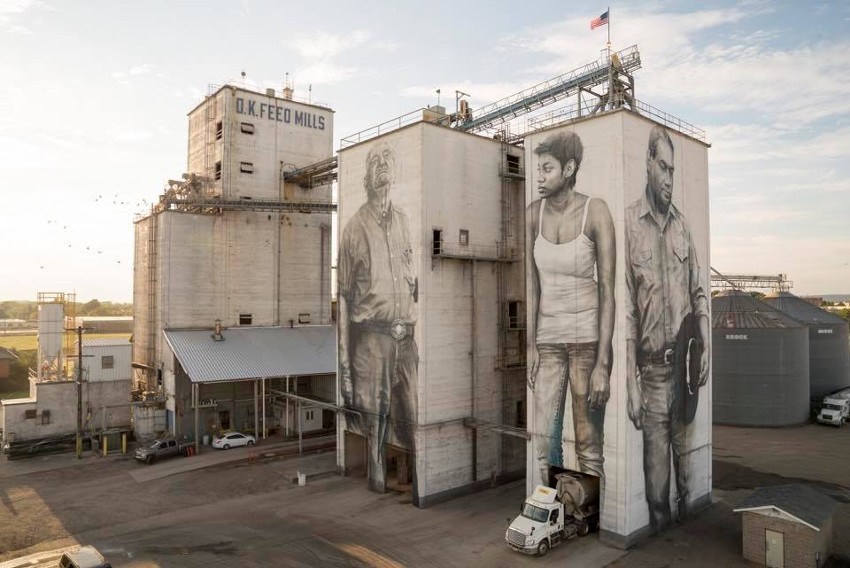 Early Career
Born in 1986, Guido van Helten spent his formative years in Melbourne, one of the world's great street art capitals, where he used to tag trains in the traditional graffiti-style. However, after he got in many troubles with police – and was even arrested for graffiti a couple of times – he realized that something has to be changed because the time and money involved seemed like a waste. While this could have put him off of graffiti for good, it instead influenced his decision to create more professional and developed work. He moved to Brisbane to study art at the Southern Cross University. In 2008, Guido van Helten obtained his Bachelor's degree of Visual Arts, Printmaking Major.
Guido van Helten - Portrait of an Artist, a new video directed by Selina Miles
Photo-Realistic Murals
Over the years, van Helten has developed an inimitable style inspired by the look of old black and white photographs. The artist invests a lot of time and effort when developing a concept for a location – he visits site or place, learns about its history, tradition and culture before chose a photo that he will use as a source of inspiration. He often uses images of friends, famous and locals to highlight the soul and spirit of the municipality, city, street and its inhabitants. The vintage style gigantic wall portraits are made by a range of tools including rollers, paintbrushes and fatcaps. Although his earlier pieces were characterized by bold, contrasting blocks of colors, today he mostly uses a monochromatic palette which allows him to create intricate shading and details that make his work utterly wonderful.
Guido van Helten mostly uses a monochromatic palette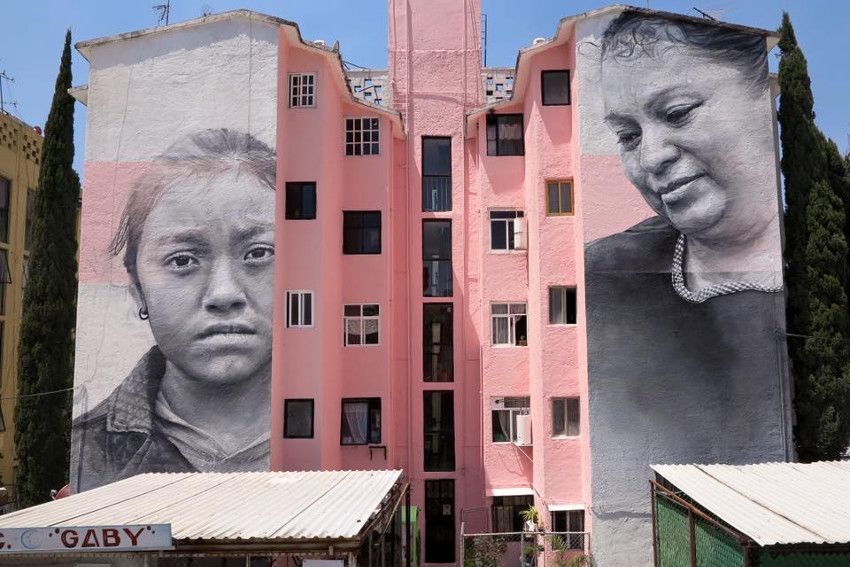 Brim Silos Mural Project
The artist who is constantly striving to perfect his skills as a painter created one of his most gigantic pieces to date in late 2015. Depicting portraits of four local figures on six 30-metre-high decommissioned grain silos, the colossal piece is located in the tiny drought-stricken town of Brim in the Wimmera region of Victoria, Australia. A month-long project reflects in broader context issues locals deal with in this town. Brim Silos mural project was amongst finalists of Sir John Sulman Prize 2016.
In late 2015, he began his one-month-long Brim Silos Mural Project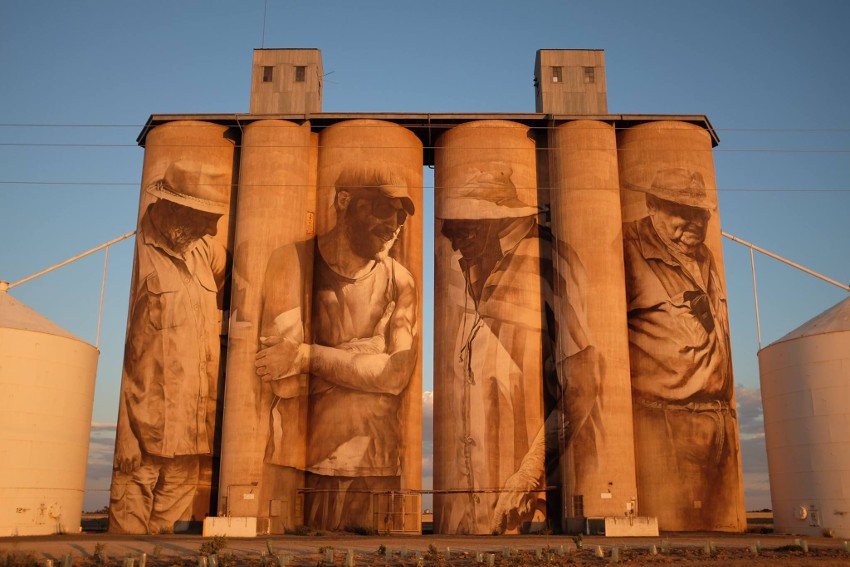 From Australia to Iceland to Mexico
Today, Van Helten's works can be found everywhere from Australia to the United Kingdom, from Eastern Europe to Iceland to Mexico. His portraits of un-idealized faces of the ordinary man, woman and children in a stunning, realistic manner are striking in their ability to capture all the emotions of their subjects. Amongst his large-scale pieces, the artist also creates studio works. He had his debut one-man show in 2012. Entitled Veneer, the exhibition was on display at Jugglers Artspace, Fortitude Valley, Brisbane.
Guido van Helten lives and works in Brisbane, Australia.
Featured image: portrait of the artist
All images courtesy of the artist