It is unbelievable how much power can be in a single line. For some masters, like Guillaume Azoulay certainly is, it has shaped their careers. His style is so unique, it's instantly paired with his name. The variety of approaches he conceives makes his journey distinctive and adventurous. He doesn't express himself as filled in outline, but rather, he achieves the subject form, the musculature, all the facial expressions, the eyes and the nose, through the subtle changes in the curvature of the line. Often referred to as the King of the line, Azoulay's approach to it is an organic one, embodying enduringly appealing qualities such as harmony, balance, and contrast.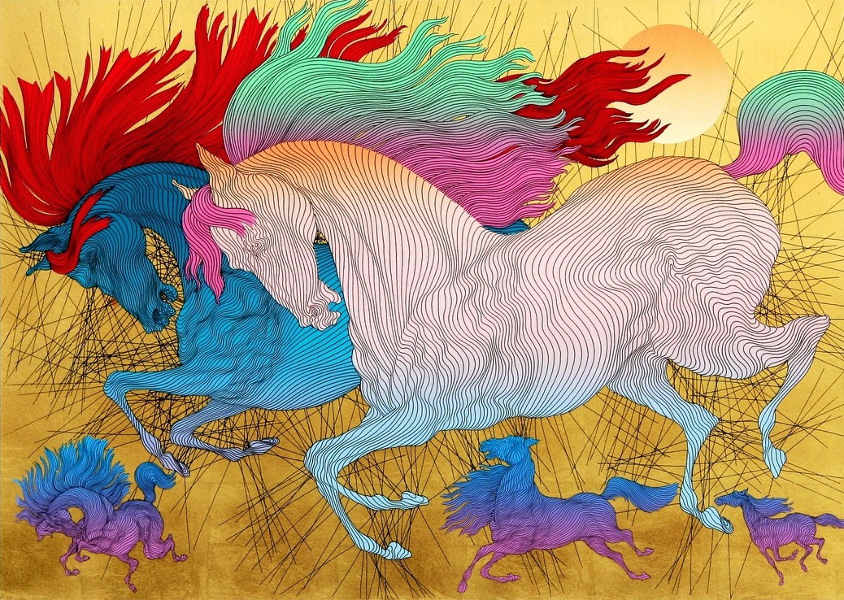 The Art of Line
If we attempt to summarize Azoulay's artistic philosophy by using just one reference, it would be, without a doubt, his determination to show all of the expressive uses to which a seemingly simple design element as the line can be put. For that specific reason, but also for his mastery of the technique, he is quite often called the King of the line, a hard-earned title that speaks for itself. In his work, the artist has amassed an impressive catalog of stunning full-color serigraphs. As razor-thin ribbons of black ink arc and swirl around Azoulay's flights of fancy, they are offset by electric hues of vivid color creating a kind of optical illusion: the areas of shadow and light are formed by those exquisite lines, while the intensity of color remains constant as one shade blends into another. Praised for his ability to utilize the purity of line, Azoulay creates powerful illusions of sculptural volumes in motion.
The art of Guillaume Azoulay relies on a seemingly simple design element - line
Personal Life of Guillaume Azoulay
Born in Casablanca, Morocco in 1949, Azoulay moved to Paris with his parents a decade later. By the age of thirteen, he was sketching and selling his drawings on the streets. In 1967, he settled in Israel where he applied to Betzalel, one of the Middle East's most famous art academies. Rejected but not deterred, he continued his studies, graduating as an actor. For some time he was active in the theater and movies, but facing the impossible task of equally sharing his time between his two passions, Azoulay decided to pursue a career in art. The international recognition came in 1978 when two of his works were accepted into the permanent collection of the Louvre Museum in Paris. The artist finally settled in California in March of 1976, where he lives with his wife Charmaine Seal, who's a noted ballerina, but also one his most favorite subjects in his work.
Guillaume Azoulay lives and works in California, the United States of America.
Featured image: Guillaume Azoulay – Harlequin (detail), image via artandcointv.com
All other images courtesy of Addicted Art Gallery