Certainly one of the most iconic names appearing in the last two centuries of art, Gustav Klimt was an Austrian painter who was a representative of Symbolism and a leading member of the Vienna Secession movement. He had a wide range of artistic fields in which he was active, but Klimt is mostly noted for the influence provided by his paintings, murals and collages. Every piece Gustav ever produced was underlined by the note of eroticism as this man believed that all true art is erotic to some extent. Besides his figurative works of portraits and allegories, Klimt also painted a fair number of landscapes[1] in his time, yet again proving both his talent and creative versatility. Interestingly enough, whilst other members of the Vienna Secession movement were seeking inspiration mostly from Austria and other prominent countries of the Old Continent, Gustav would regularly look for artistic guides on the far East.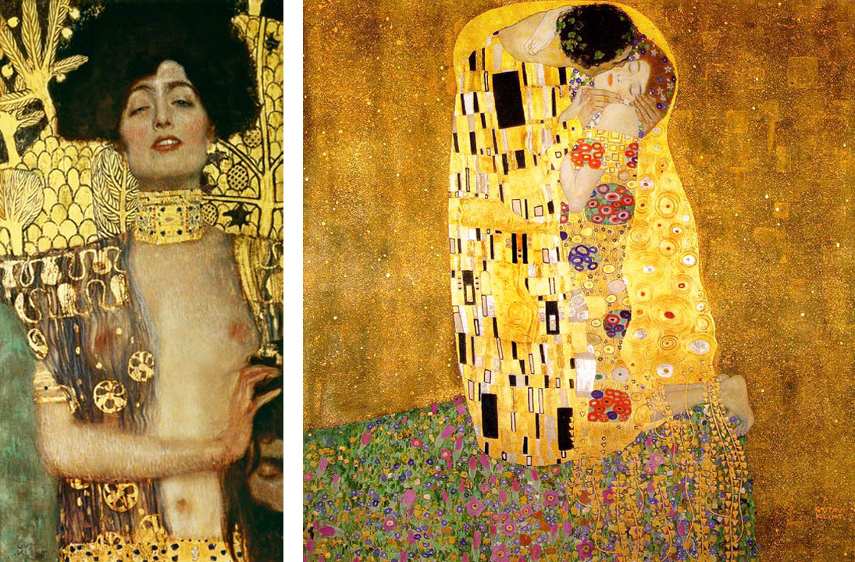 Arrival to Vienna
Gustav Klimt was born in Baumgarten, a region of the extinct empire of Austria-Hungary very close to Vienna. He was the second of seven children that counted three boys and four daughters. The head of a family was Ernst Klimt the Elder and he held employment as a gold engraver - a fact that will heavily impact Gustav's future line of work. It's interesting that all three boys of the Klimt family - Gustav, Ernst and Georg - showed artistic tendencies early on in their lives. In the year of 1883, Klimt started attending the Vienna School of Arts and Crafts (Kunstgewerbeschule), where he learned how to design architectural planning. Despite living in poverty, Klimt enjoyed life in Vienna due to city's rich artistic scene. He was especially attracted to the pieces of Hans Makart, an Austrian academic history painter, designer and decorator held in high regard by most art pundits of Austria. Because of the academic approach with which he was presented with at Kunstgewerbeschule, it comes as no surprise that Gustav accepted the principles of a conservative training. His brother, Ernst, joined him at the Academy in 1977. After that, the two brothers and their friend, Franz Matsch, began working together, offering different commissions ranging from architectural endeavors to portrait painting. This trio called themselves the Company of Artists and these efforts helped Klimt to acquire a stellar reputation for himself as he became a respected young thinker with loads of potential. Gustav began his professional career independent from the Company by painting interior murals and ceilings in large public buildings on the Ringstraße[2], highlighted by the series titled as Allegories and Emblems. In 1888, Klimt finished his murals in the Burgtheater in Vienna and was handed the Golden Order of Merit from Emperor Franz Josef I of Austria for his contributions. Furthermore, Gustav was also named an honorary member of the University of Munich and the University of Vienna. These great circumstances took a sudden turn for the worst, unfortunately, when Klimt's father and brother Ernst both died in 1892. His artistic development was put to a cease due to new responsibilities of financial support his family needed, whilst Gustav's inner life and creativity were traumatized by a sudden loss of two very dear persons. After these events, his artistic vision will never be the same again.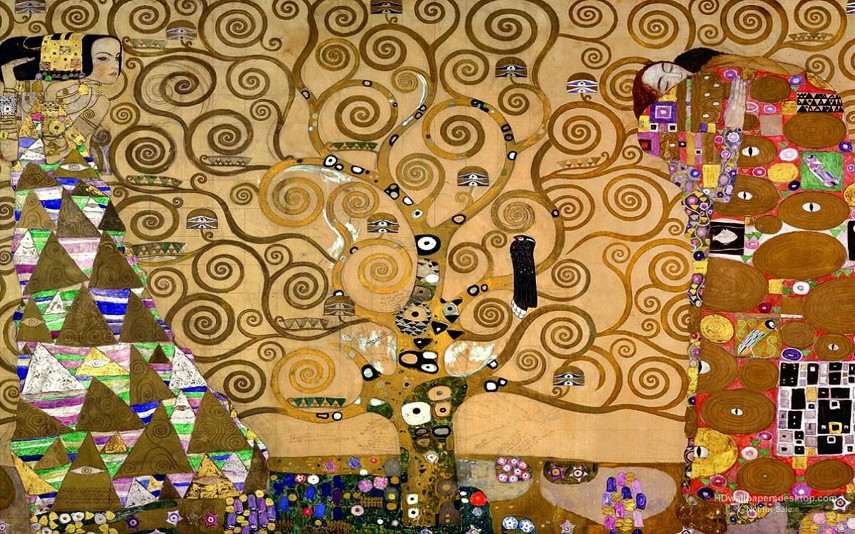 A Hard Rise to the Top
A valid indication of what style Gustav held true to at the end of the 19th century is Nuda Veritas (Nude Truth). This symbolic figure appeared in many of his works, such as Ancient Greece and Egypt (1891), Pallas Athene (1898) and Nuda Veritas (1899). Some critics and experts believe that Klimt proved with his Nuda Veritas that he abandoned the artistic policy of the Habsburgs and the Austrian society, denouncing some of the most notable rules and notions he learned at the Kunstgewerbeschule. Soon after he started to accept the fact his father and brother are not coming back, Gustav began a romantic relationship with a sibling of his sister-in-law, Emilie Louise Flöge. The two will spend the rest of their lives together and Klimt's The Kiss (1907–08) is believed to depict the two lovers. Additionally, Gustav designed many costumes that Emilie Louise Flöge produced and modeled in. Gustav's appreciation of such costumes is evidenced by five canvases of society women wrapped in fur, painted between the years of 1907 and 1909.
Since the forming year of 1897, Klimt was one of the founding members and president of the Wiener Sezession (Vienna Secession). Gustav was one of the most prominent representatives of Secession and remained with the movement until 1908. The main goal of the Wiener Sezession was to provide exhibitions for unconventional young artists who desired to create outside of the traditional borders. They also put a lot of effort to introducing foreign works to the Vienna's scene. Despite not having a genuine manifest, Wiener Sezession had its own magazine to showcase the artworks of members which served that role to some extent. This group held no allegiance to any one particular style, instead allowing all the Naturalists, Realists and Symbolists to function together and extend their vocabularies in different directions. It was in these unbiased circumstances that Klimt created his Secessionist pieces. By following no strict guideline, Gustav transformed traditional allegory and symbolism into a new language that was more overtly sexual and hence more disturbing to some.[3] As a reaction to such works, both the public and experts wanted to ban his art, fearing that they are capable of hurting the conventional aesthetics and endanger religious roots of the society. Some attacks on Klimt's pieces were successful and some were not, but the constant pressure eventually had its toll on Gustav who did not accept another commission after the censured completion of the Great Hall in Vienna.
A sexual note was always present in Gustav's paintings, sometimes very strong and straightforward, sometimes rather subtle and indirect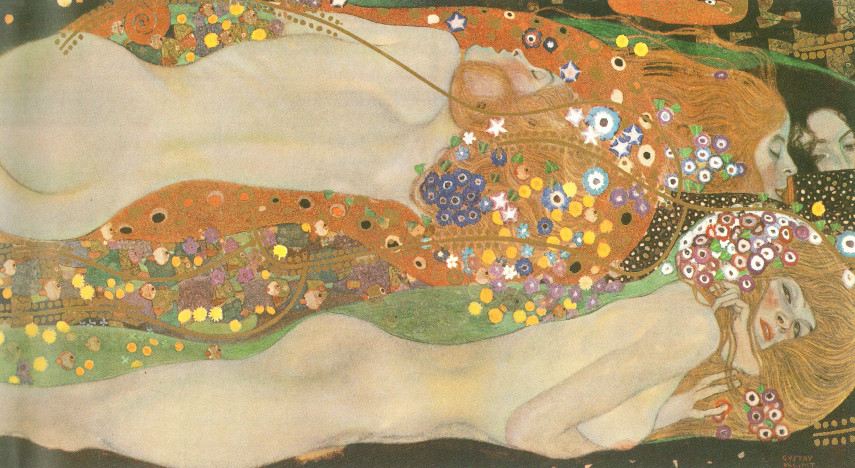 The Golden Phase
Unlike his previous works which proved to be a heaven of censorship and confrontation, Klimt's Golden Phase was met with a positive critical reaction and was a financial success. This chapter of his career was marked by paintings which included gold leafs - this was not the first time Gustav used this material, however, as he utilized it on both the Pallas Athene (1898) and Judith I (1901). Although the aforementioned Japanise art was a constant source of inspiration for him, Klimt's Golden Phase was strongly influenced by the Byzantine imagery with which he was introduced during his trips to Venice and Ravenna. He yet again felt the urge to reconstruct and transform something traditional, making it into something new, erotic and modern. In 1904, he cooperated with other painters on the lavish Palais Stoclet, the home of a wealthy Belgian manufacturer that was one of the grandest monuments Art Nouveau age had ever seen[4]. His later life was marked by Gustav's personality that preferred isolation - he avoided public places and seldom socialized with other artists who he did not consider to be close friends. For that reason, anyone interested in hiring Klimt was forced to go right to his doorstep and, in all probability, wait in a line. It should also be noted that he was very active sexually - which does not come as a great surprise when you analyze his work and consider the fact he had at least fourteen children in his time. However, he kept his affairs discreet and avoided personal scandals despite such a lifestyle. Klimt died in Vienna on February 6, 1918, having suffered a stroke and pneumonia due to the worldwide influenza epidemic that was sweeping lives across Europe at the time. Unfortunately, many of his pieces were left unfinished due to his sudden and untimely death.
The Golden Phase of Klimt's career is often regarded as the artist's most successful and productive period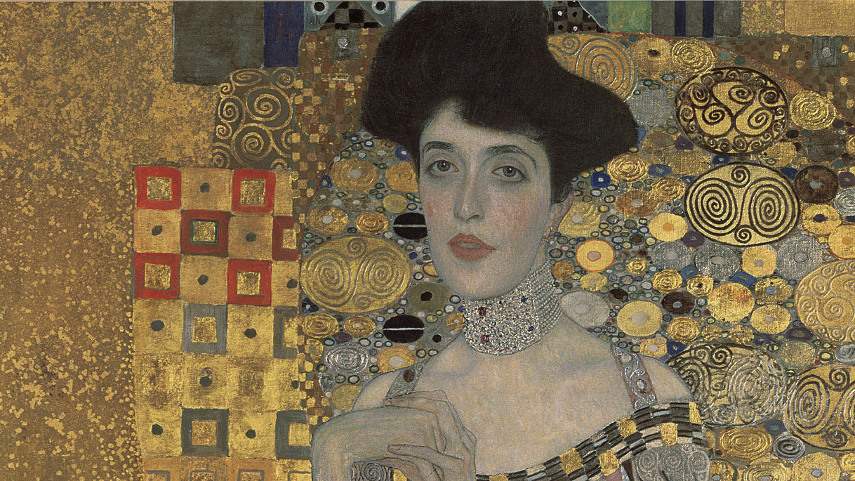 A Man of Few Words
Gustav Klimt's life was marked by a strong tendency towards simplicity. When he was not answering the call of a commission, Gustav could always be found in his home, either working or relaxing, never taking off his iconic sandals and a long robe with no undergarments. His isolated existence was perfectly balanced between his beloved family and art creation, underlined by Klimt's success to never give more grounds to either of the two. Ultimately, it should be noted that surprisingly not much is known about Klimt's vision as an artist. He kept no diary and wrote no book on the subject, leaving the only indications of how he used to think in his postcards sent to Flöge.
Since he did not devote too much of his time to this field, probably the best possible way of ending this short biography is to quote one of Klimt's rare written words, found in an essay called Commentary on a non-existent self-portrait. In it, Gustav stated the following thought: I have never painted a self-portrait. I am less interested in myself as a subject for a painting than I am in other people, above all women... There is nothing special about me. I am a painter who paints day after day from morning to night... Whoever wants to know something about me... ought to look carefully at my pictures.
References:
Koja, S., Gustav Klimt Landscapes, Prestel, 2002
Collins, J., Klimt: Modernism In The Making, Harry N. Abrams, July 14, 2001
Wagner, A., Klimt's Landscapes and the Telescope, Prestel, 2002
di Stefano, A., Gustav Klimt: Art Nouveau Visionary, Sterling, 2008
Featured image: Gustav Klimt - Photograph of the artist, 1907 - Image via Moritz Nähr
All images used for illustrative purposes only.