How many times have you heard a great story beginning with a you're not good enough? In the novel of Guy Denning, that would probably be the very first chapter that opens the book. Denning is a self-taught English contemporary artist and painter based in France. He is one of the most important painters on the Urban Art scene right now. In fact, his work has an appeal beyond that scene and is increasingly being seen as part of the mainstream of the contemporary art world. Guy is almost single-handedly writing the pages of modern art. His raw and gritty artwork is so characteristic it's really easy to separate him from all others who tested themselves in this field of work.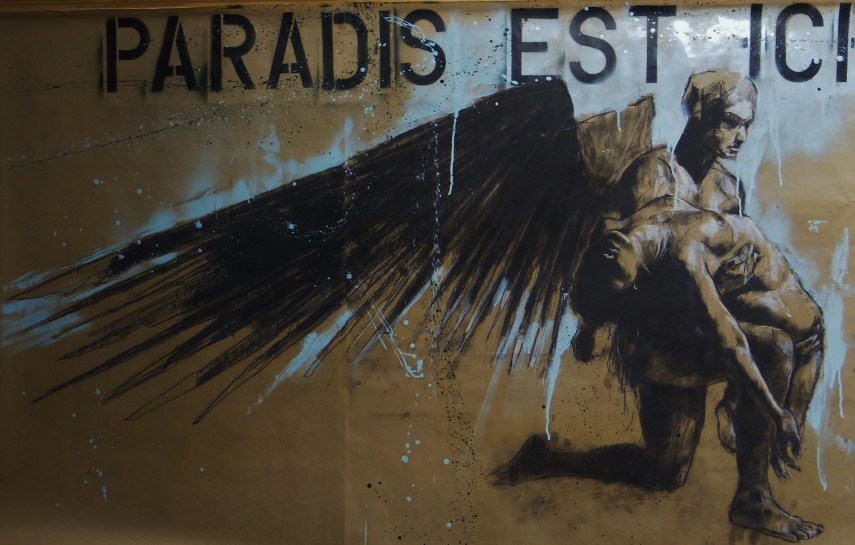 Bristol Urban Art Scene and Neomodern Group
Guy Denning was born in North Somerset in 1965. He has been obsessed with visual art since childhood and started painting in oils at the age of eleven after receiving a set of old paints from a relative that had grown bored with them. Through the 1980s, he was repeatedly unsuccessful in his applications to study painting at degree level, but continued painting and learning the technical aspects of painting from artists he met and from his conversations with more experienced painters that he was meeting in Somerset. He studied Art History and he got a diploma of The Open University. Denning had various jobs from the age of 20, to support his family, while continuing to paint. Since he grew up in a Somerset village outside Bristol and saw the local rural economy crumble, he has been interested in responding to society in one type of political narrative or another. It was then that Denning associated himself with the second wave of punk and saw the light in terms of street art. He viewed the state of contemporary art in 1990's Britain dimly, believing that the direction it took was too heavily controlled and monitored by art institutions and state supported organizations. For a period, he had examined the intellectual premise of Stuckism, but decided to create an informal, manifesto led, internet based group of like-minded artists under the heading of Neomodernism... . Denning's work appeared in the Triumph of Stuckism exhibition at Liverpool John Moores University as part of the 2006 Liverpool Biennial. This courage and energy to fight had been instilled in him from a young age, when he was turned down by a wealth of art colleges. He was told that he needed to be more abstract, more subtle in regards to how he confronted politics as a subject matter. He was too literal, they said, too figurative, too ferocious. Instead of listening, he refined his technique. Instead of giving up, he learned to become resilient, disciplined, focused. So, to conclude: Guy Denning had no choice; he taught himself how to be an artist.
Guy's rawness is instantly noticeable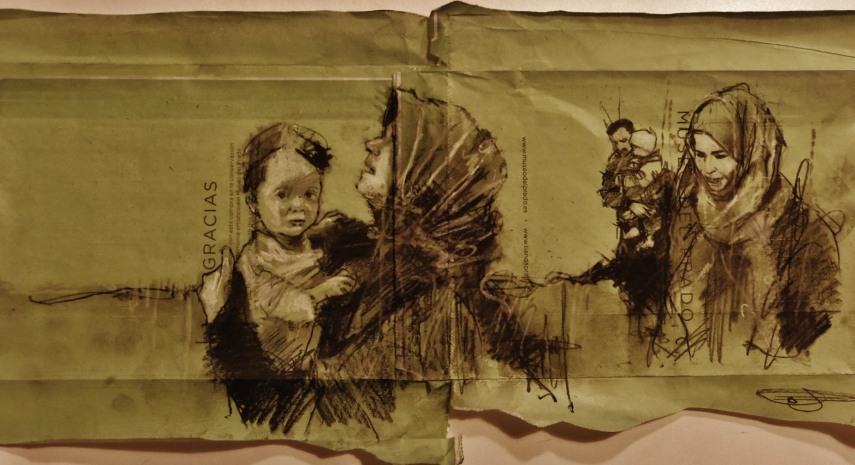 Guy Denning's Melancholy, Solemnest and Anger
Guy Denning has an impressive but unorthodox affinity with mixing several media and techniques together. Stencils spray cans, brushwork, dripping paint, crayons... Some of these pieces were drawn on mid-toned paper that gave them an expressive economy. The mid tones were already there, which meant he could focus all the more on the contrast and highlights added in black and white. Others again are on found objects like newspaper and corrugated board. Denning uses not only powerful brush strokes to express his emotions deeply but also scratches the paint to show the audience the intensity of the emotions he is trying to portray with his artwork. He also sometimes uses stencils and collaged text. Denning has also been invited to work on a variety of community urban art projects and has developed a distinctive style that builds images from drawing and stenciled text. A question that is often asked about Denning's work is therefore whether it reflects his own emotions and feelings, for example does Denning really feel the emotions of melancholy, solemnest and anger or is the artwork simply presented the way it is for the sheer sake of it. Denning's work involves other techniques, such as blacking out eyes and mouths maybe to emphasize Denning's theme of darkness, horror and maybe even despair. He also sometimes uses the thickness of his lines to balance the painting. Denning is rather prolific with drawings - for a long period, he produced at least one drawing per day.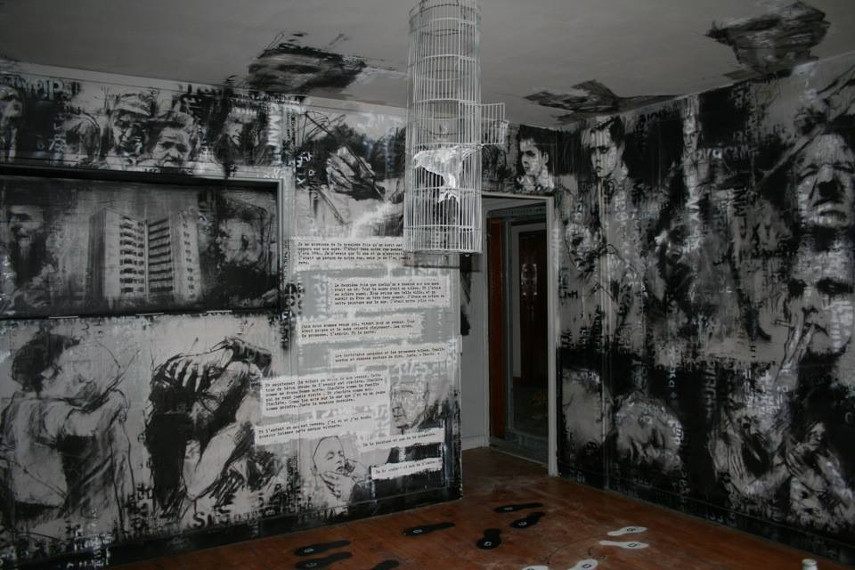 Guy's Devils and Angels
In 2010, Denning presented 30 paintings based on stills from 1928 film 'La Passion de Jeanne d'Arc', tackling his (those days) current political machinations, at the exhibition titled The Behemoth. The subject of this exhibition is something he had it in his head to do for 20 years; ever since he randomly saw the black and white film, 'La Passion de Jeanne d'Arc' directed by Carl Theodor Dreyer in 1928): The lead actress, Renée Jeanne Falconetti, was the first woman I'd ever seen on film with little or no hair. It was this androgyny which interested me initially, and it fed into work I was doing in the '90s dealing with issues of sexual politics. Falconetti, from what I know, only made this one film, giving up acting soon after to become a nun. It's is quite strange. You look at her performance and it makes you think that Dreyer must have been quite a hard director. This is pure speculation, but people think the role affected her so deeply that she committed herself to a nunnery. In 2011, Guy Denning presented the second of his three-part series of oil paintings on Dante's Commedia in New York City for the exhibition, "Purgatorio". Originally drawing inspiration from Dante's writings, Guy's intention has not been to recreate the poem in a visual or literal sense, but instead let it act as a framework for his own personal interpretation. As with the writing of Shakespeare, Guy finds a perpetual relevance in Dante's work where the specifics of name, situation and place are easily adapted to the modern world; as if time moves on but the problems of humanity remain essentially the same. The events of September 11th and the emotional toll it took on the American individual is final and critical element to this body of work. Poignantly enough, this exhibition was held in a NYC 'Pop-Up' location just blocks from Ground Zero and on the 10 Year Anniversary of the 9/11 attacks. A recent show in Paris, in 2014, was aptly named The Party is Over and it contextualizes belonging to the last generation enjoying an abundance of natural resources, and future generations having to mop up the mess after our hangover. In February 2016, Guy Denning had his most recent solo exhibition at La Neomudejar de Atocha, Madrid, Spain. The show continued his exploration of political and environmental issues through a series of artworks depicting angels, refugees and portraits related to the recent COP21 event in Paris, all created in his dark, dramatic style of course.
This artist will often leave you overwhelmed with emotion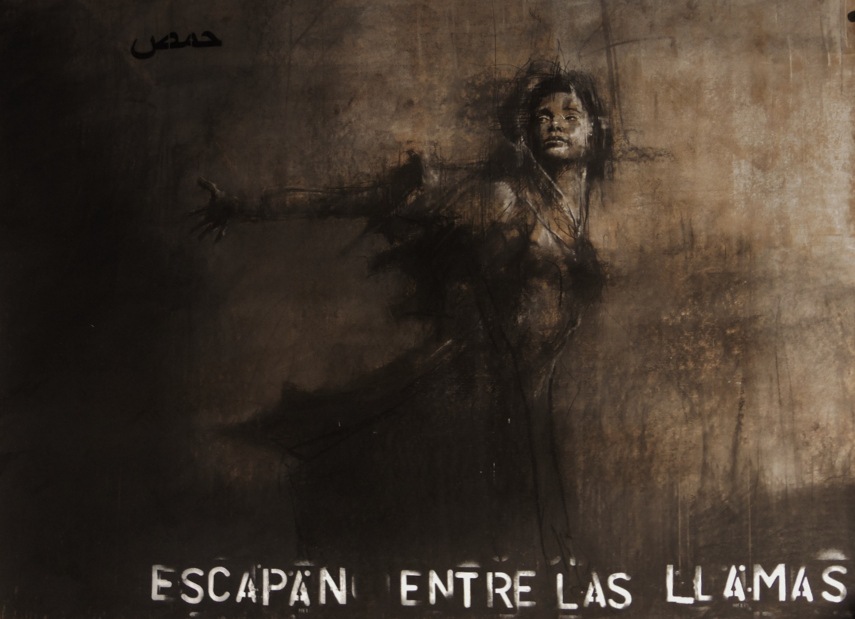 The Denning Show
Guy Denning is an unbelievable blend of talent, intelligence and sheer courage. The fact he's mostly self-educated only brings more admiration to his portfolio. Not many urban artists reach the heights Denning made to, so you can be assured he is a huge inspiration for many aspiring artists out there. Guy's work is held in several public collections, including the Politics Department of Bristol University, the Political Science Department at Galway University and the MAGI'900 Museum of Contemporary Art, Bolgna, La Neomudejar de Atocha Centro de Artes, Madrid and the Musée des Beaux-Arts de Brest. He has also been invited to work on a variety of community urban art projects and has developed a distinctive style that builds images from drawing and stenciled text. When it comes to artists that were not good enough, Guy is the best example of how institutions can not be completely trusted to make the judgment of who is and isn't creative enough. His most recent street work has focused on climate change (le Paradis est ici series of paste-ups) and the Syrian refugee crisis (Disasters of War paste-ups).
The artist is represented by BOX GALLERIES London, GALERIE BRUGIER RIGAIL Paris, PRETTY PORTAL Dusseldorf and RAISON D'ART Lille.
Guy Denning lives and works in Finistere, France.
Featured Image: Guy Denning - portrait of the artist, photo credits of Chris Summerhayes
All images courtesy of the artist