Predicting the future, Hajime Sorayama announces the world of seductive robotic women through his imaginative and highly accomplished paintings in the hyper-realistic style. Creating art that has always been ahead of their time, during the 1970's his characters came from the 21st century, bringing the aura of the robotic, mythic and fantastical world of imagination. His range of achievements is equally spectacular, with unprecedented acclaim from the most prominent museum institutions, collectors, and clients. Using a specialized brush designed by the artist himself, pencil and acrylic paint, this Japanese artist is widely respected for his perfect technique, proving himself as a master of his domain.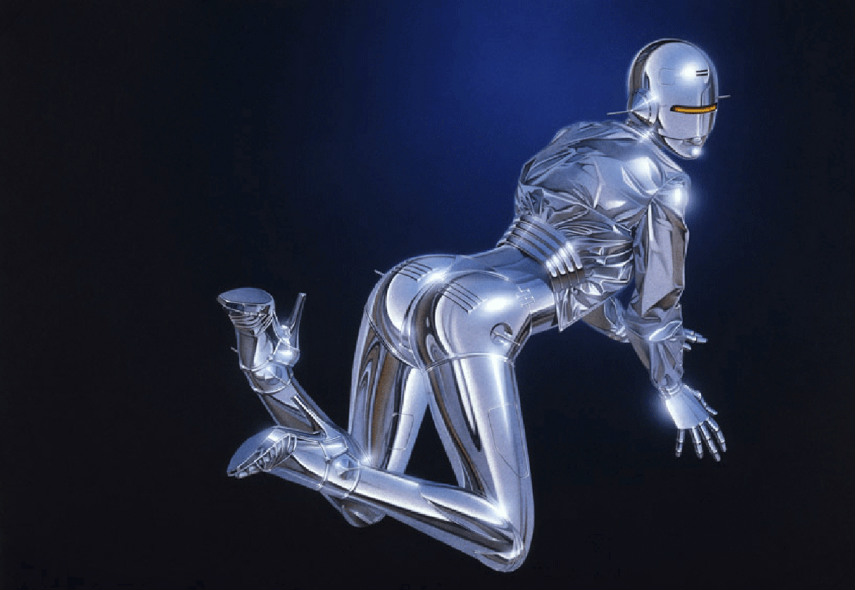 Early life and First Robot Painting
Sorayama was born in 1947 in Imabari, Ehime prefecture in Japan where he had finished Imabari Kita High School. Early interested in drawing, he started to create images inspired by Playboy pin-ups. After he read a book by Makoto Oda I'll go and see everything (Nandemo Mite yaro) in which the writer describes his travels through Europe and Asia, Sorayama decided to study English literature and Greek language at Shikoku Gakuin University. Founding the school paper named Pink Journal, its content was criticized by both teachers and other students, so he moved to the Chubi Central Art School in Tokyo to study art. After his graduation at the age of only 21, he started to work for an advertising agency and, gaining enough experience, he decided to try as a freelance illustrator in 1972. His first robot appeared in 1978 when his friend, designer Hara Koichi asked him to draw something based on C-3PO from Star Wars. Managing to coordinate his work in fine art, illustration, and industrial design, Sorayama separated this three kinds of expression, considering illustration as something not connected with emotion, but with experience that comes from logical thinking. "Art is a kind of tenacity, an insistence upon asserting your own originality. By contrast, superrealism deals with the technical issue of how close one can get to one's object.[1]"
Hajime Sorayama created his first robot in 1978
More Than Just Erotica Illustration
In 1983, he published his first book Sexy Robot which enabled his organic robotic forms to become famous and recognizable worldwide. Starting with the ideas from pin-up art, he represented his so-called gynoids, half-metal, half-human creatures. The first book was followed by the second one, Pin-up, in the same manner. His oeuvre now includes numerous books published throughout his career. Creating highly realistic depictions in latex and leather, their popularity grew, so he started to make illustrations for the pages of Penthouse magazine and Playboy TV, television special dedicated to his art. Besides paper pieces, in 1985 he released the Illustration Video, which announced his later engagement for the films Brain Dead (1992), Timecop (1994), and Space Trucker (1995). Sorayama designed also the trading cards, limited edition prints, covers for Aerosmith's 2001 album and produced an initial idea for what would later become Sony's dog-like robotic pet, the AIBO which went to market in 1999. Respected as a founder of airbrush technique, Sorayama's hyper-realistic artful depictions of sensual metallic qualities of robots are firmly established his reputation. "In pursuit of hyper-realism, I use the airbrush in a way that naturally depicts minute details of human skin, lips, eyeballs, hair, even individual body hair, or the feel of leather or silk clothes, the metallicity of the robot, the reflection of light.[2]"
Sorayama achieved his hyper-realistic style by using the airbrush technique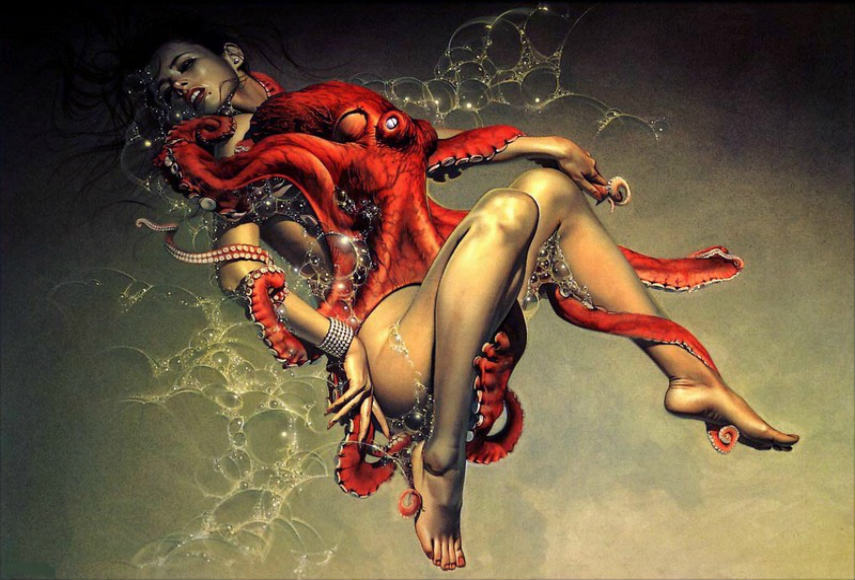 Awards and Recognitions
Sorayama was a recipient of the Grand Prize of Best Design award for his first-generation AIBO design in 2000 and his little robotic dog was included in the permanent collections of the Museum of Modern Art in New York and the Smithsonian Institution. His very remarkable cooperation with Hollywood filmmakers on various science and fiction projects resulted in an engagement by Star Wars creator George Lucas to design a spread of Twi'ek and droid fantasy Star Wars pin-ups for a tribute book named Star Wars Art Concept. His first solo exhibition in front of the American audience has been held at the Tamara Bane Gallery, California in 1994. Existing in the global scene which still explores its possibilities, challenging the relation between art and design, Hajime Sorayama is definitely the artist who could provide answers.
Hajime Sorayama lives and works in Tokyo.
Anonymous. Hajime Sorayama pin-up artist, The Pun-Up Files [September 18, 2016]
Anonymous. (2010) Hajime Sorayama "Solo Exhibition", Nanzuka [September 18, 2016]
Featured image: Hajime Sorayama in his studio - Image via androniki.photoshelter.com
All other images courtesy of the artist, copyright Hajime Sorayama