Best known for her portraits of women that capture the essence of beauty and timelessness, Hannah Chloe is a British contemporary artist, completely unique in her approach and style. Her oeuvre includes drawings and paintings, and, as her works became larger and larger, it led her to try her hand at street art. As Hannah admits, the street art seems like the best option for her, rather than painting giant canvases that get through the door. "Street art is quite new for me but I have to say I really enjoy it. It's a lot freer. You can paint anything you want anywhere you like and it gets to be seen by a lot of people."[1] Even though she is dedicated to working outdoors and has participated in several urban projects, she hasn't forgotten to work indoors, continuing to paint.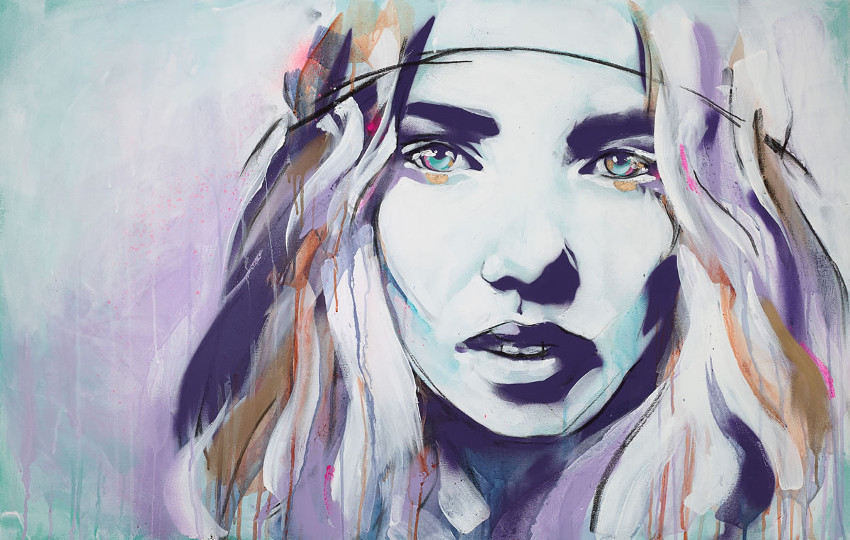 Hannah Chloe – Personal Life
Born in Kent as Hannah Adamaszek, she grew up surrounded by art. With a father who painted, Hannah's been making art since she can even remember, always drawing or making something. She studied at West Kent College, where, unsure which artistic direction to take, chose to pursue photography. The rules and regulations of University, as well as the challenge of finding a course that suited her exact needs and desires, resulted in Chloe putting down the paintbrush for a number of years after she graduated. After having traveled for some time, she came back home, taking an office job, where she sat behind the desk for years before realizing what her true calling is. As she started painting again, Hannah was somewhat afraid what would people say, but after receiving positive feedback, especially through social networks, she gathered enough courage to quit her day job, while art evolved from being a hobby into a full-time thing.
The artworks of Hannah Chloe exude femininity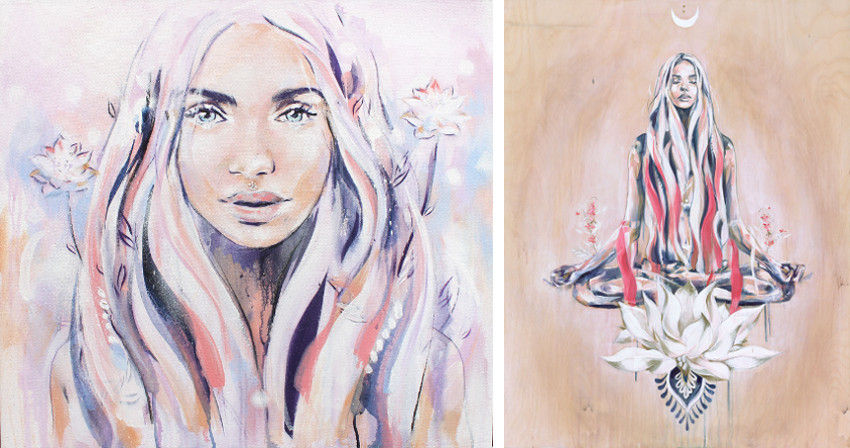 The Art of Hannah Chloe
Hannah Chloe is inspired by the environment around her. She believes that nature is the greatest artist and tries to take cues from it, so she injects that into the process of painting, using shapes and patterns of nature – like feathers or plants or animals. She often paints women in a natural setting, using a range of techniques which contribute to giving the image an outdoor and contemplative feel, in an attempt to capture a state of mind where the beauty and timelessness of the world come into sharp focus. The female characters have a strong, ethereal quality, portrayed with a feeling of narrative within them. Her portraits exude a femininity which contrasts starkly with the typically masculine stereotypes of street art. Her favorite mediums and tools include decorating brushes, ink, acrylics and lots of water, spray paint and cardboard for stencils working on canvas. Not limiting herself to just painting on canvases, Hannah has also branched out into the street and live painting, converting whatever she can get her hands on, from walls to tiles to an old chest of drawers.
The female characters in works have a strong, ethereal quality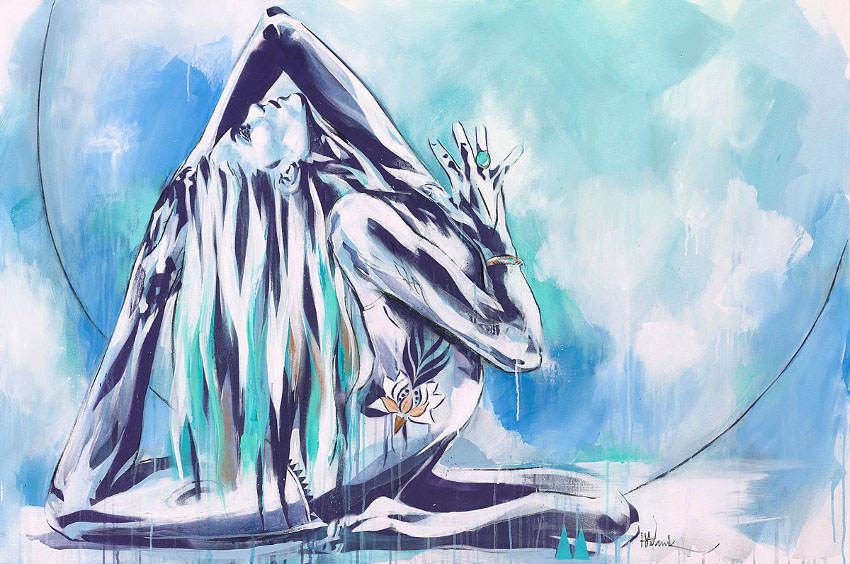 Hannah Adamaszek - Somewhere Between Commissions and Experimentations
Quitting her job and shifting to freelance lifestyle wasn't without its difficulties. With thoughts that she wasn't going to be successful, Hannah admitted the hardest thing was quitting her job. However, with the support from her family and all the positive reactions from the viewers, she hasn't looked back ever since. Now she's working on a lot of commissioned pieces. "Some of them are very personal to clients, so I work closely with them on making their dreams come alive."[2] She is also in a constant process of developing new and more experimental pieces – she is thoroughly enjoying the learning curve that this can bring. Her artwork is not just fresh and innovative, but she also takes it through her own sense of style. Hannah's work is indeed striking, as all seem affected by it. This kind of timeless beauty takes a lot of time to achieve. Even before commencing a new piece, the artist explores the latest materials that can be utilized.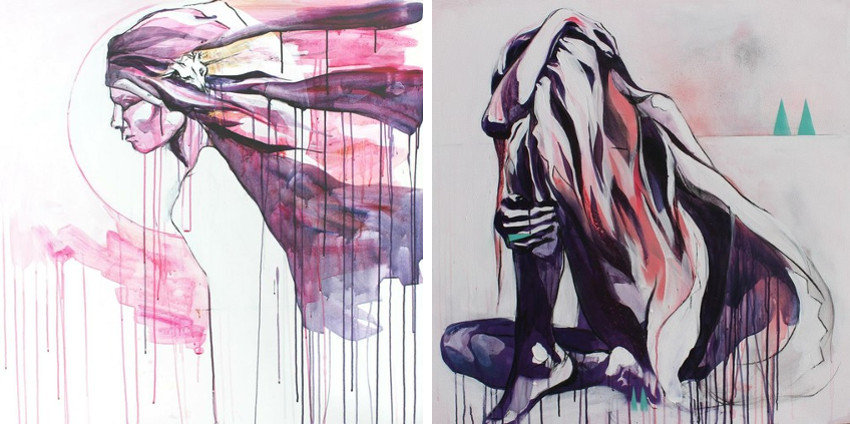 Diversity
Hannah Chloe is an artist not just comfortable working with lots of mediums, but also with working in different environments and different people as well. This flexibility, alongside her obvious talent, has opened so many doors. Many of those were quite intriguing projects. She really enjoyed doing the Brandalism project, working with about 25 other creative individuals. "We were each given a brief and had to create something for a sort of anti-advertising campaign. The guys running the project hijacked billboards across the UK and pasted up our anti-adverts across the top of them. It was nice to have a bit of focus and do something different to my usual work."[3] The Brandalism hit five cities in the UK over the course of five days, subverting 36 billboards and causing quite a stir with the press.
She is represented by Fousion Gallery and Pretty Portal.
Hannah Chloe lives and works in the United Kingdom.
References:
Adamaszek H., A lot freer., lacremedelacre.me [February 24, 2017]
Kirlew J., Inside the World of Hannah Adamaszek – The feeling of being, Women in Trade Magazine, No. 4 Autumn Edition 2014
Walton M., DRINKING TEA WITH HANNAH ADAMASZEK, Crimson-Cocoon [February 24, 2017]
Featured image: Hannah Chloe - portrait (detail) - photo credits Corin Brown, via crimsoncocoon.wordpress.com