Hannah Yata makes dream-like paintings from a fantasy world, where women have fish heads and ponder on political, human rights and environmental topics. Her colorful palette highlights the dream state in which the characters live in their imaginary world. The artist does not push the subliminal message in the area of obvious, she tends to leave the paintings open for a discussion. The inspiration depends on the viewer's inspiration and sentiment, but it is almost impossible to miss the beauty of subtle inferences on important traditional and contemporary issues. Her fish protagonists explore the global themes of women's rights, feminism, but also more personal issues of family relationships.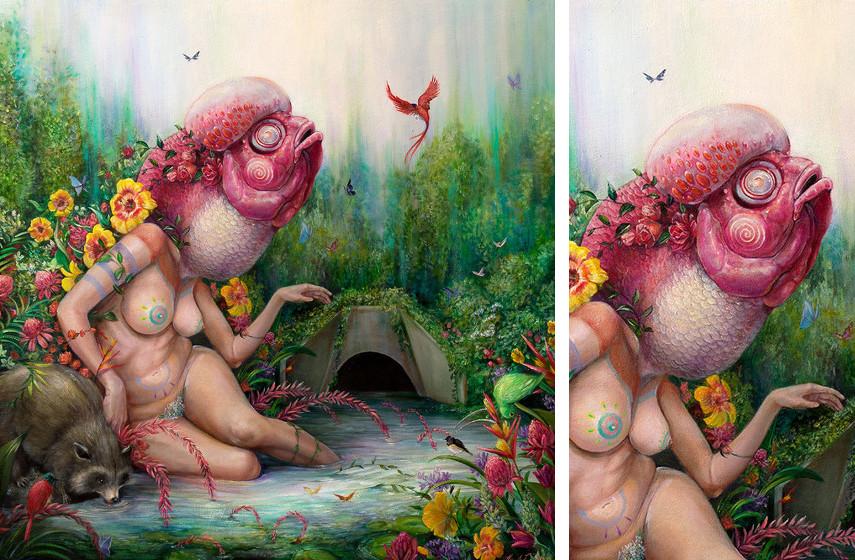 Fantastical Nature and Fish Protagonists
Hannah Yata was born in 1989, in Douglasville, Georgia. She is half Japanese and half Caucasian and her rich artistic motives originated from her cultural heritage. After graduating from the University of Georgia in 2012, with BFA in Painting, she moved to New York to pursue her artistic career. Since the early age, Yata was fascinated with nature, animals and wildlife. She intertwines political and social topics with her personal opinions on feminism and feminity. The beautiful, yet chaotic world she creates metaphorically displays the moral injustice of modern society and the negligence towards nature, and people. Where empathy is lost, promise for a better future also falls into the oblivion, and Yata's mission is to explore the possible answers and ask the right questions to address these issues.
Yata's paintings display the moral injustice of modern society and the negligence towards nature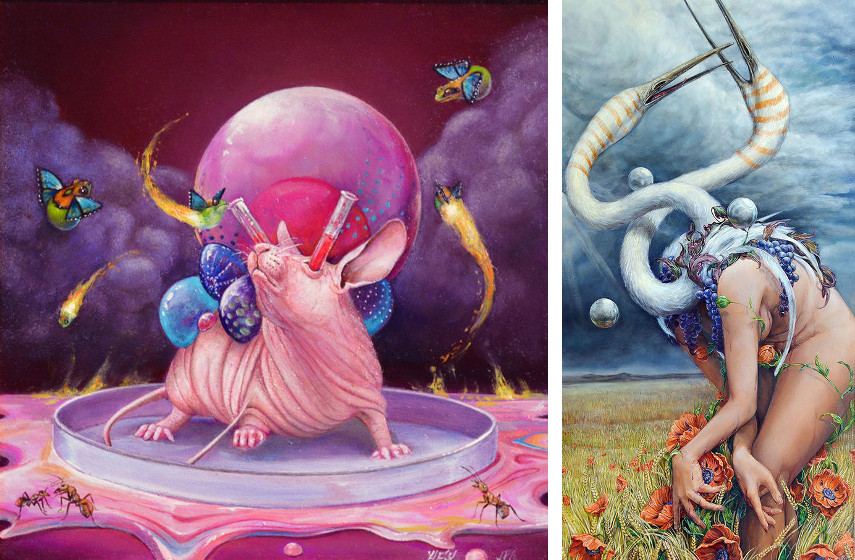 Let the Message Resonates
Yata uses motifs from different cultures and tribes. The anthropological framework just sets up the ground for the more global approach. No matter to which tribe one belongs to, he or she is still a member of human species on this planet. Her fish protagonists are searching for the answers concerning the issue of abortion and overpopulation. It is certainly women's choice to be in control of her own body, but the issue goes much deeper, going to the extent of reflecting on the future of human race on Earth. What would happen if nature would give up her children, is just one the topics her creatures speculate on. Yata uses her work to release from strong emotions. Her communications have universal meaning, and she is hoping to reach out to the audience and make her message resonate with them.
The artist covers the topics of women's rights, overpopulation and the future of human race on Earth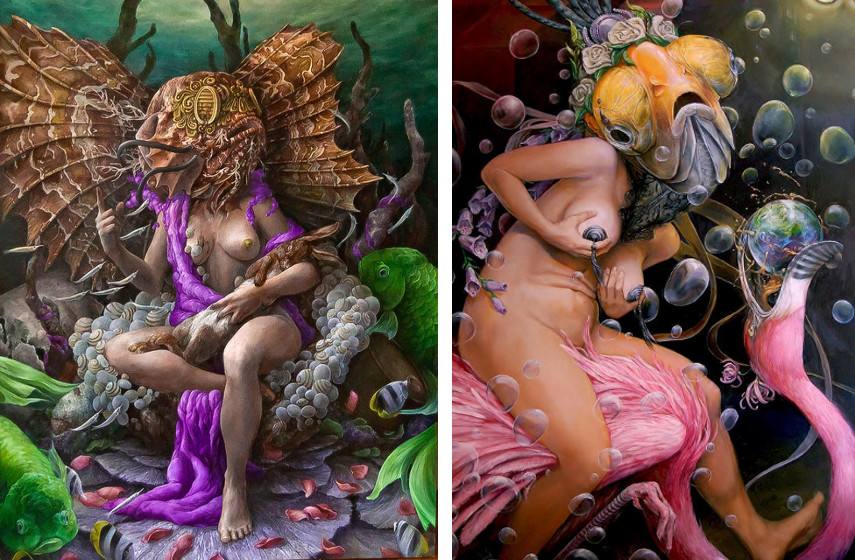 The Power of Symbols Operates on Universal Level
The artist adds more and more different characters to induce distinct messages. When she addresses a topic she examines how people react to special images in real life. Her new character, a hairless cat, helps her communicate anxiety and uncertainty in which we have to live. Other animal hybrid creatures she uses are also coming to discuss the social injustice and objectification of women. Gestural movements in the paintings give her anthropomorphic figures energy and zest. Women are a metaphor for nature and it is them who were exploited throughout history. This artist shows very mature attitude and bravery. Hopefully, her art will make us rethink how we treat the ones who gave us life.
The artist is represented by Corey Helford Gallery.
Hannah Yata lives and works in New York.
All images used for illustrative purpose only © Hannah Yata
Featured image: Hannah Yata - Portrait of the artist, photo credits Artisticgrouping