Hans Kotter is a German artist, whose light-based sculptures and installations investigate the way that light and colors interact with the environment. Born in 1966 Muhldorf am Inn, Germany, Kotter moved to the United States in 1993, where he studied at the Art Students League of New York. The artist continued his education with studies at the Media Design Academy in Munich, from 2001 till 2003. At this period, he was awarded the Bayern Culture Prize by E.ON Bayern AG in the category of art and architecture. From 2007 till 2013, Hans Kotter worked as a lecturer at State Academy of Art and Design Stuttgart, Germany.
Kotter's light-based artworks investigate the way that light and colors interact with the environment
Kotter's interest in the transformative power of light is emphasized by his characteristic use of color-changing LED technology. Using the mentioned technology and materials such as mirrors, Plexiglas and metal, the artist creates tunnels of light, illusory shapes that seem to float in space, and light arrows, giving physicality to light and indicating that light can fill and shape the environment. Much of Hans Kotter's artworks, including his Chromatic Plants series, are based upon the use of a prism, photographing the diffraction of light through it.
The artist creates illusory shapes that seem to float in space
As a critically acclaimed artist, Kotter exhibited at numerous galleries, art venues and museums throughout Europe and the United States since the early 1990s. Important participations include exhibitions at Kinetica Museum and Patrick Heide Contemporary Art, located in London, and at Villa Datris in L'Isle-sur-la-Sorgue, France. His work is a part of several collections, such as in the Borusan Collection in Istanbul, Targetti Light Art Collection in Florence, Italy, Museum Ritter in Waldenbuch, and Osthaus Museum in Hagen, Germany, the Kunstmuseum Celle, Germany, and the Topping Rose House in Bridgehampton, NY, among others.
Big Bang…Interruption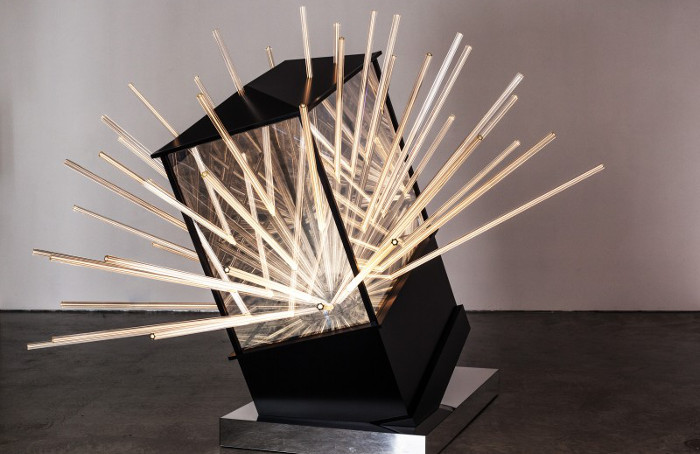 Hans Kotter had his first solo exhibition with De Buck Gallery in 2011, titled Light Sensitive. His most recent solo show with De Buck was held in 2014. Titled …Interruption, the exhibition was centered around the large, intense installation - Big Bang…Interruption, showing the illusions created by reflections of light throughout the artwork.
Hans Kotter is currently based in Berlin, Germany.
All images courtesy of the artist, images copyright © Ulrich Helweg