Hans Scheib is a German sculptor and graphic artist, best known for his wooden and bronze sculptures.
Hans Scheib: East Berlin Life
Scheib was born in Potsdam in 1949 as the son of a prominent East German communist. He was raised in Berlin. Since he was a child, Hans knew he will be an artist. For that, Schein blames his grandmother who gave him first blank piece of paper to draw on it. That was the day when he embarked on this creative journey that brought him into conflict with the system.
Hans Scheibe graduated in 1976 from Dresden's College of Fine Arts just to (as he says) "get a slip of paper that stated I was an artist. I needed that to protect me from the police calling me asocial."
Changing Bronze for Wood on East
Same year he graduated, Scheib makes his studio out of a vacant shop in East Berlin's Prenzlauer Berg. At first, he wanted to work with bronze. That turned out to be a bit too ambitious for the East Germany at the time. He even made clay models and plaster casts just to find out that he can't afford or even find bronze in the whole East Germany. So, Hans started looking for other, more affordable and available material he could work with.
Scheib found discarded wooden roof beams from demolished homes to be the ideal substitute. He started carving expressive figures out of it, giving the rejected wood a new life and a vital spirit.
At the time, there was no other professional sculptor in East or West Germany who worked with that kind of material. Scheib had to look back far back into history to find his artistic references. He discovered Egyptian, Roman and 16th century Gothic sculpture. What he did not find was the work of Die Brücke artistic group of German expressionists formed in Dresden in 1905. Founding members were Fritz Bleyl, Erich Heckel, Ernst Ludwig Kirchner and Karl Schmidt-Rottluff, and later members were Emil Nolde, Max Pechstein and Otto Mueller. Their figurative wood carvings Hans found some years later as none of that work was held in East German collections.
Hans Scheib: West Berlin New Life
It wasn't before 1985 that Hans applied to move to West Berlin.

"To start my journey into the wider world, all I had to do was cross the street."
The first year in West Berlin was tough on this artist without any money or patrons. In 1986 a group exhibition was held at the Haus am Waldsee - one of the foremost exhibition spaces for international contemporary art in Germany- Hans Scheib was part of it and that launched his career in the West.
Scheib's subjects are often drawn from the mythology. As the artist explains it is because we have no better things to look up to.
"I take the subject into myself and work with it. This is a very old tool, and a good tool."
Hans Scheib finally Reunited with Bronze
Once he lived on the other side of Iron Curtain, Scheib was able to go back to his first, never consumed love – bronze. His refined, waif-like nudes cast in bronze, helped him create an artistic reputation. Scheib has also produced many remarkable drawings, woodcuts and lithographs, as well as a series of paper cuttings to illustrate a satirical text by Jaroslav Hasek, a Czech writer, humorist, satirist, journalist, bohemian and anarchist.
In 2005 Hans Scheib was awarded with Bautzen Award for Fine Arts and in 2014 with Egmont-Schaefer-Award for drawing in Berlin.
Mimesis Bronzes 1986-2012
In 2012, Scheib had his first retrospective, titled Mimesis Bronzes 1986-2012, at Museum für aktuelle Kunst in Sammlung Hurrle, Durbach.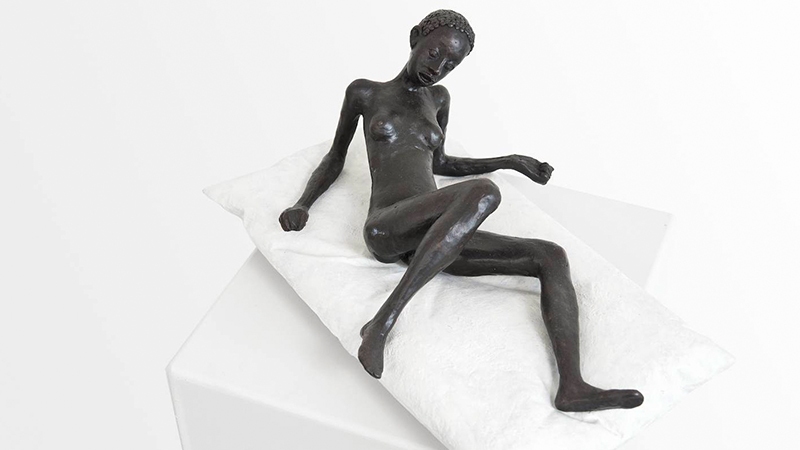 At this show, it was obvious that quite a number of his works originated from a mythological background demonstrating the artist's very personal interpretation. Viewers could notice that his more recent works are notable for their blend of color, expressive and subtle expression and the aesthetics of the material.
Hans Scheib's entire oeuvre of bronze sculptural work was immortalized in the opulent, premastered and expanded publication that followed the retrospective exhibition. The book was published by Kerber, edited by Angela Cerny with text by Michael Freitag.
Games, Symbol and Celebration
Next year, in 2013 another retrospective was held, titled Games, Symbol and Celebration. This time, visitors had a chance to meet the extended family of his wooden sculptures. Once again, the book followed the exhibition.
The Games, Symbol and Celebration book was dedicated to his neo-expressionist wooden sculptures, inspired by mythology. Schreib's sensualy painted objects are a key component of his oeuvre and they play a major role in the artist's work, penetrating through to the heart of his art on two levels - color and material.
REINCARNATIONS at Anna Zorina Gallery
In 2015 an exhibition titled REINCARNATIONS gathered together three artists: Bradley Hart, Alexander Kaletski, and Hans Scheib among them.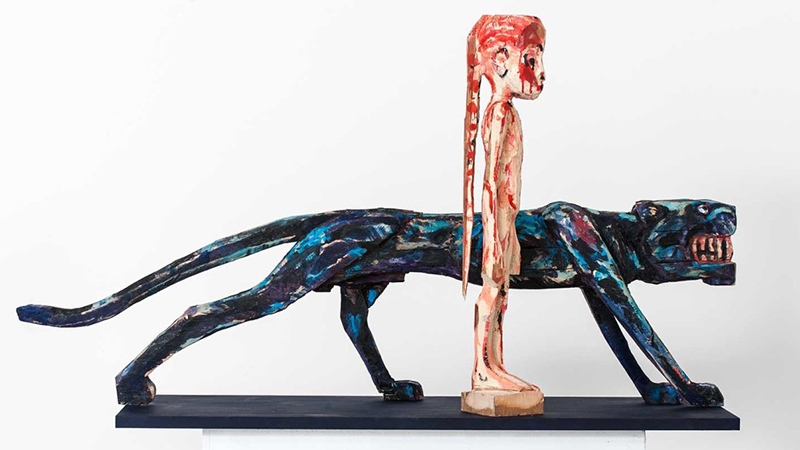 Anna Zorina Gallery presented this show that featured artworks created from unexpected media. The materials with already defined utilitarian use were transformed and revived through undertaking a creative purpose. By choosing to ignore the initial intention of the original items, these artists called attention to the ease at which objects are deemed disposable.
This independent, free-thinking artist keep striving to express himself, rising above both political and populist trends, interpreting the world with honesty, humility and humor.
This artist is represented by Anna Zorina Gallery.
Hans Scheib lives and works in Berlin, Germany.
All images copyright © the artist