Harald Kröner is a German artist best known as so called paper artist. He essentially produces works on paper and collages as well as public installations.
Harald Kröner: a Collector of Paper
Kröner was born in Pforzheim, Germany at the beginning of 60s and in 1984 he started studying at the Kunstakademie Stuttgart under well known painter, illustrator and printmaker Rudolf Schoofs , where he graduated in 1990.
Harald Kröner is best known as a notorious collector of paper of any kind (artist paper, printed sheets, or papers collected in his daily life) which serves him to express his art. He usually works thoroughly with paper transforming it into drawings and collages.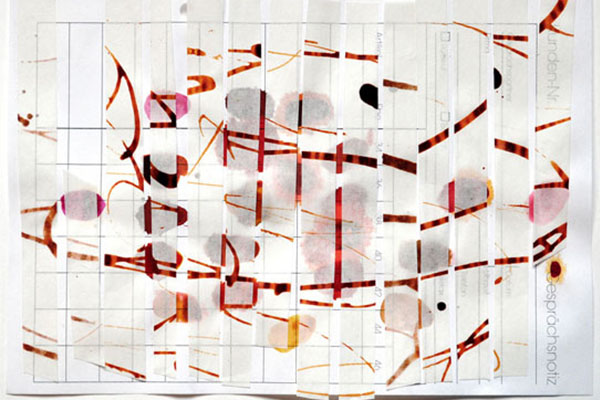 In this creation process, Kröner normally uses colored ink, stain, lacquer, spray or enamel.
Lines are sort of a leitmotif in Kröner's artworks, whether they are a result of a pencil stroke, the edge of a torn paper, dripping ink, the borders, or a simple cut of collaged paper underneath his paintings. A chance as well is a very important part of his work - Kröner is always in search to explore the limit between hazard and control, order and chaos.
Harald Kröner's Public Installations
Harald Kröner is curious about perception or the transition that lingers somewhere between the visible and the invisible – in place where the color influences the drawing, where the complex and seemingly strange combination of elements create such harmony that can be felt and observed by the viewer only.
Asia with its culture and secrets is a great inspiration for this German artist, the reminiscence of Asian tradition transpires in Kröner's work through the use of ink that presents spontaneity and freedom living side by side with rigor and concision. Another inexhaustible source of afflatus for Kröner found in languages, fonts and literature and it can be seen mainly in his public installations.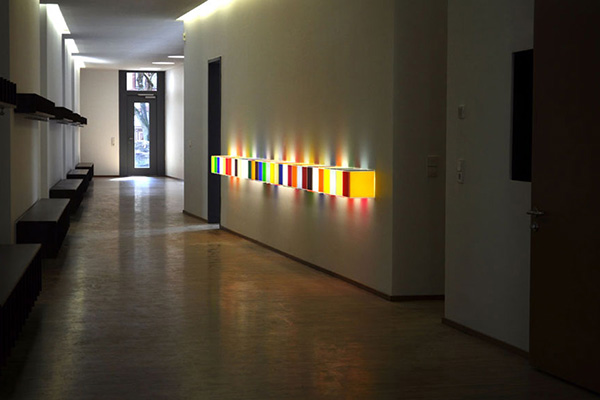 Harald Kröner is presented by his work in various German public collections as well as international private collections in Germany, Switzerland, France, Australia and USA. He has widely and mainly exhibited in Germany in solo and group exhibitions, and has also taken part to various art fairs including Drawing Now in Paris and the Korean International Art Fair.
Kröner is represented by IdeelArt since July 2015.
Harald Kröner lives and works in Pforzheim, Germany.
All images copyright © the artist