The first skateboards appeared between the 40s and the 50s. They were just a wooden boxes, or boards, with roller skate wheels attached to the bottom. Today, almost 80 years later, skateboards are omnipresent in the urban culture and self-taught Japanese artist Haroshi uses this sports equipment to create some really unique art pieces, by recycling old used skateboards into a wooden mosaics, dots and pixels in the way traditional wooden Japanese Great Buddhas are built. This skateboarder and a sculptor definitely managed to bring together his two passions in a most creative way possible.
Haroshi makes his sculptures the way traditional wooden Great Buddhas are built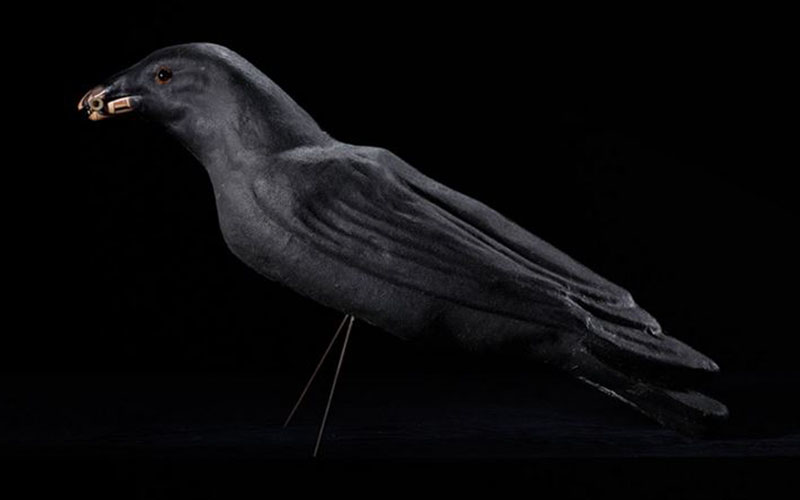 Skateboards Hold no Secrets for Haroshi
Haroshi was born in 1978 in Tokyo, Japan. He has been skating ever since his transition from childhood to adolescence, and he still does. During these years, Haroshi gathered a very impressive knowledge about the skateboard anatomy – about its parts: decks, trucks and wheels, the way they are connected and how they function together. The complete absence of the formal art education, he compensates with the enormous passion for skateboarding and his proven talent and a unique artistic vision. Haroshi's freedom of expression comes from the DIY ethos of skate culture he follows in creating works of art from old skateboards used to the utmost, inspired by the striking and stylish pop-culture images.
Creating works of art from old skateboards used to the utmost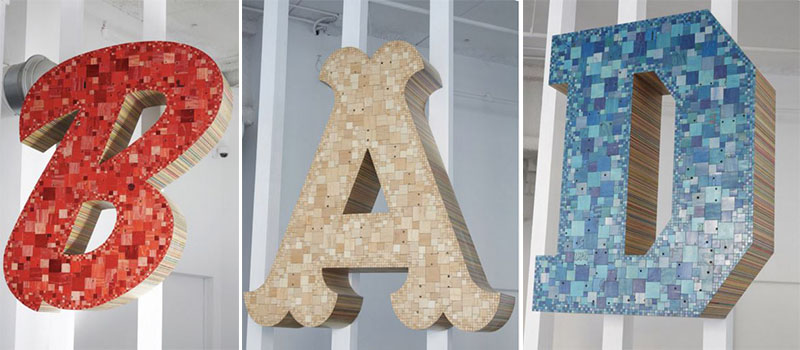 Haroshi's Unique Method in Work
Haroshi's wooden mosaic, dots, and pixels are composed of different elements, cut out in different shapes or kept in their original form. The board is chiseled, carved, and shredded and all elements are put together in many different styles and shaven into the final form. Haroshi mostly uses a wooden mosaic as a method for creating his three-dimensional pieces. The entire process is additionally complicated by the fact that none of the decks he uses are not flat like a freshly cut piece of wood – they are all processed products so the artist must stack many thin layers just to make a sculpture. The number of layers depends on a factory that produced the board, as the structure varies according to the manufacturer, brand, and model. Of course, talented Haroshi is capable of distinguishing almost all of them, creating his pieces accordingly. Layers he makes are sometimes dyed, giving the sculpture its recognizable stripes. They are all glued together and then carved into the desired form: like hearts, hands, skulls, and even sneakers…
Solo exhibition at Jonathan LeVine Gallery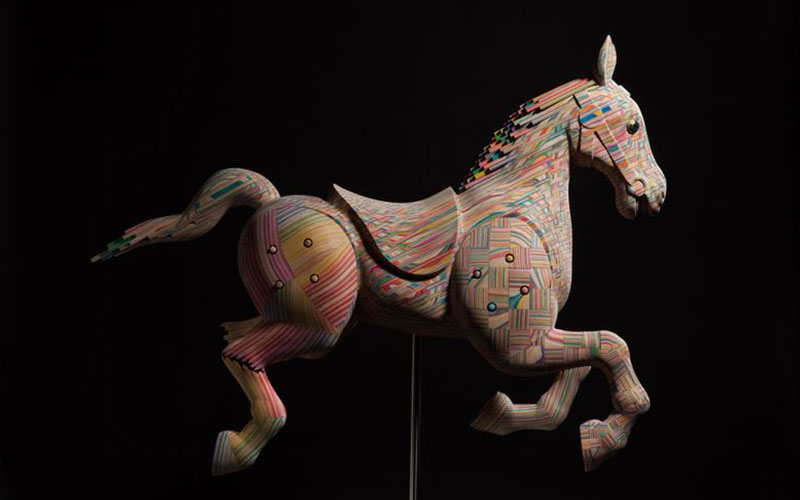 The Soul of the Sculptures
One final touch really makes Haroshi's works outstanding quality – in the end of the process, this artist gives each sculpture a soul, as he says. He actually hides within it an old skateboard piece. This metal object, buried inside, comes from his collection of deteriorated parts that broke off from his own skateboards. Haroshi could be inspired by one specific practice by Unkei, a Japanese XII century sculptor of Buddhas – he used to set Shin-Gachi-Rin, a crystal ball whose name means Heart Moon Circle, in the nearness of the Buddha's heart, creating thus the soul of the statue.
In 2015, Haroshi held his third solo exhibition at Jonathan LeVine Gallery, titled Still Pushing Despite The Odds. For this show, the artist integrated some commodities of low-technology from the very beginning of the XX century. Those vintage elements like neon signs, dental tools or roller skates – contributed the targeted contrast between the new and the old, where new is represented by a smooth silhouette of the skate decks and old is, surprisingly playing the role of embodying the artist's passion for innovation. Haroshi is amongst those artists that reveal the true essence of the art, the one that is innate and that comes quite naturally to those who listen to their urges, intuition, and passions. It only takes one look at his sculptures to understand that sometimes nature itself is the best art teacher there is.
This artist is represented by Jonathan LeVine Gallery.
Haroshi currently lives in Japan.
All artwork images © artist
Featured image: portrait of the artist © Taiyo Watanabe/h6>