Helen Booth is a British fine artist, born in 1967. She creates abstract art. Booth's source of inspiration is the Welsh winter light and the cyclical notion of time and change. Her works are predominantly monochromatic, with light at its center.
Strings - Film of Mixed Media Installation
Helen Booth - Memories, you're talking about memories, Light Installation for blinc 2012
Helen Booth went to Wimbledon School of art, where she earned her degree in 1989. Her tutors were Bernard Cohen, George Blacklock and Prunella Clough.
The artist is a recipient of a 2012 Pollock Krasner Award for painting, 2007 Oppenheim John Downes Award for painting, as well as 2009 Oppenheim John Downes Award for painting, and 2011 Arts Council R&D Award.
I Can Feel Them Moving Further Away From Me Series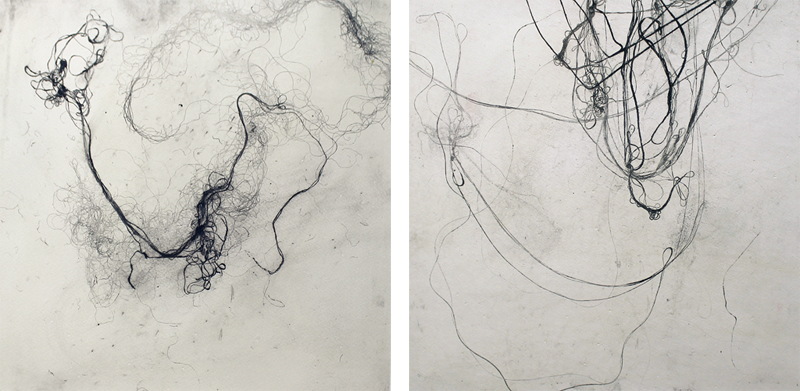 The artist has exhibited her works in many exhibitions, mostly in the United Kingdom. The venues where she has exhibited include Milkwood Gallery in Cardiff, King Street Gallery in Carmarthen, Arusha Gallery in Edinburgh, Quercus Gallery in Bathand Morgan Boyce Gallery in Marlborough.
What You Can't See Can't Hurt You Series

She is represented by Quercus Gallery in Bath, Gallery-ten in Cardiff and Gathered in New York, United States.
Booth lives in Llandysul, Ceredigion, United Kingdom.
Featured image: Helen Booth - What You Can't See Can't Hurt You, Zephyr 5, 2015 (detail)
All images copyright © the artist