Widely considered to be a major contributor to the history of postwar American art, Helen Frankenthaler was an abstract expressionist painter who was an active artist for over six decades. Due to her talent and long artistic reign, Frankenthaler influenced generations of modern painters with her vital and ever-changing work[1]. Among a variety of phases and stylistic shifts she went through during her life, Helen is mostly respected for her role as one of the most crucial painters to tackle the famous Color Field method - a style of American abstract painting which features large expanses of unmodulated color covering the greater part of the canvas. This career path Frankenthaler chose for herself effectively engraved her name in the art history next to the likes of Jackson Pollock, Barnett Newman and Mark Rothko.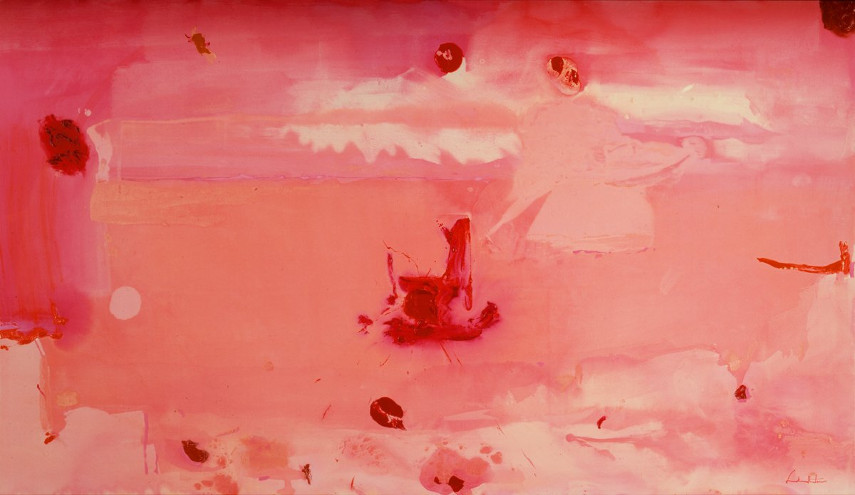 Early Life and Education
Helen Frankenthaler was born on December 12th in the year of 1928, in the heart of New York City. She was a daughter of Alfred Frankenthaler, a respected Supreme Court judge held in high regard both in and outside of the Big Apple borders. As she was spending her early childhood on Manhattan's Upper East Side, Helen enjoyed every aspect of life that goes alongside being a member of a cultured and progressive Jewish intellectual family[2]. Since her parents expected their heirs to continue the family's successful business endeavors, Frankenthaler and her two sisters were encouraged to prepare themselves for professional careers from an early age. However, Helen persisted in her desires to study artistic expression despite such pressures within her home. Ultimately, her parents accepted that fact and she was sent to study at the Dalton School before she began attending classes at the Bennington College in Vermont. It was here that Frankenthaler learned everything about pictorial composition and started to demonstrate a cubist-derived style which marked her early career. After she received her diploma in the year of 1949, Helen studied privately with Australian-born painter Wallace Harrison, and later with Hans Hofmann. During this time, Frankenthaler had a relationship with Clement Greenberg, but she decided to leave him and marry a fellow artist Robert Motherwell in 1958. The two were a couple to the year if 1971 when their divorce became official.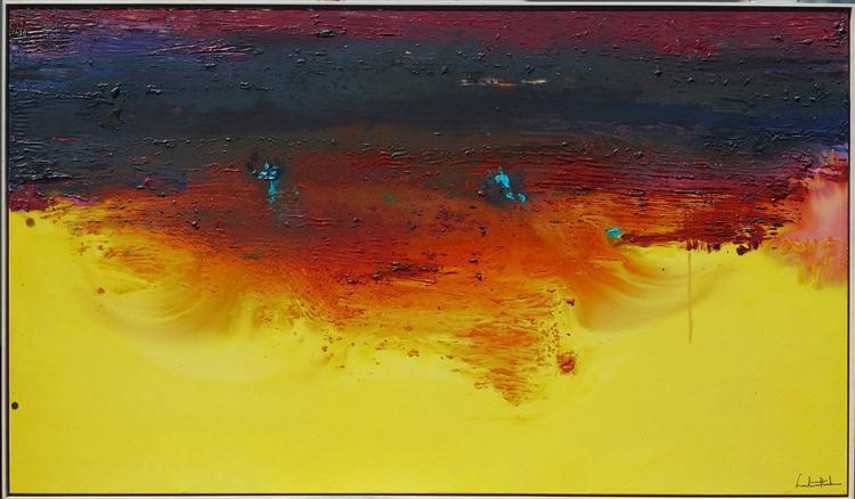 Analyzing Frankenthaler's Art
After all the influences that affected Helen's art were done modeling her creative vocabulary, Frankenthaler's work became very resistant to analysis and characterization. She was initially associated with abstract expressionism due to her focus on forms latent in nature. Helen was fond of and easily recognizable for her use of fluid shapes, abstract masses and lyrical gestures that were not truly rivaled by any contemporary artist. Like most of her colleagues back then, Frankenthaler preferred working in large formats that proved to be the best possible choice for her often very simplified abstract compositions. Helen put special emphasis on spontaneity, as evidenced by her own statement: A really good picture looks as if it's happened at once. It's an immediate image. For my own work, when a picture looks labored and overworked, and you can read in it—well, she did this and then she did that, and then she did that—there is something in it that has not got to do with beautiful art to me. And I usually throw these out, though I think very often it takes ten of those over-labored efforts to produce one really beautiful wrist motion that is synchronized with your head and heart, and you have it, and therefore it looks as if it were born in a minute. Chronologically speaking, Frankenthaler's official artistic career was launched during the year of 1952 when her exhibition titled Mountains and Sea opened its gates to the wider public. Since then and throughout all the years of the 1950s, her artworks showed tendencies to be highly focused on the center, meaning that the majority of main pictorial incidents took place in the middle of the canvas, while the edges were of little consequence to the composition as a whole. Around the year of 1957, Helen started to experiment and take her work down a new path when she began introducing linear shapes and more organic, rounded forms. She also started exploring the potential of symmetrical paintings which was the first time Frankenthaler was interested in the edges of her paintings.
Soon, Frankenthaler art took another turn as she put in motion another general simplification of her style. She began to make use of single stains and blots of solid color against white backgrounds, often in the form of geometric shapes. At this time, Helen also abandoned oil paints and turned to acrylic as they allowed for more opacity and sharpness than her previous materials. Frankenthaler turned to thicker layers of color as well, hoping that more concentrated paint would enable her to employ brighter tones and reminisce her love for the early avant-garde. By the 1970s, Helen was completely done with her now-legendary soak-stain technique. Her work became much calmer and relaxed, as evidenced both by her shades and brushwork. Her application of a single color to large areas, or fields as they were more commonly called, was the reason why Frankenthaler's was described as a part of the Color Field movement. This style was characterized by the use of hues that were similar in tone or intensity, organized in large formats and more or less simplified compositions - all of these were qualities descriptive of Frankenthaler's work. Interestingly, the practitioners of the Color Field saw themselves apart from the Abstract Expressionists because they stayed clear of emotional, mythic or the religious content, allowing the personal and gestural painterly application to take precedent.
Helen's greatest pieces in the eyes of art history are her uniquely balanced Color Field artworks which were always critic's arts of choice, regularly finding their way into gallery and public spaces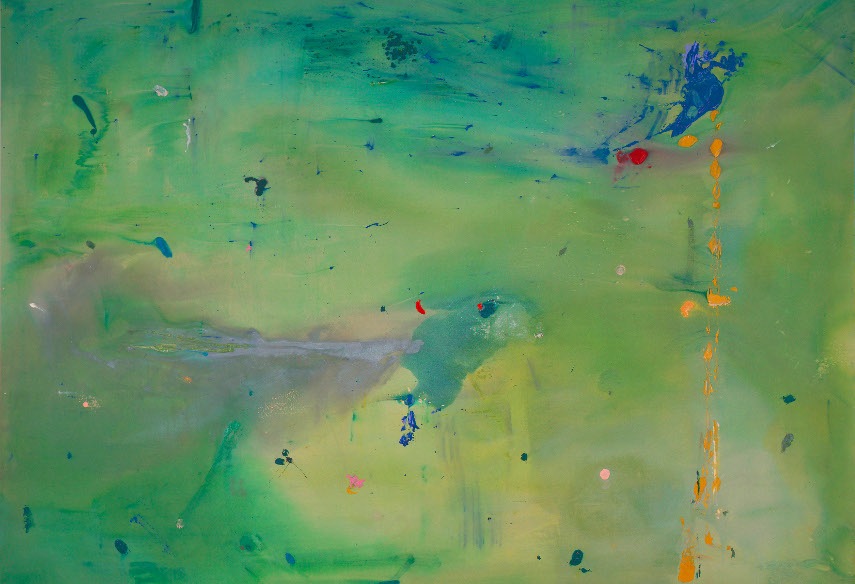 Later Life and Career
When she matured as an artist and left the turbulent and wild lifestyle with Robert Motherwell behind her, Frankenthaler preferred to paint in privacy and isolation, letting the silence influence her inner thought. Some pieces required assistants, but even then Helen instructed them to be as quiet and inconspicuous as humanly possible. She also recognized that, as an artist, she needed to constantly challenge herself in order to grow. Keeping that in mind, she began to experiment with printmaking at a lithographic workshop in West Islip, Long Island. Tatyana Grosman, a skilled silkscreen artist, helped Helen a lot as she was beginning this chapter of her career. It should also be noted that Clifford Ross was Helen's cousin - he is a famous artist who combines several mediums, including photography, video, sculpture and painting, all in order to create his unique artworks. In 1976, Frankenthaler expanded her art a step forward by practicing the medium of woodcuts. For the next three decades, Helen created pieces of art from the fields of painting, silkscreen prints and woodcuts, defining the current directions these mediums were following with every artwork. Besides her creative endeavors, Frankenthaler also served on the National Council on the Arts of the National Endowment for the Arts between the years of 1985 to 1992. In 1994, she married Stephen M. DuBrul, Jr., an investment banker who worked for the Ford administration. Although she was often connected to the feminist movements that were popping up all over the world at the time, Frankenthaler did not consider herself a feminist[3]. Followers of such ideas would regularly desire to build their campaigns around Helen's name, but she would always distance herself by simply stating that she never had a single obstacle or issue due to her gender. As a crown achievement for her life's work, Frankenthaler received the National Medal of Arts in the year of 2001. When all was said and done, her other greatest awards included the First Prize for Painting at the first Paris Biennial, Temple Gold Medal, New York City Mayor's Award of Honor for Arts and Culture and Distinguished Artist Award for Lifetime Achievement. She passed away in 2011 at her home in Darien, Connecticut[4].
Due to her unrivaled control over tools and ability to make changes, Frankenthaler influenced generation upon generation of modern painters with her dynamic and vivid works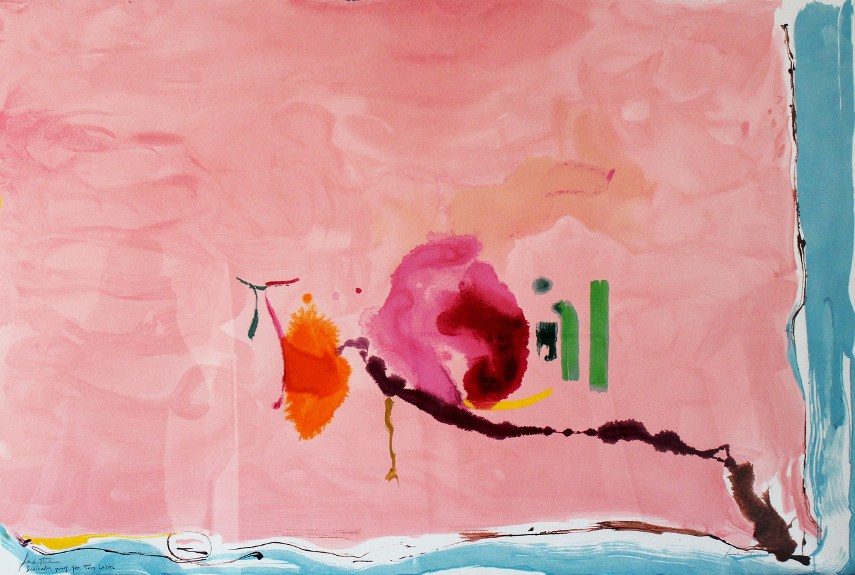 The Final Word
Ultimately, it should be noted that art critics have never unanimously praised Frankenthaler's work. Some were not impressed by, what they called, thinness in substance and uncontrolled method. Some critics were even bold enough to brand Helen's art as too sweet in color and too poetic, without always defining what poetic exactly is in their opinion. However, there were by far more individuals who enjoyed and appreciated Frankenthaler's work, praising the informality and impulse of her compositions. One of the main backers of Helen's pieces was Barbara Rose, a famous critic whose word traveled quite far and was always appreciated. In one of her most famous statements concerning the art of Helen Frankenthaler, Rose hailed the freedom, spontaneity, openness and complexity of an image, not exclusively of the studio or the mind, but explicitly and intimately tied to nature and human emotions.
This artist is represented by Gagosian Park & 75 New York, Gagosian West 24th Street New York, Gagosian Beverly Hills, Gagosian Britannia Street London, Puccio Fine Art, Kunzt.gallery and Gagosian West 21st Street New York.
References:
Wilkin, K., Frankenthaler at the Guggenheim, The New Criterion, October 23, 2015
Chadwick, W., Women, Art, and Society, New York: Thames & Hudson, 2007
Elderfield, J., After a Breakthrough, Museum of Modern Art, 1989
Glueck, G., Helen Frankenthaler, Abstract Painter Who Shaped a Movement, Dies at 83, New York Times, December 27, 2011
Featured image: Featured image: Helen Frankenthaler - Untitled, July, 1975, 1975 (detail). Acrylic on canvas. 10 x 12 3/4 in. 25.4 x 34.9 cm. This is a unique work. Photo courtesy Berry Campbell Gallery
All images used for illustrative purposes only.