A master of printmaking, posters and lithograph drawing, Henri de Toulouse-Lautrec was a French artist who invented and applied so many innovations to the world of art that it's laborious work to just name them all. Gathering his creative influences from the works of the Impressionist Edgar Degas and the Japanese styles, Toulouse-Lautrec is credited for imbuing marginalized populations through his artworks. Unfortunately, Henri was also quite a frail man, suffering numerous chronical ailments throughout his life, illnesses that ultimately led to his demise and stopped him from impacting the history of art even further than he did.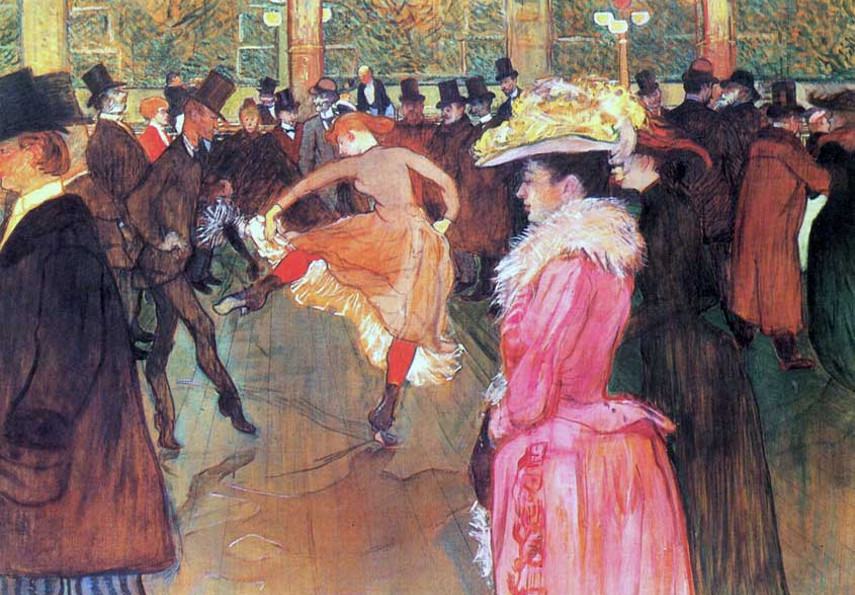 Childhood and Art education
Henri Marie Raymond de Toulouse-Lautrec Monfa was born into the aristocracy on November 24, 1864, in Albi, a large commune in France. His parents Adèle and Alphonse were quite wealthy, but there was a terrible rumor lingering around the household of Toulouse-Lautrec - it has been said that Adèle and Alphonse were actually first cousins and that they were descended from previous instances of family inbreeding. Since Henri and many of his relatives were suffering from various chronical infections and physical ailments, many were convinced that the rumors are quite accurate. With such fragile physical condition, little Henri fractured his femur during his early teen years, suffering a condition that had a massive impact on his height as Toulouse-Lautrec never grew over 4 1/2 feet whilst his torso was quite nonproportional with his legs. All of that resulted with a handicap - Henri de Toulouse-Lautrec's was never able to walk without the use of a cane. Furthermore, he was forced to endure massively painful toothaches and mild facial deformities that were never fully healed. Some of the numerous experts that investigated the early life of this artist even went as far as to claim Henri suffered from pycnodysostosis, but many specialists have questioned this and that theory was never truly accepted.
It's quite striking how all of the troubled members of Toulouse-Lautrec family found their comfort and solace in one activity - creating art. Henri personally made a choice to take up sketching from an early age prior to adolescence and the hobby slowly built up into a full painting craft as the young artist had a lot of spare time on his hands due to long periods of recuperation from health issues. Toulouse-Lautrec attended the Lycée Fontanes in Paris for a short period of time in the early 1870s and later on studied under the wings of fellow artists René Princeton and John Lewis Brown. These two painters focused most of their creative efforts towards exploring the boundaries of animal portraiture and that naturally extended down to the ideas of the pupil they shared - this heavily influenced some of Toulouse-Lautrec's sensibilities later in his career. When Henri decided art was something he would enjoy pursuing on a professional level, the young painter sought further knowledge at the workshops of Léon Bonnat and Fernand Cormon during the years of 1882 and 1883, respectfully.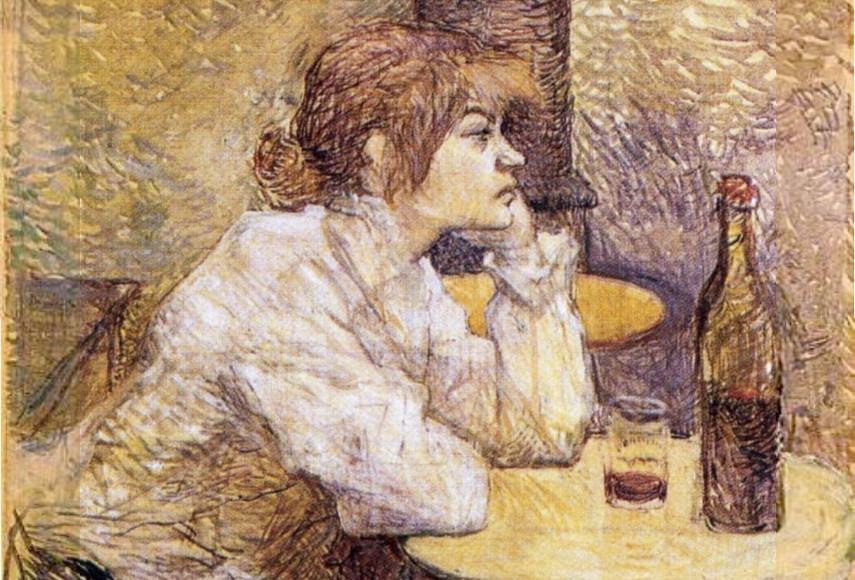 Welcome to Paris!
During the year of 1884, Toulouse-Lautrec moved to the Montmartre section of Paris, an area that was well known for its bohemian lifestyle which included exciting musical performances, numerous bars and the most popular brothels. During that period, Henri was expressing his artistic tendencies by creating pieces to accompany the music shows of singer/composer Bruant, a man that was also an owner of a prestigious cabaret where Toulouse-Lautrec was able to showcase his pieces. This time was quite essential for the development of a young aspiring artist because it allowed him to see from the get-go how it is to work for a client and how difficult it can be when you are trying to promote yourself in a compatible game such as the art scene of the late 19th century. Slowly progressing and tirelessly evolving, Toulouse-Lautrec built a stellar reputation for himself by depicting regular Montmartre denizens and celebrities. He worked with some of the most valuable and important individuals Paris had to offer, with the list of his subjects being topped by such names as Yvette Guilbert, Jane Avril and Loïe Fuller. Soon enough, residents of the Montmartre boulevard were literally lining up in order to get a chance of model for Henri - to be depicted by Toulouse-Lautrec was soon a sign of prestige and a hint that you are a popular and prosperous person. Needless to say, Henri Toulouse-Lautrec loved every minute of it as this was a whole new world to explore, not to mention how radically different it was when compared to the isolated lifestyle he was used to.
Toulouse-Lautrec did not experiment that much with the material he used as much as he did with the ways of depicting same subjects in different ways. He mostly worked on canvas when he was painting ordered pieces of portraiture for his clients, but what separated him from the rest of the pack was the fact Henri did not frown upon the newly popularized medium of posters. Furthermore, Toulouse-Lautrec embraced the new method and decided to devote much artistic energy towards it, seeing the poster's potential hidden, quite literally, in plain sight. Soon, people started to identify the process of making posters with Henri, which in return made him extremely popular and highly sought after, as well as making him the poster-boy of the entire new medium. Furthermore, Toulouse-Lautrec became famous for his unique style that was unlike anything the audience has ever seen prior to Henri's arrival to the French capital. In an attempt to somehow locate the roots of this visual artist's methods and style, many experts agreed that Toulouse-Lautrec found much incentive and influence inside the works of Japanese ukiyo-e woodblock printmakers which served as a limitless source of inspiration for the young artist. Henri was also heavily guided by the concepts of Edgar Degas, a fellow artist that also lived in the Montmartre section of Paris and was Toulouse-Lautrec's close neighbor for a short period of time.
Toulouse used all the artistic and useful tools at his disposal to create depictions of Parisian night life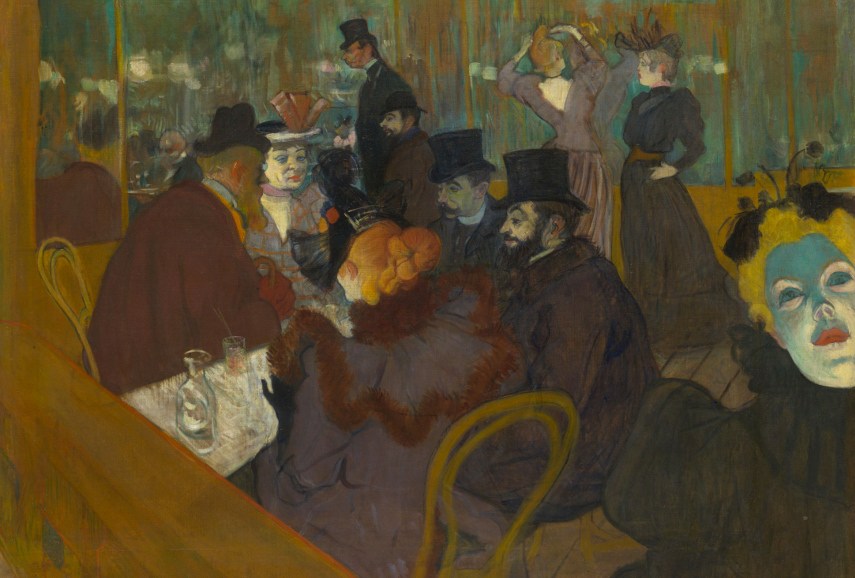 Toulouse-Lautrec and his Depictions of Women
Over time, Henri developed an affinity of portraying damsels over gentlemen. This has often been attributed to simple sexual urge, but it seems as Toulouse-Lautrec found females to be more aesthetically diverse and more chelanging to portray. Some of the most well-known works this artist ever authored are The Englishman at the Moulin Rouge and the paintings At the Moulin Rouge - pieces in which Henri often portrayed himself amidst the masses, enjoying the view or a tasty beverage. Another popular painting of Toulouse-Lautrec is Rousse, a genius composition of a half-bare woman sitting in a café. As opposed to many of his contemporaries, French art critics at the time have regularly pointed out that Henri Toulouse-Lautrec had an unusual focal point and that it could be found somewhere at the crossroads of humor and realistic representation. He had a masterfull skill of eschewing fantasy to accurately reflect the circumstances surrounding the people he painted, many of which became his close friends afterward. Henri is also praised for being one of the first artists to ever depict workers of the sex industry without relying solely on erotic objectification. This revolutionary concept was seen in Toulouse-Lautrec's famed 1896 brothel series of prints, Elles, as well as in the 1897 painting Woman Before a Mirror. In this remarkable piece, Henri presents her neither as a moralizing symbol nor a romantic heroine, but rather as a flesh-and-blood woman as capable of joy or sadness as anyone else. Through that sort of depicting, Toulouse-Lautrec showed both directness and honesty that are a true indicator of his love towards women.
Lautrec made connections with the ladies of the night and became one of the first artists to depict workers of the sex industry without relying solely on erotic objectification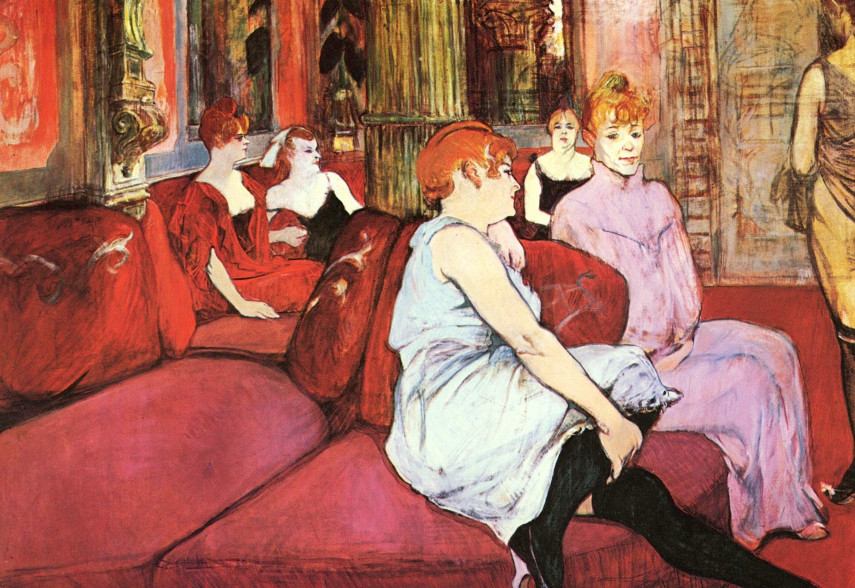 The Irony of a Sad Clown
Although he loved presenting himself as a witty, fun man about town, the truth was that Toulouse-Lautrec suffered greatly due to his physical ailments that were bothering him every single day of his life. One should not forget the circumstances of Henri's childhood as well, as the rumors that were circulating around his household have definitely left him with a life-long trauma. Furthermore, his father never accepted his son's decision to pursue a career of a professional artist, believing Henri was supposed to be a worthy heir of both the family estate and the business that made them prosperous. At the peak of his career when he was truly accepted and appreciated by the public, Toulouse-Lautrec was forced to struggle with the new illness as he had contracted syphilis, a sickness that did nothing but further impact already bad health. In order to somehow go through the day, Henri turned to alcohol that did a good job of dealing with pain and letting him sleep - however, the artist ultimately drunk himself into oblivion. He suffered a nervous breakdown in the year of 1899 after his mother, whom he was extremely close to, decided to leave Paris and abandon her son in the process. Consequently, Toulouse-Lautrec had to be hospitalized and was committed to a sanitarium for several months. Henri de Toulouse-Lautrec died on September 9, 1901, at the Château Malromé in Saint-André-du-Bois. He was only 36 years of age.
Even though his biography is full of problems and ailments, Toulouse-Lautrec still managed to have incredible key influences on the art scene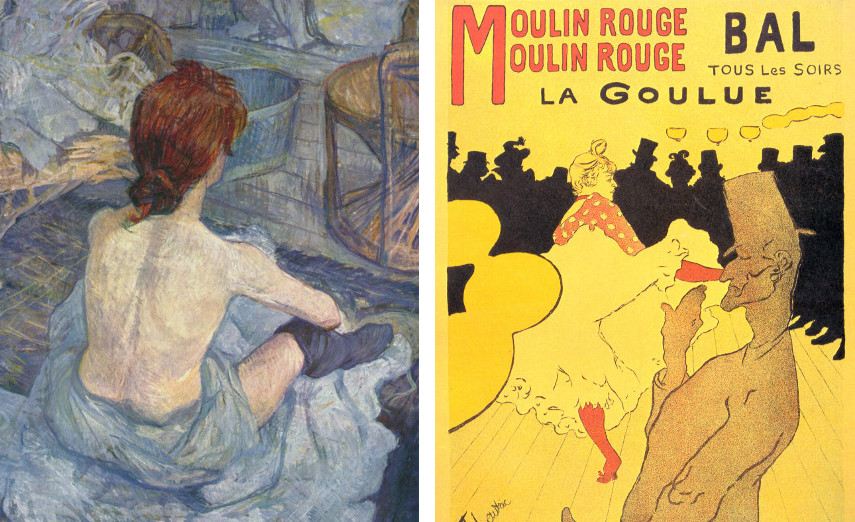 A Grim Tale with Fantastic Artistic Works
With a sad life story that is one of the rare careers capable of rivaling the circumstances of Vincent van Gogh, Henri de Toulouse-Lautrec is a true example of a crying clown with a sadness that couldn't be fixed. Always presenting himself as a happy and satisfied person, he channeled his rage and melancholy through his art. Henri left behind him more than 700 canvas paintings, 350 prints and posters, as well as over 5,000 drawings. With so much artwork under his belt, Toulouse-Lautrec is a seminal pioneer to a number of movements, heavily influencing the way artists used to think. Many experts have connected Henri with the 20th-century phenomenon called Pop-art, claiming Toulouse-Lautrec was an early forerunner to later icons like Andy Warhol. This may very well be the most impressive aspect of Henri's art - it has actually influenced movements that emerged almost a hundred years after it was created. An impressive feat not many can claim they have in their artistic arsenal.
Featured Image: Henri de Toulouse-Lautrec - Photograph of the artist - Image via nbmaa.com
All images used for illustrative purposes only