Often used as a good example for both the most misunderstood artists of their time and late bloomers within the world of painting, Henri Rousseau was a French Post-Impressionist who worked in a childish-like manner usually called either the Naïve or Primitive style. Within the art community which often disputed his true value, he was also known as Le Douanier (the customs officer) - a humorous description which was supposed to indicate his previous occupation as a toll collector. Frowned upon by most popular contemporary artists of his time and ridiculed by critics on a regular basis, Rousseau managed to rise above such circumstances and be recognized as a self-taught genius whose artworks can stand shoulder to shoulder with some of the most famous pieces of the era. Furthermore, Henri's work proved to be an extensive influence on several generations of avant-garde artists of the 20th century.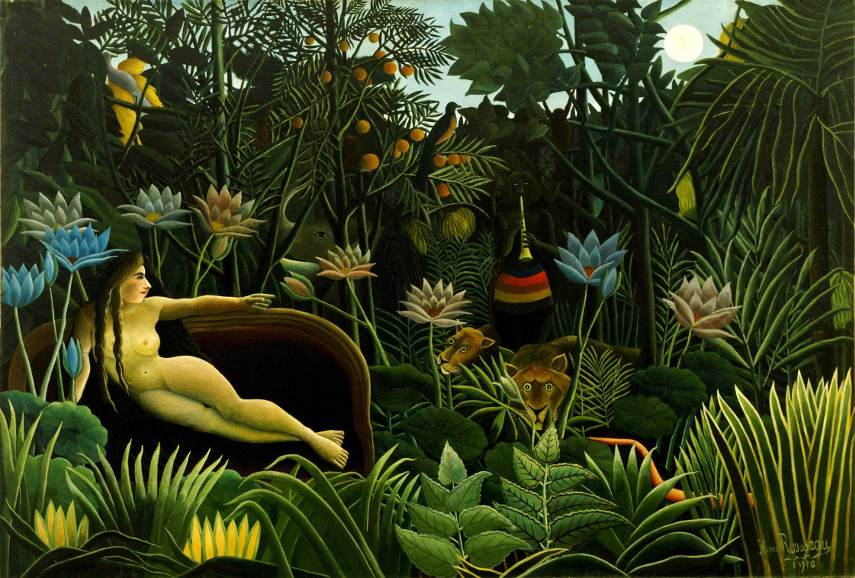 Almost Fifty Years Without Art
Henri Julien Félix Rousseau was born in Laval, a town in western France, located about 300 km southwest of Paris. His father was employed as a plumber, which unfortunately placed the entire Rousseau family in a constant financial strain. Growing up in such circumstances, young Henri often worked alongside his dad throughout his childhood, helping him and learning the trade which seemed to be his fate. He attended the local Laval High School for a while, but as soon as his father was unable to cover the bills, Henri stopped going to classes. Sonn, the family house was seized by the law, forcing the Rousseau to leave town. Noticed for his various talents and prizes for both drawing and music, Henri managed to get himself into a position to work for a lawyer and study law first hand. Regardless of his effort, this endeavor was ultimately doomed when Rousseau attempted a perjury. He later sought refuge in the army, hoping that he will finally manage to find a home for himself through assisting his country. Starting this chapter of his life during the year of 1863, Henri served for a total of four years until his father passed away. After this event, Rousseau relocated to Paris in 1868 in order to support his widowed mother as a state employee. During the same year, Henri met and married Clémence Boitard, his landlord's 15-year-old daughter, with whom he had six children.
Around the year of 1871, Rousseau was appointed as a collector of the octroi of Paris and was in charge of collecting taxes on goods entering Paris. Unfortunately, his wife Clémence passed away in 1888, but Henri was able to remarry a year later. It was around this time that Rousseau started painting, out of hobby at first, but this interest soon grew into a genuine full-time obsession. He was over 49 years of age at the time and it was a true shock to everyone who knew Henri when he decided to quit his job and dedicate himself fully to painting. At this very beginning of his artistic career, Rousseau claimed that he had no teacher other than nature, meaning that he was completely self-taught. Furthermore, Henri underlined his work with the title of naïve art whilst calling himself a primitive painter.
Calling himself a primitive maker of naive art, Henri Rousseau became a painter just before his fiftieth birthday without having any experience in the field whatsoever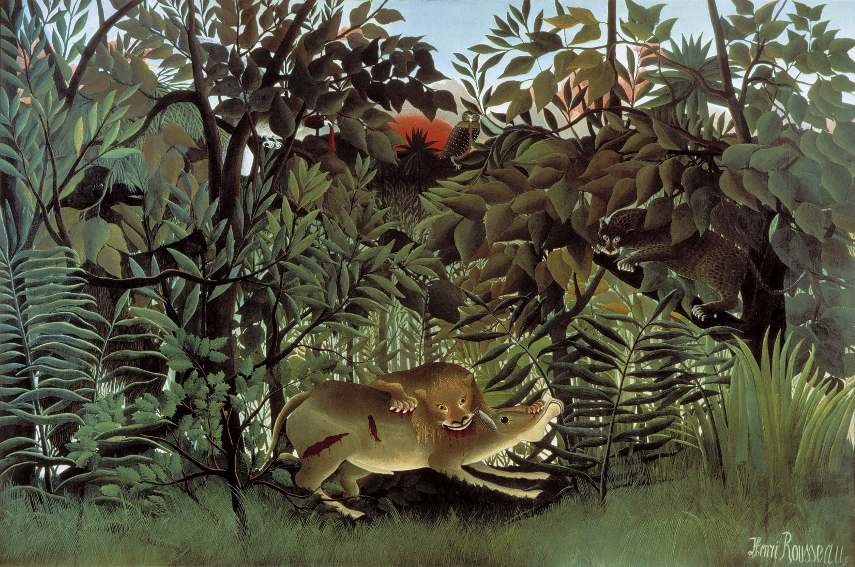 Facing a Sea of Doubters
Even though he never left the territory of France, Henri strived to make the jungle his most often motif[1] and the main focal point of his art. Despite some claims that Rousseau saw these kinds of forests when he was serving in the army in Mexico, the artist himself explained that his inspiration came solely from illustrations found in children's books and Parisian botanical gardens. Rousseau described his frequent visits to the glass environments with the following: When I go into the glass houses and I see the strange plants of exotic lands, it seems to me that I enter into a dream.[2] By starting a painting with a specific view and then depicting a person in the foreground afterward, Rousseau claimed he invented a new genre of portrait landscape. Due to his flat, childish style, Rousseau's art was often disparaged by many critics whilst the public was mostly either offended by it or eager to ridicule it. However, some more open-minded individuals praised Henri's bravery, as well as explaining that he shows sophistication with his particular technique and puts a lot of effort in thinking as a child does.
Starting with the year of 1886, Henri exhibited regularly in the famous Salon des Indépendants, a place where artistic outcasts and alternative thinkers were offered an opportunity to display their work. Despite many harsh remarks aimed his way, Rousseau managed to win over many pundits and gather an admirable base of followers. Five years later, Henri was finally starting to be appreciated by critics as Félix Vallotton praised a piece titled Tiger in a Tropical Storm (Surprised!) - young man stated the following: His tiger surprising its prey ought not to be missed; it's the alpha and omega of painting. After his retirement in 1893, the artist was forced to supplement his small pension with weekend jobs such as playing the violin in the streets. Henri also worked briefly at Le petit journal, where he was in charge of producing the covers for the magazine. Paintings and works with forest scenes were his career highlight. In 1893, Rousseau relocated to a studio in Montparnasse, an area of Paris on the left bank of the river Seine. It was here that Henri painted his most famous non-jungle piece, La Bohémienne endormie (The Sleeping Gypsy). The artist lived and worked in this studio up until the moment of his death in the year of 1910.
Understood by the Right People
Although he did get a rather late start, Rousseau successfully impacted the contemporary artistic scene with his pieces. However, it did take him a long time to prove his worth - the crown of his achievements happened in 1905[3] when Rousseau's large jungle scene The Hungry Lion Throws Itself on the Antelope was exhibited at the Salon des Indépendants right next to the works of the much younger leading avant-garde artist Henri Matisse. This will prove to be the first showing of The Fauves and some art historians claim that Rousseau's painting may even have influenced the naming of the movement. Therefore, Henri's efforts were far from vain as he managed to leave his stamp on one of the most prominent and influential avant-garde movements the world has ever seen.
References:
Smith, R., Henri Rousseau: In imaginary jungles, a terrible beauty lurks, New York Times, July 14, 2006
Markel, M., The Fantastic Jungles of Henri Rousseau, Eerdmans Books for Young Readers, 2012
Shattuck, R., Henri Rousseau, Museum of Modern Art, 1986
Featured image: Henri Rousseau - Self Portrait, 1890 (detail) - Image via wikipedia.org
All images used for illustrative purposes only.