Herakut is a German artistic duo – a symbiosis of the aliases Hera the painter and Akut the graffiti artist whose collaborations formed a fruitful partnership. Having worked together on various successful global art projects, these artists have merged their individual approaches influenced by graffiti and street art. Their artworks can be found in big cities around the world – from Toronto to Kathmandu, from San Francisco to Melbourne. Herakut's creative art process is sensuous, savage, dialogical and storytelling. This remarkable powerful dualism creates imaginary worlds and inspires their figures with individual characters.
Dark comedy is one of Herakut's trademarks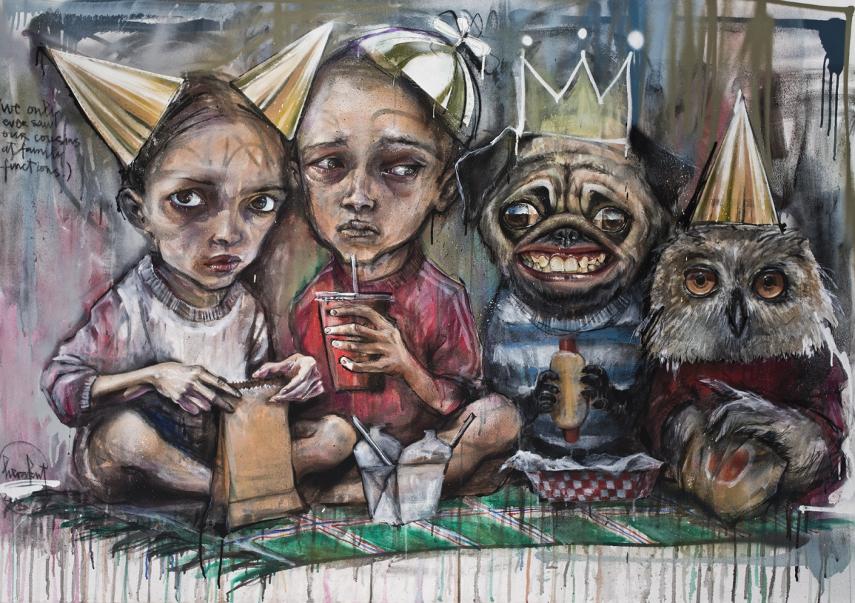 The Artistic Duo
Jasmin Siddiqui (1981) aka Hera was born in Frankfurt. She has a straight and classic art education with taking lessons from various artists, starting from when she was eight. About her entrance to the world of Street Art, she says: The real birth of my graffiti career was the moment I came to the Schlachthof in Wiesbaden. It was a few days after the Wall Street Meeting in 2001 and I was so overwhelmed, that I thought: This must be the most beautiful thing I have ever seen in my life! And from this day on I just wanted to paint. So, what I do today, I would sometimes call it a career, but in the end: I just kept painting. She has studied Visual Communication and Graphic Design at the University of Applied Sciences in Wiesbaden. Falk Lehman (1977) known as Akut is from Schmalkalden, and has been in a Graffiti world since he was 14, from the first moment when the graffiti wave reached his hometown: In 1991 graffiti took a very funny way to reach my hometown. Somehow a graffiti piece accidently appeared on a photo of some guys´ parents who had been to Spain on holiday. The kid had nothing better to do than copy that piece on a wall and make me and half a dozen others catch the fire. Due to our complete lack of knowledge, guidance or even the tiniest link to the real graffiti scene, we had no problems ignoring the fact that graffiti always puts letters first. So our oblivious-selves focused on painting characters. Our approach was to make them look cool to us but also as realistic as possible. Akut studied Visual Communications at the Bauhaus University in Weimar. Their duo collaboration started when they first met in 2004. Both were invited to paint at the Urban Art Festival Sevilla in Spain and before that time had only seen each other's work in graffiti magazines. The result is a unique signature style characterized by melancholy and gratification that can be seen on large outdoor murals and intriguing indoor exhibitions. Together with CASE, TASSO, and RUSK, he formed the MA'CLAIM Crew, which is nowadays worldwide renowned for their photorealistic style in graffiti. Herakut duo describes themselves as storytellers, by combining visuals with written messages. Anonymity is not part of their concept because they gain a lot of inspiration from sharing thoughts with any kind of people, as Herakut claims.
It may seem that way sometimes, but Herakut do not recommend their art to children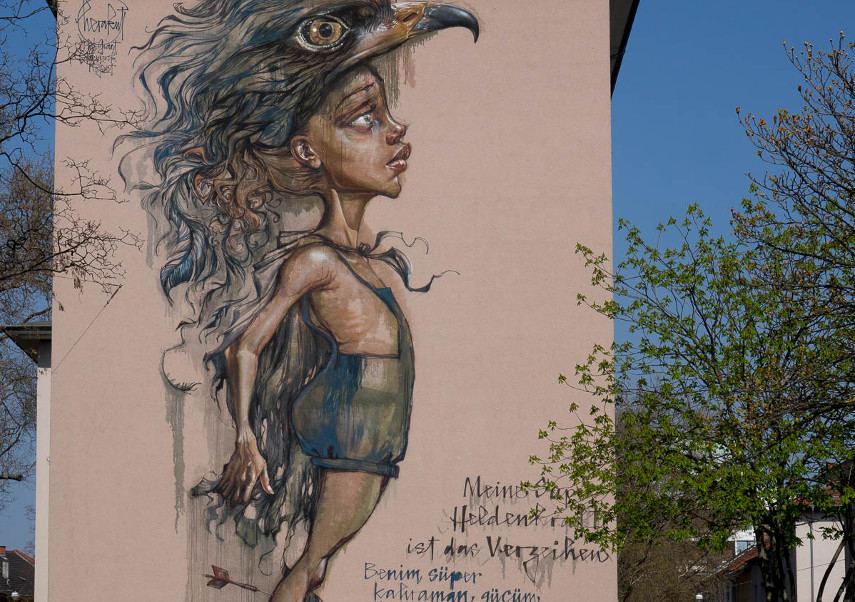 Herakut Style
Both artists express themselves on different bases: canvas, wood or paper. Their profoundly contrasting methods give birth to stylized works which decorate the streets with their strange uniqueness. On a background often made by Hera, Akut begins to lay strokes and creates a face without knowing what body Hera will extend it with, and so on. Their approaches combine with, and complete each other, as each artist improvises on top of the other's idea in order to come up with an end product that gives off an almost schizophrenic vibe. There begins to emerge dreamlike paintings and narratives overflowing with black humor. Herakut has been combining Akut's photorealist spray paint with Hera's more traditional techniques such as charcoal and acrylic. Hera is a classically trained painter who creates gestural, emotional figures in a freestyle manner using numerous tools including spray cans, brushes, and her hands. Akut is completely self-taught, yet is skilled in creating hyper-realistic images of animals and flesh using only a spray can. Equally, their gallery pieces, installations, and canvases are characterized by their narrative style and their ability to lead the viewer into the imagination of those two exceptional artists. There is a pictorial and textual component in their art pieces. The short quotes, passages or descriptions written next to the figures are references to the character's life. As a central theme, their figures can be seen in the context of social fractions and collective constraints, but also embedded into fabulous quotes that tell us of love. Thus, the figures reflect the diversity of life.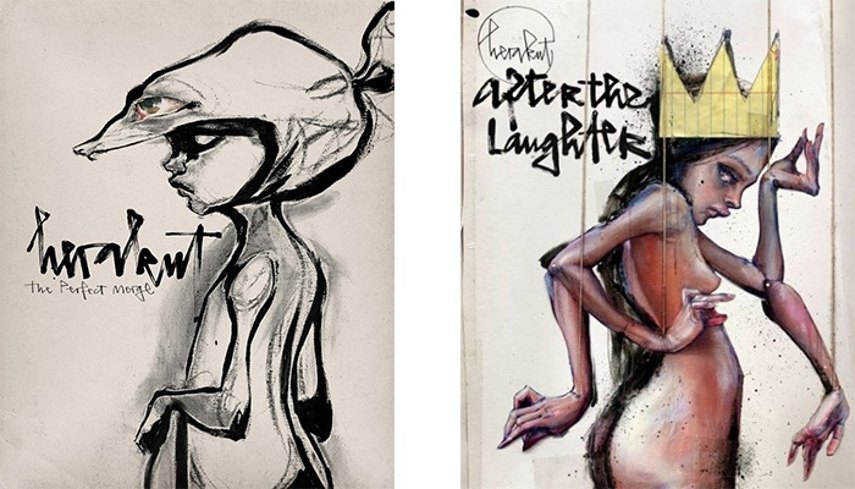 The Perfect Merge and After the Laughter
They have also released two books: The Perfect Merge and After the Laughter, which are retrospectives covering 2004-2009 and 2009-2011, respectively. Two hardbound books documenting their work have been sold more than 10,000 copies. Approached as works of art, Herakut devoted themselves to every detail of each book, from layout and paper selection, to hand drawn details. The Perfect Merge explores the interpersonal and creative processes behind the duo's murals and canvas paintings, which have attracted the attention of the international art scene. After the Laughter takes an intimate view at the individuals behind the impressive pieces, as well as their dynamic as a team, their interior styles, and their place within the art world. Designed as a scrapbook by Hera and Akut, the title features all new murals, works on canvas, and sketches. The book is collaged with images in different mediums and includes revealing photographs of the duo. All elements are woven into a multilayered, poetic reflection on art and its place in the world, with a range of freeform ideas penned artfully on the book pages in Herakut's signature lettering. Masking tape edges and crossed out pencil confessions add to the personal, forthright style an open invitation into the frenzied minds and rapid-fire hands of a unique artistic team.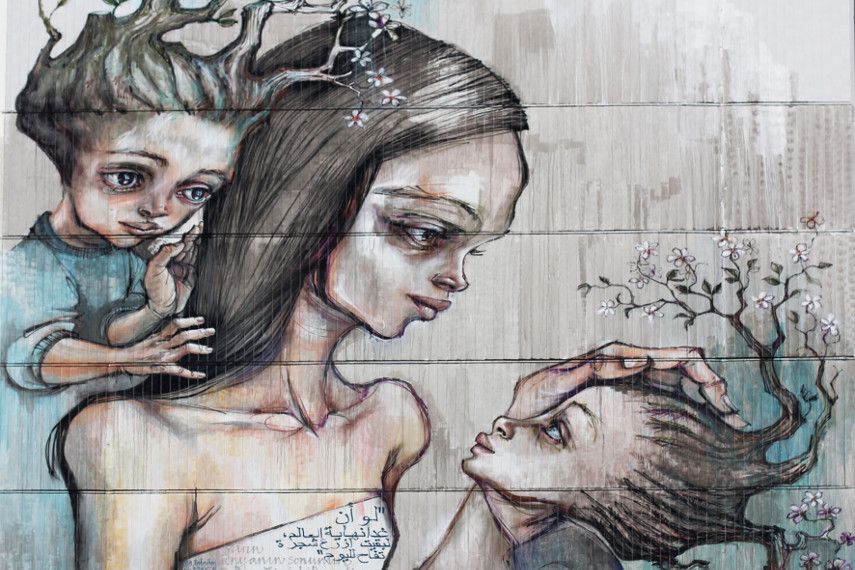 The Giant Storybook Project
One of their most famous projects is The Giant Storybook Project, which tells the story of two imaginary young people, Jay and Lily. The aim of the project is to promote interest in a children's book about Jay and Lily through a series of murals that have been painted at several locations around the world. In this project, the scenes from an unfolding story are told on giant murals around the world. The photographs and renderings from these walls will merge into a printed book and a planned feature film, bringing these truly unique characters to life and sharing the Herakut brand of storytelling with an ever-widening audience who have embraced their beautiful, complex creatures and wry, insightful messages of love, compassion, suffering and romance, while shining a light on those that society too often overlooks.This isn't for children, unless they're children who can handle a lot of brutality, jokes Siddiqui, comparing it to George Orwell's Animal Farm. There's a social message wrapped in the cute girls and monkeys. We wanted to create something for children, but we're just not there yet. The first two murals in the series were painted in Lexington, Kentucky, and commissioned by Transylvania University professors Kurt Gohde and Kremena Todorova. After becoming interested in Herakut's work, Gohde and Todorova raised the $8000 necessary to bring the artists to Lexington, covering the artists' travel costs and all materials, including a cherry picker, which the team uses to reach the top of the murals. The first mural, titled "Lily and the Silly Monkeys," is located on 156 Market Street at the end of a parking lot. It can be clearly viewed from the market pavilion at Cheapside Park, framed by the outline of Christ Church Cathedral. They completed their second mural in Lexington, following the same theme, at the former Spalding bakery building on the corner of North Limestone and East Sixth streets.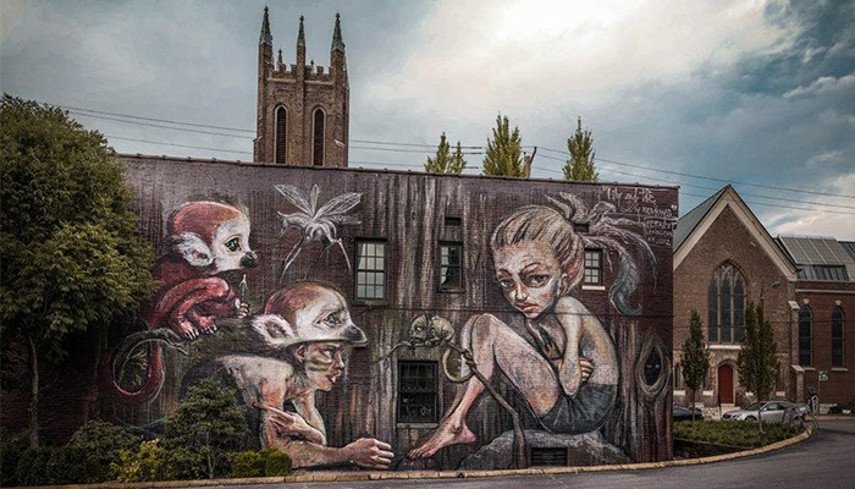 Between Dark and Light
A theme of both animal imagery and human subjects can be found in each piece. These images transport us back to our adolescence, a time where innocent imaginary friends were an embraced accompaniment to our creative minds. Yet, one can't help but notice the darker aspect of these childhood elements. Specifically, the animals are given somewhat distorted, exaggerated features when alongside their human counterparts. With additional repetitive themes such as children cloaking themselves in different animal skins, you get a sense that Herakut appreciates the beauty of being able to take yourself to another world as a child while believing in the power of imagination and the human spirit. Many people describe their work as "dark" or "melancholic", but Herakut argue that it's all about context. It's about the contrast. We create a darker stage for brighter thoughts, says Lehmann. Ultimately, the purpose of Herakut is best described by the Siddiqui counterpart: We use every way of communicating that we can. We give people who are on the way from A to B a little spark to take along. We don't want to just 'raise questions' and be mysterious. We put out a thesis, and people can react to that.
The artist is represented by Artstübli, GALERIE MATHGOTH, Galleria Varsi, HANG-UP GALLERY and Vertical Gallery.
The artist duo Herakut lives and works in Germany.
Featured Image: Herakut - The Herakut Duo
All Images Photo Credits Herakut