Influential for centuries after his death yet still completely shrouded in mystery, Hieronymus Bosch was a Dutch medieval artist whose apocalyptic depictions and religious visual narratives haunt everyone who views them regardless of the time period in question. This painter and draughtsman created spiritual and allegorical paintings populated with abnormal creatures and nightmarish visions that chill the blood in our veins as they depict Bosch's interpretations of metaphors found in the Bible. Although unquestionably terrifying, Bosch's images also show us an amazing skill - his detailed illustrations and the ability to easily develop micro-narratives within a composition is matched by only a few other artists in the entire history of art. Despite all the acclaim he enjoys today, the life of Hieronymus Bosch is a major mystery to contemporary pundits and experts[1] - however, he is still considered one of the most notable representatives of the Early Netherlandish painting school.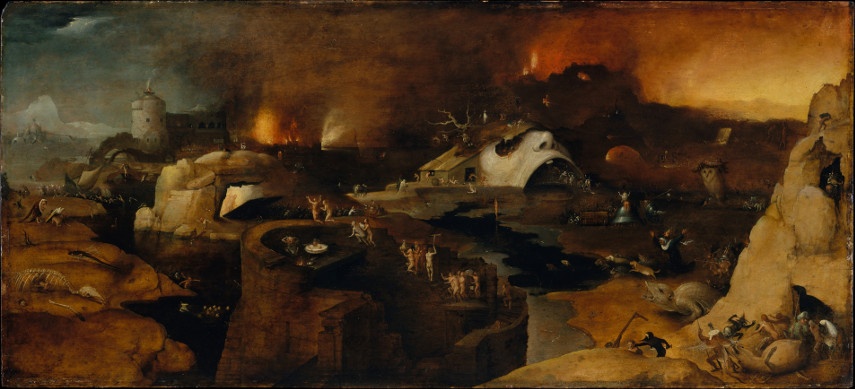 Limited Information About Hieronymus Bosch
Bosch was born around the year of 1450, in 's-Hertogenbosch, a town in the duchy of Brabant, found in today's Netherlands. As it was said earlier, very little is known about his life - only a few traces of him can be found in local accounts. Even his name is an uncertainty but the art world has agreed that he was born Jeroen van Aeken. He took on the professional name of Hieronymus Bosch in order to pay homage to his hometown. Jeroen van Aeken came from an artistic family as his father, all uncles and a brother were painters by trade, so it came as no surprise that Jeroen chose to go down a similar path[2]. Although this is not a proven fact, it is believed that he was trained by a relative growing up. Like most things in his life, we can only assume and speculate - Bosch left behind no letters or diaries and what life events that have been confirmed were taken from brief references to him in the municipal records of 's-Hertogenbosch and in the account books of the local order of the Illustrious Brotherhood of Our Blessed Lady, a society we will soon start discussing.
Hieronymus Bosch started learning about art in his family house as his father, uncles and brother were all painters by trade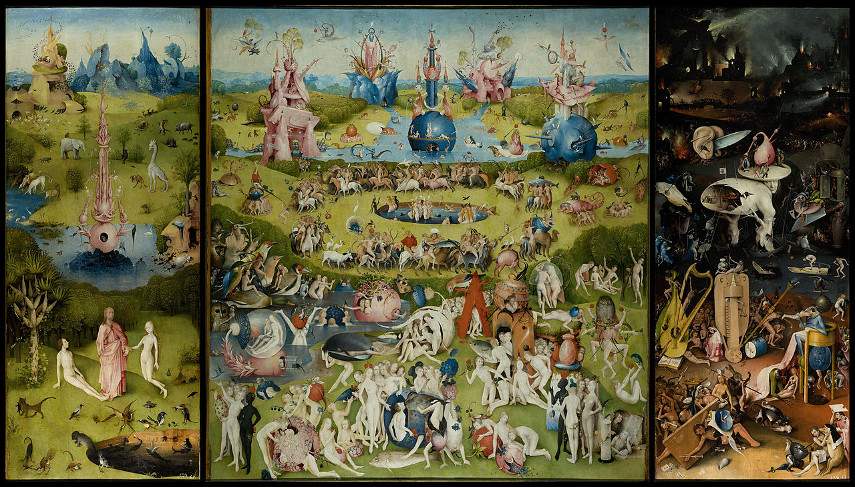 Christian Comments and Strong Religious Citation
Somewhere around the year of 1480 or 1481, Hieronymus Bosch married Alety Goyaerts den Meervenne, a young woman coming from a very wealthy family. He enjoyed a comfortable life and improved social status through this union that allowed him to probably concentrate on developing his pictorial language for the majority of his free time. It is believed that Bosch's father, Anthonius van Aken, acted as an artistic adviser within the aforementioned Illustrious Brotherhood of Our Blessed Lady, a local religious organization devoted to the Virgin Mary. Catholic himself, Bosch joined the Brotherhood of Our Lady sometime after his marriage and before the year of 1486. Some of his first commissions came through the Brotherhood, but, unfortunately, none of those works survived the test of time. However, this arch-conservative religious group of some 40 influential citizens of 's-Hertogenbosch and about 7,000 'outer-members' found around Europe left an incredible mark on the style and themes of Hieronymus Bosch. He became a painter of Christian topics from the Bible, mainly interested in presenting his interpretations and metaphors concerning the fate of the damned and their experiences in hell. Little did the medieval artist known that his grotesque visions of the underworld will still be able to resonate five centuries after his death[3].
Staying true to the populism of his contemporary date and place, Hieronymus Bosch centered his art on depicting religious images of sins and pain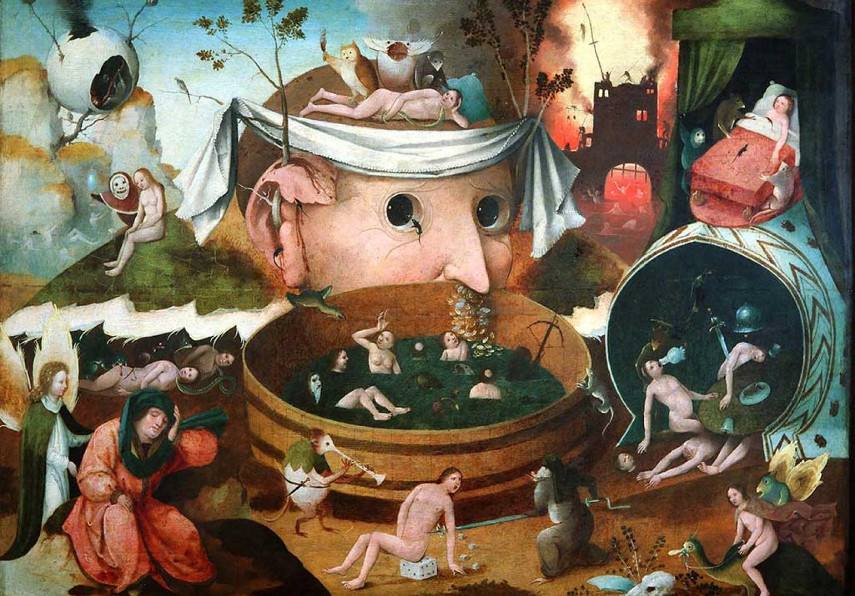 The Style of Hieronymus Bosch
Throughout his career, Bosch stayed true to his initial religious themes as he focused much of his attention to exploring Christian themes. He painted his works mostly on oak panels using oil as a medium - a rather popular choice at the time. His palette was rather limited and contained only a few radically different pigments - another usual feature of his time and location. When analyzing his paintings, it's relatively easy to come to precise conclusions concerning his colors, which is a refreshing change after trying to investigate his mysterious life. Bosch used azure hues for blue skies and distant landscapes, green copper-based glazes and paints for foliage and foreground landscapes and lead-tin-yellow, ochres and red lake (carmine or madder lake) for his figures and subjects - all the other elements in his works were deemed as secondary and Hieronymus did not pay that much attention to coloring them with so much care[4]. Nonetheless, the elements of the painting belonging to any of the three aforementioned categories were characterised by a phenomenal skill for coloring - this is what makes Bosch such an important figure of the early modern painting history of Netherlands, a nation that will become renowned for the way its painters, such as Rembrandt van Rijn, use hues.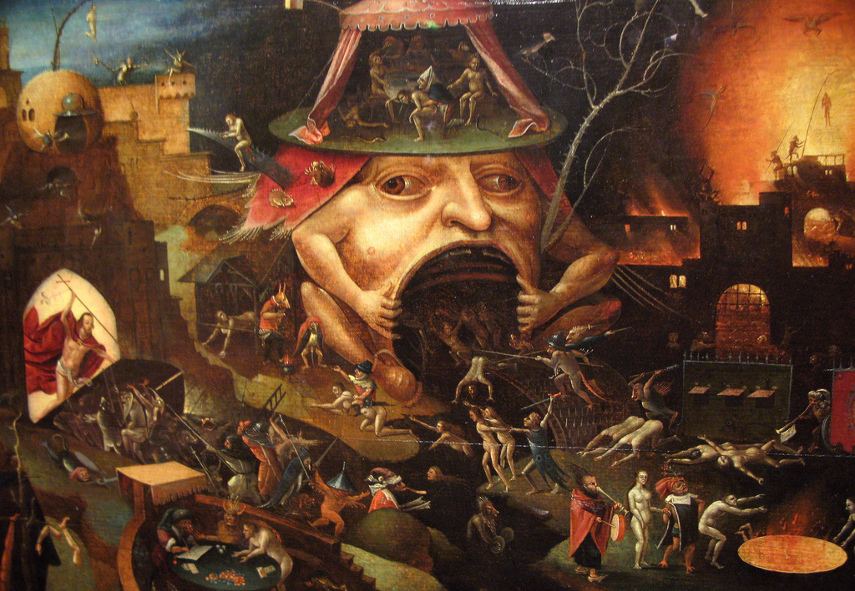 Popular and Most Viewed Works
Bosch produced at least sixteen triptychs during his life of which eight are fully intact and another five saved in fragments. The Haywain (c. 1500-02) was one of his earliest completed triptychs and it shows an interesting depiction of Adam and Eve in its interior panel. The center panel of The Haywain features both clergy and peasants engaged in sinful behavior, whilst the right panel provides a gruesome illustration of where that type of behavior leads - a terrifying depiction of hell Bosch was known for. In 1504, Bosch painted The Last Judgment, a triptych which illustrated the fall of humanity in the author's unique dark style. It shows the world's descent into sin, violence and chaos without offering much hope of redemption[5]. Hieronymus's most famous triptych is The Garden of Earthly Delights (c. 1495–1505) that shows the Garden of Eden depicted on the left panel and the Last Judgment depicted on the right one.
Bosch's artistic career can be generally organized into three periods, roughly divided into the early works (c. 1470–1485), the middle period (c.1485–1500) and the late period (c. 1500 until his death).[6] Although he is primarily known for his dark and disturbing visions of pain and suffering, Bosch also took a critical, even humorous look at the world around him in several of his works. With The Cure of Folly (c. 1475-1480), he poked fun of the misguided medical practices of the day. The Ship of Fools (c. 1490-1500) is another example of such pieces - in it, Bosch rebuked those who spent their lives seeking earthly pleasures. It should also be noted that Bosch sometimes painted in a comparatively sketchy manner, a method that was extremely contrasting with the traditional Flemish style of painting in which the smooth surface conceals the brushwork. Bosch died in his hometown of 's-Hertogenbosch in August 1516 according to the funeral mass accounts of the period. The exact date of his death is, unsurprisingly, unknown.
Unfortunately, Bosch's pieces were not treated with good care and the health of his portfolio suffered for it - just around 25 of his paintings survive to this day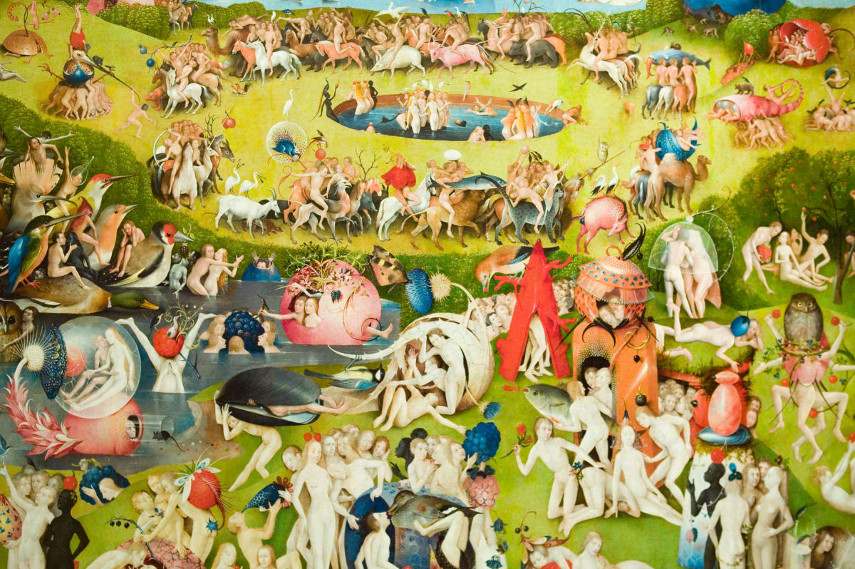 A Fair Warning Before You View His Works
When it comes to religious and allegorical panel paintings populated with grotesque creatures and nightmarish scenes[7], one will be hard pressed to find more disturbing paintings than the one's Hieronymus Bosch authored and for which he became a canonized figure in art history. Although no more than 25 paintings and a similar number of drawings can be reliably attributed to this artist is a sobering fact, it also proves just how influential Bosch's macabre and nightmarish depictions were - they inspired countless museum copies that eventually swallowed the original works, drowning them in a sea of imitations. Originally painted with the intent of instilling moralizing Christian principles in the viewer, the art of Hieronymus Bosch is now seen as a work of a hugely individualistic painter with deep insights into humanity's desires and deepest fears[8].
References:
Schwartz, G., First Impressions: Hieronymus Bosch, Harry N. Abrams; First Edition, 1997
Gibson, W. S., Hieronymus Bosch, Thames & Hudson, 1985
Silver, L., Hieronymus Bosch, Abbeville Press; 1st edition, 2006
Hoogstede, L., Spronk, R., Ilsink, M., Koldeweij, J., Erdmann, R. G., Gotink, R. K., Nap, K., Veldhuizen, D., Hieronymus Bosch, Painter and Draughtsman: Technical Studies , Mercatorfonds, 2016
Harris, L., Secret Heresy of Hieronymus Bosch, Floris Books, 1995
Fischer, S., Hieronymus Bosch: Complete Works, Taschen, 2016
Büttner, N., Hieronymus Bosch: Visions and Nightmares, Reaktion Books, 2016
Ilsink, M., Koldeweij, J., Hieronymus Bosch: Visions of Genius, Mercatorfonds; 1st edition, 2016
Featured image: Hieronymus Bosch - The Triumph of Death (detail) - Image via guliverlooks.com
All images used for illustrative purposes only.