In her own search for salvation and understanding, Hikari Shimoda represents the fantastic world of children exposed to loneliness and fear in their attempt to find a sense of the world around them. Connecting two extremes – life on one side and death on the other one, she indicates the vibrancy of youth and corrupted society. She uses her visual language to state her pray for the next generations, revealing the social issues and struggles of today society. Sweet and frightening at the same time, Shimoda's paintings depict distorted reality causing deep feelings of desperation and hope at the same time.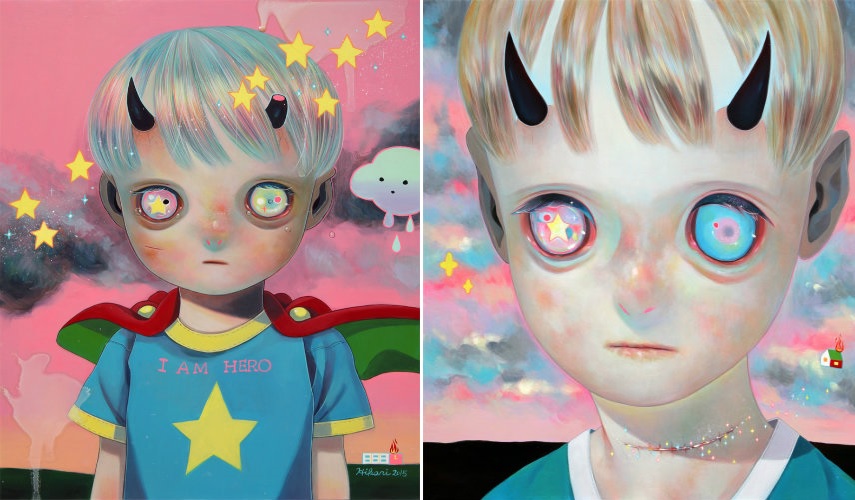 Eyes Speak Louder Than Words
Influenced by Japanese pop culture she grew up with, she developed recognizable simple illustrative style inspired by anime and manga. Her little characters wear heroic costumes of Superman or Shojo (an anime sub-genre of girls who use magic). Especially drawn to the way that Japanese comics represent eyes, Shimoda advanced this detail implementing the sparkle and special emotion into the look of her subjects, suggesting that it shows the personality of the creator as well. Representing only the children, she wants to speak with a distance from the adult world, giving to these innocent youngs ability to express the pure emotion. Devoid of ambition and viciousness, children have a simple need for existence.
Shimoda developed recognizable style inspired by anime and manga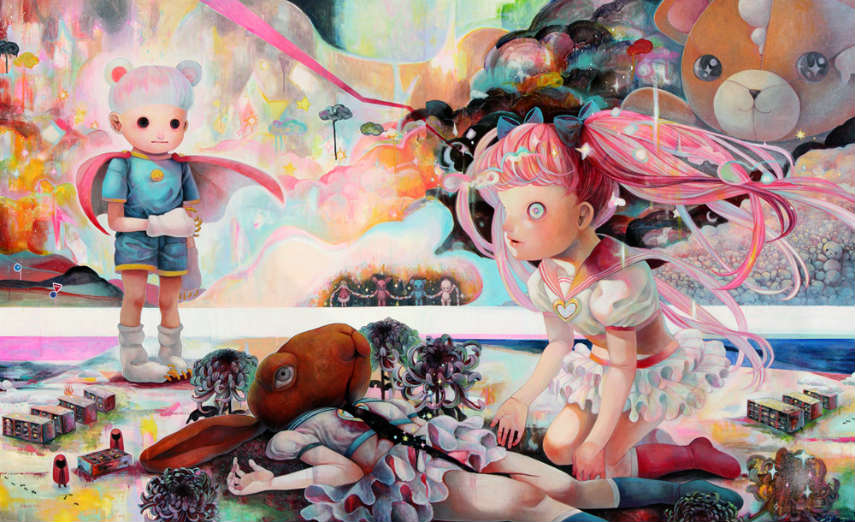 Children as Symbols of Heroism
Born in Nagano, Japan, Hikari Shimoda finished her studies in illustration at prestigious Kyoto Saga University of Art and Aoyama Juku School. Her painting career began in 2008 and since her first solo exhibition at Motto Gallery in Tokyo, her work has been enchanting the global gallery scene, including Asia, North America and Europe. Although not admitted, her paintings could be also a search for self-identity. With incredible liveliness and feeling of solemnness trough extreme satire, Shimoda stands out among the young generation of Japanese artists who find their inspiration in manga and anime. Reflecting our fantasy heroes, the artist points on Christin dogma of Jesus Christ as the savior of humanity in her series of portraits Whereabouts of God, representing other-worldly children with horns. Not only symbols of heroism, these characters indicate the concern for safe and blithe childhood. Becoming repetitive in some point of view, Shimoda tries to bring a fresh and new emotion into every painting.
Her characters indicate the concern for safe childhood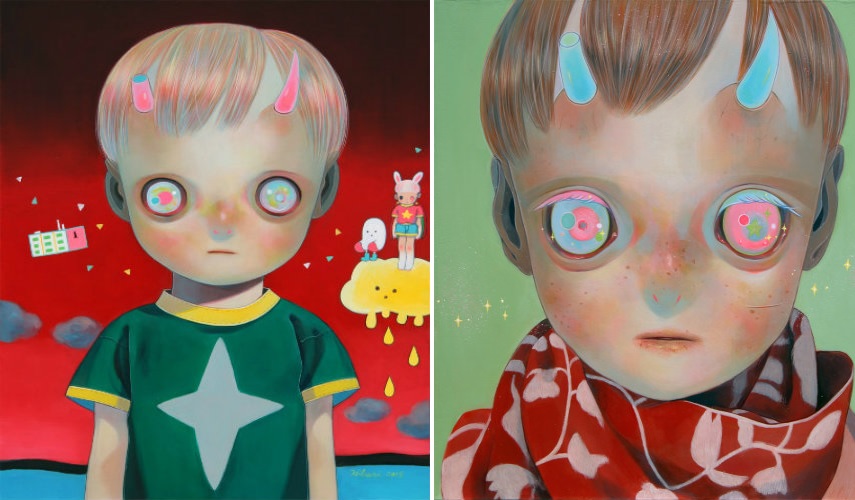 Hope for Future Generations
In the quest for salvation and deeper understanding of the chaotic world, Shimoda explores the struggles and aspirations faced by adults in modern society. Strongly influenced by manga and anime, her characters visualize her prayers for children, who's big wide look reflects stars and sparkles in one and pressures and social anxiety in the other eye. Her paintings represent the horror show, little boys and girls with horns and stitched throats, expressing loneliness and sorrow in their look, colored in cold pastel tones of yellow, pink or blue. Pointing out the social problems, she strives to show that there is a hope for a coming generation.
Hikari Shimoda is represented by Sweet Streets, Los Angeles, California.
Hikari Shimoda lives and works in Nagano, Japan
Featured image: Hikari Shimoda - Artist portrait
All images © artist