Coming from the culture where a painter is also a calligrapher and a poet, and where these three are defining an artist, Chinese artist Hongyu Zhang creates art rooted in the oldest artistic heritage in the history of mankind. The traditional Chinese painting has always been more about expressing artist's feelings than painting a reality, and that is exactly what this young artist has to offer.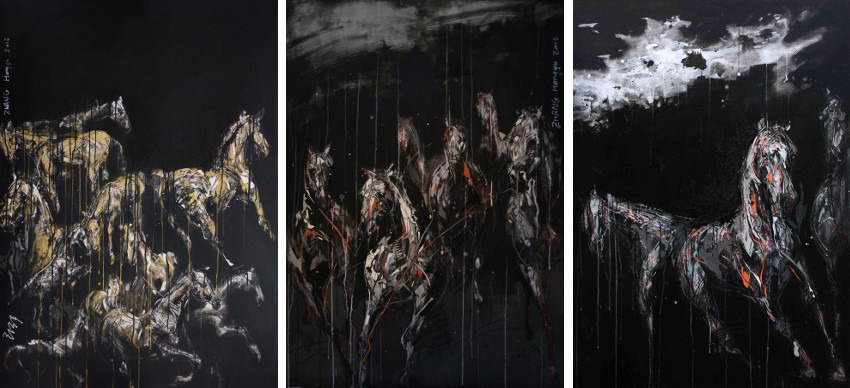 From Mongolian Vast Plains to the City of Light
Zhang was born on the Mongolian vast plains, in China. When he was seven, Hongyu's artistic education began: his uncle was a Fine Art teacher who initiated him into the world of calligraphy and a traditional Chinese painting. When the time came, he enrolled and graduated engraving at the Inner Mongolia's School of Fine Arts. Later on, Zhang attended Beijing Language and Culture University. Becoming very curious about the western culture, inspired and fascinated by Kafka, Munch, Schiele, and Soutine – this artist headed for Europe for his further artistic education. He participated in the visual art section at Versailles School of Fine Arts, and a workshop at the Cité Internationale des Arts of Paris.
Inspired by by Kafka, Munch, Schiele, and Soutine, Hongyu Zhang moved to Europe to pursue his further artistic education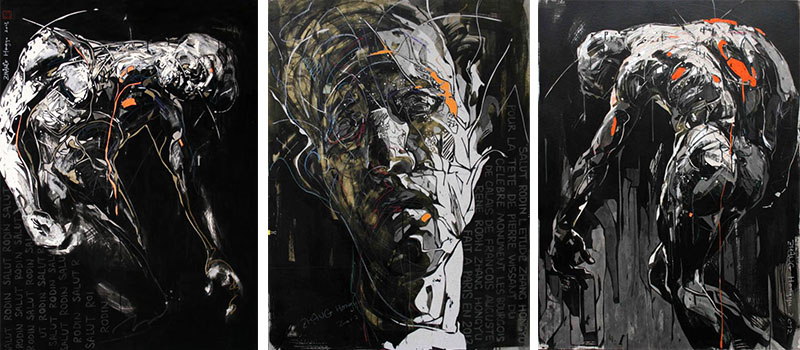 When East meets West
A blend of Chinese and European culture, both extremely dominant and rich, made Hongyu's artistic world very eclectic - familiar and distant at the same time. Today, Zhang mostly uses Indian Ink, traditionally employed for the calligraphy – but, he also creates artworks in acrylic, oil paint or pastel. In the beginning of his career, the artist's style was abstract and colorful. That changed in 2006 when Zhang lost his dear mother. Naturally, this event is extremely intense per se, but when we have in mind that Zhang is an artistic soul, this loss becomes visibly powerful in a way that Hongyu discovered some new depths in himself, allowing this newly found material to come out and inhabit the canvas and paper. Colors disappeared and his painted world became black and white, with many shades of gray. This wasn't a new place for Zhang. He grew up side by side with traditional calligraphy where other colors are used just in extremely rare situations, so one could say that this artistic metamorphosis was simply his back to the black case.
Each portrait represents the artist himself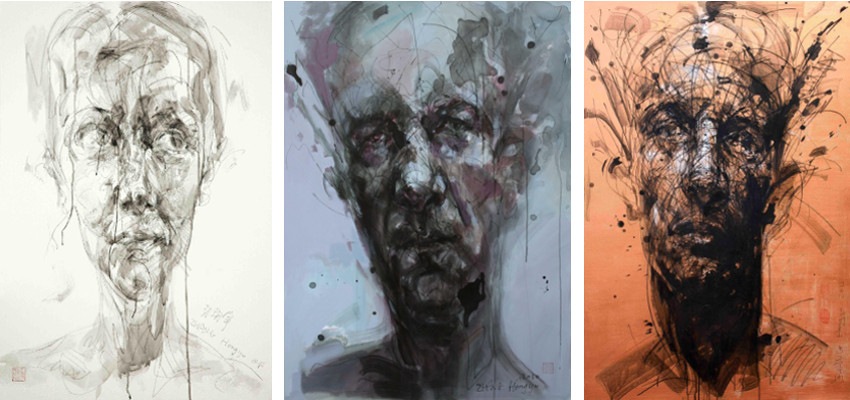 Zhang's Portraits
It was time to see a brand new mixture - his western experience embodied in an ancient Chinese technique. Zhang is best known for his portraits. However, people on the paintings simply do not exist. Each portrait represents the artist himself, in an effort to explore his inner being and create some kind of human landscape, where personality, experience, and emotion draw lines. Some of the techniques he learned in calligraphy actually allowed him more freedom in his brushstrokes. Being a completely disinterested in creating a precise portrait, grounded in reality only, the artist takes the viewer on the unexpected journey through his imagination.
The artist is represented by the Artistics Gallery from Paris.
Hongyu Zhang lives and works in Paris, France.
All images courtesy of Artistics Gallery