It's amazing to see how much graffiti has been able to progress in these last couple of years. Not that long ago, we were lucky if there were one or two serious street artists in our neighbourhoods, but now we are blessed with so many painters that really drive this medium forward. Of one such man we will be talking today. Hopare is the pseudonym of Franco-Portuguese graffiti artist Alexandre Monteiro, a Paris-based growing figure of the street art scene. He is a part of a new french generation which works hard at establishing their country as a leading graffiti nation of the Old continent. This artist has developed an interesting blend of figuration and abstraction through which he paints colorful work that dramatically contrasts with the appearances of the streets. His work can be found in prominent European cities, such as Paris, Venice and Montreal.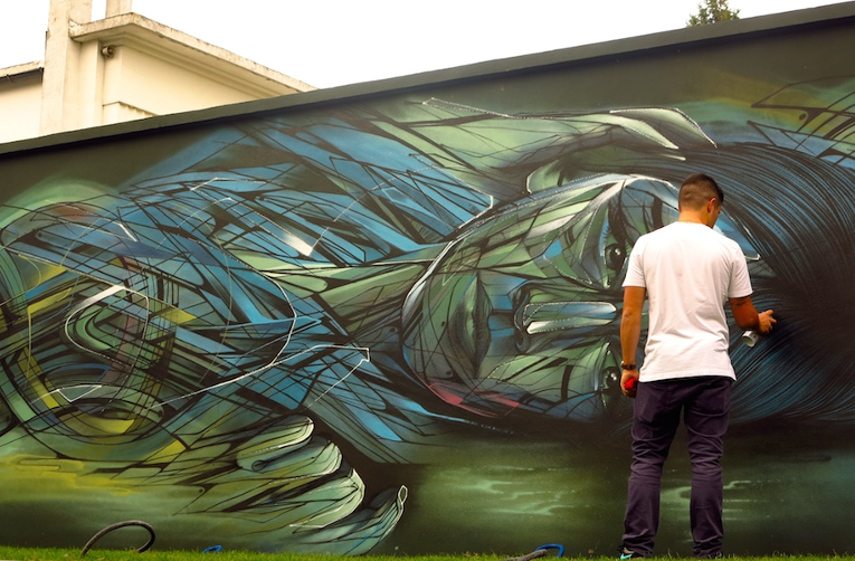 Shaka And Hopare
Alexandre Monteiro was born in Limours, France. His first contact with street art came when he was just 12 years of age and was returning home after a long day at school. Alexandre stumbled upon an old factory he saw dozens of times before, but only this time something was different. The ruined building with was covered in graffiti. The little boy was fascinated by such a sight more then by anything else he saw before that day and decided to test himself in graffiti, just to find out if he could be able to match the beauty of the ones he found at the factory. He started with illegal tagging and experimenting with the medium, but was not really making too much progress - up until the day he saw eye to eye with his art professor who was accidently none other then Shaka, a well-known French street artist that is actually still in the game to this day. Shaka influenced young Hopare and really helped him to establish a visual style that later led him to much fame and success. The pupil and the teacher worked and practiced together extensively, so much in fact, that Hopare preferred to skip the recess just so he could have more time to draw with Shaka. After gaining that invaluable experience, Monteiro started painting more serious work and eventually became part of a street art group named TSF Crew. Of course, his style was still very fragile and young in development, but the signs of his future identity were obvious even then - a soft linearity that gives a particular stamp to Hopare's work.
Hopare started developing his unique style while still in high school
Hopare's Way
A key moment of Hopare's visual material was the time he accepted a part job with an architectural company where he was expected to draw technical depictions of interiours. Working at this position provided Monteiro with a completely different approach to drawing, as he was now expected to draw disciplined and scientific schemes. Since then, we were able to note a great increase of straight line usage in his street works. This really sums up the explanation for Monteiro's style - an inner battle of his artistic, abstract tendencies and disciplined way of organized drawing. Figuring out none side was ever gone win this struggle, Hopare decided to find a balance and incorporate both in his graffiti. Combining these two inclinations, the artist creates images which are a splash of colors and forms, a complex pattern of lines with intense dynamics. If we were attempting to find some artistic roots for Monteiro's graffiti, maybe the best bet would be the movement of Futurism - an exclusively Italian moment in art history which incorporated harsh lines similar to the ones Hopare uses. As is the case with all artists, Hopare as well experimented with many forms and techniques, seeing with what different kinds of lines, colors, applications with brushes, aerosols, markers and rollers were able to provide him. Another big part of Hopare's skillful work is his excellent use of shadow, light and space which render the characteristic three-dimensional look of his portfolio.
To Hopare, the movement of the line and structure is very important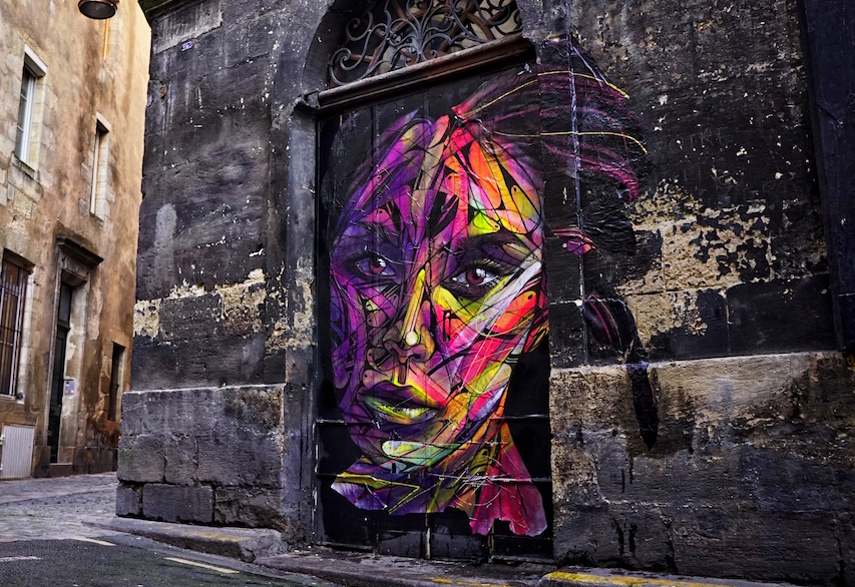 Monteiro's Themes
Hopare's creations are all designed out of a perfect geometry, in a graphic style that borders but is not full-on abstraction. Often featuring faces at the core of his works, the artist utilizes variations of straight lines going from parallel to interlaced ones. It should be noted that despite he primarily paints anonymous human figures, Monteiro has been known to make portraits of famous people, like Mona Lisa, Nelson Mandela and Salvador Dali. In a relatively short period of time his career lasted so far, Hopare managed to take the European graffiti scene by storm. This is down to his immense talent, of course, but another thing must be also credited - his obsessive personality. You would not be able to travel around Europe with intentions of painting murals all the time, thinking of graffiti 24/7 and constantly thinking new ways to further develop an already complex system if you were not obsessively in love with street art. Hopare himself explained it best: I live, dream and think graffiti - it's really a big part of my life. I love that I can spread my message and my emotions through my work. I am convinced that graffiti has not happened to me by chance. With such commitment, he was never destined to fail.
Monteiro usually places human faces in the centers of his pieces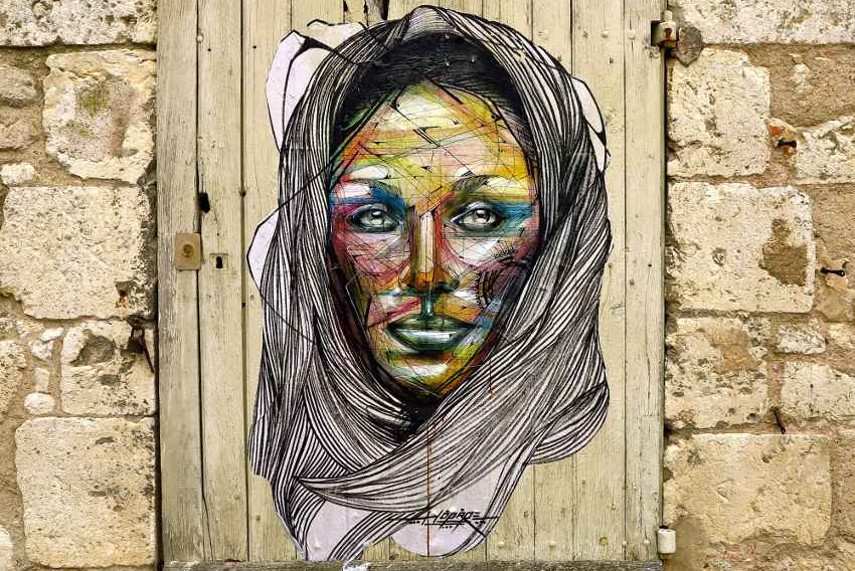 At The Very Top Of The Graffiti Ladder
Hopare's work is a unique universe of modernity, speed, movement and characteristic visuals that immerse the viewer in a contrasting world of colorful walls and gray streets. And in this lies the point of Hopare's work, shared by almost all graffiti artists - above all else, the street artwork is meant to make the pedestrians virtually travel to psychological places they would otherwise never journey to. And not many do this as good as Alexandre Hopare Monteiro, who we can safely call one of the most talented street artists of our time. If there was such a thing as a Graffiti Hall of Fame, it would certainly not be complete without a place for Hopare.
Hopare lives and works in Paris, France.
Featured Image: Hopare - Artist in front of his Salvador Dali piece - Photo Credits Hopare
All Images Photo Credits Hopare