Horfée is a French street artist whose drawings, murals, object making, and paintings explore the creative methods of spontaneity and experimentation that have made his eccentric graffiti and studio work internationally recognized in Europe and abroad.
Horfée was born in Paris and has lived in the capital city of France for 27 years. As a child, he actually did not draw that much until he had an accident and had to stay in a chair for three whole months. During that time, Horfée started adorning his nickname, drawing stuff around it, just for passing time. At the time, he also watched a lot of documentaries about American graffiti artists – and before he knew it, he was "hooked" on art. Even though Horfée quit school very early, but entered a fine art school in Paris, where he was very bored by rich kids and their exotic activity in a studio.
"I wanted to create disaster everywhere I went."
Horfée's Graffiti Background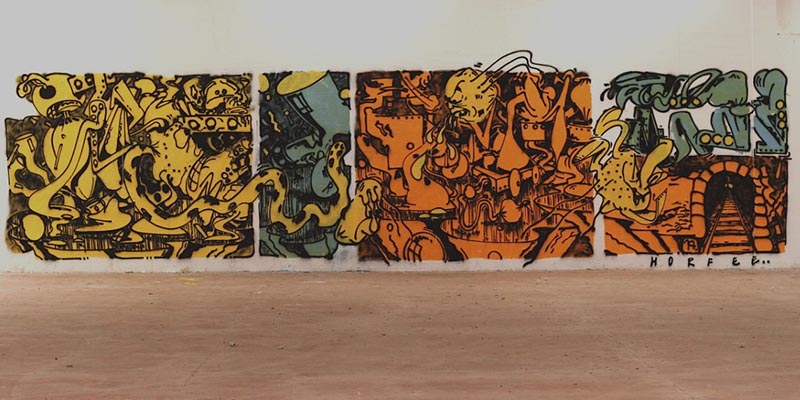 This Beaux Arts graduate and Parisian street artist was following a path to see where graffiti will take him, and for that Horfée has traveled the globe meeting up with the world's best known street artists. He has used those travels to expand his vision and direction in the art he surrounds himself with.
As Horfée continued to evolve artistically, so has his desire to engage in more concept-driven work within the gallery setting. Horfée likes Mike Kelley's work as well as what André Butzer or Federico Herrero do - because it is all just about expressing the feeling once the subject is seen and understood.
Drawing influence from historical avant-garde art movements like the Cobra movement, the Gutai group, and Tachisme, Horfée's paintings evoke a sense of physicality and action that compliment and relate to his work outside the gallery. His semi-abstract paintings are imbued with vibrant color, improvisational brush/spray techniques, and often depict distorted representational references inspired by his fascination with underground comic and zine cultures. He is a big fan of very cheap zines (as he explains, they are meant to be affordable, collectable, and accessible) from all over the world. According to him, zines are important for their role to keep on communicating, without any authority censor.
Traditional Occupations exhibition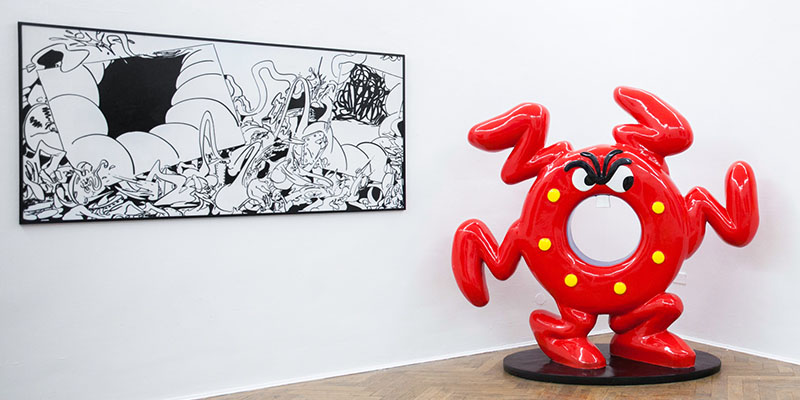 Horfée is a prime example of an artist that does not compromise his style, the authenticity of his work is one of his creative strengths. Horfée has established himself in the streets of Paris with a large body of work on walls. The essence of his work in the street translates in his ability to take that same freedom into the gallery. By balancing the essence of graffiti with his love for vintage animation and cartoon art Horfée creates a world of his own. Basically, he is inspired by everything from European abstract painting to homemade tattoos, vintage animations to underground comics.
The discipline he gained through outdoor actions must, in his eyes, continue to remain as a major source of inspiration. He shares his interpretation through a multi-dimensional discipline. This series of actions are combination of drawings, pictures of walls, and 'marginal' museum pieces. As he says, being completely devoted is the only way to progress in communication with different social layers, if society needs artists. Of course, being raw is important, as long as it mean something and it's not only an effect of style. Horfée's art signature is marked by strong, vibrant color and loose edges – showing proudly stylistic flaws instead of hiding it.
Horfée lives and works in Paris.
Featured image: Horfee, image copyright ©The Grifters
Other images copyright © the artist