Hsiao Chin is an artist who has had a great influence on the development of abstract painting in China.
Early Life and Taiwan
Born in 1935 in Shanghai, Hsiao grew up surrounded by art and music and his childhood remains an important influence on his work. The influence of music came from his father, a renowned musician Hsiao Yo-Mei, who founded China's first music school, the Shanghai Conservatory of Music, in 1927.
Hsiao Chin moved with his uncle to Taiwan in 1949. There he was attending Taipei Middle School, and at the same time Hsiao enrolled at the School of Art, where he studied drawing under Chu Teh-Chun. In 1951 he entered the Art Department at Provincial Taipei Teacher's College and joined the studio of Li Chun-Shan, an important figure in the development of Contemporary Chinese painting. Although he had a formal education, Hsiao Chin soon took on his independent course of artistic practice.
In that time he made a few colourful works and a number of self portraits painted in oil, influenced by the work of Cézanne, Gauguin and Matisse.
Ton-Fan Art Group
In 1956 together with several other young artists, Hsiao Chin participated in the founding of the first Chinese abstract painting movement, the Ton-Fan Art Group, also known as Eastern Painting Society or Orient Movement or Dongfang Huahui. The work of members of Ton Fan Art Group was mainly influenced by the history of post-war Western abstraction.
In July the same year, Hsiao Chin received a scholarship from the Spanish government and moved to Madrid. Despite his remoteness, he remained very active within the group organizing over thirty shows for the Ton Fan group in the West.
Dissatisfied with the extreme conservatism of the Academia de Bellas Artes de San Fernando, Madrid, Chin continued to pursue art in Barcelona where he stayed for the next three years. While in Spain, he befriended with several artists who founded Art Informel, including Tàpies, Cuixart, Subirachs, and Saura. Hsiao Chin held his first solo show at the Mataró Fine Arts Museum near Barcelona in 1957.
In his large impasto works in oil, the artist created shapes, like ideograms, which stood out against backgrounds in dull colours.
Hsiao Chin' Travels
In 1959 Hsiao Chin moved to Milan, Italy, and two years later he created Punto Art Movement together with the Italian painter, graphic artist and sketcher Antonio Calderara. One of the first people he contacted was the Argentinian-born Italian artist Lucio Fontana, because they could communicate in Spanish, while he later met Roberto Crippa, Enrico Castellani and Pierre Manzoni.
In his work, Hsiao used Chinese calligraphy, and surfaces that were predominantly white. In 1966 the artist spent six months in London where he was on a more spiritual journey, delving into religion and Taoist philosophy. Yin and Yang figure is often depicted in his geometric works.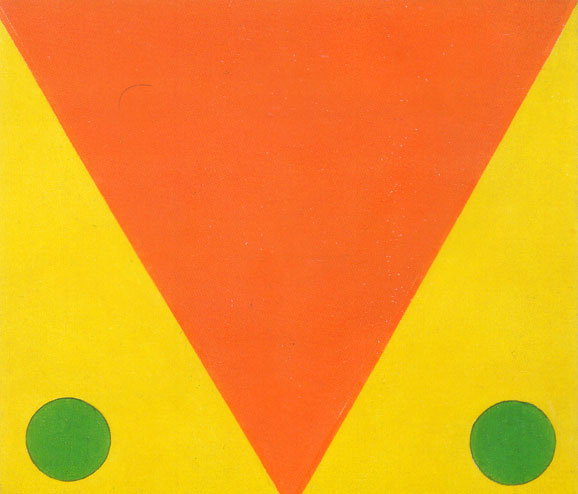 The U.S.A.
Hsiao Chin left to the US where he lived from 1967 to 1972 and taught painting in various prestigious art schools, including Southampton College of Long Island University, New York and the Bâton-Rouge University in Louisiana. There, he became familiar with artists such as Mark Rothko, Willem de Kooning, and Roy Lichtenstein, all of whom influenced his work.
Using geometric shapes, in brightly coloured acrylics, Hsiao Chin depicts the universe by a circle which appears in different colours on different canvases. Inspired by the Taoist philosophy Hsiao's paintings became visual records of his inner state in which he tries to be in accord with. He also worked on sculptures, made of plastic and steel.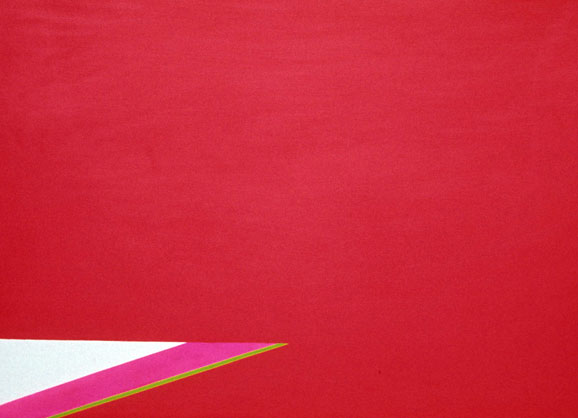 Non Dimenticare
Finding US overly superficial and felling more drawn to Buddhism, Hsiao Chin returned to Milan and continued his artistic work exhibiting in Europe and Asia.
After the Tiananmen massacre in his native country of China in 1989, Hsiao painted his Non Dimenticare (Do not forget) series to commemorate to unarmed civilians who died in the protests. He used dark colours to create a frightening mass that could be indicative of powerful natural phenomena as well as the presence of malignant forces. Hsiao has since embarked on various new phases of his search for harmony between forms, lines and between civilizations.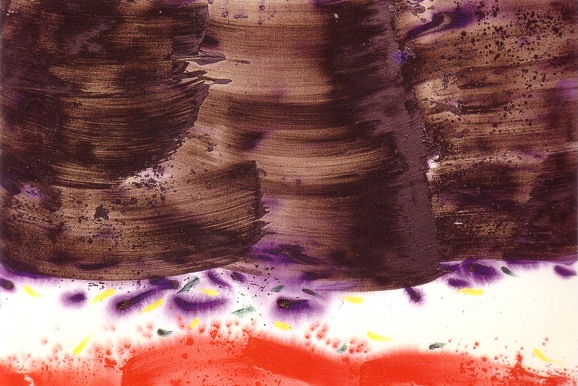 Shows and Awards
Since Hsiao Chin's first solo show at the Mataró Fine Arts Museum in 1957, he has held more than 120 solo shows and has participated in numerous group shows, throughout Europe, Taiwan, and the United States. He has also organized traveling European Contemporary Art exhibitions in Taiwan as well as traveling exhibitions of Chinese paintings in Europe.
In 2006, Chin had a retrospective exhibition in the Beijing's National Art Museum (Beijing, China) Glory to the Source - Hsiao Chin 1955-2005. In 2010 another great retrospective of his work was held at the Kaohsiung museum in Taiwan.
Hsiao Chin was awarded by the former Italian President Carlo Azeglio Ciampi The Knight's medal of Star of Solidarity in 2005. Since 1966 Hsiao Chin is the director of Graduate Institute of Plastic Arts of Tainan National College of Arts.