The work of Allison Torneros, aka HUEMAN, is woven out of both pure sensibility and hard edge method of working with the spray can. Whether she is executing freestyle visions to canvas or walls, the artist is creating impressive mash-ups of the beautiful and grotesque, abstract and figurative. HUEMAN's work is shaped by a free association approach, so she produces dream-like disrupted compositions which represent almost hybrid beings or shapes in the state of emotional chaos or calmness. By creating ethereal motion and dimension on otherwise flat, two-dimensional surfaces, HUEMAN has quickly established her position in the male-dominated street art branch.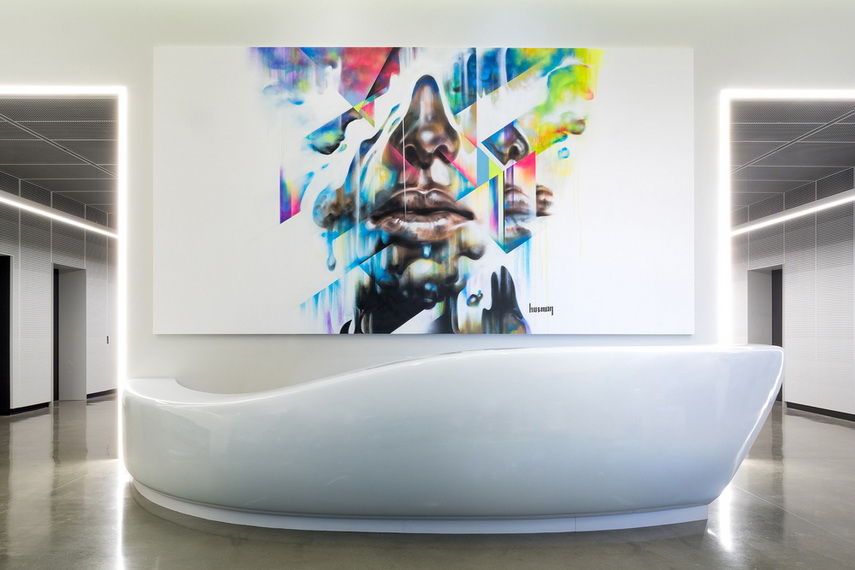 Captivating And Sensitive Abstraction
HUEMAN is born in 1985, in Bay Area town of Daly City. From her early age, she was exposed to Oakland and San Francisco street art scene. Eager to follow those influences, she has moved and graduated from the University of California Los Angeles in 2008 with a degree in Design & Media Arts. She chooses to coin her art moniker by combining two words – hue and human, after the artist has passed through a difficult time in her life. Unique freestyle process of paint splashes, drips, and sprays made HUEMAN's work quite easily recognizable. The work of hers can be seen on walls and in galleries worldwide, so it is no wonder it was publicized and shown on CNN, The History Channel, Complex, Juxtapoz, Hi-Fructose, etc.[1]
Outwardly depictions of hybrid beings and shapes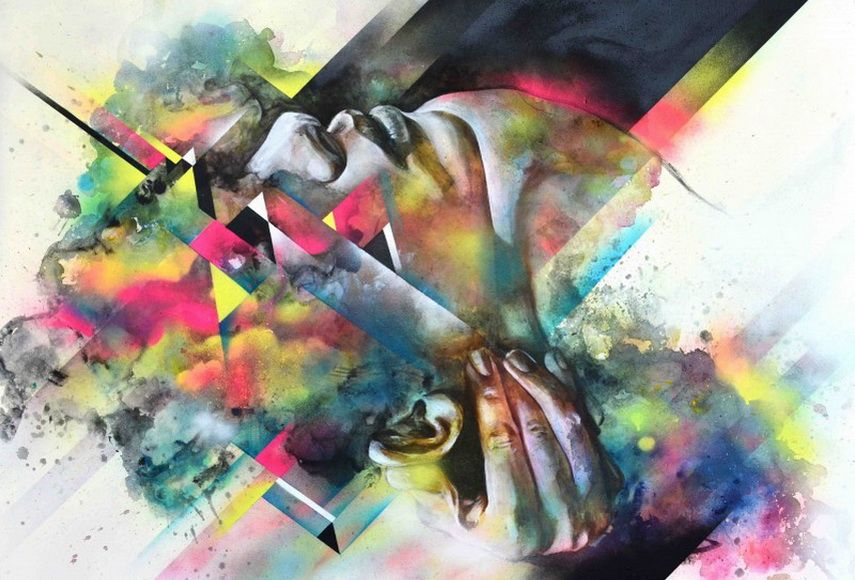 Expressing Emotions Through Cyber Bodies
HUEMAN proudly brought femininity to a movement that at times can be juxtaposed to the gracefulness of her work. Working with bright colors and elements of abstract portraiture led the artist to develop distinct compositions which are somehow on the brinks of imagination. They may be seen as an effect of ever expanding digital technology and related to that the status of body/emotion representation. It seems like these bodies got stuck somewhere in between real and virtual space. Sensual, somehow eroticized and sinister figures are struggling to position themselves, to become rooted, which suggest the artist own quest to define her own identity.
Abstract and colorful visions of Hueman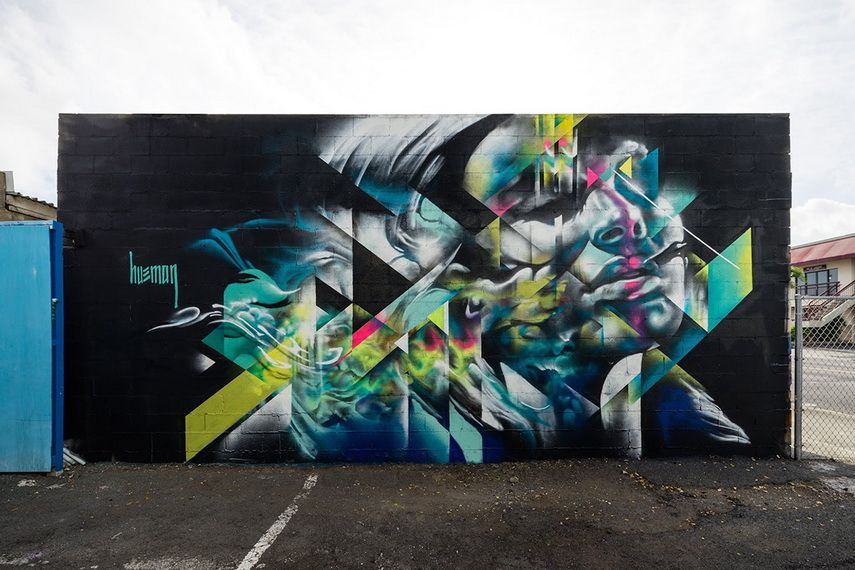 Being Hueman
The artist's spanning career had it's turning point with the Nike-commissioned portrait of Kobe Bryant, a mural for P Diddy's Revolt TV office and Ritual, a 9-day, free-styled, floor-to-ceiling mural installation in a 5,000 sq foot warehouse space. On the other hand, it was HUEMAN one of the first artists commissioned to paint a mural after Los Angles authorities have lifted their street art ban in 2013. Next year, she was named one of LA Weekly's People of the Year and was featured on a limited-edition cover of the issue.[2] Thanks to her stubbornness and hard work, she became not only successful as a commercial artist, but rather HUEMAN's work has largely contributed to the visibility of female artists within the street art community.
HUEMAN lives and works in Los Angeles, California.
References:
Lasane, A. (2014), Portfolio Review: HUEMAN Tells the Stories Behind Her Colorful, Fragmented Portraits, Complex [November 21, 2016]
Dambort, S. (2015), Allison HUEMAN Torneros: The Mad Muralist, LA Weekly [November 21, 2016]
Featured image: Artist in her studio, photo courtesy of the artist
All other images for illustrative purposes only