Yulia Vanifatieva aka Hulya is a Russian street artist known for her art project titled PINKPOWER.
Hulya Between Fashion and Art
Yulia was born in a Rybinsk, a small town on the Volga River. She began to draw, when she was only 6. She studied at The Ivanovo Textile Accademy and received her diploma on fashion design in 2008. Even dough her specialization within the art school was fashion, Julya always knew she will be an artist one day. However, she did not want leave a fashion either. So, Hulya chose to juggle between those two directions. In the beginning, she was fascinated and intrigued by realistic image but soon she started to look for her own style, while experimenting with magazine covers and materials.
Moving to Moscow: TSUM Time
After finishing education, Hulya moved to Moscow and began her career at the TSUM (the biggest luxury department store in Russia) and its creative department as a shop-window designer. Between 2010 and 2012 she studied visual communications at the British High School of Art and Design. This course was created for designers who want to develop their professional skills in graphic design and advertising with the aim of becoming art directors.
PINKPOWER Project
After BHSAD, Hulya began her art project known as PINK POWER.
"In my interpretation the pink is a metaphor of femininity which was made with flesh and blood and no sweets and cakes, sweets of all kinds."
PINK POWER is tough and aggressive emotional project, despite the fact that pink is perceived as naive and sentimental color. Her target is to oppose the street culture to the culture of gloss and well-being, a fanatical cult of plastic beauty.
"I want to take the aggression and rude from the streets. I want to take the visual language and techniques from the glamour."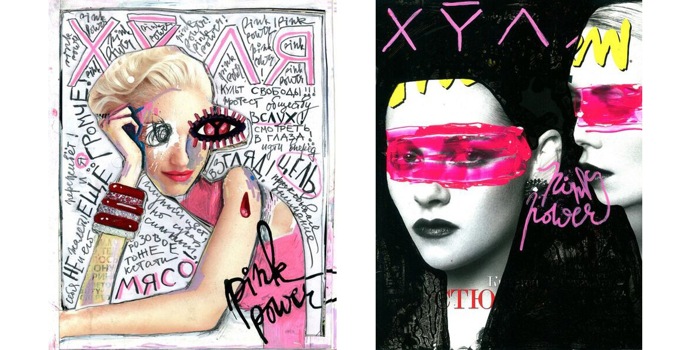 In her works, Hulya uses magazines instead of canvases, cosmetics instead of paint, money instead of paper, while creating her sketches in fashion illustrations style. She is not interested to dwell on one technique; she wants to experiment with surfaces and styles, to work with different materials – to be recognized by the color and the overall concept.
PINKPOWER ARMY
"Myths evoke feelings and imagination, as they are connected with subjects, which are parts of the common heritage of mankind. Greek myths, as well as all other fairy tales and myths, are known to people for thousands of years, remain modern and important, because they contain the truth about the experiences, which are common for all."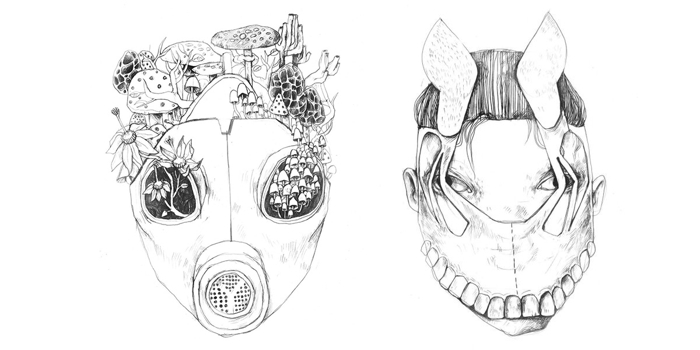 PINKPOWER ARMY is the special project for the Urban Festival of Street culture FACES&LACES. "Soldiers" of PINKPOWER ARMY are series of personages, inspired with feminine images of goddesses from Greek mythology. They were taken as a basis for the project as one of the first archetypes of the collective unconscious. Each "soldier» has its own unique charisma and its own "superpowers". For example: people and Gods are subordinated to the power of love of Aphrodite, Pallas Athena - Goddess of the organized war, military strategy and wisdom, Demeter - the embodiment of primordial creative energy , Nike - Goddess of victory , Eos - Goddess of dawn and waking, Hecate - Goddess of moonlight , of all the mysterious and magical , Persephone - Goddess of the realm of dead, Psyche - the personification of soul, Artemis - Goddess of hunt, Tyche ( Fortune ) - Goddess of fortune…
Hulya lives and works in Moscow, Russia.
All images copyright © the artist