The street art is all about leaving your own personal mark on the streets, writing something that has a meaning for you, whether it is simply your name or some technically more advanced subjects. Hunto is an Italian artist whose style is reminiscent of Cubism, one of the most important art movements of the 20th century. Through his own visual language, he gives the movement a new, street life. The themes he explores are human relationships and eroticism, and his style includes using strong, vibrant colors, bold shapes. Creating new pieces is a sort of spontaneous urge he obtained while he was still a child.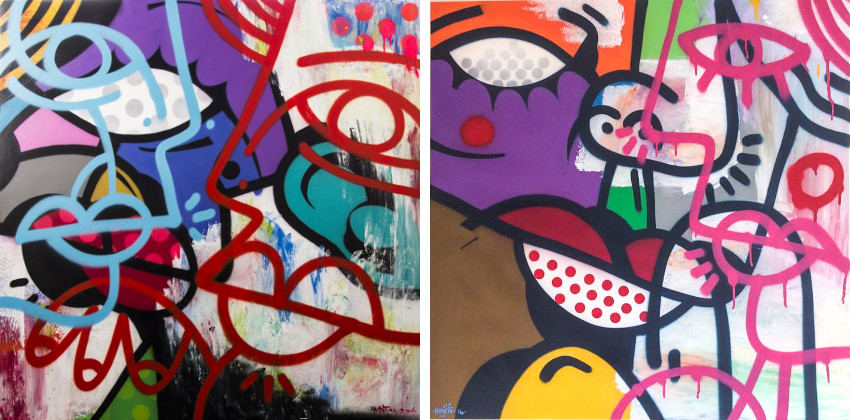 Colors, Shapes and Movement
One of the first books he encountered as a child was about Pablo Picasso, one of the most influential artists in the history. That, in a combination with the magnetic attraction of the blooming street art, pointed his career towards a Cubism-influenced style of street art, where he uses strong colors, bold shapes, and movement. The topics for his pieces occur spontaneously, and the artist enjoys that unpredictability about himself. Sure, family, love, and sex are his most frequent topics, but not always. Whatever he does, there is a message behind it. In the beginnings, he was writing his name, using simple lettering, as he wasn't technically as able as some of his friends that were also writing in the streets. Later he moved on the characters, and at one point, he only concentrated on the faces, which is what his current style reflects.
Family, love and sex are the most frequent topics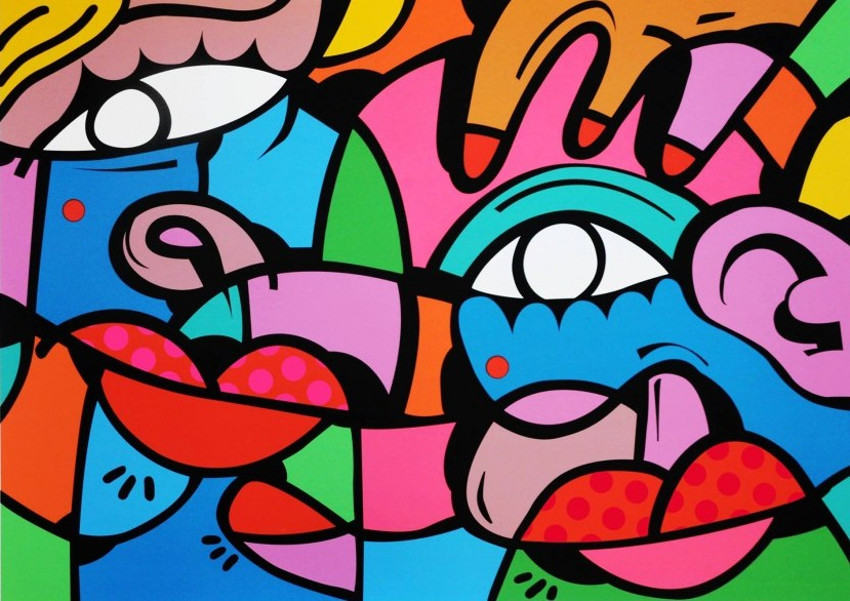 Happines of Traveling
Pablo Picasso was one of the first influences that Hunto had, but later he discovered and admired the work of Basquiat, and he also drew inspiration from the way Lichtenstein filled the spaces in his artworks. He's come a long way from simple lettering in the illegal spaces to exhibiting in galleries and painting Cubism influenced pieces on the canvases, making commissioned works and originals. However, it is still the fact that he's traveling and that his pieces also travel from wall to wall, from place to place, city to city, even different countries. Only then he is truly happy, only then is that artistic urge he possesses since the childhood is really fulfilled.
His work is influenced by Picasso, Basquiat and Lichtenstein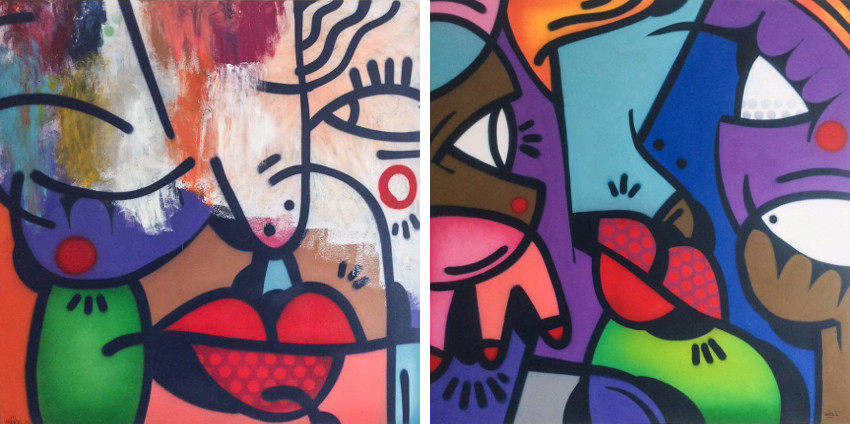 The Journey
It is kind of easier to decide what you want to be in your life when you start loving something as a child. Hunto always knew he was going to be an artist. All that remained was to hone his skills and develop a personal style. He made his first pieces in the company of his friend Phen, who was from the same neighborhood. After that, he met WANY, who was the king in Brindisi, the town Hunto was born in, and who introduced him in the proper way into the scene and graffiti. Now his artworks could be seen in London, Berlin, Rome, and Milan.
He is represented by GraffitiStreet in Chichester, UK.
Hunto lives and works in London.
Featured image: Hunto working on a mural, photo credits the artist
All images courtesy of GraffitiStreet