Creating a successful blend of old and new is always a risky business. And, if you add to it a surprising mixture of culture – the task is getting even harder. Apparently, that doesn't apply to Hush, a British artist known for his mixed techniques of collage, graffiti, stencil, painting and drawing he uses to cover the streets and fill the galleries all around the world with his geisha inspired works. Japanese traditional female entertainers, depicted through their feminine beauty and sensuality, are created in traditional colors and modern graffiti style, synthesizes this artist's affection for Street Art aesthetics and traditional art practices.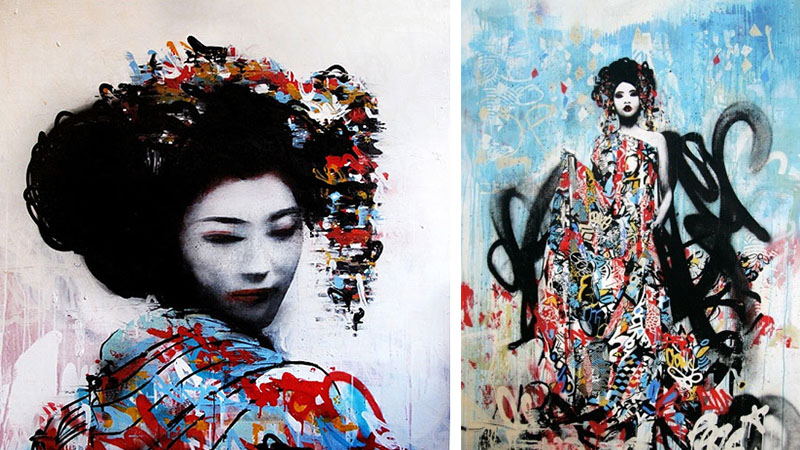 Hush's Fascination with Female Form
Born in Newcastle, England, trained as a graphic designer at the Newcastle School of Art and Design, Hush's art practice has taken him around the globe throughout Asia, Europe, and the United States. His immersion in such a diverse range of cultures and environments is evident in his work and his captivating portrayal of the immortal beauty of the female form. Over the course of his travels, Hush developed a fascination with the mark-making, tagging, and graffiti he encountered along the way.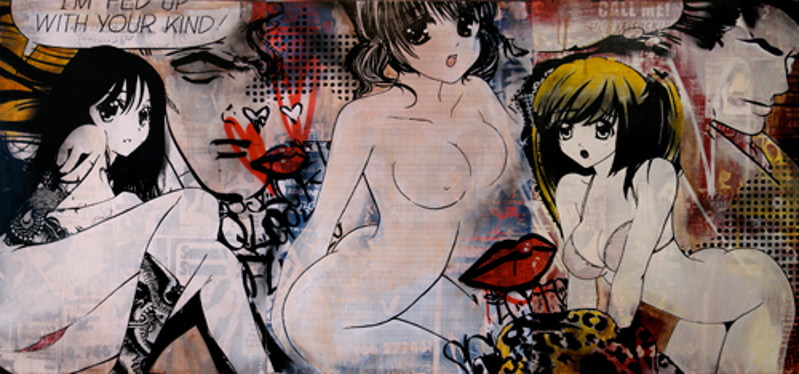 Reinventing historical female figures
Hush presents contemporary depictions of traditional portrait and figurative imagery through an inventive mix of seemingly incompatible themes and aesthetics. His street and gallery work offsets graffiti flourishes in futuristic silvers and blacks with a colorful chaotic collage, inspired by layers of flyposting and other urban detritus. He places historical female figures into this sensual blizzard, emphasizing the transient nature of modern life in comparison to the timeless forces of passion and desire.
They are dehumanized – painted in gray with their eyes blanked out for instance – to accent their nature as avatars of female sexuality. Hush once said that some people think his women are serene, others that they're scary – but, what is clear is the power of their sensuality. Hush's hyper-sexualised Babushkas, classical Sirens, and Japanese Geishas explore a whole new approach to a traditional feminine role.
Hush's methods involve action painting and what he calls pure expressionism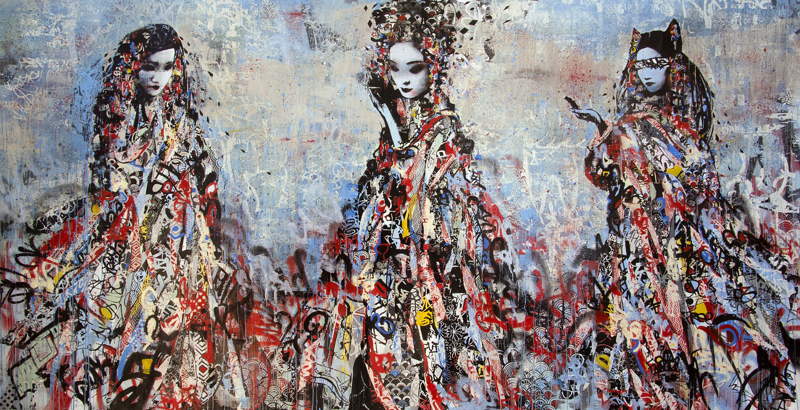 Methods and Style
Hush has participated in both solo and group exhibitions and shows worldwide, including galleries in Los Angeles, New York City, Miami, London, Basel, San Francisco and Berlin. His work has been featured in a series of publications including Street Knowledge (Harper Collins), The Street Art Stencil Book (Laurence King Publishing), Huck magazine, Art Monthly and The Independent newspaper, where he was recognized in their list of the Top 20 Up and Coming Artists.
Through his technique of layering divergent aesthetics, Hush's contemporary paintings disclose the beauty produced by years of decayed tagging and the possibility of creating something new. A formally trained artist, Hush's methods involve action painting and what he calls pure expressionism. The collage-effect backgrounds are screen printed and hand-painted, then the graffiti elements added by hand in the action painting style, sometimes over many months. Because, it takes time to create excellence.
This artist is represented by Hang-Up Gallery from London, Kumi Contemporary, Lazarides in London, and The Outsiders Gallery.
Hush lives in Newcastle, United Kingdom.
Artworks images copyright © Dimension Studios and Hang-Up Gallery